Ironman Raceway
Crawfordsville

,

IN
Indiana
Lucas Oil AMA Pro Motocross Championship
Jeremy Martin made a statement in second 250 moto at the weekend's Zions Bank Utah National. He had the early lead in a moto he really needed, then Tevin Tapia crashed in a bad spot, and the race was red-flagged. Justice, as we say, was not served, because Martin didn't get as good a jump on the second start. Marvin Musquin did, got to the front, and threatened to add to the points lead he had just taken from Martin in the previous moto.
For a few laps, Martin wasn't making up ground on Musquin or second-place Cooper Webb. But we've seen Martin run that way before. After a few decent laps, he gets hot, and he becomes almost impossible to stop. Once rolling, Martin simply ate Musquin up, and he probably would have done the same to Webb even if his teammate hadn't made it easy on him. Straight up, Martin caught, passed and left Musquin. It was a statement.
Then Marvin made a statement of his own. "Second moto was tough. It was hot—it was really rough—and I struggle in those conditions," he said to Georgia Lindsay on NBCSN. "Last year, it was no secret, two years ago I struggled—last year it was tough. Jeremy went 1-1 last year—he was ripping—and this year, to leave Utah with the same points as Jeremy, to me, it's pretty good. This year I'm doing better, but still, that track is pretty tough."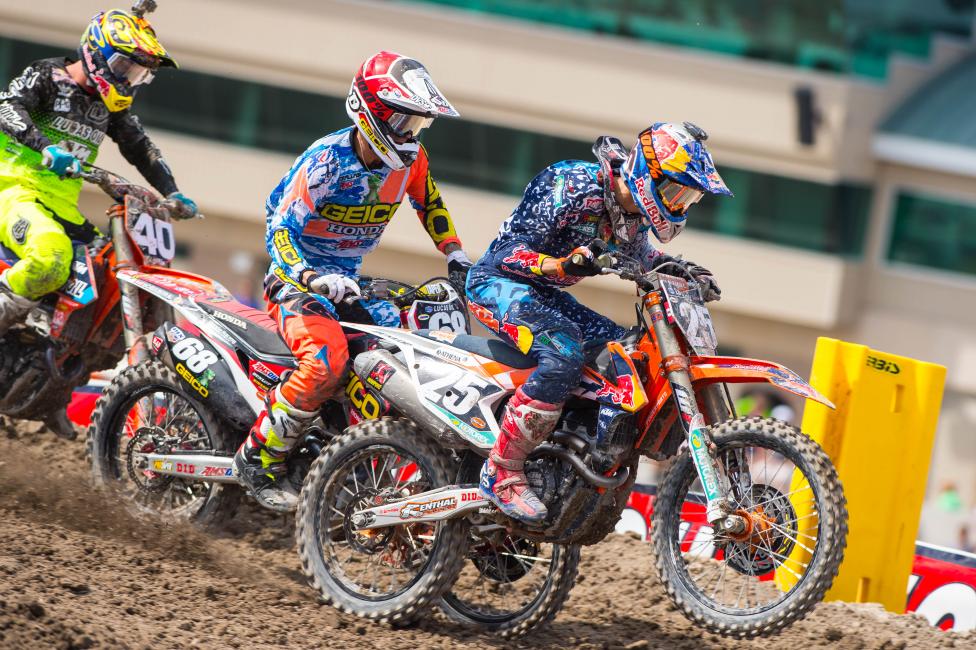 Musquin went 5-8 at Miller Motorsports Park in 2013, and 4-5 in 2014. Martin was only 37-6 at MMP in 2013, but dominated with 1-1 scores in 2014. Martin also dominated qualifying this year, going over two seconds faster than anyone else. In some ways, Martin scored a big win over Musquin with that second-moto charge. In one way, though, Musquin feels like he escaped one of his worst tracks with zero net loss in points.
That's the way this season goes. There are so many angles, so many personalities, teams, strategies, and stories. It's good enough that the points are close, so much better that so much can happen. Add it all up and the weekend scenario is nearly impossible to predict.
First, you have the tracks. Rarely do you see a matchup where tracks make such a difference. Any one veteran race watcher can point to the 2015 schedule and figure out where Martin or Musquin will excel. Generally, the hot, rough tracks work for Martin, and the technical stuff works for Musquin. The Indiana finale, though, is a mystery because last year's debut race there was a mudder. Advantage? No way to know.
Second, you have the mistakes. This isn't one of those "if one guy wins, the other guy finishes second" battles. These riders are nearly tied in every statistical category, including the fact that both have finished off the podium seven times this year. You can point to plenty of moments where points were gained or lost—Musquin crashing on the first lap at Unadilla or Muddy Creek, Martin's myriad of problems at Glen Helen, or stalling with the moto win in hand at Budds Creek. Somehow, even the mistakes have evened out in the points, and that simply means there are no guarantees this weekend. Crashes, mistakes, or bad starts could trump anything else, and these two are not immune.
Then you have the teammates. Musquin has run out of luck because his Red Bull KTM teammate Justin Hill is out again with a compound fracture of his finger. The Lucas Oil/Troy Lee Designs KTM guys can try, but they haven't proven quite fast enough to interfere lately. Cooper Webb is ready—and now, apparently, willing—to help Martin, and now Aaron Plessinger is finding his groove and becoming a factor toward the front. Martin even has a brother in the field who rides a Yamaha and will become Jeremy's teammate next year.
Don't expect anyone to play dirty with Musquin, but if Martin gets another bad start, that's a lot of guys on blue bikes that can make it easy on him. Webb also seems to take extra pleasure in messing with Musquin. However, while Musquin is largely on his own on the track, his support group at Red Bull KTM, his trainer Aldon Baker, and his own championship experience, is second to none.
We have a mystery track, the potential for mistakes, and personality and style conflicts between the players. Just 2 points separate the contenders. This time we're not saying anything can happen; we're practically predicting that it will. It pretty much already has.