Welcome to Racerhead, coming to you from Hurricane Mills, Tennessee. It's the week before the 34th Annual Loretta Lynn's AMA Amateur National Motocross Championship, and I've been here since Monday, and so has a bunch of other folks. We're trying to get the place ready for all of the riders and their families who will spend next week competing in the big race. A little city has already built up, and the place is filling up, despite some pretty wet fields following a couple of days worth of thunder showers. It's supposed to be hot next week, so if you're coming here to race and you're reading this, start hydrating now!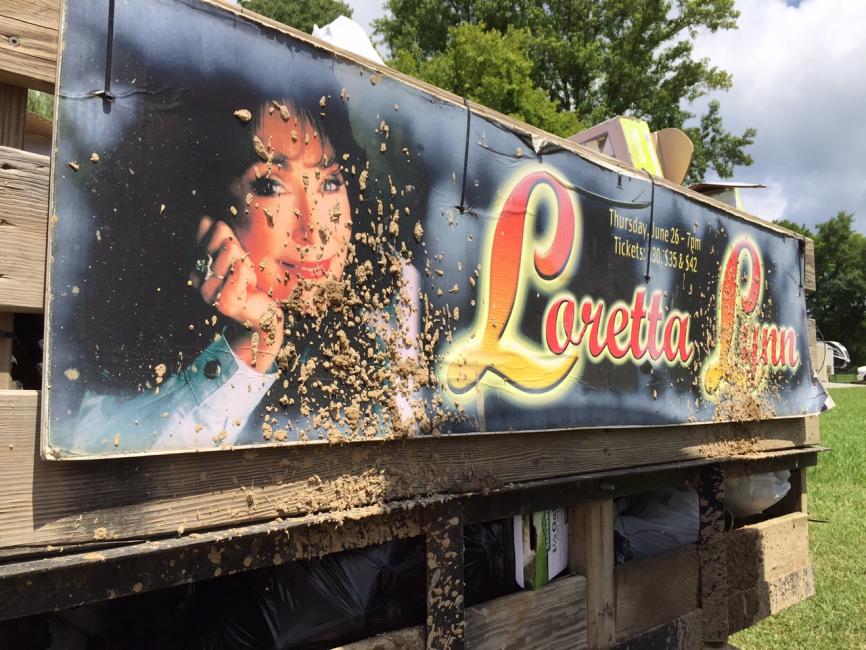 Out in the beautiful northwest the Washougal National will go off tomorrow, and not only will we see Red Bull KTM's Ryan Dungey and Yamalube/Star Racing Yamaha's Jeremy Martin try to maintain their point leads, we will finally see some returning stars, as well as a long overdue debut. HRC Honda's Trey Canard will ride his first race since he broke his arm at the Detroit SX, and Smartop/MotoConcepts' Mike Alessi will make his Lucas Oil Pro Motocross season debut after doing some international races, and also healing up from some injuries. And Monster Energy/Pro Circuit Kawasaki's Arnaud Tonus will finally ride an outdoor race here in the States after struggling with injuries and an illness that has kept him sidelined for much of the season. Rocskstar Energy Racing Husqvarna's Martin Davalos is also back this weekend.
You can watch tomorrow's first motos, beginning at 4 p.m. (ET), on MAV-TV, as well as www.promotocross.com. The second motos will air on NBC Sports. (And if you're at the Ranch, plan on going by the Red Bull Energy Station, as they will be showing it on their flat-screens). And if you want to watch the motos from Loretta Lynn's next week, they will stream for about eight hours every day on www.racertv.com and then air on tape-delay on NBC Sports.
We've been over last weekend's Spring Creek National plenty of times this week here at Racer X Online, but I would just like to add what a fantastic job John and Greta Martin did on their event. They are, of course, the parents of Jeremy and Alex Martin, frontrunners in the 250 Class, yet you would never know that if you saw them at their event, because they barely have time to acknowledge how proud they are of their boys. The whole area was hit by some heavy rain, and the Martins and their crew did a superb job of salvaging the track, and fans saw an excellent day of racing. We like to say each year that RedBud is the centerpiece of the series, but Spring Creek is definitely one of the pillars.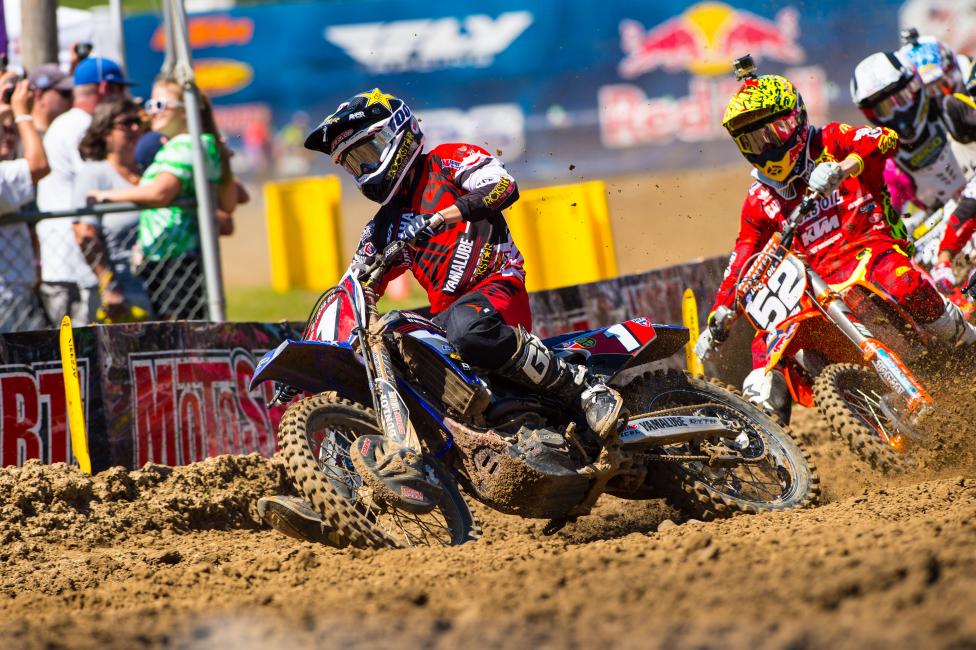 I hate that I will miss Washougal and seeing if AutoTrader.com/Toyota/JGR Yamaha's Justin Barcia can get back in front of Dungey, or if Red Bull KTM's Marvin Musquin can rebound from a tough race in Minnesota. I will also miss seeing #800 back out there. We texted back and forth a few times this week about the track, press day, bench racing, etc. He's glad to be back, as it's been a long year of injuries and misadventures.
It's weird to think that it's been more than a decade since Mike Alessi was here at the Ranch as a graduating amateur. He ended his youth and amateur career by winning nineteen out of twenty motos, losing only once during that run to a kid named Ryan Villopoto. Alessi also won the last seven titles he tried for at Loretta Lynn's, and he certainly ranks as one of the best-ever talents on minicycles, right there in my book with James Stewart and Adam Cianciarulo. You can check out all of Alessi's scores here.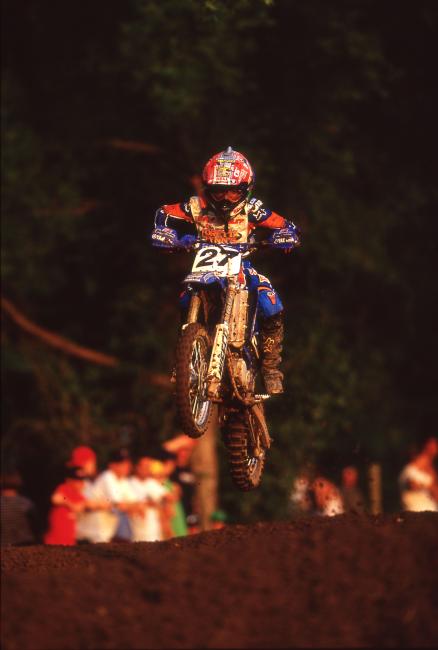 And while I'm thinking of it, here's a look back at some other amateur records of the talent that will be racing tomorrow. If you look through them, you will see that success at the Ranch is no guarantee of a stellar pro career, but then again, neither does it hurt to go there and not win, as Jeremy Martin never did growing up!
And check this out: Christophe Pourcel
In 2003, Pourcel came over from France and did the Areas and Regionals to qualify, and then raced his KX80. He went 3-3-3 in his motos, bettered by the 2-2-2 of Ryan Villopoto and the 1-1-1 of Mike Alessi. That was quite a group of talent!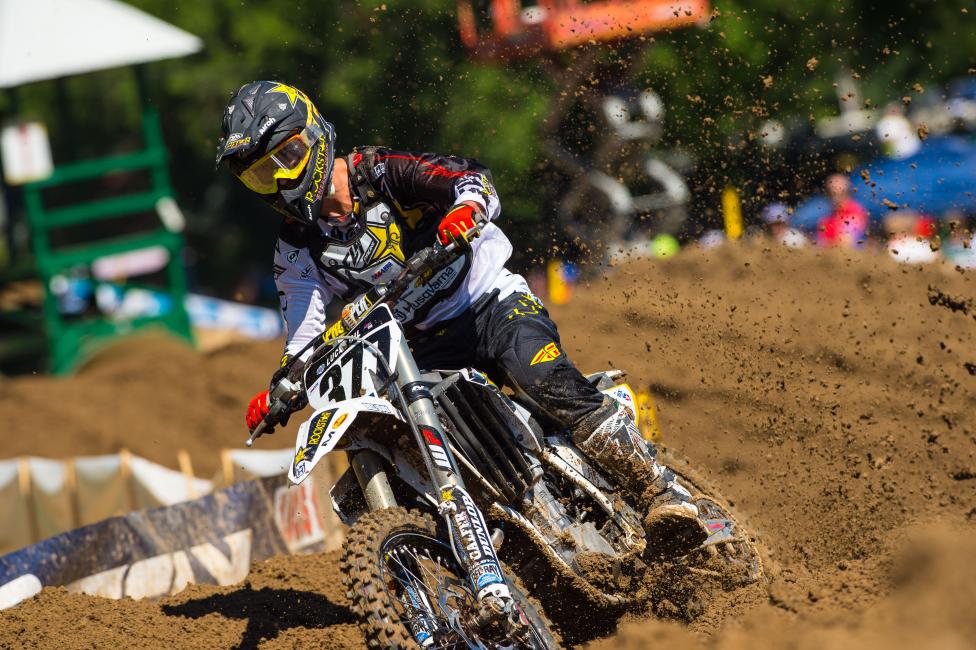 Okay, I need to get back out on the track, and back out in the heat. Here's Jason Weigandt from Washougal…
TRADE TALKS (Jason Weigandt)
In baseball lore, Ted Williams and Joe DiMaggio are known as two of the greatest to ever play the game. They played against each other for all-time rival franchises the Boston Red Sox (Williams) and the New York Yankees (Dimaggio). Still, that doesn't stop some baseball historians from wondering if each franchise, and player, would have been better off if the teams had made a huge trade and swapped players.
See, Williams batted lefty, and Yankee stadium, with a short right field, is known to favor left-handed hitters (lefties hit the ball to right, Williams would have launched a ton of homers over that fence). Joltin' Joe batted righty, and Boston's Fenway Park, has its famous Green Monster left-field wall placed much closer to the hitter than its distant right-field fence. Right-handed Joe could have hit a lot of homers over the Monster. These are all-time franchise icons and legends, but they could have been better off swapping homes.
What's that got to do with motocross? For the last five years the Ryans—Villopoto and Dungey—have been the most successful riders in the sport, and each year the schedule gifts us back-to-back home races for each. Dungey gets Millville and Minnesota fans; then Villopoto had Washougal, Washington. The odd part is that the two tracks actually favor the visitor's strengths. Both riders have won on both tracks, but you can argue that Dungey's smooth style is more effective at the slippery Washougal than Villopoto's throttle-happy technique, which is better served at sandy Millville. When the duo went head-to-head for championships, Villopoto usually came out on top, but it was oddly Washougal where Dungey scored some of his more impressive straight-up victories over Villopoto.
Dungey won his first national there, holding off Villopoto in the 250 Class in 2008. He beat him in 2011 on a 450 in the midst of a legendary title fight. Amazingly, Villopoto only won Washougal one time, in his last trip there in 2013.
Now Dungey comes in as the man in control, with Justin Barcia lining up as his most recent challenger (how many challengers has Dungey faced in 450MX through the years, anyway? Every season pretty much boils down to Dungey v. Someone). Barcia used to call himself "the world's worst hard-pack rider," but he's gotten better through the years, and won the 250 Class at Washougal in 2012. We'll see if he can continue his solid riding this weekend.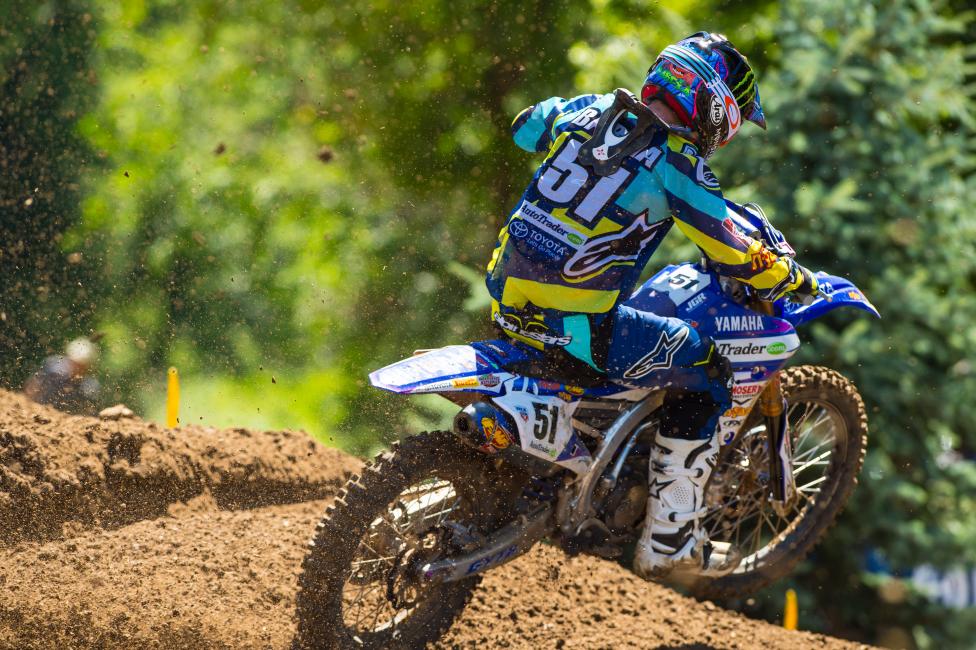 This brings us to Ken Roczen, who is still second in 450 points and was the someone in the Dungey v. Someone title fight last year. Roczen hasn't been as strong as needed late in the motos recently. When this happens to a world-class rider like Ken, you immediately hear questions about his fitness. In fact, at Washougal in 2011, Dungey ran down Villopoto in moto one, then left him down the stretch in moto two. Dungey had also rolled away from him at the previous race at Millville. At that point, I started hearing questions about Villopoto's trainer Aldon Baker. It was Baker's job to make sure Villopoto didn't get tired. If RV did get tired, it was the trainer's fault.
But then, at the next race, Kawasaki gave Villopoto a new 2012 KX450F and suddenly the bike worked better and he never faded again. Obviously, RV didn't get fitter in two weeks. His bike just tired him out less.
That's the argument we're back to with Roczen. He's obviously been through a lot this year, physically, with some injuries. The recent third episode of Red Bull's superb "MX Nation" web series highlights changes to his training plan this year, including leaving Baker and picking up Clint Friesen, who also definitely knows his stuff. We've also heard Kenny talking about bike setup problems throughout this summer at some of the post-race press conferences. Nothing terrible, nothing to insult his team, but clearly he hasn't found the perfect combination yet. Kenny's been fading in some motos, and we've returned to the, "Is the rider getting tired or is the bike making the rider tired?" argument, which is as old as the sport itself.
This week Kenny went to California to do some testing with Suzuki and try to rectify the situation. We might see as soon as tomorrow how big a difference it will make.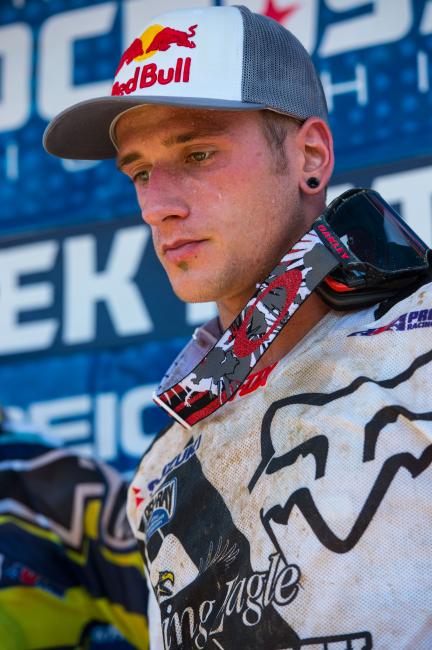 PRO PERSPECTIVE (David Pingree and Jason Thomas)
PING: Coming back from injury is a physical, mental, and emotional struggle. Coming back from injury mid-season sucks even worse. You're behind in fitness and speed, and everybody else is in a groove and comfortable with the race pace. Trey Canard isn't headed to his first rodeo this weekend in Washougal.
Unfortunately, Trey has been on the mend more than a professional tailor, and the last time he made a return from in jury at Washougal, it ended in a second femur fracture in one year and yet another surgery. Trey has figured out what he needs to do to come back and be competitive; that much hasn't been a problem for him.
But at some point the injuries start to take a toll. I always had knee injuries, and it made me tentative to stick my legs out in ruts or to charge through deep ruts when it was soft. Canard's injuries have been more spread out, but I imagine he creaks like an old, wooden floor when he gets up in the morning. Trey seems able to put the past behind him and not allow his past misfortunes to affect his present, and that's the only way to stay competitive. This is a great venue for him to return to because the temperature will be moderate and the track doesn't get super rough. I'm a big TC fan, so here's hoping for a couple solid finishes and a good return for "The Duck."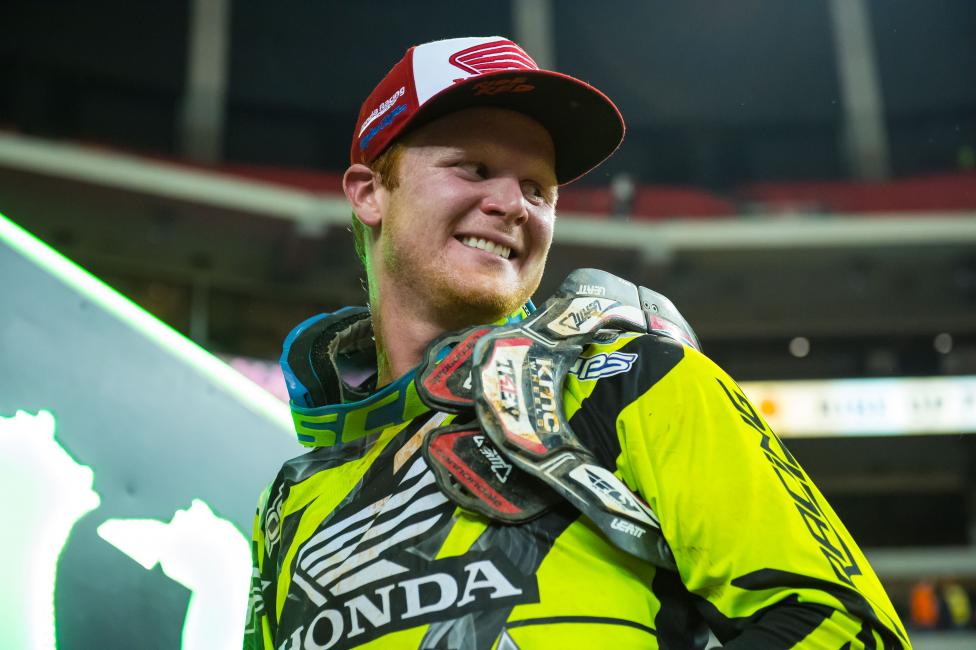 JT: I'm just going to come out and say it: Trey Canard is tougher than I am. The guy has had some of the biggest crashes and correspondingly scary injuries, yet just keeps coming back for more. Even more impressive, he seems to come back better each time! In a sport where injuries tend to create hesitancy, Trey seems to have the ability to compartmentalize all of those doubts and negative thoughts. Coming back at Washougal is a tricky choice, because as Ping alluded to, it has been the site of multiple femur breaks for Trey. Fortunately for me and my employer, he will be there for the launch of our 2016 line, but it had to be a topic of conversation when choosing an event to return to.
That he chose Washougal may be my closing argument as to why I believe Trey is so mentally tough. He could have chosen to return at Millville, the site of his first national ever and a track that he has enjoyed great success at. Instead, he will return to racing at a track that has never lent mercy to him. It's a statement in his own self-confidence.
It's as if he doesn't even remember those Washougal incidents, and he comes in with a smile and clear head. That outlook is very rare in this sport and is something I believe deserves admiration. If you have ever been injured (and if you're reading this, I will assume you have), you know just how tough it can be to overcome the mental hurdles that months of plaster can induce. Now think of Trey's string of injuries and the compounding mental strain that must incur. Take all of that thought and then watch Trey ride this weekend with reckless abandon. That, my friends, is how I know that Trey is tougher than I am.
THE NUMBER: 75 (Andras Hegyi)
If you add it all up—AMA Supercross and Motocross—Ryan Dungey just reached a huge milestone. His win on Saturday at Spring Creek got him to seventy-five all-time wins. The Red Bull KTM rider is only the fifth rider to achieve this number of professional wins.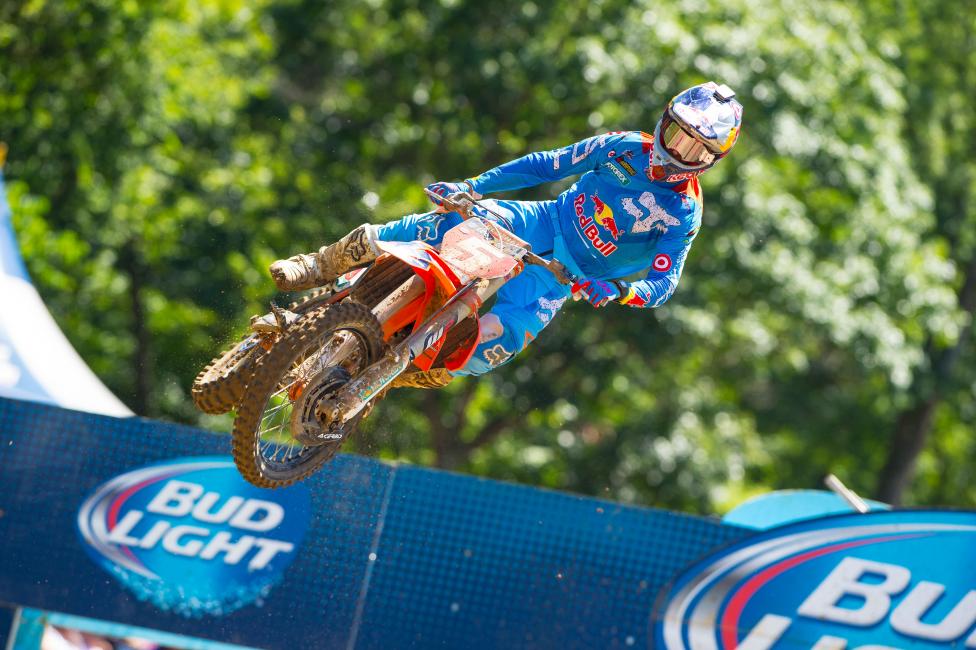 Ricky Carmichael: The most successful American stopped at 150 major wins, but if you add in his 125 SX wins (which don't count as major wins) Carmichael totaled out with 162 wins. In all during his pro career the GOAT grabbed twelve wins in 125 SX, twenty-six wins in 125/250 motocross, forty-eight main events wins in 250/450 SX, and seventy-six wins in 250/450 outdoors. Can anybody else ever break Carmichael's record in the future? At this point it seems like it won't happen anytime soon.
James Stewart: Bubba's vast potential and sheer talent share the headlines of his career with injuries, inconsistency, and of course his current suspension, which finally ends in August. But despite those difficulties Stewart was able to get 116 wins in all. He got a record eighteen wins in 125 SX, twenty-eight wins in 125/250 MX, fifty wins in 250/450 SX, and twenty wins in 250/450 MX (twelve of which came in his perfect summer of 2008). Stewart's winning almost certainly isn't over because he will be back to race full time in 2016, and he will likely have something to prove.
Jeremy McGrath: The King of Supercross got 102 wins during his career. McGrath scored thirteen wins in 125 SX, two wins on the 125 outdoors, his seemingly-unbreakable seventy-two wins in supercross, and fifteen wins on the big bike outdoors.
Ryan Villopoto: The recently retired Ryan Villopoto called it quits after posting eighty-three wins during his AMA pro career. He got eleven of this wins in 125/250 SX, nineteen wins in 125/250 national, forty-one wins in 250/450 SX, and twelve wins in the 250/450 nationals.
Ryan Dungey: So far Dungey has been able to get twelve wins in 125/250 SX, seven successes in 125/250 nationals, twenty-two wins in 250/450 SX, and he stands at thirty-four wins in the 450 nationals.
GOLDEN ERA? (Steve Matthes)
After reading our Racerhead contributor Andras' stats on riders getting to seventy-five all-time wins, it made me think about how since 1993 and some guy named McGrath, we've been in the age of legends. Think about it—the sport really got going here in the early 1970s, and we've had five riders hit seventy-five career SX/MX wins, and all of them have been since 1990 when McGrath got his first pro win, the 125 SX race in Las Vegas. The other four have all been since 1997 and on up. So in twenty-six years (1970 to 1996), we saw one rider start his career and end up with at least seventy-five career wins. And in the next nineteen years, we had four riders (Carmichael, Stewart, Villopoto, and Dungey) reach that milestone.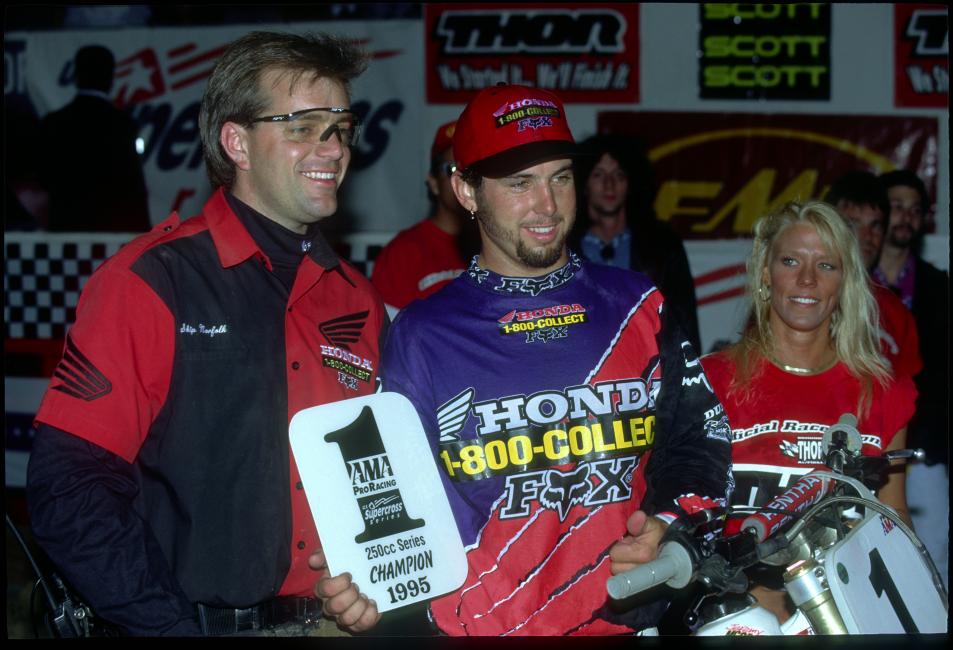 So what's up with that? Well, there are more races than ever before, so that helps a bit. The riders are racing much longer, save Villopoto, than they did back in the day; Jeff Stanton and Mark Barnett called it quits at 26 years old! But there's got to be more than that, right? I'm a believer that things like bikes and rider skills get better and better by the decade, just like I think any elite athlete in any sport is better than the ones in days past. We have better doctors, trainers, and equipment no matter what sport you're talking about.
So why have we seen so little parity in our sport in the last twenty years? It's been the McGrath Era, then Camrichael, then Stewart era (with some Chad Reed-reign sprinkled in there), and, finally, the Ryans (Villopoto and Dungey). I haven't fully flushed this out, but one theory I have is that, since Carmichael's time, the riders have been doing more and more off the bike, but there are very few racers out there that want to work that hard. What guys like RC, Villopoto, and Dungey do during the week when no one is around is not fun. This enables the riders to reach new levels of conditioning in order for them to be able to ride twenty laps/thirty minutes at a high level.
But most racers don't want to do that. It's not much fun, and it's very, very hard. The elite few who have chosen to do this have been rewarded with wins and millions of dollars. I'm sure the SX/MX promoters would love to go back to the days of multiple winners and the champion only winning four races, like Jeff Stanton back in 1992, but those days seem to be over. The razor-sharp tip of the knife that these riders have to be on in order to win is tough to do, and judging by the career win mark, only an elite few are able to balance up there.
TONY TRIED (DC)
A tip of the visor to Tony Cairoli, the eight-time FIM World Champion who was hoping to get another one this year, only to suffer a elbow injury at his home race in Italy last month. Tony tried to stay out there, despite the obvious pain and discomfort, and while he wasn't winning, he was trying to bide time in healing while also grabbing enough points to within striking distance of the red-hot Romain Febvre. But the injury was getting no better, and Cairoli made the tough decision to pull the plug on racing for awhile in order to let the injury heal. Over the years, despite the online din and chirping about the GP riders versus AMA riders, I've remained a staunch photo of #222 and just the way he carries himself, supports his followers and sponsors, helps out younger riders, and just leads from the front. He's a real champion, and I hope he comes back when he's 100 percent, and gets back to pursuing Stefan Everts' records.
And speaking of Europe, Jeffrey Herlings is making his return this weekend. He suffered a badly dislocated and cut finger. He's had a tough run the last couple of years with injuries and all, but he's still got this series on clampdown.
PULP LINKS YOU NEED TO CLICK ON (Matthes)
Pulpmx reader Milan won a weekend with Jeremy McGrath out at his ranch and documented it HERE.
Seth Rarick has found himself a nice home up in Canada racing the MX2 series, and our guy Troy profiled Seth-Ro HERE.
There are two riders that are making fans go "huh?" in the 450 Class. One of them is Jason Brooks, who Racer X profiled earlier this week, and the other one is that guy from Texas named Short. Not Andrew, but John, and Moser texted back and forth with John HERE.
David Vuillemin is worried about his French buddy Marvin Musquin in his weekly column HERE.
Tony Blazier profiled the history of Kawasaki machines HERE.
HEY, WATCH IT
Guy B. put the Vital MX "Lap Around" camera on Mike Alessi yesterday, check it out right here.
RANDOM NOTES
Last night, Kyle Chisholm won Thursday Night Motocross at Portland International Raceway, where every year on the Thursday before the Washougal National, they hold a race with big payouts (Chiz took home $2,700 for the win) for any pro who wants to enter. MotoConcepts riders Mike Alessi and Vince Friese were second and third.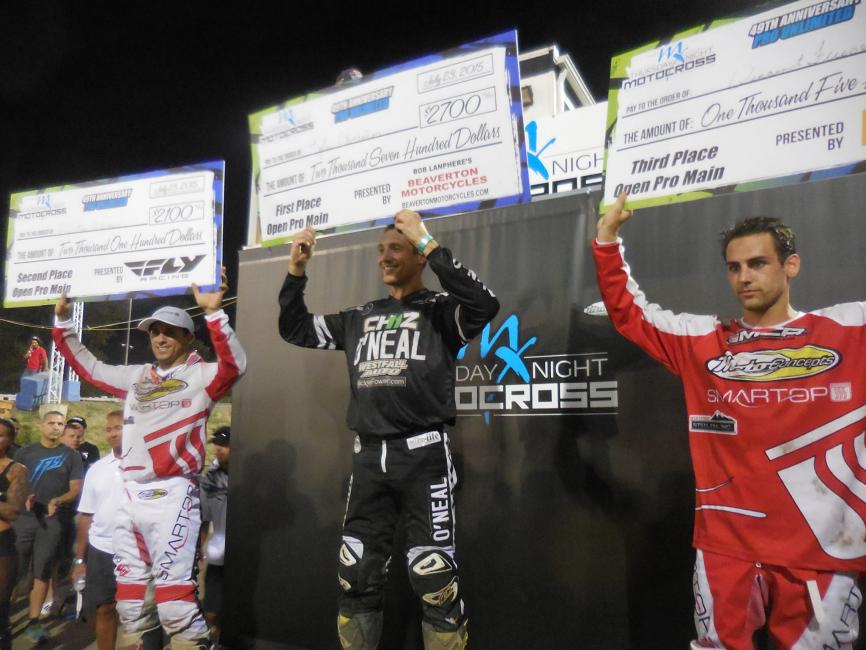 Red Bull KTM's Marvin Musquin landed the most recent cover of the German motocross magazine Cross.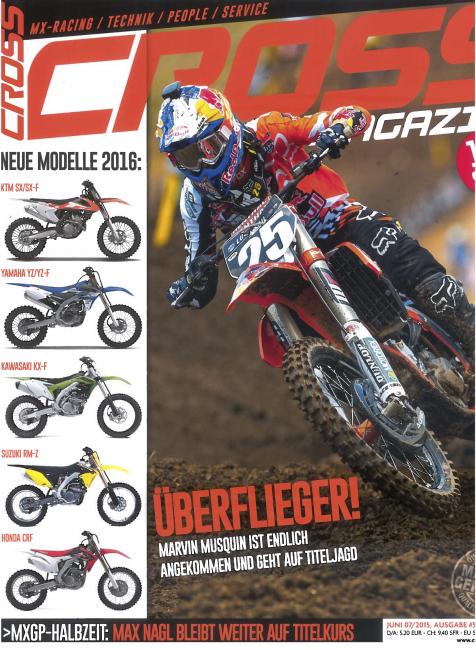 The August issue of Trials & Enduro News is now online for you viewing pleasure—FREE OF CHARGE—and it is chalked full of off-road competition reports and all manner of off-road knowledge for the techie at heart, including a look at the new Beta off-road line, the 2016 Honda Trials models, an inside look at Cory Buttrick's 300RR Race Edition, as well as Pat Smage's Sherco 3.0! We also have coverage of the Romaniacs Hard Enduro, as well as the French and Andorran World Trials events. Plus and interview with young Trials star Bryan Roper.
America's largest Amateur National Motocross Championship begins this Tuesday, July 26, through Saturday, August 1, for the 34th Annual AMA Amateur National Motocross Championship, presented by AMSOIL. Hosted at the historic Loretta Lynn Ranch, in Hurricane Mills, Tennessee, this event serves as the world's largest and most prestigious amateur motocross championship, serving as the proving grounds for amateurs looking to take the step towards a professional career.
Over 22,000 hopefuls from across America and the world attempted to earn one of just 1,482 starting-gate positions.
RacerTV will stream forty hours of LIVE racing coverage from the 2015 Rocky Mountain ATV/MC AMA Amateur National Motocross Championship, presented by AMSOIL. Race fans can watch their favorite amateur motocross racers compete at the coveted Loretta Lynn Ranch starting Tuesday, July 28 through Saturday, Aug. 1. Tune in throughout the week to watch the future stars of the sport. That's only on RacerTV.com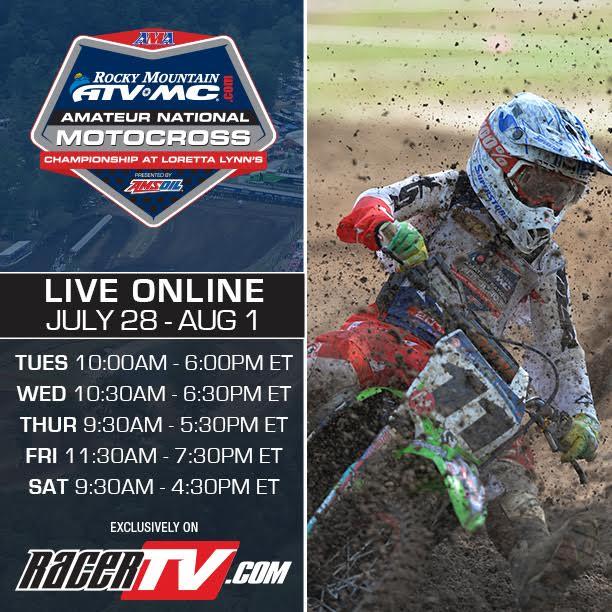 Subscribe or renew now and we will send you a FREE Ken Roczen cover T-shirt!
The cost for a one-year subscription is just $20, but you have to act now—this offer is available for a limited time only and good only while supplies last. Just click on the banner for more details, then subscribe and get yourself a free Ken Roczen Cover Tee!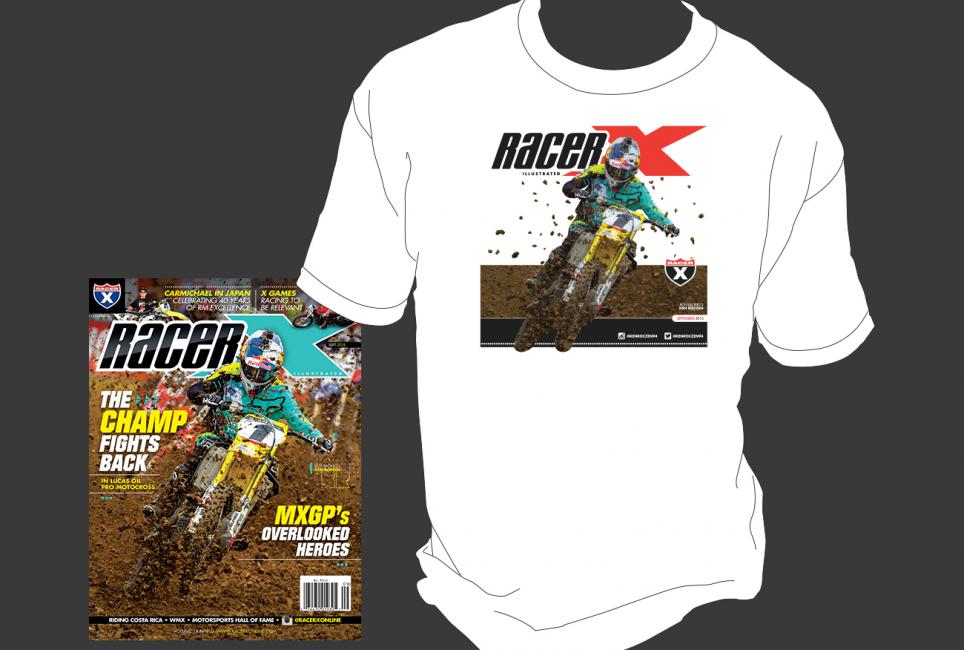 Never Summer is sponsoring the Washogual round of Racer X MotoDynasty Fantasy Motocross and will be giving out prizes to the winners of each class. Click HERE for a chance to win.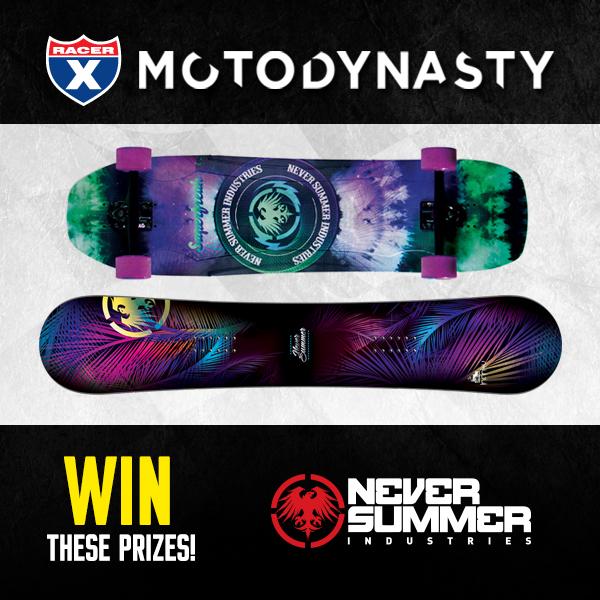 Set up your spot in the infield with this 30x60 towel featuring HRC Honda's Trey Canard.
Just stop by the Racer X booth on vendor row to subscribe or renew and get thirteen issues of Racer X Illustrated plus a Trey Canard beach towel for just $25!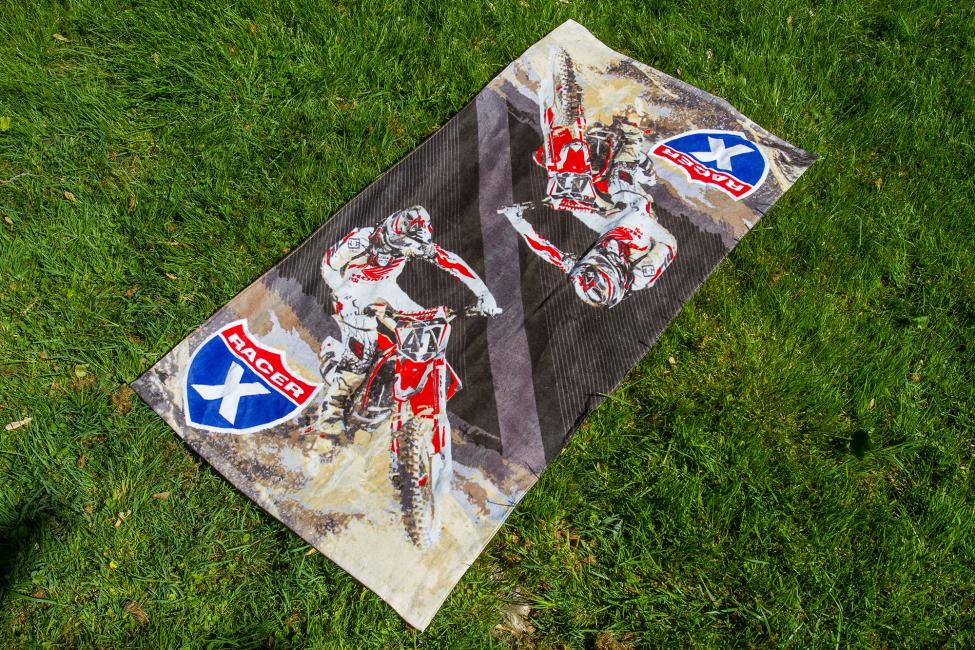 Don't forget stickers are always free at Racer X! Be sure to stop by and get your 2015 Washougal event sticker.