With thirty-three years of the Rocky Mountain ATV/MC AMA Amateur National Motocross Championship racing in the record books, here's a look at some of the facts and figures generated over three decades of racing at Loretta Lynn Ranch.
1975
The first year of what was then called the Can-Am National Amateur Motocross Championships in Baldwin, Kansas. The first winner? Bridgeville, Illinois' Mark Barnett, 15 years old, in the 125cc Class. In subsequent years it would move to Carlsbad, California (1976), Lake Sugar Tree, Virginia (1977), Road Atlanta (1978), Plymouth, California (1979), Millville, Minnesota (1980), and Buchanan, Michigan (1981). There was also a standalone AMA Youth National that rotated: Pittsburg, Kansas (1975), San Antonio, Texas (1976), Mt. Morris, Pennsylvania (1977), Baja Acres, Michigan (1978), Otter Creek, Iowa (1979), Brownsville, Pennsylvania (1980), and Reidsville, North Carolina (1981). The Amateur and Youth events were combined and relocated to Loretta Lynn Ranch in 1982, where they have resided ever since.
4
Champions crowned at the 1981 AMA Amateur National Motocross Championship, held at RedBud. Mike Roth (100), Connie Feist (125), Jeff Spreeman (250), and Mark Hinkle (Open) won the classes.
25
Classes offered at the inaugural event in 1982. The first winner was Freeland, Michigan's Sanford Buchalter, who captured the Open B Class—the first race ever off the gate.
38
Classes offered in 2015.
1010
Total champions crowned since 1982, the most recent of which was Draken Jaynes (Encinitas, California), winner of the 250 C division, the last gate to drop in 2014.
3,007
Gate drops since 1982. There would have been 3,033, but a hurricane in 1985 shortened the week and only two motos per class went off.
18
Consecutive moto wins for Baton Rouge, Louisiana's Kevin Windham, who swept all three motos in both of his classes for three straight years (1992-'94) to end his amateur career.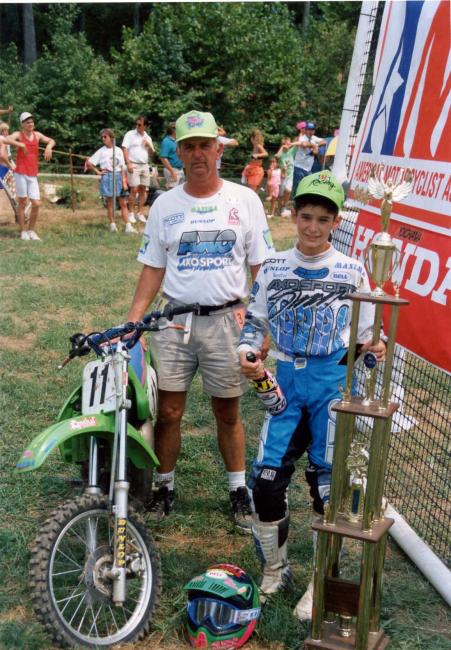 14
Class titles for Kevin Walker of Gray, Tennessee, all of them in the vet classes (1995-2010). It's the all-time record for championship wins.
3
Riders tied for second on the all-time Loretta Lynn's win list with eleven each: James Stewart, Mike Alessi, and Adam Cianciarulo. All eleven of Cianciarulo's titles came in minicycle classes (2005-'12), a record in itself.
30
Years that Kevin Foley has been winning titles at Loretta Lynn's—his first in 1983 and most recent in '13.
3
Class titles in one year (1983) for San Antonio, Texas' Danny Storbeck. The rules were changed the following year to limit championship finalists to two classes.
1
Loretta Lynn's title for Ryan Dungey, the three-time Lucas Oil Pro Motocross Champion and two-time AMA Supercross Champion. Dungey won the 125cc Modified (12-15) class in 2005.
5
Riders with the last name of Martin who have won Loretta Lynn's titles: Coleman, Jacob, Stephen, Tommy, and Vann.
0
Combined Loretta Lynn's titles for reigning AMA 250 Motocross Champion Jeremy Martin and his older brother Alex.
10
Riders with the last name of Smith—the most popular for champions here—who have won titles at Loretta Lynn's: Aaron, Bryan, Butch, Cameron, Danny, Forrest, Jordon, Justin, Les, and Tracy.
384
AMA professional races (SX/MX) entered by Dewitt, Michigan's Nick Wey, the first winner of the AMA's prestigious Horizon Award in 1997. It's given to the rider who shows the most promise for a successful professional career.
20
Times California has won the National State Cup for having the most class championships, including every year since 2007. Florida is next with seven years on top.
10
Loretta Lynn's Championships won by Ricky Carmichael—nine before he went on to win fifteen professional supercross and motocross titles (not counting his regional 125SX title), and one after.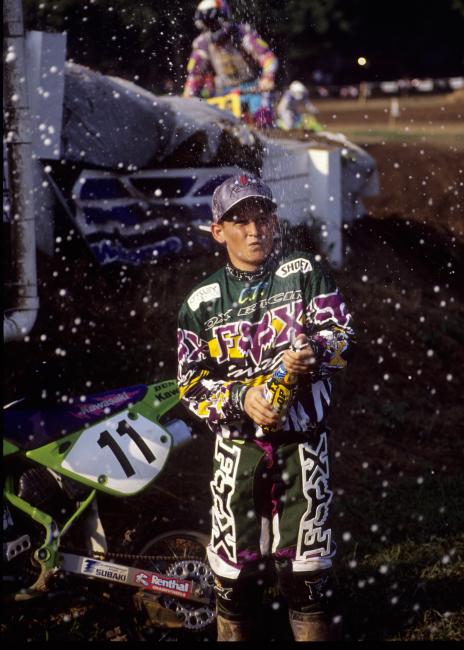 16
Brands raced in the history of the event, all of which are listed in The Vault.
8
Horizon Award winners who have gone on to win professional championships (including Regional SX titles): Justin Bogle, Jason Anderson, Dean Wilson, Trey Canard, Ryan Villopoto, Davi Millsaps, James Stewart, and Travis Pastrana.
12
Championships won by riders with the last name Stewart. Eleven by James, and one by Tyler in 51cc (7-8) in 2003.
7
Championships won by Motocross Hall of Famer and current supercross TV analyst Jeff Emig: three before his professional career and four afterward in Vet classes.
2
Times the track is used annually—once for AMA amateur motocross and once for AMA ATV motocross.
4
Camping areas at the Ranch: Stage Coach Hill, Camp Carmichael, Western Town, and Stewarts Town.
88.7
FM frequency where you can find the official MX Sports radio station.
412
Riders with the first name Mike or Michael who have raced Loretta Lynn's.
133
Riders with the last name Smith who have raced Loretta Lynn's.
2
Riders named Mike or Michael Smith who have raced Loretta Lynn's.
986
Entries at the inaugural event in 1982.
1,482
Entries in 2015, the current record.
3,272
Riders from California who have raced Loretta Lynn's—more than any other state.
3,168
Riders from Florida who have raced Loretta Lynn's—a close second to California.
29
Riders from Hawaii who have raced Loretta Lynn's.
21
Riders from Alaska who have raced Loretta Lynn's.
43
Classes in which Tallahassee, Florida's Earl May has competed—more than any other athlete in Loretta Lynn's history. He won one twice: Senior +40 in 2004 and Masters +50 in 2014.
CHAMPIONSHIPS BY BRAND
367 Championships won by Kawasaki
245 Championships won by Yamaha
158 Championships won by Honda
144 Championships won by Suzuki
52 Championships won by KTM
40 Championships won by Cobra
2 Championships won by Maico
1 Championship won by LEM
1 Championship won by Husqvarna
212
Entries from riders who list Cairo, Georgia, as their hometown—a town with a total population of 9,807, according to the 2013 census.
12
Most championships won by riders from a single state (California) in a single year (2008).
206
Championships won by riders from California—more than any other state. Florida is second with 111.
2014 ACCOLADES
R.J. Hampshire - AMA Horizon Award winner
Tristan Charboneau - AMA Motocross Amateur Rider Award
Garrett Marchbanks - AMA Motocross Youth Rider Award
John Grewe - AMA Motocross Vet/Senior Rider Award