As an announcer, I'm supposed to use stats and notes to prepare for the races, but some stats simply don't apply. The most useless stat in this sport is a list of brand wins at a certain track. This doesn't work in motocross and supercross, because the rider matters more than the bike, and certain bikes and brands don't actually rise at certain tracks.
It's not like anyone can point a line to Kawasakis always working exceptionally well at Daytona, or Yamahas excelling on tracks that have downhills, or Hondas winning whenever you have flat corners. This isn't car racing, where some teams historically have the right combo at a certain circuit.
Still, I grew up hearing Art Eckman run off stats like "McGrath just took Yamaha's fifth-ever win in San Diego!" You know what? More than likely, Yamaha took San Diego in the same year it won at a lot of other tracks, like the years when Jeremy McGrath was on the bike.
In this sport, it's more rider than bike, so a good rider will make a bike look good anywhere. Just as an example, look at Suzuki's history. For a long time, they didn't win on any track. Then they got Ricky Carmichael and they won on every track. Then RC retired and they didn't win on any tracks, until they had Chad Reed and Ryan Dungey on the RM-Z450. Then they won on a lot of tracks, until those guys were gone, and the brand then didn't win on any tracks. Later, riders like Davi Millsaps, James Stewart, and Ken Roczen won on the Suzuki 450 again. My point? A team's strength lies in its riders.
That stat book won't reveal this though. Someone who doesn't understand could look up Millville results today and see six Suzuki wins in seven years between 2005 and 2011. Team hasn't won there since, so what happened? Suzuki used to have that track dialed!
What happened was that Carmichael, Reed, and Dungey are no longer riding that bike. This year, Ken Roczen or Blake Baggett could win Millville, making it look like Suzuki has its Millville mojo back. They really just have good riders.
Bike and team advancements come at a glacial pace compared to riders, who come and go as free agents, win races, and get injured. It's jarring how quickly this can change the fortunes of a team, especially when you think of how little control teams have other these things. This dawned on me at RedBud. I walked under the Honda tent to check on Cole Seely's status (he was out for the day with a leg injury, but he'll be back this weekend). Trey Canard was there but just to sign autographs, and Eli Tomac's #3 bike still sat there on display.
Wow, three big hitters all on the bench.
Someone not following the sport closely would see only Freddie Noren's #39 bike and wonder what happened to the mighty Team Honda? No offense to Noren, but he's a replacement rider working on top-tens, not race wins.
All of these things, however, don't have anything to do with the Honda team or bike itself. In fact, 2015 was shaping up to be a great season for the brand. In Monster Energy Supercross, you could make a case that Honda's team/bike group had the best overall effort, with Tomac, Canard, and Seely all getting wins. Then Tomac absolutely ripped at the beginning of the Lucas Oil Pro Motocross Championship. Seely is known more for his supercross skills, but he was showing some signs on the 450 outdoors with a third in a moto at Thunder Valley, until he injured his leg prior to Budds Creek.
Then Tomac's season ended suddenly with a crash. Canard was second in supercross points until he broke his arm in a crash that wasn't his fault, and he's still out. Honda had a loaded deck with three talented riders and some very capable machines. A fan who cruised by the tent at RedBud would have no idea.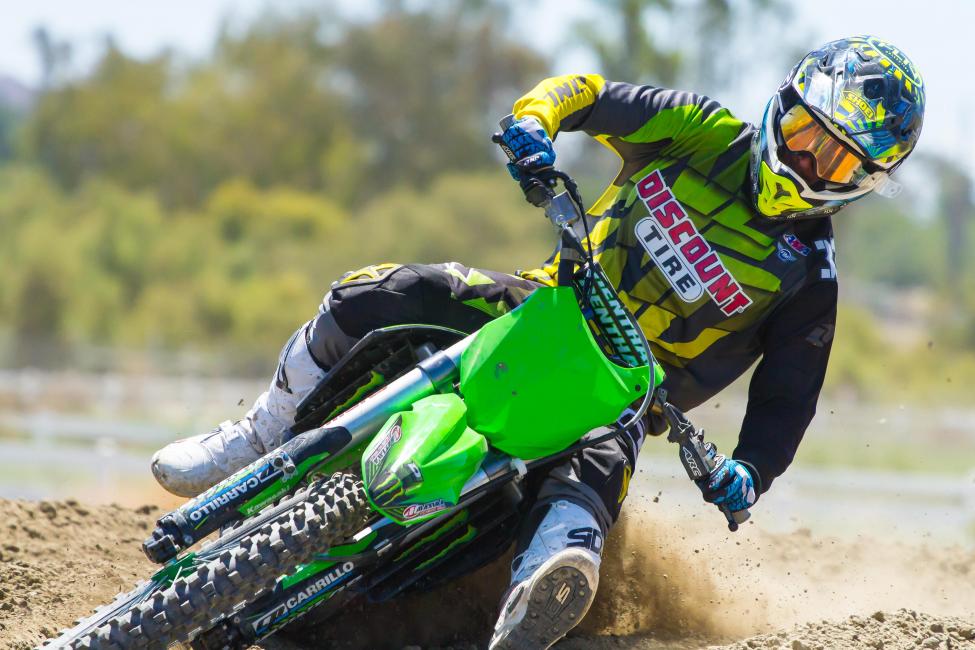 Monster Energy Kawasaki is still heralded as possibly the best team in the biz thanks to Ryan Villopoto's success. That success is beginning to fade into the rear view though, with the last of RV's four supercross titles now coming over a year ago. After the Monster Energy Cup, though, hopes were very high for the new Davi Millsaps/Kawi combo.
In fact, in my informal poll of the pits at Anaheim 1 press day, I heard more people pick Millsaps as their title favorite than anyone else. Yes, people who didn't work for Kawasaki or Millsaps, unbiased people, were telling me Millsaps was their number-one pick for the 2015 championship. Not Roczen, not Dungey, not Tomac—Millsaps.
On January 1, this made complete sense, and I had a hard time disagreeing with it. Millsaps was so brilliant in 2013, he won the Monster Energy Cup, and Kawasaki was so strong each year with Villopoto.
It didn't end well.
This left Kawasaki literally without a rider at the last few SX races, and Wil Hahn was still trying to rebuild himself from major injuries when the gate dropped for outdoors. Hahn was making progress but just got banged up again. Josh Grant and the team might provide each other with lifelines, but the bottom line is both Honda and Kawasaki had seasons go off the rails for reasons completely outside of the mechanical realm. Had Millsaps panned out, had Tomac and Canard stayed healthy, so much would look so different.
The bikes? We have no idea if that's even a factor.
Now we're rolling into Millville and two brands have momentum. KTM has the Dungey/Musquin tandem battling for both titles, and Yamaha has Jeremy Martin carrying the 250 red plate and Justin Barcia riding the momentum of two straight victories.
No doubt, these teams and brands have done their homework and refined their bikes. These new KTMs appear to be much better than the old, and Yamaha has come a long way, especially in the 250 Class, compared to the old carbureted bike from 2013.
These changes, though, apply on all tracks and make the bikes work better everywhere. But more than anything, the likes of Dungey, Musquin, Barcia, and Martin are just serious talents, and they'd be good on a lot of tracks, on a lot of different bikes. Teams try, but so much is in the hands of the riders that ride for them. Just check the stats.