Currently seventh in the FIM Motocross World Championship, Shaun Simpson has taken up residence on the fringe of the top five and has been within touching distance of the podium this year against the odds. He's still unbeaten after five rounds of eight in the British Motocross Championship. In Grand Prix, he's again fulfilling the "David" role as privateer against the "Goliath" that is the group of riders from seven factory teams. And he's already been picked to represent Great Britain for the fifth time at the Motocross of Nations in September.
Watch out for the #274 at Unadilla as he attempts his first round in the Lucas Oil Pro Motocross Championship. It's the closest to the usual #24 that the Hitachi Construction Machinery Revo KTM rider has used for most of an eleven-year career in MXGP (although the 27-year-old Scot has bolted a #1 on the front of his 2015 450 SX-F in the UK this season).
We caught up with Simpson to get his take on MXGP, the British Championship, and why he's coming to the States.
Racer X: For the second year in a row you are the top privateer in MXGP. Is that more satisfying or frustrating?
Shaun Simpson: I think it is mainly satisfying because of what we have put into it. We are gaining the rewards of the hard work we have done. It is probably much harder work than I'd like it to be. Sometimes I cannot do the training I want to because there are bikes to build or prep. Being so hands-on means you can closely see the areas you need to work on more and where you are gaining. We can plan week by week, race by race where we'll go and what we'll do, and that can be an advantage as well as things like having different setups for different races and having a system that only two or three of us know very well. So from that angle, it is definitely satisfying when the results come in, and not just week after week but also every season.
In 2014, I was seventh in the world and the British Champion, and this year we are backing that up. However, there is an element of frustration as well, because after the year we had in '14, I felt I should have had a shot at a factory ride, and that didn't come about. It keeps me striving for more though. Next year I want that support and the chance to show I can be one of the top three to five riders in the world with the right material.
Where do you think you lose and gain compared to the factory guys?
Where I lose is just through the amount of support compared to a factory setup. There are more people, resources, and team structure and atmosphere, more testing. There is also the electronics factor that seems to play a much bigger part these days. That's where we cannot work so much because we're limited with our resources.
The areas in which I gain are probably the freedom to do what I want with my schedule and choose the races I want to do, and Roger [Magee, team manager] has been great in that respect. I'll always owe him for backing me to back myself. If we want to change something on the bike, then we can get it done relatively simply without going through too many channels or people holding their hands up saying, "you cannot do that." In Germany this year [Teutschenthal hard-pack for round ten], that was probably the first time I thought I really struggled, and the factory bikes just seemed to carry an edge that I couldn't in terms of getting the power down. Whether that was down to engine character, electronics, or tires I'm not sure, but I felt those were the areas where works teams had the biggest gain. That was probably the first weekend this season.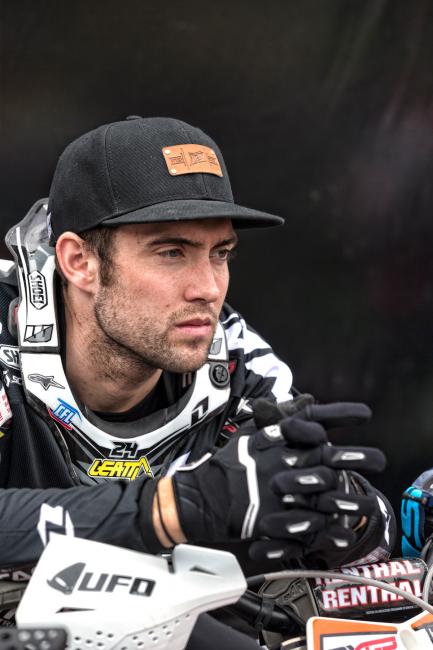 So you work on your own bikes and sometimes carry them around. It's quite a rudimentary way to go Grand Prix racing.
Yeah, I think it is quite a rudimentary way to go racing, but there is no denying with the resources we have we make it work somehow. Hats off to my dad and everybody else who knuckles down. I do put in quite a few hours working on the bike, and in Latvia last week we had an issue with the frame that meant there was no break between the motos for Dad and I. We had the bike in bits, and I only had time for a banana.
There are moments when it is pretty tough, and I do find myself thinking, "What could I do with a bit more?" and get certain things done for me so I could focus on myself physically, mentally, and just worry about the bike when I have to actually ride it.
You won in Lierop in 2013 on a shoestring. Is it still possible to take victory in the premier class in that way?
Yes, simply. At the end of the day it is just motocross: a set of handlebars, an engine, and a set of wheels, and you go out on a track and get around as fast as you can for thirty-five minutes. That's it, basically. Of course, there are many more factors involved. If the track suits me, the conditions suit me, and the setup is working well on that track—like it was in 2013—then it could be achievable. Over a whole season? I think it would be difficult to say it'd be achievable. I still believe it's possible…and that's the motivation that gets me up in the morning and striving towards those results.
You only recently turned 27. Are you at your peak, or is the intensity of riders like Romain Febvre at 23 hard to match?
No, not at all. I think it is definitely my time to shine. I have been a slow burner in the past years, but I have looked after myself and I am still learning about who I am and how I can handle myself in race situations. I've also been able to use my experience and knowledge in setting up a bike, and I think these next few years are going to be my prime time. Guys like Febvre coming up from MX2 and even [Jeremy] Van Horebeek one or two seasons ago, I think they have a couple of advantages but also disadvantages, and I think racers like myself can hone in on the good parts. I do pride myself on my consistency, but I take it like every day is a new day to learn, and that's another factor in motocross: you cannot be afraid to change or try something new. It is a short career, but it is one that you have to put everything into.
Is it annoying that factories tend to spend more on race-winning potential than the kind of consistency that sees you on the gate every week, taking good TV time, giving return for the sponsors, and taking a decent final championship position?
It is frustrating. Factories do seem to want to take risks on younger riders coming through. It is more annoying because you feel like saying, "I'm the package! I can make it work!" and that's all I want at the end of the day.
What about help from KTM? Considering you are the second-best rider for them in MXGP this season….
The support from KTM has been in the right direction, and it has slowly been getting better. KTM is a big company, and they are smart enough to know that their standard material is pretty great for teams like Hitachi Construction Machinery Revo KTM, and then with some of the suppliers we have in the team we can get things dialed in. We've got the bike set up nicely with the suspension and engine. KTM have had three factory riders in MXGP this year, and they've obviously been busy with them and also supervising the Husqvarna boys at IceOne. It is a lot to keep up with without worrying about riders like myself. Overall, I'm reasonably happy. In fact, it is more or less what I asked for at the beginning of the season, and I'm looking forward to getting my foot in the door and bit more and building the bridge stronger for the future.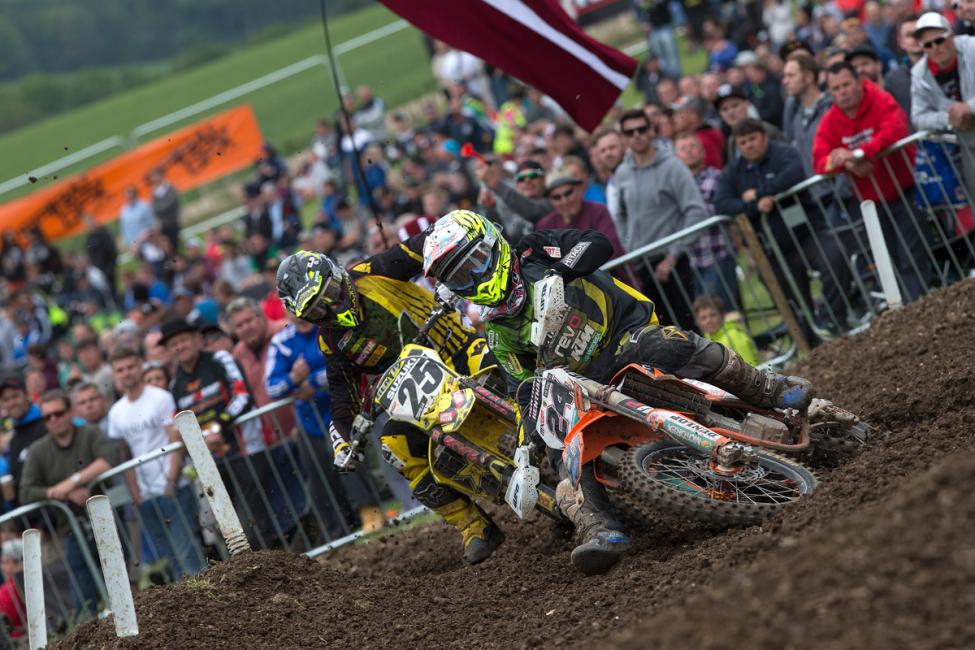 Nice record in Britain. Three motos each round and you're still unbeaten for overalls after five races.
It is always nice to bolt the #1 plate on and going back to having that feeling of being "top dog" in the UK. I need to try and extend the championship and hopefully get into a position where I can win it a round early. Motocross is a funny old game, and it definitely is not over until it's over, but I am sure I will be there when the finish flag goes out. I just need to work on gaining that extra little bit.
A lot of talk is happening in MXGP for 2016. Can you say much?
We had some talk with a couple of factory teams, and I think they know I am a solid bet. I've been working hard off the track as well with the social media and some initiatives, like a small fans club and the chase for sponsors to have space on my lid. It has been a busy year and the last month, and there has been quite a bit to think about. There were a couple of rides up for grabs, but we're close to a direction for next year that I'm very happy with.
Finally, Unadilla. Why?
I've always been curious about the Nationals, and it has been a mini dream to head over and give it a try someday. I have a couple of great personal sponsors that fancied helping me to make it happen this season, and Unadilla fell into a gap in the calendar. We're all booked up, and I'm really looking forward to it. I just want to enjoy the experience, see, and learn a bit and not have any expectations for results.
There might be a factory KTM free there. Have you spoken to Austria about running the bike?
Yes, and they offered through Roger [DeCoster, Red Bull KTM team manager] and I'm flattered. We're talking about it at the moment. I really appreciated the chance to be able to go under the awning, but that was never really the point of going. I have to think about the chances of getting things set up and working well in the short time we'll be over. And I've been running the 2015 450 SX-F all year.
BTO Sports have offered a link and the possibility to work with them, so that's where we'll be, but I don't know with what bike yet. The trip will be about having fun away from the pressure of MXGP and leading the British Championship.