RedBud MX
Buchanan

,

MI
RedBud
Lucas Oil AMA Pro Motocross Championship
BTO Sports is your number one source for all of your motocross parts, gear, accessories and apparel. BTOSports.com is a motocross company who is truly dedicated to the sport and to the customer. Proud sponsor of your Racer X Podcasts and the BTO Sports race team.
RedBud is always awesome. Let's just put that out there right now. Taking place on the Independence Day weekend always adds to the RedBud mystique, and it's going to be hard to top this year's race. Round seven of the Lucas Oil Pro Motocross Championship had a perfectly prepped track, great weather, awesome fans, and some nice racing.
I've always said that Lakewood is a sneaky-good national, Millville is probably the best track, Glen Helen has great obstacles, High Point the best viewing and Utah has the best press box (yeah, it's the only one with a press box, but I'm trying!), and basically every track has something to get excited about. RedBud has all the above (save the press box), an iconic obstacle (often imitated by other tracks, but never duplicated), and much, much more that adds up to an awesome race. If you've been there, then you know what I'm talking about. It's the atmosphere, something like what Phil Collins said about being in the air.
Here's what I wrote last week regarding Justin Barcia's win at Budds Creek:
He was terrific and worked everyone to take the win. It was muddy, but riders are temperamental little flowers, this could be the push he needs to get the confidence to be "Bam-Bam" again—the dude who gets great starts, fights like hell to stay up front, and has his desire to win connected to his right wrist.
And guess what? The temperamental little flower won again! This is how riders work! Barcia rode to 2-1 scores to get the overall. I've said it time and time again: You wouldn't think these millionaire riders with all this talent on a motorcycle and people worshipping them would be mental wack jobs, but a lot of them are. They're fragile, insecure riders trapped in this bubble. When things are going right, they're amazing, and when they're not, they suck. I was a mechanic for eleven years on two factory teams—I've seen this first hand.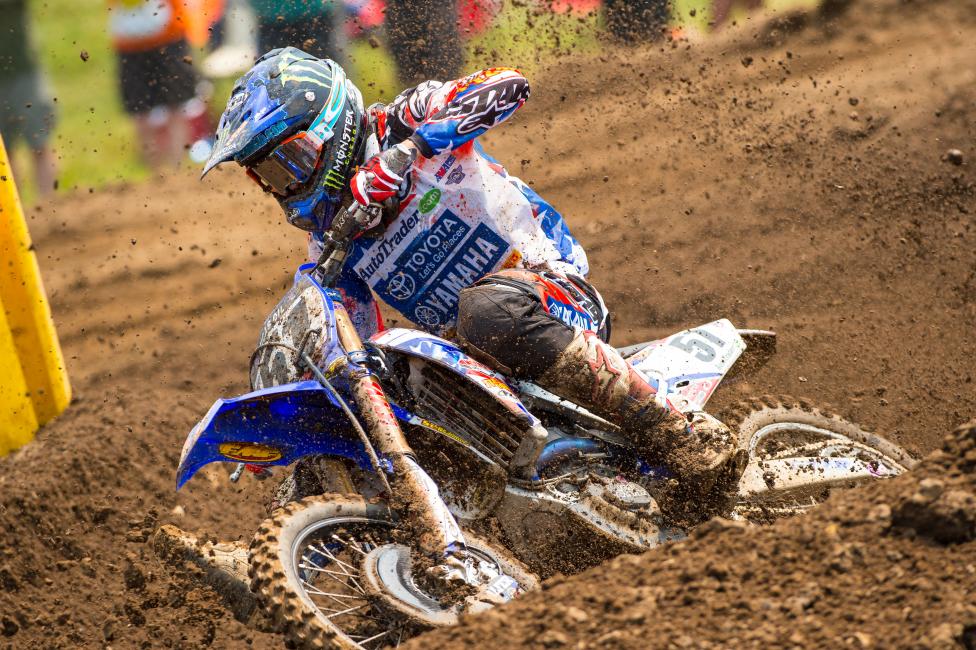 Barcia is one of the best examples of how confidence impacts racing, because he's actually one of the toughest guys out there. He has always had a chip on his shoulder that makes him special. He rides with purpose, aggression, and a general "eff you" attitude. That's what makes him a two-time 250SX champion and a rider who's won a race in every class there is to win in (Ryan Dungey, Trey Canard, Ken Roczen, Chad Reed, James Stewart and Andrew Short, are the only other active riders who have done that). That win last week in the mud was all he needed in his brain to realize that he's Justin EFFING Barcia again. In the second moto, he had Dungey, one of the fittest, fastest riders in the world, lurking two seconds or so behind and he didn't crack once. I guarantee you Dungey thought he would be able to keep a consistent pace, reel in, and pass Justin like he did in the first moto, but the #51 held it strong the whole moto. Justin Barcia is a new man, but also kind of like the man he used to be. Barcia's mentally tough, but even he couldn't keep afloat through some of the rough times he's been through lately. He needed that Budds Creek win get back above the water.
So to all the teams out there who are doing everything to make a struggling rider happy, just give up. Stop testing— your bike is close enough. It's not "unrideable" (trademark, Timmy Ferry 2003-2006) despite what the rider tells you. AutoTrader.com/Toyota/JGR Yamaha didn't find some magic setting to get Justin the 3–4 seconds. Your bike is great, your team is great, and you just need to hope something clicks in your rider's head to make him go faster. These guys are all amazingly talented and there's so much that's just in their head. Justin Barcia has proven that to us once again. I'm not singling out Justin as the only head-case out there; he's just the latest example.
However, there's a flaw in that theory. If you did that, if you just stopped working on the bike and just crossed your fingers hoping your rider would suddenly get it right, well, your rider would think you guys gave up on him and he would be sad. The temperamental flower would close up, and you wouldn't get any magical rides out of him. So, yeah, keep going out to the test tracks, and keep playing with air volume in the forks, shims in the shocks, clutch play, and start hook positions, but just know none of what you do matters. It's all between the ears, and that is what's frustrating and great about our sport.
Ryan Dungey is probably okay with going 1-2 because Barcia's not a threat to the ultimate prize of the 450MX title. Kenny Roczen is in contention, and Dungey put 7 more points on the German, so that's all good. He was his usual terminator in the second moto, but it just didn't work. Barcia was John Connor on this day.
By the way, I saw the new Terminator. Not many people love Terminator movies like me (I saw Terminator 2,3, and 4 on opening days), and I have to say, it was terrible. Just cheese-ball. I was a sad panda leaving the 11 p.m. showing last week. They've ruined everything, and not even Skynet can fix this.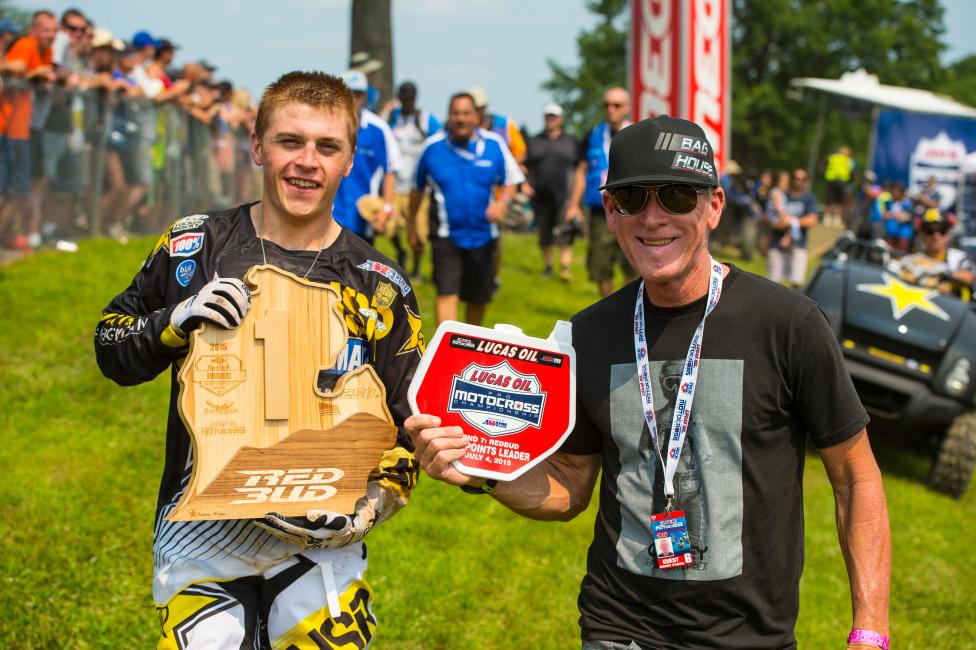 The 250 Class at RedBud had a little bit of everything going on. Jeremy Martin went 1-1, and he passed teammate Cooper Webb on the last lap to steal the first moto win. Second moto, Webb went down with about three laps to go while in the clear to again give Martin the lead. The points leader Marvin Musquin had his bad wrist act up and wasn't his usual stellar self. The kid Adam Cianciarulo didn't even make the race, as he had his "good" shoulder go out and needs another surgery like he had on his "bad" shoulder, so he's out for the summer. The still-fresh-out-of-retirement Christian Craig led over half the second moto on the day he inked his 2016 GEICO Honda ride to complete a remarkable transformation. Zach Osborne is using John Tomac, the father of a guy on another team, to reach new levels. And Alex Martin is just continuing to be amazing.
Jeremy said on the mic that other riders "are going to have to suffer to beat me," and he told me that he's pretty sure he does more laps than anyone else in the class. With Johnny O'Mara helping him out (O'Show's old student, Barcia, is also doing pretty well this year), Jeremy and his brother Alex have been putting in some serious bicycle and moto time. Both brothers have left Florida and moved up to Millville full-time for the rest of the summer, so it should be interesting to see how they do from here on out.
What's that you say? Millville is in a couple of weeks?
Yeah, probably just a coincidence there. The AMA rule is you can't ride the track within seventy-two hours of the national, and I'm sure they won't break the rules. But before then? I would be moto-ing away.
I'm starting to think some teams should make struggling young riders go get a job for six or eight months to scare them straight (fast). Christian Craig of the GEICO Honda team quit the sport (don't say retire because unless you made enough money to never work again, you didn't "retire." Retiring means not having to work. Having to earn money after moto means you quit or just "stopped racing." We need to make this a law) because of injuries and not being able to get a ride that would actually, you know, pay him.
He married the daughter of one of the owners of GEICO Honda, moved to Minnesota, became a dad and settled into the nine-to-five life working with his father-in-law. Last summer he rode some 450MX nationals for fun with GEICO Honda and did pretty well. This year he got a 250 ride when Justin Bogle got hurt and has been pretty good to great every week save for his second race at Muddy Creek.
Before he came back, I flew Craig to Vegas to co-host the Pulpmx Show with me HERE, and it was clear he was getting the itch to race again. He talked about how much "real life" sucks on the show and how he was going to try again. I just didn't know it would be that soon after the show, and frankly, I didn't know he would do this good. He led over half the race in the second moto!
Quitting the sport, working a real job, and having a family to support have really made Christian realize what he's got to do to become a factor at the races.
Managers, if you have a talented kid who's struggling, ship him off to work the midnight shift at 7-11 for six months, and when you get him back, he'll be very fortunate and might just burn those extra laps at the end of the day.
Then again, have you seen Craig ride a bike? There's some natural talent in there that most riders will never, ever have no matter how many laps they spin.
The other amazing story going on is Alex Martin. This guy is showing that no matter how janky your team gets (he had to endure some rough moments as part of the old Eleven10 Mods team), no matter what happens, if you work hard and never give up, you can indeed suceed. Alex finished fifth overall with a couple of nice rides and helped out his younger brother by passing Musquin in the second moto.
Let's take a look at both riders and see who's got the edge.
Family Tree
Christian's dad is Mike Craig, one of the more naturally talented riders ever, who won a 450 supercross, was a factory rider, and has more stories about him off the track than on.
Alex's dad is John Martin, who won a bunch of Enduro titles on a Can-Am in the 1980s, and despite being one of the shortest champions to ever win a motorcycle title ever, chose to ride the tallest bike ever made. Ballsy, bro.
Edge
Gotta go with Christian here. Mike Craig was amazing on and off the track. I would tell you some of the off-track stories here, but there's zero chance they would make it past the editing process [Editor's note: Good move, Matthes—Weege]
State of Suffering
Alex broke in as a pro in 2008 and rode for a bunch of teams, like Ti-Lube Honda and Eleven-10 Mods, where he pitted out of a black box van; had bikes blow up all the time; couldn't race one national because the team didn't make tech on time; missed a supercross because the team just didn't show up; spent his own money to go race; and drove the box van himself to many races.
Craig got a TLD Honda ride right away, broke his back badly, then a whole bunch of other bones here and there. Craig was also a fill-in at JGR Yamaha, but that's not rare, as that team has had 578 other riders fill in over the years. Heck these days they have a full-time Phil-in rider on payroll!
Edge
Have to go with A-Mart on this because he suffered for years and years until CycleTrader.com/Rock River Yamaha got him as a mid-season pick-up a couple of years ago. Besides the injuries, Craig's had good bikes and teams his whole career. So while Craig had broken bones, Alex had broken bikes and teams.
Other Jobs
As I said, Craig actually had a real job. Like, get up in the cold-ass Minnesota morning, go to a construction site or office, work all day, and then try to squeeze in some laps after work at some barn.
Sure, Alex had to cut some grass or pick some weeds at Millville, but that's probably about it.
Edge
Craig by a mile here. HE HAD A REAL JOB!!!!
Lifetime Movie of the Week Potential
This one is close. Craig quit the sport, got married, and had a baby. Then came back and has been killing it. Him signing with GEICO is the stuff movies are made of, but let's be honest here, although nothing is handed to him and he's earned it by riding very, very well, having the family connection to get a good bike is huge.
A-Mart is a true Rocky story. He was just getting his ass handed to him week in and week out, with inadequate teams, no fans, and his buddy "Filthy" Phil Nicoletti ragging on him every minute of every day, yet he never quit. He also drove a 1992 GEO Metro around, which is bad enough. Then he got good. He won a moto! He's made podiums in supercross despite being shorter than most of the whoops. He's got a factory Yamaha ride coming to him in 2016.
Edge
Have to go with Alex here. I can see it now "Lifetime Movie of the Week: The Dream Ride, starring Justin Beiber as Alex Martin, Giovanni Ribesi as Filthy Phil Nicoletti, Brooke Shields as Christina Denney, and Chris Pratt as Steve Matthes, the journalist risking his life and limb to cover the sport and build Alex's goggles!"
Let's take a look at the results, shall we?
250MX Results
1. 1 Jeremy Martin; Millville, MN; Yamaha YZ250F; 1-1 – I talked to Jeremy before he went up for the press conference, and he told me stories of when the Alessis came to Millville before their pro debut and had to weed-whack. Good stuff.
2. 16 Zachary Osborne; Abingdon, VA; Husqvarna FC250; 3-2 – Another strong ride from Osborne, who cased LaRocco's Leap badly on press day to the point where it spooked him and he didn't jump it on Saturday and still did well. That's kind of amazing to me. Lately, Ozzy has been riding the crazy train straight to the podium each week.
3. 17 Cooper Webb; Newport, NC; Yamaha YZ250F; 2-5 – If I were Webb, I would go to a local hardware store and make myself a trophy/plaque that says, "2015 RedBud 250MX Winner" and hang that on the mantle, because this race should've been his all day long. Passed on last lap of first moto while leading, and all alone in first in the second moto when he tipped over with three laps to go. Just make the trophy and tell the chicks you won it.
4. 68 Christian Craig; Plymouth, MN; Honda CRF250R; 6-3 – I'm not American (I sometimes feel like one though), but I still thought the Alias red, white, and stars gear that the GEICO guys wore killed it.
5. 31 Alex Martin; Millville, MN; Yamaha YZ250F; 5-4 – A-Mart did his usual thing out there. He's starting to creep up there in points after four straight disastrous motos early on.
6. 25 Marvin Musquin; France; KTM 250 SX-F; 4-6 – Musquin wasn't very good and revealed that he's dealing with a wrist injury from Lakewood crash. Hopefully this is something that can improve with a week off.
7. 157 Aaron Plessinger; Hamilton, OH; Yamaha YZ250F; 9-9 –Plessinger came from around twentieth to ninth in both motos. Not too shabby at all.
8. 66 Christopher Alldredge; Powell Butte, OR; Kawasaki KX 250F; 8-10 – I usually go by to talk to Mitch Payton after the races, but the team found out Adam Cianciarulo is out for the summer for another shoulder surgery, Savatgy crashed while leading the first moto, and Alldredge was just okay, so when I walked by and he was doing his patented "Mitch Payton rub his forehead with both hands" move, I knew to just keep walking.
9. 28 Jessy Nelson; Paso Robles, CA; KTM 250 SX-F; 7-11
10. 80 RJ Hampshire; Hudson, FL; Honda CRF250R; 14-8 – Hampshire was up in the front in the first moto when teammate Matt Bisceglia took him down in an accident. That's a two-for-one deal that manager Mike LaRocco wished he didn't get. Reports are that "Iron" Mike was not smiling after this happened. If you can believe that.
11. 38 Matthew Bisceglia; Tualatin, OR; Honda CRF250R; 17-7 – Biscuit was up front in the first moto before he went down early. Second moto was solid and remember he was also good in the second moto last week. He's figuring it out.
12. 37 Joseph Savatgy; Thomasville, GA; Kawasaki KX 250F; 12-12 – Maybe if Savatgy hadn't made fun of me in the morning, he wouldn't have tipped over while leading the first moto and he would've had a better day overall. Just saying.
13. 126 Jordon Smith; Belmont, NC; Honda CRF250R; 10-14 – Yeah, Smith again had one solid moto and one not-so-solid moto, but you had to see him in the second moto. He was dead last. He raced through the pack with great speed to get fourteenth. Years from now people will look at that fourteenth and just shrug their shoulders, but it was impressive.
14. 32 Justin Hill; Yoncalla, OR; KTM 250 SX-F; 11-15 – Hill's first race back since Lakewood went okay. He got some good starts and ran up high before dropping back, but that is to be expected. He'll get better from here.
15. 52 Mitchell Oldenburg; Alvord, TX; KTM 250 SX-F; 15-16
16. 40 Shane McElrath; Canton, NC; KTM 250 SX-F; 19-13 – McElrath hadn't really ever raced RedBud before, and he said it was an adjustment finding lines.
17. 55 Kyle Peters; Greensboro, NC; Honda CRF250R; 16-18 – It looks to me like the Motosport.com/ GPI Honda guys got some better Showa suspension in the last few weeks.
18. 62 Anthony Rodriguez; Venezuela; Yamaha YZ250F; 13-37 – It's happened to lots of riders over the years, but I found it interesting that Yamalube/Star Racing Yamaha put out a PR announcing their team for next year and A-Rod isn't on it. That has to be a bit awkward for the team and rider with half the season left. Again, it's happened over and over, but it doesn't make it less weird.
19. 343 Luke Renzland; Hewitt, NJ; Yamaha YZ250F; 20-17 – Luke's from Jersey, which you can kind of tell because he's scrappy out there. First moto, he came from way back to get that last point-paying spot.
20. 88 Dakota Alix; Jay, VT; KTM 250 SX-F; 18-38 – Bummer for Alix is that he was up front in the first moto for a bit before dropping back. He didn't start the second moto for some reason. Alex Frye is out with a broken arm and Daniel Baker didn't have a very good RedBud—tough race for the Orange Brigade guys.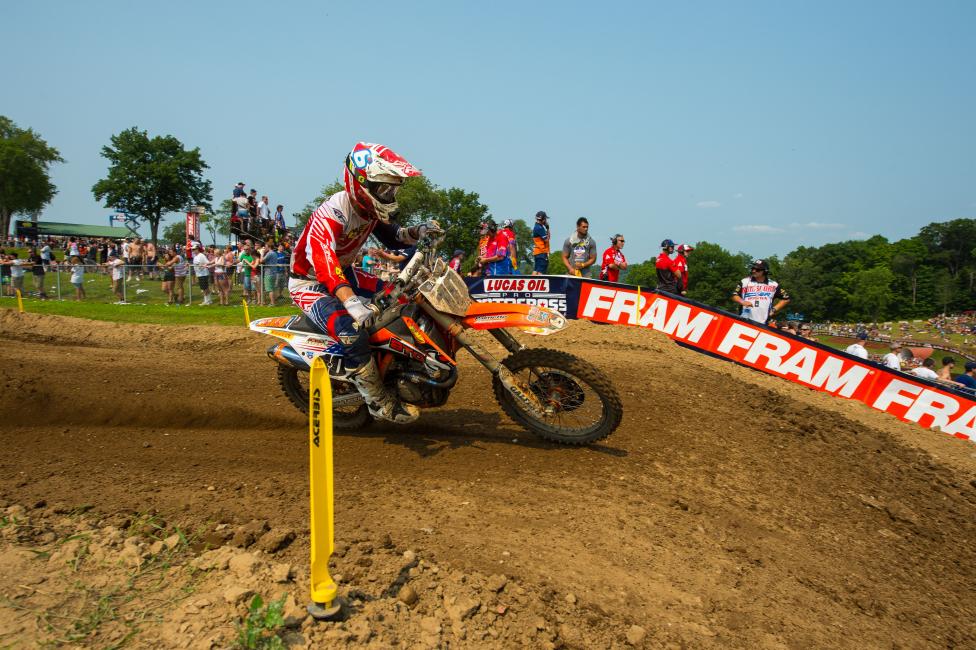 450MX Results
1. 51 Justin Barcia; Madison, FL; Yamaha YZ450F; 2-1 – Yamaha swept both classes at a national for the first time since, I believe, the Henry/Windham/Dowd powerhouse teams did it back in the late 1990s.
2. 5 Ryan Dungey; Waconia, MN; KTM 450 SX-F FE; 1-2 – Dungey probably wasn't happy after the race, but he tied for the overall and he put points on Ken Roczen. Hey, he lost out on $50,000 or so, but Barcia winning is good for this series.
3. 1 Ken Roczen; Germany; Suzuki RMZ-450; 3-3 – Roczen was good, but he never started in front of the top two dudes. He was balls-out about halfway through the first moto when he cut the gap from around fifteen seconds to seven, but you have to wonder if that wore him out for the second moto when he couldn't come close to the top two.
4. 20 Broc Tickle; Holly, MI; Suzuki RMZ-450; 4-7 – Broc was fastest in the first practice. Seriously, he was! And I thought that was going to hold up because the second 250MX practice was much slower than the first, but in the 450s, Dungey, Roczen, and Christophe Pourcel got better times. A strong day for Broc overall, and Weston Peick hitting a lapper on the last lap of the first moto and letting Tickle get by was the difference between getting fourth or fifth.
5. 23 Weston Peick; Wildomar, CA; Yamaha YZ450F; 5-6 – Looks like Peick's figured out his first moto woes. Strong day for Weston. Although he flipped me off walking into the track in the morning, I forgive him.
6. 377 Christophe Pourcel; Groveland, FL; Husqvarna FC450; 10-4 – A tale of two Pourcels. There was the first moto CP when he didn't get the start and sort of rode around, and there was the second moto CP when he got a good start and rode well to a fourth.
7. 39 Fredrik Noren; Sweden; Honda CRF450R; 7-8 – Fast Freddie's best-ever overall finish, and he got married the next day to top it all off. What a weekend for the Swedish meatball. Is it just me or when a foreign industry person marries an American chick, do you think about how awesome it is that he's going to get a green card? Welcome to the club, Freddie!
8. 4 Blake Baggett; Grand Terrace, CA; Suzuki RMZ-450; 6-9 – Baggett was as bummed as I have seen him all year after RedBud. He made the podium last week and was stoked. This week, he said he was fighting his bike down the hills. Hey, Suzuki, just go out with Blake and pretend to change things because, if he gets the start at Millville, everything will be okay #tempermentalflowers.
9. 10 Justin Brayton; Fort Dodge, IA; KTM 450 SX-F FE; 9-10 – Brayton's heating up here, folks. He's not going to get any top-fives outdoors, but he can be solidly in that next group of guys. I don't know what's happened, but his starts haven't been as good as they usually are.
10. 130 Thomas Hahn; Great Bend, KS; Honda CRF450R; 8-12
11. 21 Jason Anderson; Rio Rancho, NM; Husqvarna FC450; 18-5 – Jason had a very strange first moto. He was just sort of riding around until about halfway when he caught fire. He was blitzing his way up through the pack when he fell. Then he got lapped and stayed with the leaders. Press release says he had a flat, too. Second moto was a much more normal fifth.
12. 46 Phillip Nicoletti; Cohocton, NY; Yamaha YZ450F; 12-11 – Filthy started fourth in the first moto and finished twelfth. Second moto, he started second and finished eleventh. It was a terrible day, and after it was all over he told Coy Gibbs that Gibbs should fire him. He also wore a live helmet cam for TV so you could see him getting passed. Oh, and to top it all off, for the second time in four weeks, he went off the track and cleaned someone out, this time an AMA official. #filthyPhillife
13. 48 William Hahn; Decatur, TX; Kawasaki KX 450F; 11-15 – Wil fell in the second moto and was dead last on lap one. That's it. That's all I got.
14. 11 Kyle Chisholm; Valrico, FL; Kawasaki KX 450F; 14-13 – Chiz is having a rough couple of weeks. Blowing up motors last week and clutch problems in both motos at RedBud held him back. It was so bad that he was asking me what I thought could be the issue. You know you've reached the bottom of the barrel when you ask me, and it made me wonder when he had asked the passed-out-drunk guy what he thought.
15. 84 Jesse Wentland; Elk River, MN; Honda CRF450R; 13-16 – Hey, look at this! Wentland has been logging some solid finishes this summer, and he's battling a back injury that made getting off his bike in the second moto tough. Solid day for the Minnesotan.
16. 42 Ben LaMay; Wasilla, AK; Husqvarna FC450; 16-14 – LaMay comes back for his first race all summer and logs a couple of decent motos on the Husky. Race Tech, the long-time suspension company, is getting into the motor business and is doing LaMay's stuff for him.
17. 58 Killian Rusk; Durango, CO; Yamaha YZ450F; 19-17 – Rusk got a ride with CycleTrader.com/Rock River Yamaha for the summer, and it's been a struggle. Bike issues and crashes have held him back. He missed last week with concussion issues but was back this week. And guess what? It was his best race of the season.
18. 35 Kyle Cunningham; Willow Park, TX; Suzuki RMZ-450; 15-38 – Kyle blew up a motor last week, had issues with his other one in the first moto, borrowed privateer buddy Dusty Pipes' motor for the second moto, and was forced out of that moto when the new motor developed clutch issues. I'm telling you, people, Privateer Island is hell.
19. 224 Heath Harrison; Silverhill, AL; Kawasaki KX 450F; 20-18 – Couldn't do this last week when I picked you for fantasy, Heath? Had to come through this week with some nice rides, but no go last week? Fantasy motocross is really making me bitter like Dan Truman.
20. 348 Jason Brooks; Niantic, CT; Yamaha YZ450F; 17-29 – I know nothing about Brooks and John Short, but they've been putting in some good rides here and there.
Thanks for reading. Email me at matthes@racerxonline.com if you want to chat.