Since retiring as a racer in 2007, Ricky Carmichael, through many established, successful endeavors, has been able to forge ahead, now playing a highly influential role in the sport. Recently inducted into the Motorsports Hall of Fame of America—yet another accolade that serves as a backdrop to his brilliant run to 150 victories and fifteen championships (not to mention a combined seventy-six NASCAR Xfinity and Camping World Truck Series starts)—Carmichael was able to congregate with a number of the greatest motor racing legends.
These days, the GOAT is in perpetual motion, moving ahead in much the same fashion he did on the racetrack. A few days after the RedBud National, Racer X pulled up a chair with RC for a bench-racing session that focused on where both he and the sport are going.
Racer X: Congratulations on recently being inducted into The Motorsports Hall of Fame of America. That was a really important deal for you, wasn't it?
Ricky Carmichael: It was a really cool honor to be inducted into The Motorsports Hall of Fame of America. When you look at the other inductees who are in the Hall, it's simply amazing. It's very humbling. I mean, the group that went in this year, Warren Johnson [drag racing], Mark Martin [NASCAR], Walker Evans [off-road], and Tommy Kendall [sports cars] and those guys…it's all really cool. If you just take an outsider who doesn't know these guys and they start rambling off stats, it's pretty astonishing what everyone has accomplished. There are so many great guys in there and guys that I look up to in other sports—Richard Petty and Dale Earnhardt and guys like that. It was a wonderful time and just an awesome experience.
For me, I like to think I'm something of a humble guy. I thought being inducted into the Hall was more special for my sponsors to enjoy. Obviously, I'm extremely honored to go in there, but make no mistake about it, I'm in there because of the people who got me there. I was able to execute on a Saturday night or a Sunday afternoon at a national race. Without the people making the sacrifices that they did or providing the support that I got from all my sponsors, I would have never been able to accomplish what I have. Really, it was a time for them to enjoy the moment, and I hope they feel like they are a part of it.
Not too long ago you mentioned to me that without the help and support you and your family had received from sponsors, especially during your amateur days, you wouldn't have made it in racing.
One hundred percent. I talked about that in my induction speech. Without the sacrifices from the sponsors, whether it was financial or doing everything that they could to help us get to the races, I wouldn't have had the opportunity to be able to do what I did and accomplish what I did. The facts are the facts: We just didn't have the financial means to get to where we needed to go. I'm just thankful that the sponsors saw a value in my determination or my dedication that I put into racing. I'm glad they were able to see something in me and make the sacrifice or investment that they did over the years.
Are we ever going to see a Ricky Carmichael again? What I mean by that is are we ever going to see a sure thing in this sport again?
Well, I appreciate the compliment. It's crazy. If I had a crystal ball and knew who that was, I wouldn't tell you because some day I'd like to have them ride for our team a few years down the road. [Laughs] There's so much parity with all these kids coming up through the amateurs. I mean, there are some guys that are pretty dominant, but not to the extent where you think, "Man, I've got to have this guy." There are so many guys to choose from, which is good in a way. It's great for the sport. As far as standouts, it's a lot harder to tell now than there was, say, when it was myself or [Adam] Cianciarulo or James [Stewart]. It's a lot harder to tell.
How is your race team? How is all that going?
With the RCH/Soaring Eagle/Jimmy John's Suzuki team, we're happy in a way. Our progression has been really steep. That's what we wanted and that's what we took on. It's a lot of work at times and it's challenging at times, but all in all, it's a good challenge and a fun challenge. We just want to keep getting better. Every scenario that we're faced with, we want to continue to do better and make everybody happy. The fun part of it for me is the technology side of it all and the machine part of it, rather than the business side of it. The business side of it is Carey's [Hart] part of it. I'm learning a lot, but that's the harder part of it. We're a lot different than the factories in that we have to earn a dollar before we spend a dollar, so I'm thankful for the support and sponsors that we got. I see a bright future for many, many, many years to come down the road.
What's your take on your rider Ken Roczen this year?
Obviously, with Ken [Roczen] we started off with a great off-season. He was really rock solid and came out and won the opening round at Anaheim, and we—Ken and the team—had a chance to win three out of the first four races. We won two out of the first four and had a really good shot to win three out of the first four. Then Ken had his little mistake at Oakland and then shortly thereafter another mistake in Atlanta, and it just never seemed to go right from that point on. He had an ankle injury and then sat out the rest of the series and then hurt his back just before the Nationals. It's definitely been frustrating, but at the same time, it's just as frustrating for Ken as well. But we'll support him 110 percent and keep grinding away. We know that Ken has the speed and the ability and the equipment to do it because we saw that at the first several races of the supercross series. In my opinion, nobody else was in his league. It's still growing pains for him and he's still relatively young and he should continue to get better along with the race team.
For me, I think we'd all like to see progression, and everyone is plenty capable of it. You take your wins and you take your losses together, and all you can do is try to be better the next time. We've got what it takes because the results at the beginning proved it to everyone. And we're really happy with Broc Tickle, especially coming off of RedBud this weekend. He had a really good finish. The guy has done fantastic for our race team. He's always giving it 110 percent. We're really happy with the effort he gives. He has a great attitude and is just a good kid all around.
What did you think of the 2015 Monster Energy Supercross series?
It was an interesting season. It started off good for the RCH crew, and then as you get to the middle of the series, you could see the guys who have been in the game for a long time rose to the top. Ryan Dungey rose to the top. I wouldn't say that he was totally outstanding, but he does what he does. That's his MO. He's there every single weekend. He capitalizes on everyone else's mistakes. Everybody knows that's his game. The first guy that can be able to be there week in and week out and beat his speed and be on the box every weekend is going to be the guy who is victorious. Rightfully so, he deserved that championship and he did well and I'm happy for him. I'm interested to see who will be able to step up. I know our rider definitely has the talent to do so, and I have all the confidence in the world in him. And [Eli] Tomac. I think Tomac will be good as well. The thing about the younger riders coming up, like Tomac or [Trey] Canard or Ken, they use these things as learning tools, and the first guy that can fix it will be the first guy, in my mind, to have success.
How about James Stewart coming back in 2016?
Yeah, I think James will be great. You can never turn a blind eye to James. He's really fast and definitely a seasoned champion. He knows how to win these championships. He's done it time and time again. He's definitely going to be a threat. You can never look away from him, and I'm looking forward to seeing him back on the track.
Chad Reed recently shuttered his team and hopes to go back and race for a factory. What's your take on his plight?
Yeah, I support Chad Reed 110 percent. I'm a huge Chad Reed fan. I didn't always enjoy racing him, but I have a tremendous amount of respect for him, especially with what he's accomplished as a racer and as a team owner. I know how hard it is to be a co-owner; I couldn't imagine being a sole owner of the team and trying to race at the same time. He won a race this year, and I see him being nothing but better next year. I'm a full supporter of what he wants to do, man. I'm a huge fan of him.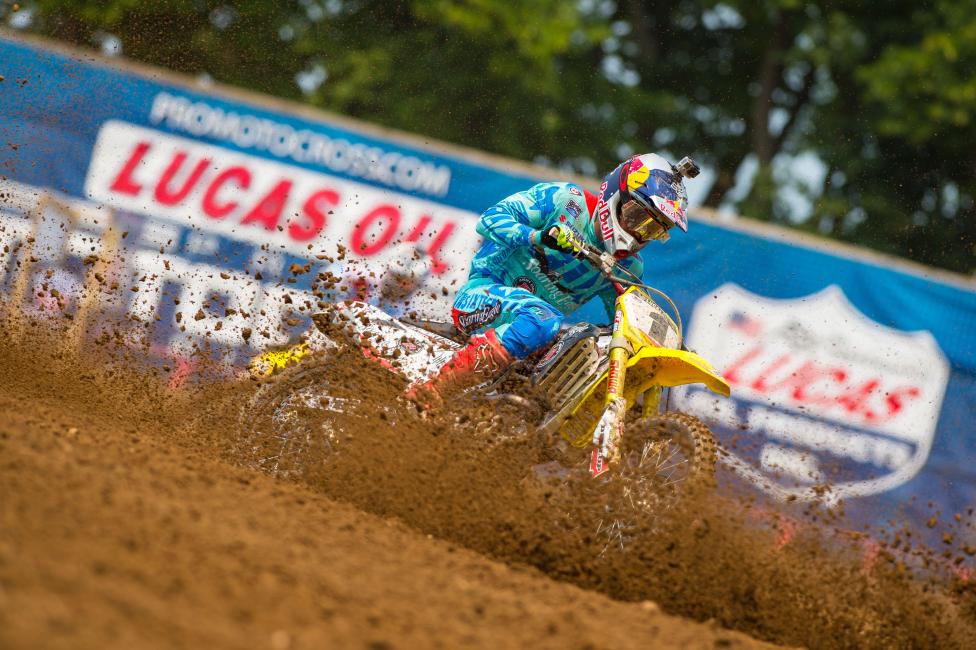 The word is that Ryan Villopoto is about to call time on his career. If this is in fact true, what do you think?
I don't know Ryan personally that well. I have a tremendous amount of respect for what he's been able to accomplish. If he retires, I support his decision. From racing in America, he has nothing left to prove. He's been outstanding. From what I see from the outside, as fierce as he is as a competitor and how serious he takes it, I couldn't imagine him not racing or at least giving it one more shot. Whether it was over here one more year or back at the MXGPs one more year, I'd think he'd want to go out as a champion or at least go out better than what has transpired this year.
It definitely will catch me off guard if he does retire, just knowing what a fierce competitor he is. But if he does, so be it. He needs to be confident in his decision and I'm supportive of it. Just knowing him as a competitor, it seems like he's so competitive that he'd want to go out as a champion. If he's ready to call it quits and throw in the towel, then God bless him. He's had a wonderful career, so it'll be interesting to see if that happens.
What did you think of the whole MXGP thing he did? Did you think it was the right thing to do?
Yeah, I was in support of it. I think he's better than what he showed over there. I don't know all the details. I do know that the riders over there are really good at what they do. It's a completely different series over there. You can't really compare the series here to the series over there. It's a completely different schedule and the culture is completely different. Again, those guys are good at what they do. I don't know the whole story, but I just don't feel that was the best of Ryan Villopoto. That's my opinion. But he's a professional, and if he wasn't at his best, then I don't know why that was. There had to be a reason why he wasn't. I was in full support of him going over there. If he retires then it is what it is. If he doesn't and he decides to go back and give it one more shot, I'll be one hundred percent behind him.
Team USA and the approaching Motocross of Nations. What do you think? Will we have the team to do it this year? Can we do it?
To me, I always think that the U.S. has a great shot to win. I'm certainly not the team manager of the team—that's Roger DeCoster—but I think with the talent level that we have here that we always have a good shot; just as good as anybody else. It's up to us to get the job done. In my opinion and from what I saw, it's pretty simple: If we don't wreck, we're going to have a good shot to win because we're pretty close on speed everywhere we go. Do I think we have a shot? Absolutely. As far as the team, I think you'd have to go with Jeremy Martin in MX2 and Ryan Dungey and Justin Barcia on the 450s.