Muddy Creek Raceway
Blountville

,

TN
Tennessee (Muddy Creek)
Lucas Oil AMA Pro Motocross Championship
Contributions from Jason Weigandt.
The fourth round of the Lucas Oil Pro Motocross Championship has come and gone, and the weather at Muddy Creek held out better than expected for the Tennessee National. It was overcast with drizzle here and there for pretty much the entire week leading up to the race, which had a huge part to do with the track conditions this Saturday. Rain was rumored leading into the event, so the track crew was easy on the watering and tilling of the circuit. Muddy Creek look far different than it has compared to the previous two nationals. Riders had to be smooth on the throttle with just a layer of topsoil covering a hard, slick bottom layer.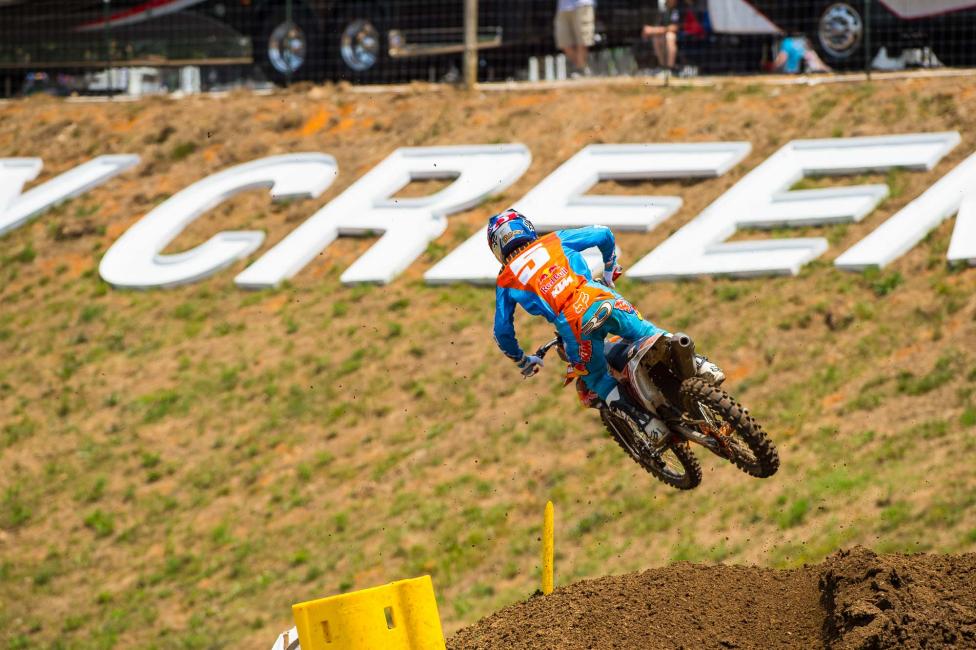 With Eli Tomac out with injuries after last week's huge crash, the 450 class is shaping up as another Ryan Dungey versus Ken Roczen title fight. Roczen didn't win last weekend's race in Thunder Valley, but he led (after Tomac crashed out) until late in the second moto until a flat tire stopped him. He wanted to carry that momentum into the first moto here and start chipping away at Dungey's lead, but he couldn't get it done. In the first moto, Dungey rode brilliantly, getting the early lead and taking off for an uncontested moto win. Roczen made his way around Phil Nicoletti to get to third and then pressure Jason Anderson for second for awhile, but lost Anderson's pace down the stretch, taking a disappointing third. In the second moto Kenny looked like a new rider, holeshotting and taking off. Dungey would move into second and try to cut into Kenny's lead, but he tangled with a lapped rider and fell. No matter, Dungey's second place finish was enough to take the overall with 1-2 scores versus Roczen's 3-1. More importantly, Dungey now has a 37-point gap on Roczen in the standings, two more than he had coming in. Consider it a tale of two motos: Dungey was better in the first one, Roczen was better in the second. If you're Dungey, that's great news, as any week where Roczen fails to gain points just makes his own grip on the series that much tighter.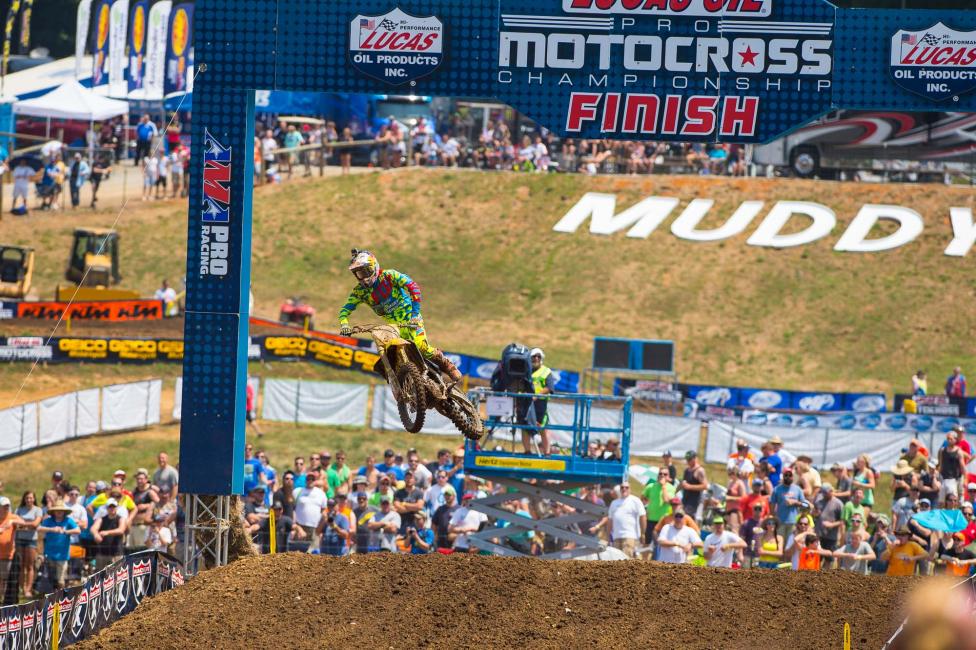 Blake Baggett may have narrowly missed the podium, but had excellent rides this weekend. He's definitely a solid podium guy whenever he gets good starts, and who knows what will happen if a holeshot comes his way. We're starting to see the same fitness and ability to get stronger as the moto progresses that we've seen on a 250 during his championship run. Phil Nicoletti had a pretty good day, too. Nicoletti has always gotten great starts—no secret there. Dicing with past champions and matching their pace has seemed to take its toll on his late-race fitness, but he was pretty strong throughout both motos today.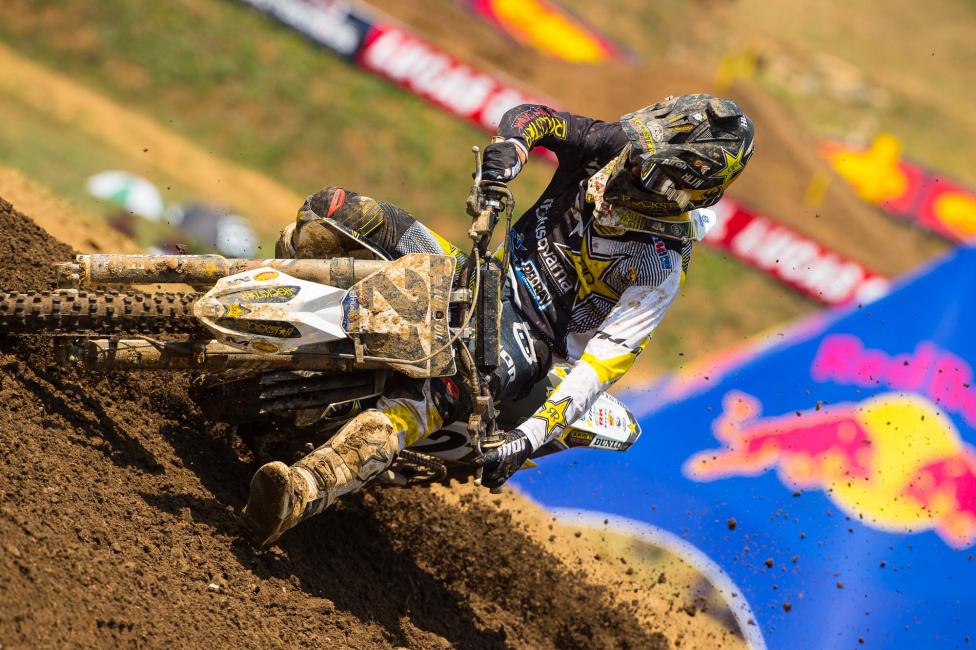 While Nicoletti's day was solid for JGR, his teammates weren't happy. Justin Barcia holeshot the first moto, wheelied a bump, and as soon as he set the front wheel down the front end slid out from under him and he crashed hard. "I hadn't even gotten on the brakes yet," he said. From last, he rallied to ninth. Then, in the second moto he fell early again and came back to sixth. Peick told us he just had an off day and wasn't feeling it. "I'm not going to blame it on starts," he told us. "I don't like to make excuses."
Cole Seely continues to improve each week, logging solid 8-4 scores for sixth overall. He even held Dungey at bay for a bit in moto two. In general, the entire "chase pack" of riders like Anderson, Baggett, Seely and others were closer in speed to the Dungey/Roczen types than they were at the earlier rounds, where the lead group was putting nearly a minute on the rest of the riders.
How about Ryan Sipes! The now part-time motocrosser showed up to a track he really likes just to have some fun, and nailed impressive 12-10 scores in the 450 class. His reward? He packs up the motorhome and heads to the John Penton GNCC tomorrow afternoon in Ohio. The man has to be tired. Hey, at least he only has to race for three more hours tomorrow.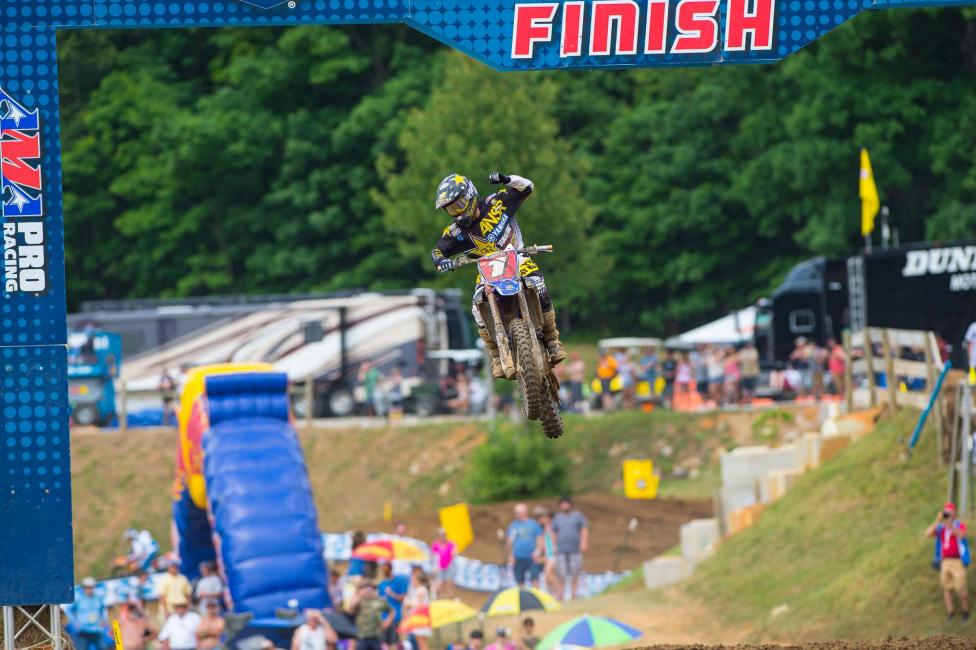 Roczen's first moto, where he couldn't make up ground on Anderson, seemed puzzling. It was similar for 250 series' leader Jeremy Martin, who struggled early in the first moto, with Marvin Musquin, Jessy Nelson and Adam Cianciarulo putting it to him early. At the halfway mark the champ wicked it back up and attacked Nelson for third, then Cianciarulo threw second away with a crash. Martin inherited second, which loomed large in the overall. Musquin appeared untouchable on this day after a dominant first moto, but then he crashed on lap one in moto two and went way back. Martin took advantage by grabbing the lead and moto win, as well as the overall with 2-1 scores. Last year Martin merely went 10-6 here, so he's just escaped one of his weaker tracks (and one of Musquin's best) with the win.
Marvin Musquin seemed riding smoother than anyone else today as he charged from last to fourth after a first-lap crash with GEICO Honda's Matt Bisceglia and a few others. It looked as if he never took the same line twice as he diced through riders effortlessly, but it was more impressive than that. Many riders had rear wheel chatter while exiting the turns over acceleration bumps and Musquin somehow seemed to find different smooth lines as the race progressed.
Jessy Nelson has certainly risen to another level. He went 3-2 today for third overall and he's been riding like he belonged there all along. He's always put a little more English on the bike than most, but now he's starting to apply that when mixing it up with the top guys. He's not afraid to hold his line or even fight for the fastest line out of corner. The confidence is there and the results are matching.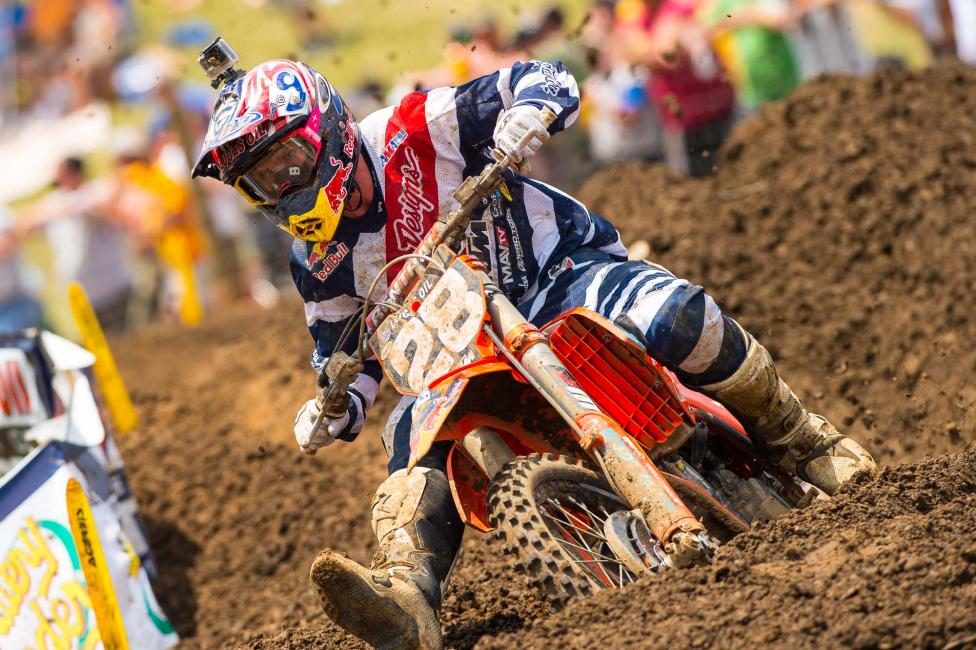 Musquin wasn't the only hard charger of the day. Alex Martin didn't salvage a podium, but he's probably picked off more riders over than past four motos than any other rider out there. He can't buy at start recently, though his riding is probably better than ever. He's been riding the same as he did in Glen Helen without the stellar results.
Alex Frye made his pro debut for KTM Orange Brigade this weekend and wasn't able to complete a full lap in the first moto. However, Frye rebounded in the second moto, though, to lock down a nineteenth and score a couple pro points in his first race. Some people may think of pro debuts as a sink or swim scenario, but getting that first race experience out of the way and leaving healthy is what counts. Kudos for getting points on the board.