Several years ago Alex Martin was on the rise. Top-ten finishes in motocross and supercross had become commonplace, and it didn't seem like it would be long before the likeable privateer would be knocking on the door for podiums. Then the trouble came. Things started getting rocky with the Eleven10 Mods team, which had switched from Honda to Yamaha, and Alex's sparkling results started occurring in longer intervals. Finally, it all came to an unceremonious end in 2013 when the team folded completely, leaving Martin's racing future about as secure as a withered maple leaf in a stiff fall breeze.
"I was still putting in the effort and trying; I just didn't have the support. Two thousand thirteen was probably the worst year of my career. The team I was on just completely folded and I had nothing," Martin says. "That's when Rock River basically picked me up from the ashes. I tried to finish the year as best I could, but I wasn't prepared. Losing my team mid-season just really killed me confidence-wise. The equipment then was pretty far off of what I'm on today, too. It was the old version of the YZ250F, and the team bikes just weren't very fast. I hate talking about those days. I tried to bury a lot of it."
Fortunately, those days are now specks in Martin's rearview. With the help of the team, Martin is enjoying the best year of his career. He earned two podiums in supercross, a first for him and the team, and put in an outstanding ride at Glen Helen to take second in a moto, also a first for both. Things are obviously clicking for Martin right now, who says he's in a much better place mentally, a statement that's been backed up by his positive attitude following mechanical problems in both motos at Thunder Valley that resulted in dismal 18-21 moto scores and bumped him from third to sixth in points. With the confidence he's built now, one hard-luck weekend doesn't phase him. Plus, he was still very fast in Colorado, even if the results don't show it.
"In a way, it's good the way things happened [with his old team]. I needed a new atmosphere and environment, and I needed to be around better people," Martin explains. "You need to get knocked down to climb back up, and now I'm in a good environment and have good support. I feel like I've come full circle. Two thousand fourteen was the first full year I had with Rock River, and that's when I was able to begin the rebuilding phase. I was a consistent top-ten guy all year with some really good moments. This year we built off that, and I changed a lot of things in my program. And Christina and Chris [team manager Christina Denney's husband], they work really hard and keep everything with the team dialed in so everything is good there. I've just been able to focus on riding and training this year. It's been a two-year effort to get to the point where I'm at now."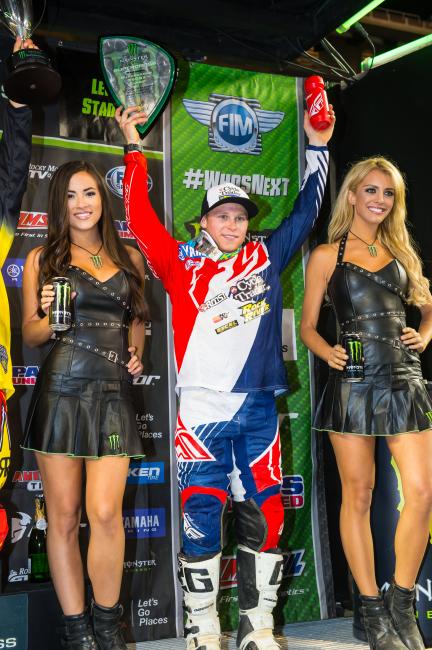 As big as the team's role is in this recent fairytale chapter of Martin's career, it's not the only contributing factor—he also benefits greatly from riding regularly with his brother Jeremy, the defending 250 Lucas Oil Pro Motocross Champion.
"I ride with him during the week and he's got a lot of intensity on the bike," Martin says. "The only way I can keep up with him is if I try to mimic that intensity. He's really dedicated to his craft, he's really focused, and he's helped me turn around on the mental side of things too."
Denney adds, " I think the brotherly competition always comes out, whether they're running, riding, mountain biking, whatever they're doing. They push each other to whole different levels, and as much as Jeremy has helped Alex, I think Alex has helped Jeremy."
Interestingly, Alex's rise has been mirrored by the CycleTrader.com/Rock River Yamaha team, which originally came onto the pro scene with no intention other than providing a temporary home for Rock River amateur riders transitioning to the pro ranks. In 2014 the team picked up CycleTrader.com, their first title sponsor, and upgraded their bikes with engines and suspension from JGR. This year, they've taken another big step forward with factory engines and Enzo-tuned suspension. Is it dumb luck that both Martin and the team have made such big, concurrent strides? Team manager Christina Denney doesn't think so.
"It's not a coincidence," Denney affirms. "I think it's a knowledge of putting all the right people together. I was able to hire a crew chief this year, which has taken a lot off me, and his help and experience has brought the team to different levels in other areas. Alex's success last year enabled me to do all of this. It allowed me to go to our team owner, Mike DeCulos, and say, 'Listen, we're not far off with this. You have to trust us. This is what I want to do, and I really believe in Alex and the infrastructure we have. We have the skills to do it if you let us.' He said yes, and Alex has proven us right. I think last year was the first year, when Alex started doing well, that the industry started recognizing us more, and the validation we've received has been really rewarding."
It's not just the recent results that make having Martin around so enjoyable, explains Denney.
"He always acknowledges the team as part of his success. It shows what a good personality he has—his whole family is awesome," Denney says. "That means a lot to me, just as much as him doing well. It just shows that he acknowledges all of our work has indeed helped him. He's not like some kids who think they're all of a sudden awesome on their own, and God's gift to the earth."
The respect and gratitude is mutual, and Martin says it feels good to repay CycleTrader.com/Rock River Yamaha for picking him up when he was down.
"We both work hard, and I think it's showing. I was at a time in my career where I needed a lot of help, and I think they needed a rider that could take them to the next level," Martin says. "I think we've accomplished that so far. They can now approach sponsors and say they've got a podium guy or whatever. I think that's big for their budget next year."
Speaking of the future, it's important to note that better results always demand more money, a tricky detail that could end up complicating an otherwise symbiotic relationship. When asked point blank whether or not Martin will be sporting Cycle Trader.com/Rock River Yamaha colors in 2016, both Denney and Martin smile and reply in unison, "We're working on it." But even if they can't afford the price of Martin's rising stock, Denney says that's okay.
"I want the best for him, and I still feel like we can offer him something and that we can put something together," she says. "But if it means he goes on to bigger and better things, I'll still be proud to say our contribution helped him get there."