It's 95 degrees on a piercingly bright Saturday afternoon in Lake Elsinore, California, at round five of the 2015 Lucas Oil Off Road Racing Series. Inside the #2 Loctite/Traxxas semi, the True Value Thunder Valley National round of Lucas Oil Pro Motocross airs live on a big-screen TV.
"What is up with these Lites kids?" Watching the opening moto is the rig's current resident, Jeremy McGrath, the all-time King of Supercross. "Jeremy Martin looks awesome, but what happened to all these other kids that were supposed to step up and take control of the sport?"
McGrath is at Elsinore for a Pro 2 Unlimited Truck race, and while his mechanics toil away on his Nissan race truck, Thunder Valley has his undivided attention. Here's what was on his mind that afternoon as we watched the races.
Racer X: Jeremy, what's your take on the sport right now?
Jeremy McGrath: I think, for me, motocross right now is in a little bit of a state of disaster [laughs].
You think so?
Listen, I'm a huge fan. I love it. It's still my favorite thing in the world. I love motocross. I love supercross. It just seems like all the deals that got done five or six years ago—the deals for all these little kids that are coming up, the youngest guys—now it's not all panning out. The impact the new kids have had on the sport as a whole has kind of left everyone scratching their heads. You know, there are a few superstars in there. Obviously, Ryan Dungey is steady. He's doing his job, he's up front, he's the guy you think of out there. After that, you know, the guy that you'd be impressed with the most would be a guy like [Weston] Peick. Look at this guy. He's working hard. He's doing it when everyone said he couldn't do it.
He sort of reminds me of Jeff Stanton.
Oh, I love Jeff Stanton. Yeah, he does. He does. It's awesome to watch. It's refreshing. I think that if Peick wasn't in there it would not be very entertaining at this point. You can't help be impressed by a guy like [Marvin] Musquin who is a talented kid, for sure. But for me, we used to have all those superstars, and now everyone seems to blend in together. And it sure seemed like last year, when you and I did that supercross interview together before the season started, it seemed like [Ken] Roczen was going to be the standout. But they went in and got him all those big deals and all of a sudden it's not panning out exactly how he wanted it to. I mean, you've got the powerhouse of Carey Hart and [Ricky] Carmichael and Roczen. It should be a match made in heaven, right? But it's just not panning out exactly like everyone had hoped it would. A lot of the old riders kind of thought that Roczen would be standout, but's not working out yet. Dungey's putting the wood down on all these guys. Eli Tomac is just crushing them. Eli Tomac is really finding his stride—finally! [Note: Unfortunately, that same day in Colorado, Tomac suffered a season-ending shoulder injury.] But all the other hopefuls are just getting smoked. As a fan of the sport, I just wish we could see more.
You've spoken about Ryan and Marvin and Eli. Has anybody else impressed you? Does anyone else stick out?
Yeah, to me, Dungey in supercross this year was more impressive than he's ever been in his whole career. For me, that was awesome. It really, really showed. And he probably felt really relieved because that supercross title that he had before [in 2010] had a little bit of an asterisk by it. But not this year. He dominated. It was awesome to watch.
I'm a little bummed for Trey Canard, and I really had high hopes for [Davi] Millsaps in supercross. Unfortunately, that didn't work out. There are a few teams that really need a kick in the butt and to figure out what's going to happen here. Outdoors you're looking at [Jeremy] Martin. He's certainly the strongest kid out there. He's dominating these guys. Last week at Glen Helen he had problems but rode hard. He's one bad dude. I'm not seeing enough out of these kids that are the hopefuls.
I was pretty impressed with [Blake] Baggett this year. For someone everyone probably counted out, he's been riding pretty well—even in supercross, which I was glad to see. But you see Mitch's team. You see the Factory Connection GEICO team. All these kids that are on these teams are all hitting the wall. They're not doing that good. There have been flashes of brilliance, but he's not been that good.
Again, I want to see more out of these kids. I'm not trying to knock anybody down, but the truth is they're all missing the mark. Justin Hill, last week he finally rode good but it's taken, what, six months to get on the gas? Jessy Nelson has been riding pretty good. [Shane] McElrath has been good too. You know what? They're on [Troy Lee's] team, which is supposedly a privateer sort of support team. That team is only just now getting the full factory support, and they already had those guys before this. Those guys are right where they need to be. It's the factory teams that are having the issues.
The 2015 Monster Energy Supercross Series.... So many guys got hurt.
Well, you know what? That's the story every year now: who's not going to get hurt. Back in the day it sort of seemed like everyone sort of made all the races and it was a little closer contest at times—well, I guess with the exception of me. This year everyone had high hopes that the depth of the field was like something we had never seen before. Basically, Ryan Dungey went out and silenced all the critics. That's good, though. You want to see someone rise above, and he certainly did that.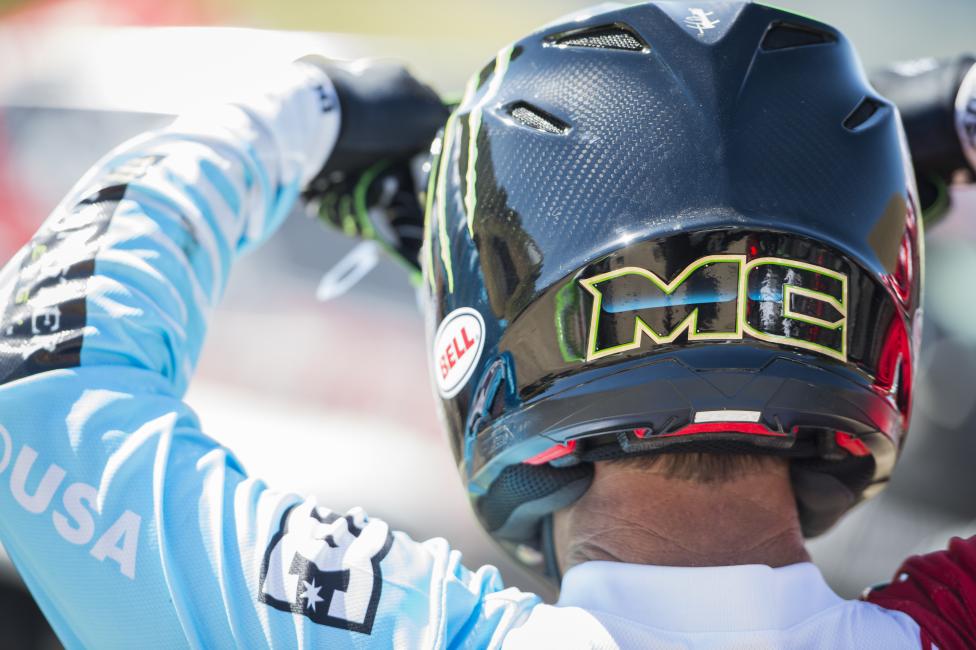 Changing it up a bit, James Stewart and Ryan Villopoto not competing in the United States this year, what effect did that have on the sport here?
Oh, that was huge. You know, love him or hate him, everyone wants to see James ride. It stinks that he's not out on the track right now. It's a pretty severe deal, and still nobody knows the real details of what happened. And RV was our superstar. He was holding it down for America. He was the four-time supercross champ when he left for the GPs. And unfortunately, that hasn't worked out for him either. Our sport, as a whole, took a huge hit with those guys being out.
What's your take on Ryan Villopoto's Grand Prix season? Have you watched any of the races?
I have watched them, and from the ones I saw he was probably pretty stoked when he won that second round or whatever it was. It really seems to me like he's treating it like a vacation, like a victory lap. Unfortunately, people will remember that, but he's a great champion and he has the choice to go out however he wants. There's no denying what's already on paper—the guy is one bad dude.
Listen, I was guilty of not paying enough attention or not being a champion enough times in motocross, and I realize that now. It's funny because supercross just came so easy, but when I won an outdoor race it felt like work.
There is a theory out there that the MXGP guys are full-time motocross racers while the U.S.-based guys are practically full-time supercross racers. Do you think that could be true?
I think that has to be the truth. That is the truth. Those guys, that's all they do is ride motocross, you know what I mean?
What do you think of the outdoor nationals?
Oh, I love them. This is where the men are made right here. The Nationals are where the men are made. And listen, I was guilty of not paying enough attention or not being a champion enough times in motocross, and I realize that now. It's funny because supercross just came so easy, but when I won an outdoor race it felt like work. I was like, All right, now you finally did something. You earned your keep right there… These guys being able to win like they do outdoors is impressive, but I would like to see someone [new] who is going to be the standout, popular guy. And there's just not one.
How does the future of our sport look?
Yeah, the future looks good. Motocross is a healthy, healthy sport. There are a lot of young kids that are coming along that are really good. It's just that we're waiting for one of them to pop out and be the standout, you know? But yeah, as a whole, there are a lot of good riders and you'd like to see some teams doing a lot better. We're just going to have to be patient.