Muddy Creek Raceway
Blountville

,

TN
Tennessee (Muddy Creek)
Lucas Oil AMA Pro Motocross Championship
A few years back, Zach Osborne was starting to resemble one of those amateur prodigies that don't pan out. He was an amateur standout, a KTM factory kid the day he turned pro, and someone with the talent to make a solid career. But it bottomed out quickly for him, with illness, injury and that "Snack Pack" moniker following him, and he soon found himself in Europe, where many young Americans go only as a last resort. But while many go there in search of what they lost over here, few ever find it. The road back from the GPs to the United States is a long one, but Zach embraced his time overseas, kept working, and eventually re-earned a place on factory teams in the U.S. That work was the difference. Most prodigies fail due to burnout and lack of focus. Zach didn't fall into that trap. He kept working hard, and that's what kept his career alive.
There's a little downside to that though. If you put in the time and the results don't come, it's quite frustrating. Over the last three seasons in his full-time return to the U.S., Zach has tried to do the right things, but he's been met by stiff resistance in the form of injuries and bad luck, and usually at the worst possible times—like the opening rounds of a series, before anyone gets to see what he can do.
"I was just in a place where I felt like this whole year has been like one weird event after the next, after the next, after the next."
One year he busted his shoulder at the second Monster Energy Supercross round in Phoenix. Last year he was wiped out in a first-turn crash at the Lucas Oil Pro Motocross opener at Glen Helen. This year, he broke his thumb in the first supercross heat race of the season. Last weekend at Glen Helen, the second round of this year's Lucas Oil Pro Motocross Championship, he dislocated his shoulder, dropping from a potential fifth in the final 250 moto to a DNF. It was falling apart again.
"I had a little meltdown on Tuesday this week because last weekend was so bad," he said post race at Thunder Valley, where he bounced back for second overall in the 250 Class. "I couldn't ride on Tuesday. My tricep hurt really bad because I messed up my shoulder last weekend. It wasn't that bad, but it was bad enough.
"I was just in a place where I felt like this whole year has been like one weird event after the next, after the next, after the next," he continued. "I'm 25. I want to do well. I get paid a lot of money to do what I do for a great team, and I don't want to let anybody down ever. And I was letting people down. So I was just really bummed out and my wife kind of talked me out of it. I had a better day on Wednesday, and then press day was good. I had a good feeling. We went and tried some bow and arrow yesterday just to do something different and it worked out."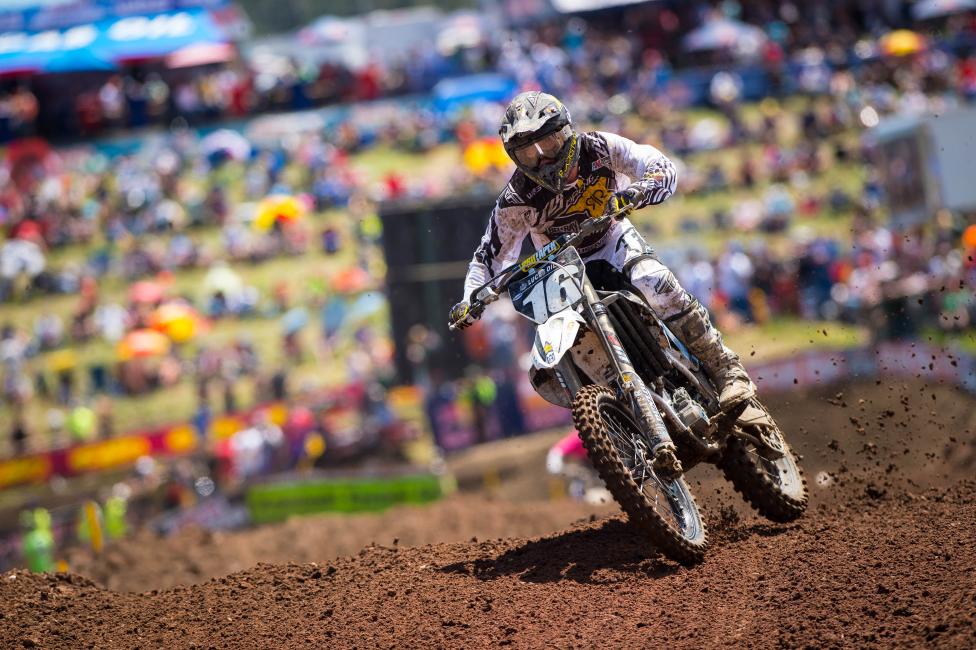 Osborne was lucky that the shoulder injury didn't turn out worse, and perhaps now he can offer some encouragement to his training partner Eli Tomac. But Osborne needed to do more than just feel better; he needed to actually turn that feeling into results. He had already described the opening moto of the season at Hangtown as "a nightmare." As it turned out, Lakewood provided much better things. First, he likes the track. Second, he's already been training at elevation with Tomac, and he's finally found a suspension setting that works for him.
"Huge step forward today," Osborne, who is in his first summer with Rockstar Energy Racing Husqvarna, said. "We changed the bike pretty much completely this week, a lot stiffer suspension, and it seemed to help. I just felt loose on the bike. It was easy to ride and I enjoyed it today.
"I had a good feeling as soon as I showed up. I enjoy this track. I got a podium here in 2013 the last time I raced here. In practice I had good speed straight from the start and tried to stay with it. I like to think of myself as a pretty good all-around rider, but definitely when I'm comfortable I'm a lot better. I like most of the outdoor tracks. I like both of the first two tracks, just wasn't clicking for me. Bad starts. I had a decent moto at the second moto at Hangtown but nothing really to speak of other than that. Then today it was just a huge turnaround for me."
Osborne had already turned around every part of his life this season, selling off his investment in South Carolina's Club MX and moving to Tomac's place in Colorado. He brought his wife and new baby with him, hunkering down in the altitude instead of the humidity, and chasing one of the fastest 450 riders in the world daily. He even thinks the reduced humidity during the week might actually make him feel fresher on weekends
"With the elevation, as soon as you get off the plane it's a big difference in breathing and stuff. I feel like when you ride in the humidity and stuff back east, which is where I've been for the last six or seven years, it really beats you down. If you go hard [with training] you have to get beat down. Here in Colorado it's not quite as hot, but it's still a big challenge because of the altitude. You just don't get so flat during the week."
Osborne won't be away from home for long. This weekend he returns to Muddy Creek, which is down the road from where he grew up in Abingdon, Virginia.
"It's kind of bittersweet because it's so close to my house, and everyone wants tickets. There's so much press. It's quite the to-do," he says. "So I look forward to the atmosphere, all my family being there to watch me race, and stuff. I enjoy the track. I've raced there since I was 6 years old. I definitely look forward to that, but some of the hassle I'm not looking forward to. I'm glad to have some good momentum carrying into it. I think it's going to go really well."
For the first time in awhile, Osborne has reason to see positive things ahead. Even coming into Thunder Valley, he wasn't so sure.
"I said I was going to [podium] when I got here, but did I actually really believe myself? I'm not so sure."