San Bernardino, CA
Glen Helen
Lucas Oil AMA Pro Motocross Championship
By Jason Weigandt and Aaron Hansel
Ryan Dungey, Red Bull KTM, 6-2 for Second Overall in 450 Class
Ryan Dungey: For sure, third place, I'm not sitting up here bummed. It's a very respectable position for sure, but we want to win. That's the goal. We give it our best. Sometimes like today, first moto we were battling for the lead. Everything was going good and then the bike started to just kind of wanting to kind of shut off. It just wanted to keep stalling. I'm not really sure. But it kept running. As soon as Eli [Tomac] got by me things got worse and worse and he just took off. Obviously I was trying to maintain that. It was just a freak incident. It's racing—it happens. It was nobody's fault. Second moto we really tried to focus on putting our best foot forward and giving it all we got. I got off to a good start. I was right behind Eli. I was kind of following him in a lot. [It's an] Improvement… I think last weekend we were a little bit further back, and now we're a little bit closer. A few more adjustments and a little bit more practice and keep trying to get better. I think we'll be right there; it's just going to take a little bit more time. No discredit to Eli. He's riding really good. But we're going to do everything in our camp to get to where we want to be.
You're heading to Florida now. Is this where the real grind begins—the long haul of training for the season?
Long way to go—only two rounds down and ten to go. We've got our work cut out for us, but we think things are still going pretty well. Every year you have a guy to battle, whether it's [Ryan] Villopoto or [James] Stewart, or last year it was Ken [Roczen], you know? Now Ken is getting better, but Eli, you know, those guys obviously have things working good. We have to work on ourselves, and this gives me something to work for and push for. Last week we went to California and put in a good week of testing. We made some improvements this weekend. What happened in the motos [the bike problem] is unfortunate, but we'll keep pushing.
Will you keep making changes now, or are you good and now it's just grinding away?
Just small changes, going in that direction. At Hangtown we just missed the setup; we were way too stiff, especially when we got to the second moto. Hangtown is a weird track. So this week we tried some things and made some progress—a long couple of days. It's a lot of work, but it's that much more rewarding in the end. –Jason Weigandt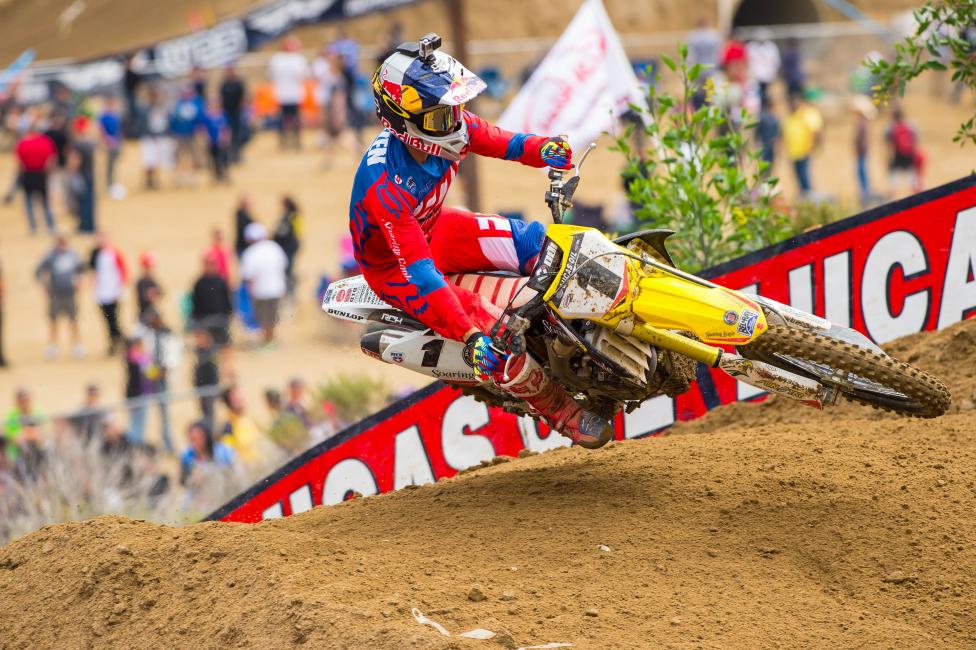 Ken Roczen, RCH/Soaring Eagle/Jimmy John's Suzuki, 8-3 for Fourth Overall in 450 Class
Ken Roczen: Seems like the luck wasn't really on our side that first moto. Tangled up with someone and got stuck really long and started dead last basically then. Made my way up to eighth, which was okay. Then second moto I got a little bit of a better start, but I fought my way up to third right away. I was behind Dungey and stuff. Tried to hang on there and I tipped over and that's what cost me big time. After that I just tried to be somewhat consistent. The track was really gnarly out there. I made a bunch of mistakes. I think if I could have cleaned up some places, it would have made my lap times quite a bit better. But we'll build from here. I'm okay with that third place in the second moto. We'll work hard this week and try to get back up top.
Is there anything you're going do specific for Thunder Valley with the altitude or anything like that, training-wise?
No, I'm really just getting back into a rhythm and into a routine; that's the biggest thing right now. I've basically missed two and a half weeks of training with that back injury. -Weigandt
Blake Baggett, Yoshimura Suzuki, 7-7 for Seventh Overall in 450 Class
Blake Baggett: I'd say it went pretty well. I learned a lot. Qualified second, so that was better to pick up my qualifying time and just be up there, be closer to what the guys are going to run in the moto.
Let's not forget, qualifying was never your specialty even in your good years on 250s.
Exactly. It's slowly coming around, putting it together. Just trying to be steady and not do something to take me out of the hunt for it. Just trying to be steady, make sure that I finish all the motos healthy and just learn and keep adjusting things as the information comes in, keep adjusting. Adjusting the bike, adjusting the way that I'm riding it, and even adjust things that are going on during the week. If I think I'm lacking in some area or Rick [Johnson] thinks I'm lacking in some area, then we'll focus on that a little bit. Just leaning. We're 4 or 5 points out of third. Eli pretty much killed it right off the bat, four wins. But there's a long time to go.
You seem like you're willing to listen to the team guys or listen to Rick or whatever. You're willing to try stuff. You're not like, no, I know what works.
I know what worked, but you got to change as time changes. Different bike, different class, everything changes. Just trying to learn off those guys that have been racing the 450s already. They're bigger dudes. Trying to be smart with my line choice and save a little bit of energy. Just stay out of harm's way and stay out of the hazard zone. If it's super rough or sketchy in some area, try to find somewhere to go around it or make it easier to ride.
I did see that. One of the down-hills you were going all the way to the right, all the way around the outside. Is that the type of stuff we're talking about? Stay out of it?
Yeah, actually I had an outside line over in the horseshoe that I didn't think anybody would be there, but I came up on [Christophe] Pourcel [laughs]. Sure enough, he was out there! So, we're on the same page. I know that I'm doing something right if I think that the line is where nobody's at and he's there, I know it's normally a pretty good one.
Did I hear not a ton of motos for training yet? It's been mostly testing work?
The motos have been racing—that's it. I've done four total thirty-five-minute motos this year.
The only thirty-fives you've done are the races?
Yeah.
And you weren't hurt or anything?
No, just testing. We were focused on supercross and just trying to get a good finish to that, and then with outdoors we're just three, four laps at a time, come back in to try and make it better.
So you're going to change more stuff?
Yeah, we're going to continue changing it. We'll change it until we're up there.
Last year you sucked at the beginning of the year and you changed stuff and it worked. So you know what you're doing, kind of.
Correct. I know what I'm doing. The team knows what they're doing. Rick knows what he's doing. It's a circle. It's going around. We're just trying to get all the puzzle pieces in the right order. –Weigandt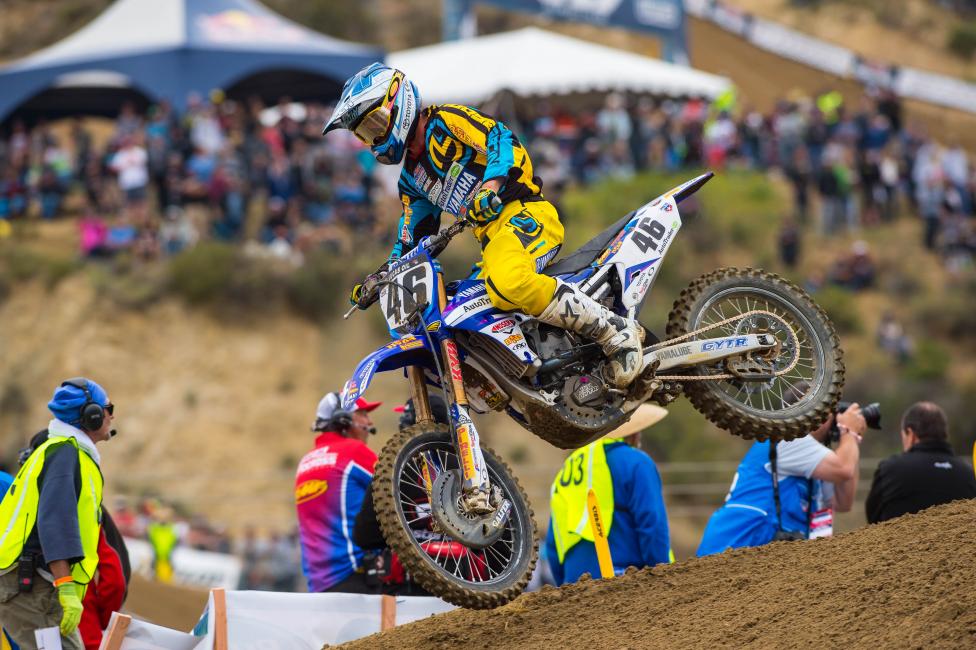 Phil Nicoletti, Autotrader.com/Toyota/JGR Yamaha, 3-21 for Ninth Overall in 450 Class
Phil Nicoletti: I was in second in the first moto halfway through the first lap and made a pass on my teammate Justin Barcia and led for a lap. Then Barcia and Tomac got me, and I tucked in there, tucked in behind the #51, and put some laps in. Next thing I know it's halfway, then it's two to go. I thought I got fourth, but then they said I got third because of what happened with Dungey. That's racing and anything can happen. I'm just happy I was able to put in a good ride. Happy for the team and for N-Fab and St. Lawrence Radiology—everyone that's been supporting me for a lot of years. Second moto we were in a good position again, but I hit a soft spot and went into an endo and knocked the wind out of myself. Third and twenty-first suck, but there are plenty of positives to take out of today and into next weekend. I'm happy.
How was the track compared to last week? They're both traditionally rough tracks.
Hangtown was quite a bit ruttier, and the speed wasn't as fast. Here you had to be part hill climber and part trials rider with those square-edged wall things they had us going up. But other than that it was good. I hate the California tracks, especially this place. I think it's a crap hole, so to get my first podium here puts things at ease. But I still don't like California. It was an awesome day, but I'm still bummed how the second moto turned out. –Aaron Hansel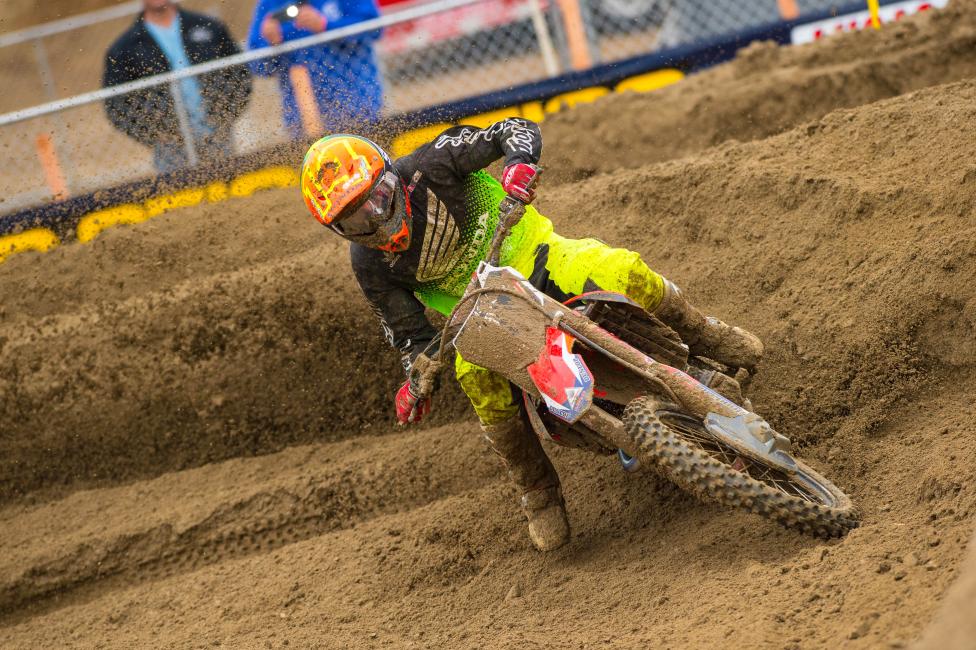 Cole Seely, Honda HRC, 14-9 for Tenth Overall in 450 Class
Cole Seely: That first moto sucked. Got off to a good start, was around fifth, and I crashed on the very last uphill right before it. Got turned around backward and had to go to the bottom of the hill. Pretty much waited until last to reenter the race because I was backward. Made it up to like twenty-eighth, crashed again, and made it back to fourteenth. In the second moto I think I started just outside the top ten, made some good passes, got to seventh or eighth, then finished ninth. It's tough; those guys are going fast. Everyone is relatively close and running the same speed, and I have good idea of the competition now. I'm going to go home and work on it. Last week I didn't really get to ride all that much because I had to tend to my injuries from Hangtown, but now I'm ready to go and put in a good week and do well at Colorado.
This was your first 450 national. Last week doesn't count. [Seely crashed out of Hangtown on the first lap.] What'd you think?
Yeah, it's cool. Obviously I'm a good supercross rider, but I really want to be a good outdoor rider as well. It's what I try for every year, to get faster outdoors. I feel like I'm getting better and stronger, and am picking up things where I need to. It's all just coming together a little slower than I'd like it to. The 450 Class is so fast. Everyone is so strong and fit; it's tough for sure. We're working on it, though, and it's good to have insight into where I need to improve. It helps to make sure I'm on the same page with Jeff Ward and Brian Lopes so we can push through. It's only a matter of time before we start getting the results we want. –Hansel
Justin Brayton, BTOSports.com KTM, 10-22 for Sixteenth Overall in 450 Class
Justin Brayton:Had a bad start in the first moto. I'm really struggling with my starts and I'm not sure why. Really have to work on those. Anyway, got a tenth, which wasn't terrible. Second moto I crashed off the start, was last, then crashed again. I was way back, like half a lap down. Came back to twenty-second, which sucks because no points. But, oh, well. Bummer of a day for sure. I don't know what's up with my starts. I really have to figure that out. I take pride in holeshotting—last year I think I got six in a row. We have to figure that out, and it will make my life a lot easier. –Hansel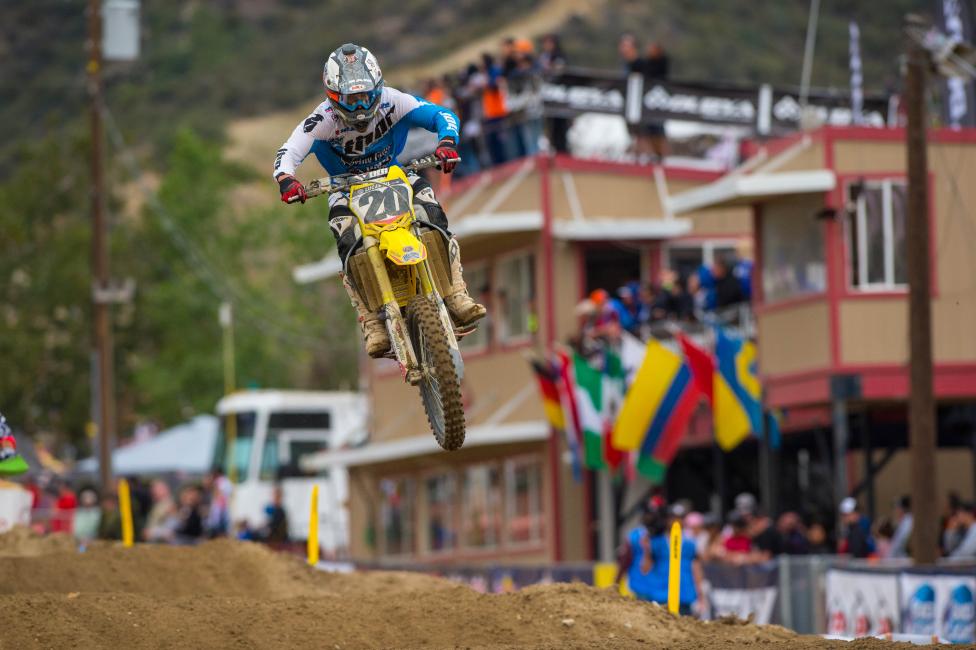 Broc Tickle, RCH/Soaring Eagle/Jimmy John's Suzuki, 12-15 for Thirteenth Overall
Racer X: How was Glen Helen for you today?
Broc Tickle: It was all right. I was looking forward to it. I felt like I rode good here preparing for the Nationals and whatnot. The track was brutal today. I felt like part of the issue was I'd started off a little slow, which I think resolved to me getting a bad start and being around slower guys in the beginning of the race. But toward the end of the motos I felt like I had some good flow going, but it was just too late. I pulled into the mechanics area the first moto thinking I had a flat tire. We went back to nineteenth and then back to twelfth. So that was a bit of a struggle. Second moto stalled my bike on top of the hill, went back to nineteenth again and then back to fifteenth. I felt like I had some good laps in me at the end, but looking forward to Colorado and the rest of the races. –Weigandt