San Bernardino, CA
Glen Helen
Lucas Oil AMA Pro Motocross Championship
By Jason Weigandt and Aaron Hansel
Marvin Musquin, Red Bull KTM, 1-1 for First Overall in the 250 Class
Marvin Musquin: First of all, I always liked Glen Helen. I have a great memory in 2010 when I came here for the first time in the US and raced the USGP. I won both motos and had a great time. So I tried to do it again on the American championship today. Obviously the rain made the track really sweet. It got rough, but good rough. This track when it's a little too dry it gets really bad square edges, and it's really tough and not fun to ride. There was all the clouds today, so the dirt stayed really good all day. It made some big ruts, big bumps, and I really enjoyed riding today. First moto was great. I just couldn't pass Jessy Nelson. It was really tough. Finally made the pass and he passed me back, and I was like, "No, I got to stay in the lead!" I know I was faster than him, and I want to win the moto. Finally got into the lead and won the first moto. Then second moto the key was the start obviously, and I had a great start. Made a little mistake, dropped to third but got back to the lead pretty quick. Then I was like, okay, now I'm in great position to put in some solid laps and try to get better lines and stuff. Obviously the bike was working really good. We made a lot of testing, a lot of progress. The WP guys are working really hard. That KTM is really powerful. So I had everything today to win, so it was good.
Give us an idea some of the things you did change this week compared to Hangtown.
I'm not sure exactly. We tested a lot on the bike and tried to improve. That little bike, it's actually last weekend was the first race on that new bike in outdoors. So this weekend is the second one, and I feel like we improved a lot. We tried different things. I'm lucky to have a great team behind me that they can do a lot of things for me on the bike. Obviously I just followed Aldon Baker's program. We train as hard as Ryan [Dungey] and Aldon and it's paying off. I'm feeling good. Not much of a change. A little bit on the bike but otherwise still the same.
That Aldon Baker program has such a reputation of being so hard, but how hard is it really? Do you enjoy it, or are there times where you're like, man, this is crazy? How does it work for you?
First of all I really enjoy working with Aldon and also with Ryan. When we're in Florida we have all four together. I know we race each other. I only race with AC [Adam Cianciarulo], but it makes it obviously easier for me to train with Ryan because I'm on a 250 and he's on the 450, but it makes it a lot more fun. I like being in Florida, and I just listen to Aldon. I trust in him. He's a great guy. The training, it's hard but not like crazy hard. We've got to be feeling good for the race. We don't want to be tired also on Saturday.
Do you still feel your fitness is better than it's ever been, or is it more of a mental thing working with him?
Actually it's both. I know I can do thirty minutes of pushing really hard. And obviously today when I was into the lead I was feeling really confident, and obviously the work that we've done this winter before the supercross season did really help me building confidence, going to the races. Lining up behind the gate, you know you've done the work and that makes a big difference. Then when you know that then you can do good on the bike, you can do whatever you want. I really like it because then I can use my technique 100 percent. That's really important. –Jason Weigandt
Justin Hill, Red Bull KTM, 5-2 for Second Overall in 250 Class
Justin Hill: Today was a lot better than the last race I had, obviously. Big leap for me. I knew I belonged up front before the start of the series. I felt good, and the bikes have been amazing all year. So there was no reason for me to not be up on the podium, so I was quite disappointed last weekend when I couldn't make it happen. Coming into this weekend, I just had a little bit more confidence. I just wanted to prove it that I could belong up here. First moto was okay. We got a decent start, and then I worked up, made passes, and got into second. Great moto. Second moto I didn't get a good start. Came from quite a way back. Got up battling with with Jessy and Shane [McElrath] at the end there, but ended up getting fifth place. Second and fifth for second—that's a shakeup but I will take it.
Your supercross season wasn't as good as you hoped. Were you ever truly healthy and ready for that? We know you had some injuries you were dealing with. Is this one of the first times you're really been 100 percent?
I feel like now I'm finally back to feeling good, 100 percent and being right with the bike, really. Just had a lot of nagging stuff going on with me in supercross. I had a head injury and a major sickness and all this things. Broke my ankle in San Diego. Little things that just kind of took me off the top of my game. I feel like I'm back there, so hopefully you'll see up here quite a bit more this season.
Your teammate Musquin was obviously killing it in supercross. Does that almost put pressure on you? Obviously the bike is good. How does that work?
There is absolutely nothing wrong with the bike. On my side the bike's always been good. It was always on me physically this year, definitely. It wasn't a fun thing. Obviously I loved it for my teammate to do good. That's awesome to see for me. It proves what we're doing is working out. But you definitely don't want to be the bottom guy on the totem pole, so it was a little bit frustrating for me. Now moving forward, if I can just kind of raise the bar, get closer to Marvin, battling with him, that's great. He's riding amazing, so if I can get up to him and we can battle it out, I'd prove that I'm riding really good.
Looking ahead to Colorado after your performance this weekend, are you more excited about Colorado than you were at the beginning of this weekend?
Yeah, definitely. Just because I did something good for myself finally. I executed an okay weekend. So now that I can actually say that I've done that I'll move forward and do it again. There's no question that I should…even less of a question now, that I should be up here. I'm excited about it. I've always done pretty well at elevation. [Racing at] Mammoth [Mountain] growing up, that was the only high elevation, and I always liked it, to ride there. Just the fitness is always there for me. When it comes to that it doesn't affect me much I feel like, I'm always a fan of Colorado. –Weigandt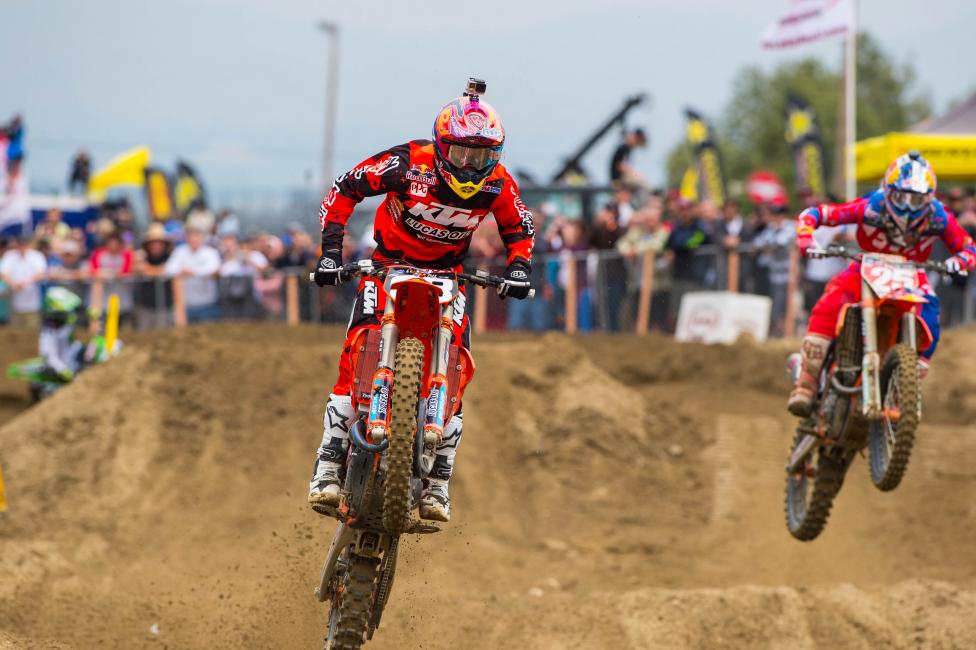 Jessy Nelson, Lucas Oil/Troy Lee Designs KTM, 4-4 for Third Overall in 250 Class
Racer X: Congratulations on the day. It was quite a day for you, finishing 4-4.
Jessy Nelson: Four and Four for 3rd overall. Could have had third in that last moto but let it slip. Just glad to come out safe and a lot better than eighteenth like I got last weekend.
What's behind the big improvement?
Good starts. We made some changes with my bike. We changed the gearing and a little bit of motor stuff, suspension. We changed it quite a bit. Just kind of trying to get my fitness back. I had six weeks off the bike with a head injury in supercross, and it really took a lot out of me. I wasn't doing much besides just sleeping a lot. I'm 100 percent healthy now. I just have a lot of work to do on the fitness stuff. Still getting arm pump and everything else.
If you're just getting back into it, is it actually good to get holeshots and lead, or does that almost make you pump up more, leading?
It's a little of both I guess. It's always good to be up front, but it was hard—I was holding on so tight, my grips, I have glue and wire holding them on, but I was holding on so tight I still twisted them on the bars. But being out front is good because you get to learn that speed and intensity. –Weigandt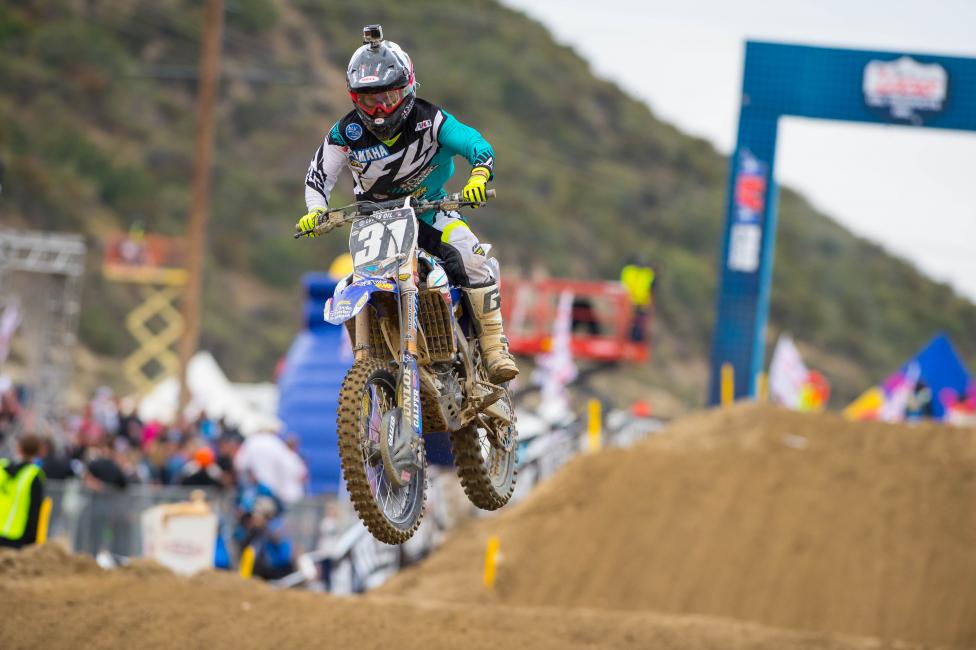 Alex Martin, CycleTrader.com/Rock River Yamaha, 11-2 for Fifth Overall in 250 Class
Alex Martin: Started off with a solid practice time, sixth fastest, which gave me a good gate pick. The start was okay, but I tangled a little bit with [Adam] Cianciarulo. I think he actually went down, and I didn't realize that until later after the moto. I apologized to him and said sorry. Karma got me two laps later, and I stalled the bike while running fifth. Had my work cut out for me then. I think I was fortieth at one point, but I came back to eleventh. I felt really good out there, and I was mad that I felt that good and the result wasn't there.
Second moto I lined up next to Marvin, and we came out one, two. We battled a little bit for the first couple laps, and then I ended up trying to tag along with him. He gapped me toward the end, and I started thinking a little bit, got the nerves settled, and kept charging. It was overcast and pretty chilly, so the fitness didn't really come into play. I feel like I could do another moto out there no problem. It's my best-ever finish in a moto, got fifth overall, and we're third in points. Good weekend!
Were you thinking about being in second at all?
In the middle of the moto I got a little tight, but I was trying to catch Marvin the whole time, so that helped me through it.
Had you not stalled it in moto one, you probably would have ended up on the podium. Are you thinking about that?
Oh, for sure. I was mad. Eleventh isn't really going to get me a good overall unless I get a podium, which is what I did, and I ended up fifth overall. I was mad because I knew I blew the overall for the day. I just took that anger into the second moto.
How was the track this week compared to last?
I think Hangtown was rougher. The track overall was good. The moisture was great. But, those two uphill sections in the back are just ridiculous. That's not motocross. There were rocks sticking out and I felt like I was at a GNCC. It was like, "What are you thinking?" Other than that, the track was great. –Aaron Hansel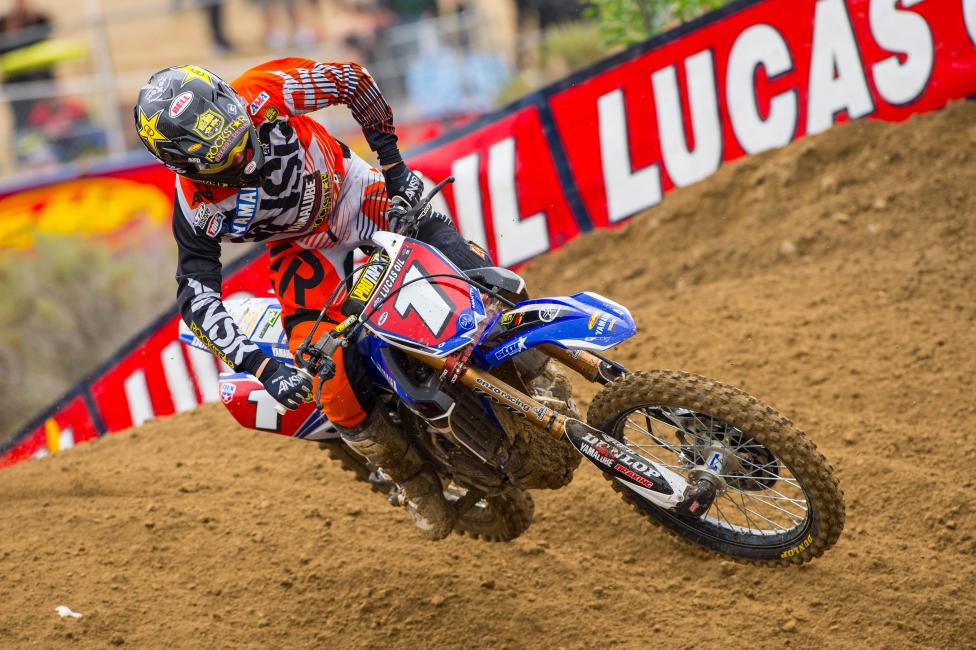 Jeremy Martin, Yamalube Star Racing Yamaha, 5-6 for Seventh Overall in 250 Class
I knew I probably wasn't going to be able to line up with those guys in the first moto. They were working frantically and doing the best they could do. They know the bike inside and out, so they knew what was wrong right away. I just was glad I could make it. They were in the first turn by the time I got going, but I just put my head down and started charging forward.
What was the problem?
I don't even know. I'll leave that for them to figure out and do my job.
Any sketchy moments coming through the pack?
Yeah, there were a few. When you come up on a big group it's a little harder to pass than if it's one guy. It's like, everyone is trying to kill each other, and I'm coming up on them going this way and that. I should have made the passes happen a little faster on some guys—I probably would have had a chance to catch the podium guys. At the end of the motos they were pretty close.
Did anyone move over for you when they saw it was you coming through?
No, nobody moves over.
Second moto. What were you thinking when you went down?
Well, I was pumped on the start. Marvin got it, and Alex, my brother, was right there and Nelson was on the inside. We came over that single to go left up that first hill and it was so soft and sticky. I didn't expect Nelson to turn that wide, which got my front wheel just enough and it took me down. I was like, "Here we go again." It was a bummer, but I put my head down again, and I felt like I rode better in the second moto. I was really trying to get those guys, and I was pretty close to Hill there at the end of the last lap.
You let out a huge rev when you crossed the line. Were you frustrated you didn't have another lap?
I was just frustrated I couldn't close the gap earlier and get it done sooner. I work hard, and no matter if I start last or not, I still want to be on the podium. I felt like I could have still got the podium.
Overall, not the results you're used to, but pretty good all things considered. Your thoughts?
I'm pretty happy. Look what the day was like. I came through the pack, which was pretty cool. I was wide open, making passes, and going for it. I enjoyed it. I rode hard, and come Monday we'll get to work again and keep pushing forward.
The crowd was really behind you and there were white towels everywhere.
That was probably, aside from Millville, the most the crowd has ever been into cheering me on. It was nuts. I loved it, and it was definitely motivating to keep pushing through even when I was suffering. It was a good day and those fans are cool. When they get behind you like that, you can do anything. –Aaron Hansel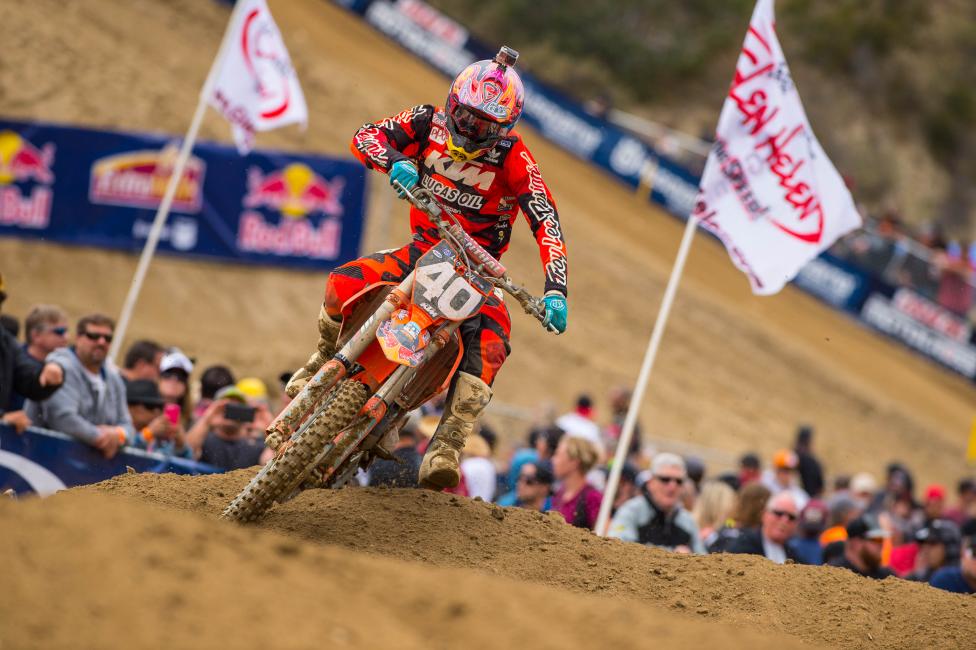 Tyler Keefe, team manager, Lucas Oil/Troy Lee Designs KTM
Tyler Keefe: Awesome day. The whole week the guys have been putting a ton of work in at the shop fine-tuning things. I think the riders were really happy, so I've got to give a big shout out to the crew and team for making it happen. We struggled a little bit at Hangtown, and this weekend was a good way to rebound.
That second moto Shane McElrath caught Jessy Nelson right at the end. You have to be pumped for McElrath—it was his best-ever finish at a national—but it also took second overall away from Nelson and gave it to Justin Hill. As a manager how do you feel in that situation?
Well, it was another KTM that got second, so that was good. The whole KTM crew, from our team, to their team, to the BTO team, we're all kind of one big team, so it's good to see them do well. Shane was on Jessy the whole moto. We'll build on it and hopefully those guys continue to do well like that. As long as they didn't take each other out it was good. –Hansel