Glen Helen Raceway
San Bernardino

,

CA
Glen Helen
Lucas Oil AMA Pro Motocross Championship
It's amazing to think that Justin Barcia—signed by the Autotrader.com/Toyota/JGR Yamaha team this year as an expected title contender—wanted a podium finish at Glen Helen to get some confidence rolling, but that's how badly his season has gone. He didn't come close to the box in Monster Energy Supercross, with injuries and a general lack of the speed and excitement we're used to seeing preventing him from meeting expectations. His second overall in the 450 Class at the FMF Glen Helen National was a much-needed shot in the arm, although Justin was brutally honest that he's got a long way to go to reach the likes of Eli Tomac. Remember, Barcia was signed with the intent of winning races.
Racer X: You're on the podium. Are you pumped to just hear that?
Justin Barcia: Yeah, it's good. It was a good day. We made some progress for sure. Still got a long way to go to get to the top, but it's not out of reach, I don't think.
That's the main question. Tomac won by a big margin, but you feel like the day could come when you're starting to win some races again like you used to?
Yeah. It's been a lot of stuff going on from injuries…I didn't have a ton of time to get used to the bike before supercross because of injuries.
You switched teams while coming off of an ankle injury. How much did that slow you?
My last outdoor race was Sacramento a year ago. That's when I got my ankle fixed, and it took forever to heal and do all the therapy and stuff. That was an ongoing process. And then I rode the bike a little and went racing, got hurt again over in Europe. Came back, got hurt testing. So it's been a lot to bounce back from for sure. At least it's nice to have a team that believes in me still and thinks I can do it. For me, my confidence was pretty low.
I was going to ask that too.
I was just questioning myself before the second moto still. I was always really mentally strong.
Yes, you've never been a guy who really doubts himself. I would think you're the last guy that could happen to. But it did get to you?
Yeah, just injury after injury it's like, how many times can I do this? I'm 23, but it still hurts my body and my brain and everything. It was tough. I was just like, this is gnarly. But today really put it back in perspective that I've still kind of got some skills and still can ride a dirt bike pretty good. All my hard work and training that I've been putting in was good. It's looking bright.
Let's be honest, when you were out there in between these injuries you weren't getting the podiums or wins that you would expect, either. So that had to have made it tough, mentally.
Yeah, because I signed with this team so I expected to win.
They want to win titles. You want to win a title. You were signed as a guy at that level.
That's what I want to do too, but I was not doing good when I was racing. Not that I was doing terrible in supercross; we were working our way up to some top-fives and stuf,f but it just wasn't what we all wanted. It was just beating me down every week. Hiring different trainers, doing all kinds of stuff just to try to be a better rider. But sometimes you just got to go back to the basics a little bit and ride your dirt bike and do your thing. Last two weeks I've been working with Buddy Antunez a little bit as a riding coach and it's been helping. Just trying to be the best dirt bike rider I can be.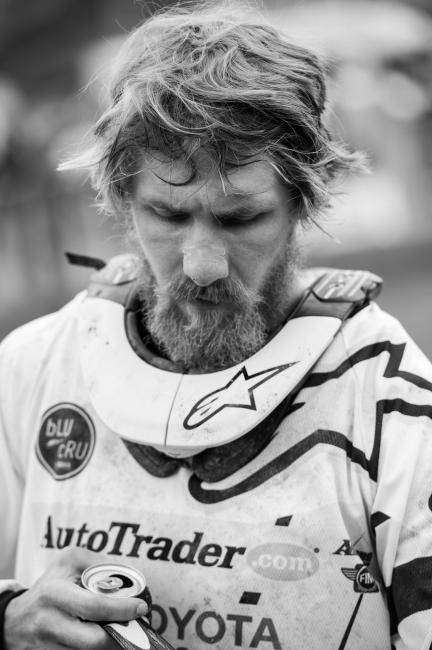 Is that what a lot of it was, chasing stuff? Like, let me try this, let me try that?
Yeah, new dirt bike, you're always chasing your tail learning it. I was on another brand forever. Just try things. But right now we're in a good position. Most comfortable I've been. I think today I kind of rode like myself a little bit. Obviously I do have a lot more things to work on and get faster but all in all I think I rode the best I've ridden in a while. So that was good.
Did I hear you ended up at Club MX a little bit with Filthy Phil [Nicoletti]?
Yeah, me and Phil have been riding at Club a lot. It's a good place. There's a lot of kids there that go fast, amateur kids. I'm actually helping out an amateur kid there, Marshall Weltin. He's doing good. I'm going to help him out going to Loretta's and stuff.
You're like a riding coach?
No. I ride with him, but I'm just helping him out with some parts and stuff. Gibbs stuff. If he needs some parts from there I just tell them to bill me.
So you are kind of a sponsor?
I'm a sponsor. I went and rode there and I've known Marshall for a little bit and he's a super nice kid, down to earth. He had some tough times with some stuff, riding stuff. I was like, I'd love to help you out. I ride for Gibbs so I can get the discount, maybe. So I get a little discount at Gibbs, and if he needs some parts, I can help him out. But most of all, he's super fast and he can definitely win at Loretta's. But that's not why I'm helping him out. I'm helping him because he's a nice guy. But yeah, I've been down there at Club MX. Me and Phil have been hammering the motos. I think it showed today. Phil blew by me in the first moto. I was like, whoa!
He was ahead of you at one point.
I got the holeshot, and then Phil blew by me. I was like, this is like Club MX. So I got back by Phil and then we hammered down the rest of the moto pretty much. It was cool.
All three of you guys on the team are going pretty fast now. Does that help overall? Clearly everything's going in the right direction with these bikes.
I have to beat them every weekend. That's what everyone thinks. Phil wants to beat me and Weston [Peick], Weston wants to beat me and Phil, and I want to beat all them.
But when you're all doing good, doesn't that give you confidence? Clearly the bike must be pretty good, because we're all doing well.
For sure, but you don't want your teammate to beat you.
Do you realize that's the question every week? From fans and other media guys, I've been hearing "Barcia versus Peick" all year now depending on who beats who over here. People want to know so bad.
We're all respectful here and we tell each other good job and stuff, but you never want your teammate to beat you. For me, I wouldn't say it's the least of my worries, but there's a lot of guys that are beating me that are a lot faster, so I have bigger things to worry about.
You want to beat the guy that wins.
That would be a good step.