Rancho Cordova, CA
Hangtown
Lucas Oil AMA Pro Motocross Championship
We've learned two things about rookie Monster Energy/Pro Circuit Kawasaki rider Chris Alldredge this year. First, he's one of the nicest riders ever. Second, he crashes a lot in supercross. Sorry, Chris, but Monster Energy Supercross, an FIM World Championship, was rough to say the least.
In reality, the season was rough for the entire Pro Circuit team, but they showed some real signs of life at the Lucas Oil Pro Motocross opener at Hangtown. Adam Cianciarulo and Joey Savatgy went 1-2 in qualifying and showed impressive speed in the motos. But Chris Alldredge faired the best, putting the team on the podium via 5-3 scores and third overall. It appears we'll see a much different Alldredge outdoors than in supercross. After the race he explained the differences between the two, with some brutal honestly mixed in. Chris, keep up the good rides on the track, and don't change off of it.
Racer X: Congratulations on your podium today. First question has to be how are you feeling about your riding today and your podium?
Chris Alldredge: I feel great. We came into the season knowing that my speed was there. We ride with these guys every day at the track, so we'd see where we're at speed-wise. We were happy with it; we just didn't know how we were going to be outdoors. I'd only raced three of them last year, and it would be my first season racing the opener. We didn't know how the other guys were going to be or how the bike was going to be or anything. But we put a lot of testing into it; it came out great. I didn't get very good starts. Definitely an unfortunate part today. I had to work my way from outside the top ten. But to walk away with a fifth and a third and third overall, I'm happy with it. I'm definitely in better shape than I thought I was, but we got to keep working. Jeremy [Martin] did smoke me in that that second moto, and Marvin [Musquin] went by me like I was standing still. Get to those guys' level and keep working hard.
A great start here. I know supercross didn't go the way you wanted. Is this just because you grew up racing motocross and supercross was hard to learn? What's the difference from your end?
I'll be the first one to tell you that I was scared in supercross. It's a nerve-racking thing for anybody who hasn't ever done it. It's a very scary thing. The whoops were the scariest part, but I ended up overcoming them. Some of the rhythm sections those guys did, it's impressive. I give hats off to anybody out there in supercross. It's the toughest sport in the world. Like you said, I grew up doing this for a long time, so this outdoor thing's a little bit more my style.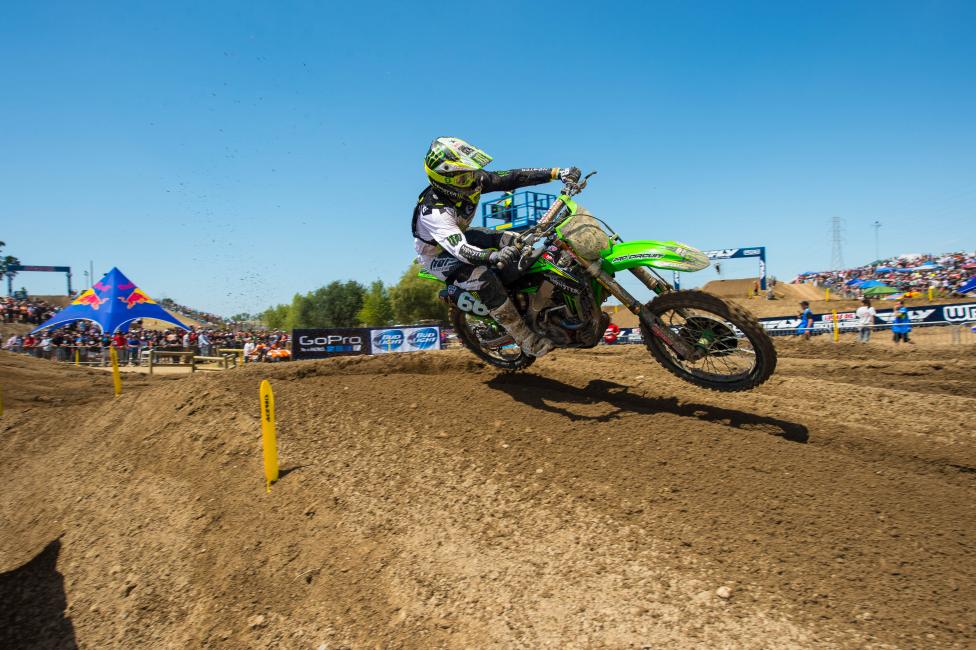 In the second moto, like you said, Marvin did go by you, but you kept him right there. Was there any point where you thought you might make a run at him?
Not so much. I was pretty tight arm-wise and Marvin actually helped me. When he went by me I followed a lot of his lines and he kind of pulled me away from [Alex] Martin a little bit. So he definitely helped me a whole bunch, but I was never thinking about putting a charge on him. I was more excited about being in third place than anything. Trying to get Marvin was probably the last thing on my mind.
Did you know when you were on the track and you were in third place that you were set up for an overall podium?
Yeah. I watched [Zach] Osborne battling with…I don't know who it was in my mind—I thought it was Cooper Webb, which I didn't know it was [Anthony] Rodriguez. But I saw Osborne get him and put him in sixth—I had like a 5-3 and third overall. That was when [Alex] Martin started to pick up on me. Thankfully that last lap I was able to hold him. I was definitely doing the math in my head and when I figured it out I was pretty excited.
What is it you're going to take away from this event that you're going to take to next week?
Just like [Eli] Tomac said, you can ride on these tracks, but these tracks are one-of-a-kind you're racing. So we learned a lot today on the bike. We made a great change for the second moto, and that helped a lot. So we're just going to keep getting better every single race. We'll keep learning about the motorcycle, what I like, what I don't like. It's my first season, so the realistic goal is to be on the podium every single time, and we're going to keep working to that.