Rancho Cordova, CA
Hangtown
Lucas Oil AMA Pro Motocross Championship
Originally from Kentucky, Daniel Baker has quietly become one of the best prospects in the amateur ranks today. In the past year Baker has relocated to Florida to live near his trainer, the great Ronnie Tichenor, and has put in the work to make it to the professional level. Baker had one of his most successful amateur seasons this year and KTM decided it was time to move up to the next level. Baker will be making his professional debut at Hangtown on the Orange Brigade KTM squad, which is a launch pad between KTM's amateur division and their factory teams.
We caught up with Daniel on the Wednesday before his big debut to get the scoop on how it all came together.
Racer X: What's going on man?
Daniel Baker: Oh, just down here in Florida, about forty minutes from Tampa. I'm on the west side of Florida. I've just been riding four days a week and training. I've got my trainer down here living with me in an RV. We've been staying down here for a year or so now. I've just been ripping it with Ronnie Tichenor. We've got a few other fast guys that live down here. Aldon Baker's facility is right next to all of the tracks that I ride. I haven't been there before, but I drive by. There are all kinds of fast riders that live down here, so it's pretty cool. I'm just doing my thing basically, just riding and training, nothing has changed [laughs].
Tichenor has been in the same position that you are and has some great insight. How's that been going for you?
Dude, Ronnie is the man. I don't know what it is about him, but we click really well together. I think Ronnie and I are very similar as far as personality goes. I really take what Ronnie has to say to heart because he's been in the exact same position before. It's always helpful to have someone who has been there and done that in your corner.
Switching gears a bit here. Let's talk about your final year as an amateur. You won some titles, and the most recent ones were at Ricky Carmichael's Amateur Supercross.
Yeah, I think I won two titles there. That was an epic race. I really liked the Daytona Supercross, and I can't wait to race it on Saturday night instead of Sunday afternoon. You're probably going to bring up Chase Bell and I getting together over that big double. That was crazy, dude. I was coming down that big start and my front end hooked up in a pothole on that little double. I got kicked sideways and had some headshake. I just pinned it all the way up the face. We had about fifteen ruts going up the face of this jump and I was like, "I'm not going to make it unless I hold it wide open." I was cross-rutted going up it, and I just dumped it, man. Even though Chase Bell was right there next to me, I didn't know that we had hit in the air until I saw the video. His dad showed me that after the race, but I was glad to see that we both made it out okay.
Yeah, that was definitely a sketchy moment. That could have been way worse for both of you.
Yeah, that's for sure.
Are you happy with the way your amateur career went?
Most of my amateur career I didn't really enjoy that much because I never won anything. This year I think things started to turn around for me at Mini Os. I was seeing everyone who I used to race with winning on TV in supercross and in the outdoors. These are guys like Copper Webb and Adam Cianciarulo. It's like, what am I doing still in amateurs? I put a lot of effort into doing well, and I said screw everything. I couldn't handle getting fourth or fifth place anymore. I want to make this a career, and sponsors want to see race wins and championships. I really just wanted to make it to the pro level and that was my goal. I wanted to get something going to where I could race the guys I have been racing my whole life. I'm happy with it.
Now you get to make your pro debut. How excited are you right now?
[Laughs]Man, I'm excited and at the same time I have no idea what to expect. Here in Florida I have about four guys that I ride with everyday. They are all 16 years old, so they aren't quite on my level yet, but they will be there one day. I don't have anyone to judge my speed on. I'm walking into this a bit blindfolded. I think it's going to be really fun. I'm more excited about not knowing what's going to happen. Nobody knows what to expect from me and I don't know what to expect from them.
You're coming in under the radar basically.
Yes, I am.
Is that a good thing or a bad thing for you?
I think it's a great thing, honestly. I'm really excited to be under the radar and then hopefully be on the radar by the end of the series.
You're teammates with Dakota Alix on the Orange Brigade FMF KTM team. You have been on the team for a while now. How easy is it going to be transitioning from amateur to pro?
I think the best part about this transition is that you only race one day each week. These amateur races we start on Monday and ride until Saturday. That was the biggest thing that I didn't like, running three motos a day at an amateur race. I'm excited to race one day and then get back on a regular schedule throughout the week.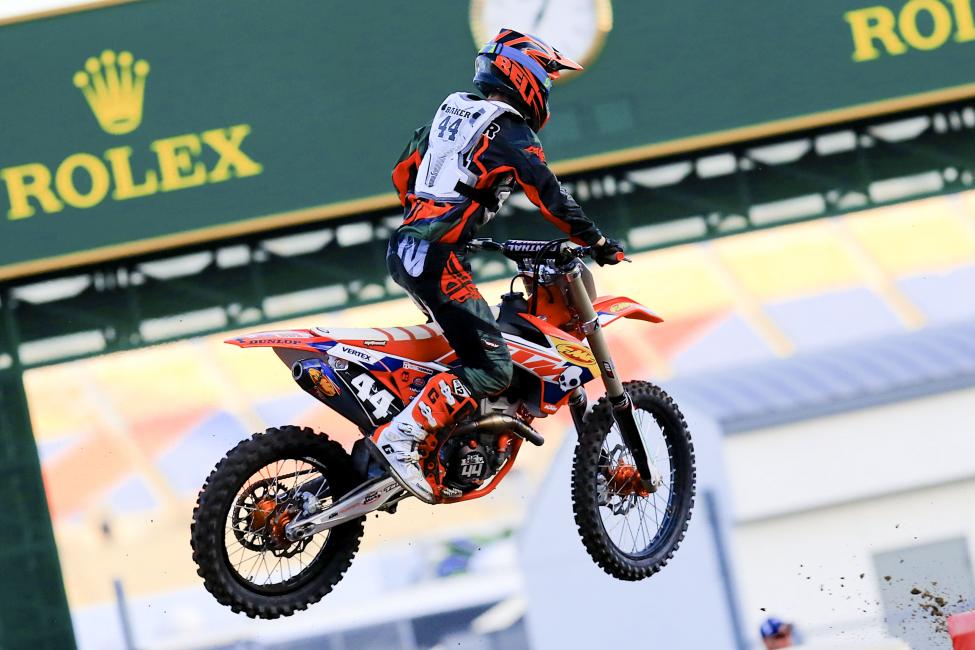 True, you don't have to sit around all day waiting for your next moto either.
Yeah, sitting around was the worst part. You don't know what to do with yourself. You don't want to go outside and hang out and have fun with all of your buddies. You want to stay focused. I would just sit in the camper all week long at the races and it gets pretty boring.
As far as the transition with the team goes, it has to be a cool position for you. You know how the team works, and you don't have to step into a new situation with new bikes or people around you.
I went out to California two weeks ago to do some testing before the national [Hangtown]. I'm just really excited to be a part of the KTM crew. They care about each and every one of their riders. It's not like they give less attention to someone if they are a bit slower. They treat me like I'm on the factory team. They took me to the factory shops of KTM and Husqvarna when I was there. Everybody at KTM is so supportive and motivated to help people move in the right direction. That's really good for me because they aren't putting any pressure on me to do well. I just need to improve every weekend. I think that's awesome.
Was the goal to turn pro at Hangtown no matter what?
I wasn't on the same team with Alex Frye and Dakota originally. Then at the California Classic KTM came to me and asked if I wanted to do the pro nationals. They said the budgets were already set, but they didn't want to see me ride amateur anymore. They wanted to see me improve every weekend and work on my speed with all of the pro guys. That's what they felt I should be racing right now. It was cool to see them put something for me together for the outdoors because the budgets were already made.
It seems like a good fit for both the team and you. You were ready to turn pro and it's good to see the team step up and tell you it's time. So it will be Frye, Alix, and yourself under the same rig this summer?
Yeah, Frye is turning pro at Muddy Creek. He's been kind of up and down with what he wanted to do, but once the series goes back east he said he's going to start ripping. Another thing that's cool about this is that Frye and I have known one another since I started riding. We used to ride for the same team on Champion Cycles back in the day. We were always hanging out and riding together. It's crazy that we are back on the same team. It's going to be good for both of us.
That sounds like a pretty good summer. You knew this next question was coming. What are your expectations for Hangtown and then moving forward for the rest of the season?
My goal for Hangtown is a top-twenty, and then I want to improve every weekend on that. Hopefully by the end of the series I can run in the top five for a little bit and maybe even finish in the top five. I don't really know what to expect. I just want to improve every weekend, and I think that's a good starting point.
What number will you be rocking?
I will be #434.
Thanks for taking the time out of your day to do this. Who would you like to thank for getting you here?
Orange Brigade KTM Pro Lites; Fly Racing; Bell Helmets; Dunlop; Hammer Nutrition; Scott Goggles; Motorex; FMF; Mom and Dad; Ronnie Tichenor; Ross Muinzer, my fitness trainer; and Dunlop.