Indianapolis, IN
Indianapolis
Monster Energy AMA Supercross Championship
KTM is growing and expanding so much that they can now support two whole brands, with Husqvarna now under the same business structure. But the expansion continues. The Rockstar Energy Racing team moved from KTM to Husqvarna, and the Lucas Oil/Troy Lee Designs team came in to cover the 250 slot for KTM. There's yet another team, though: the Orange Brigade Lites team, which transitions elite amateurs into the pro ranks.
Right now, Dakota Alix is the pro rider on this team, and he's racing 250SX East as a rookie. There's much more in the pipeline, though, so we grabbed James Coy, who runs the team, for the details.
Racer X: People might forget that there's another factory KTM team here. There's not just Troy Lee, not just Red Bull KTM and BTO, but the Orange Brigade team is still going. It sounds like it's actually growing a little bit.
James Coy: Yeah, KTM's putting a huge effort into this program as well. It's the KTM Orange Brigade Lites Team. Basically, we take the elite Orange Brigade kids after they come up through our junior program with Christie LaCurelle as amateurs. We take the top amateur rider and we basically go through as a schoolboy rider for a year, a B rider for a year, A rider for a year, and then we give them a year and a half as a pro. In the program we have a complete race shop, trucks, testing…we have everything that a legitimate team would have.
So Dakota's the guy right now, but is there already someone in the works a couple years away in schoolboy right now?
Yes. Dakota was the first one in the program, so we've stuck behind him. So right now he's on the second year of his pro deal. Behind him we have Alex Frye coming up, and behind Alex as our B rider this year we have Michael Mosiman, and behind him we have Mitchell Falk as our schoolboy rider.
How does that compare with the Troy Lee team, which also has some amateur guys, and now they're KTM, too? How is that going to mesh?
I think eventually they'll all be integrated. Right now Tyler [Keefe, team manager], that's something he's always done. When they had Hondas they had plans already to go after amateurs like [Sean] Cantrell; they already had [Justin Hoeft]. Eventually the whole thing will be integrated. Right now it's working great because it's just more young kids that have good rides.
Right now it looks like just a Dakota Alix thing. Savatgy, I guess, was on it in the very infancy but not as an amateur, right?
The team was actually built around [Joey] Savatgy on a pro level to put him on the road, but after we saw how good it worked, we were trying to find something to do with the young kids to keep them in the program, and to help them reach that next level we opened it up to be like a transition from amateur to pro.
So this is going to be a much bigger deal similar to what GEICO Honda has done or what Team Green has done for a long time?
It has to be. To be competitive, to get these kids now, you have to have something like this.
I would think the parents, when they negotiate, that's what they want. They want a pro deal.
Absolutely. You look at young Jett Reynolds. They're already negotiating with him for a pro deal, so if we don't get something going like this right now…
Jett Reynolds! Is he even 10 years old?
I'm not sure. He's a great kid, a great family, but for sure Kawi and Monster are going to lock him up and we've got to do something to have a program of our own.
It's almost funny to look at this bike because this is a real 250SX-F; it's not a factory edition bike, but now it's almost rare to see that in these pits. But this is a good bike.
It's the bike that won the championship last year with Jason Anderson. It's more than good enough to do what we have to do on it. It might look a little old because the new one's out, but it's a great bike. It's an unbelievable chassis, great motor. We have a lot of great parts on it that were handed down that we had last year from the factory team, so it's more than what we need to do the job.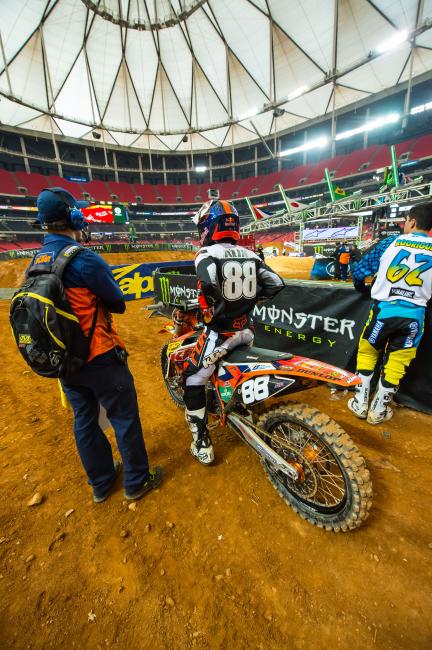 Do you have any idea what the future holds for Dakota? No matter what, does he only get a certain amount of time with this team, or could you potentially keep a guy on it for four years?
No, he gets a year and a half as a pro guy. He did his outdoor series last year. Unfortunately his knee was hurt most of the year and he never really showed his potential. He's pretty healthy right now so he gets supercross and outdoors this year, and I hope that's good enough to earn him a ride somewhere.
So even if he stays on a KTM, it'd have to be with a different KTM team?
Yes, even if he won the championship this year, right now we can't keep him. He's got to go to a different team.
Will the timing of it work where you'll have more than one rider as a pro at once, or are they all backed up to do one at a time?
Ideally it's supposed to be one at a time. Obviously we'll have Alex Frye at outdoors this year with Dakota, so that'll be his first outdoor series. But it's supposed to work in progression, but it may not. We'll work around it if it doesn't.
You're at the amateur races with some of these guys also?
Yeah, I try to do every race. We do the five majors plus the California Classic at Glen Helen. I try to be at every one.
How much do you think it helps? When he comes to race here it's going to feel just like an amateur race. He's working with the same guy, same vehicle, same everything, right?
Yeah, we got the mechanics; everybody works as a group. We're hoping it works the way they're supposed to and they're comfortable. That's the whole point, is to make them as comfortable, keeping an environment with less pressure, so they can ride at their full potential.
Does he ride at the KTM track?
That's the great thing about the KTM program. We have the KTM track, we have Troy Lee's track, we have Husqvarna's track, not to mention the local tracks in Southern California they can test on.
No excuses, really. It's pretty legit.
It's legit. We're doing everything we can to show everybody that this is a legit deal.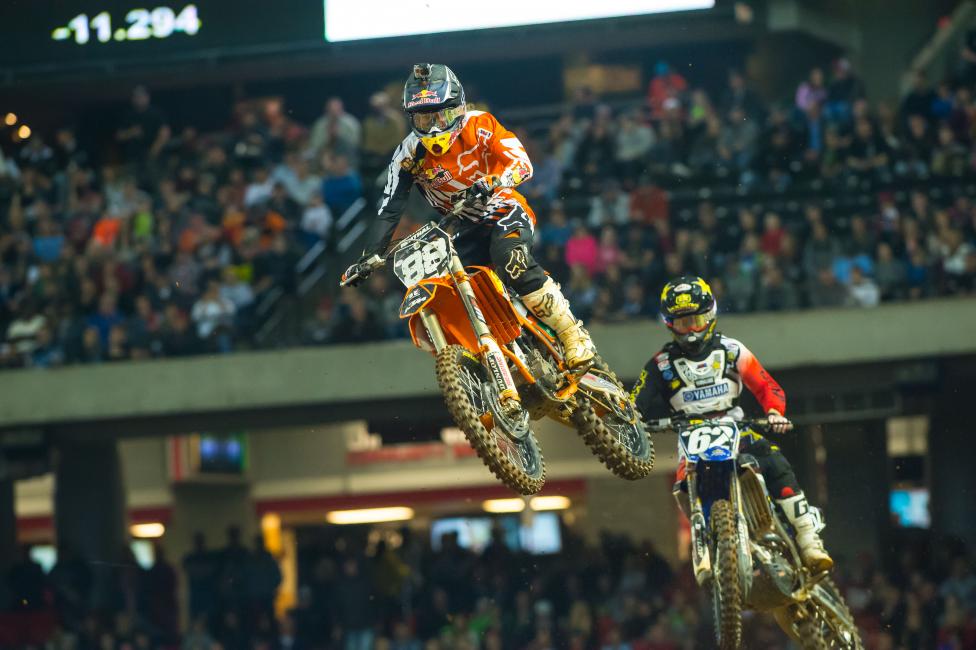 Orange Brigade is the name of this team, but it's more than that also; it's a wider-ranging thing of more amateur guys than just this team alone, right?
The Orange Brigade is something that Michael Sleeter came up with a while ago for the sponsored riders who ride KTMs. The Orange Brigade typically was the amateur kids from 50ccs to big bikes that rode on the amateur program. And keeping with that KTM named this the KTM Orange Brigade Lites Team, so basically the distinguishing difference is that we're the KTM Orange Brigade Lites Team and they're the Orange Brigade. All part of the same family; we all help each other, but this is the elite team that the amateurs are trying to get to.
So the way this could potentially work, the rider is only going to be here for a year and a half at most, so unless they win a supercross championship straight out of the amateurs, which is rare, the best chance is they'll probably go on to win titles for the other KTM teams after they get their launch here?
Absolutely. This is a low-pressure environment for them to learn and get their feet wet, basically to help build them into championship contenders that they'll do on one of the other KTM teams.
With Troy Lee coming on board, is the 250 program at Red Bull KTM, will that eventually go away do you think?
I think that the plan in the future is to have the Troy Lee team be the factory KTM effort. I would assume that's what the plan is. It looks like that's the direction it's going.
If this all worked out perfect, they would finish off their amateur career and a little bit of pro with you guys then go to TLD and then go to the factory team?
That's the business model for this program. You can buy a KTM 50 and start racing and earn support on a 50 and ride a KTM all the way through your 450 career and retire on a KTM. That's the way we envision this.