Rancho Cordova, CA
Hangtown
Lucas Oil AMA Pro Motocross Championship
This weekend marks the start of the 2015 Lucas Oil Pro Motocross Championship with the 47th Annual GoPro Hangtown Classic. The Hangtown race actually predates the series— which was conceived in 1972—and it's held more AMA Motocross Championship openers than any other facility. As the Dirt Diggers Motorcycle Club members who organize the race like to say, "Motocross starts here." With that in mind, we thought now would be a good day to look back at some of the most memorable openers of the series—several of which were held at Hangtown, both the new track and the old track. These are in no particular order.
2010
After dominating the B class at Loretta Lynn's the previous summer, GEICO Honda's Eli Tomac tried a different route to the top—he skipped Monster Energy Supercross in order to prepare for his outdoor debut; he would then have a base to build on when the time came the following season to go supercross racing. Tomac then did something that had not been done since the very early years of the series—he won the first professional race he ever entered. Tomac went 3-1 at Hangtown on the #243 GEICO Honda CRF250R to top Monster Energy/Pro Circuit Kawasaki's Christophe Pourcel. Now they will both meet again at Hangtown. Tomac is still with GEICO Honda, and Pourcel is now with Rockstar Energy Racing Husqvarna.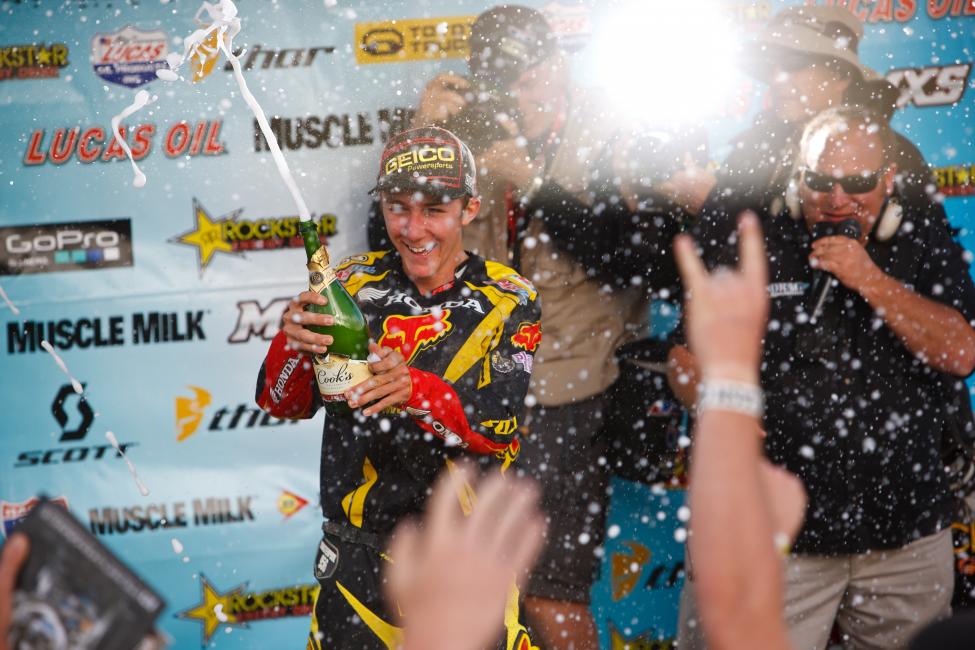 1974
Marty Smith also won the first national he ever entered, which happened to be the first AMA 125 National ever. It was at the old Plymouth version of Hangtown, a sandy, rough track that was perfect for Smith's brand new Honda CR125 Elsinore. Smith's win marked his first brush with stardom, and he would soon become America's first homegrown motocross superstar.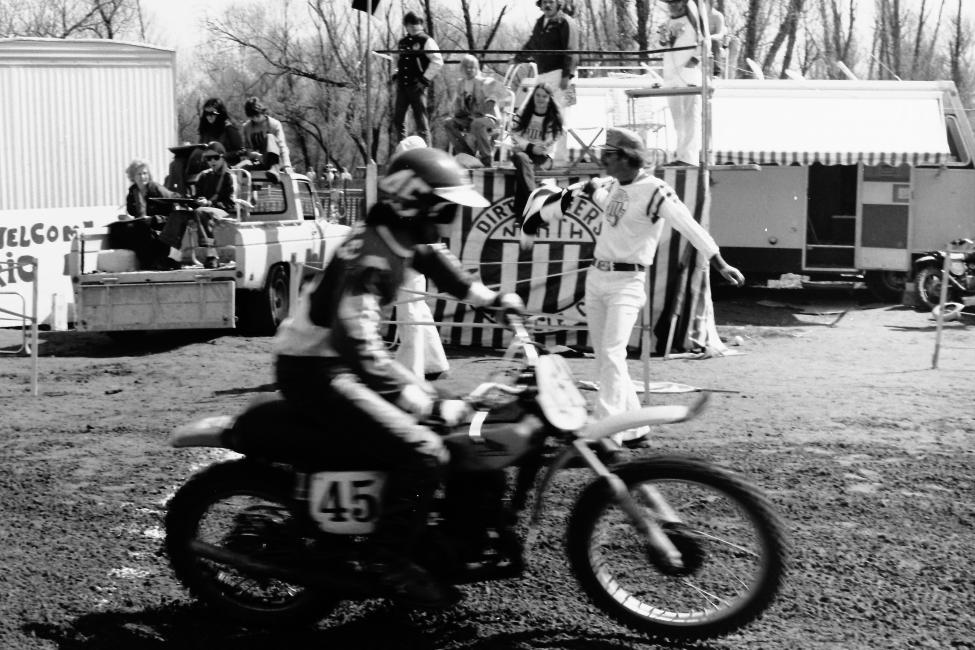 1976
Smith's meteoric rise to the top, when he easily won the 125 title in 1974 and '75, gave Honda a rather ambitious idea. For 1976 they would have Smith campaign both the 125 Nationals here in the States and the 125cc World Championship in Europe. Smith ran into a buzz saw on both fronts, one expected in Belgium's Gaston Rahier, who won the world title. The other, well, no one saw coming. Bob "Hurricane" Hannah was a little-known privateer from the desert when Yamaha signed him to race in 1976, and he shocked the world and especially Smith when he put it to Marty and everyone else at Hangtown, blasting the field in both motos to take the first win of what would be a Hall of Fame career.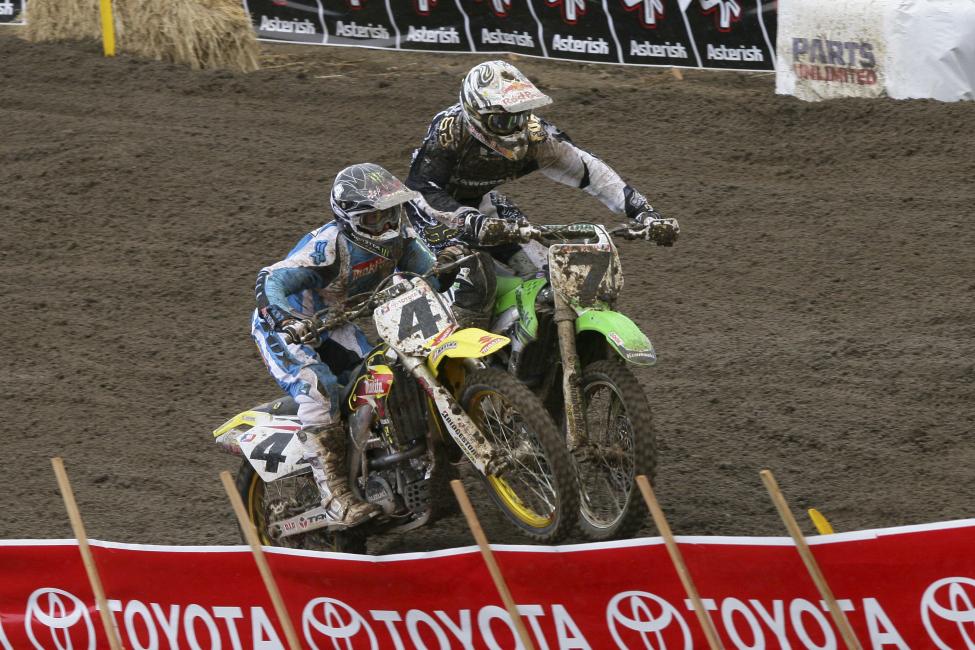 2006
Ricky Carmichael had not lost an outdoor overall since July 2003 when he showed up for the Hangtown opener aboard his Suzuki RM-Z450, and no one really expected him to lose there either. But off the start of the first moto RC grabbed the holeshot, only to "trip" across the holeshot line, going down and giving the whole field the chance to pass him. He charged as hard as he could from behind, but he could not pass Kawasaki's James Stewart, who had also made an early mistake. Carmichael and Stewart were facing off for the first time ever outdoors on 450s, and their charge through the pack together was an amazing site. Stewart ended up catching early leader Chad Reed for the moto win, but Ricky ran out of tear-offs and time, and ended up third. Carmichael won the second moto, but Stewart's 1-2 bettered his 3-1 tally, ending his record winning streak at twenty-seven.
1990
Everyone remembers the 1989 Gatorback National opener, where the heavily favored Rick Johnson broke his wrist in practice, and the surprise winner turned out to be Jean-Michel Bayle. What many forget is that one year later Johnson returned and actually won Gatorback, barely inching out the win over his Honda teammate and defending champion Jeff Stanton. It was practically a photo finish. Unfortunately, RJ injured his wrist again one week later at the Daytona SX and would eventually retire due to his chronic wrist problems.
1993
Jeremy McGrath won his first-ever outdoor national at the Gatorback opener in 1993, racing the 125 Class outdoors while dominating AMA Supercross on a 250 to begin his reign as king. But most remember Gatorback 1993 due to Honda of Troy's Erik Kehoe, who won the second moto by holding off a furious charge by McGrath. Kehoe launched the finish line jump, his CR125 flying way above the terra firma, the image captured by the great Paul Buckley for Inside Motocross. It was one of the all-time great finish-line gambits, and while Kehoe got a deserved moto win, McGrath still got a deserved overall.
2001
Not all openers went well for Ricky Carmichael. In fact, when Glen Helen hosted the opener in 2001, Carmichael raced up one of the steep hills on the outside aboard his Kawasaki KX250, only to clip a hay bale that had been placed a little too far out into the outside berm by a race official. Carmichael clipped the bale, bounced over the fence, and went cartwheeling down the side of the mountain. He somehow got back up and into the race, but he only managed eighth. Yamaha's Tim Ferry ended up winning with 2-2 scores, and the 125 Class winner was Red Bull KTM's Grant Langton, who was racing his first national since the then-125cc World Champion decided to move to America.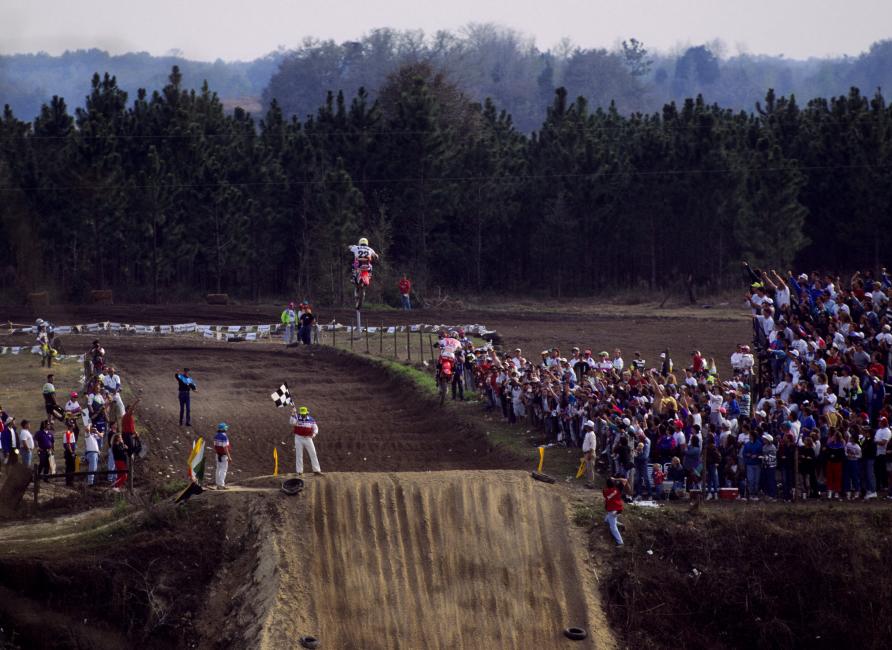 2014
Last year's Lucas Oil Pro Motocross Championship actually kicked off at Glen Helen, which was returning to the schedule after four years. The 450 race was a fantastic shootout between Red Bull KTM teammates Ryan Dungey and Ken Roczen, with Dungey stealing the win with just two turns to go on the very last lap. But Kenny would later get the last laugh, winning the 450 title. The winner of the 250 Class that day was somewhat shocking, though not in who it was that won, but in the way he won. Yamalube/Star Racing Yamaha's Jeremy Martin absolutely obliterated the field in both motos to earn the first AMA Motocross win of his career. Three months later, he would clinch his first title too. (And shoutout to Josh Grant, who held off Roczen to win the first moto in front of his home fans.)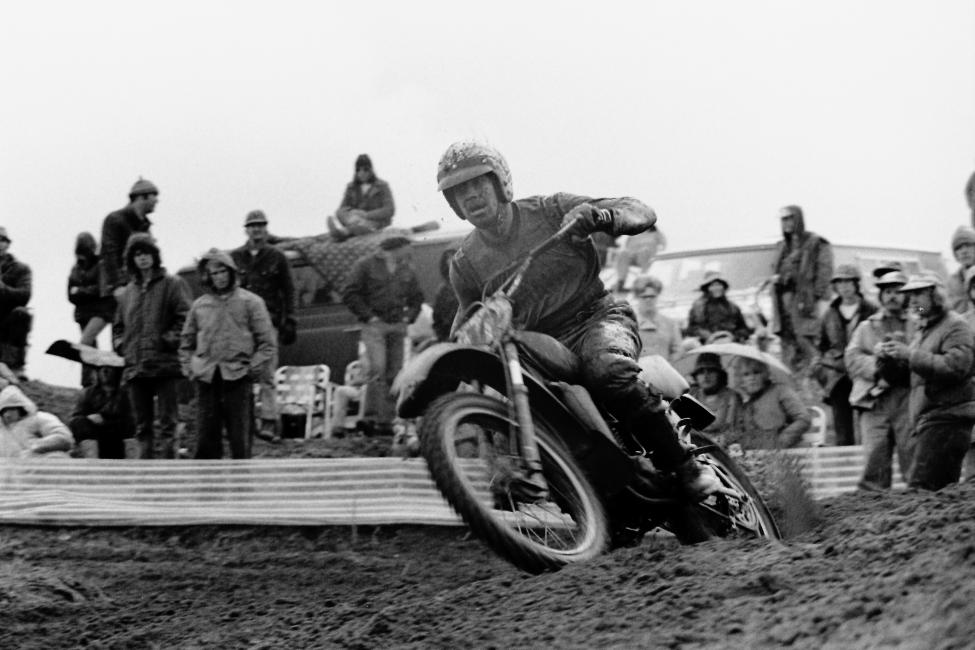 1975
Another race at the old Plymouth version of Hangtown, only this time it was one of the all-time mudders. Yamaha's Tim Hart proved to be the best in the deep mud, beating a surprise runner-up in Doug Raines of Belfair, Washington, and Honda's Smith, who would dominate the last six rounds of the series to claim his second straight title. The winner of the 250 Class was Kent Howerton, a future champion from Texas who was riding a Husqvarna.
1978
Plymouth again, only this time it wasn't so muddy. Yamaha's Broc Glover won the 125 Class and "Hurricane" Hannah stormed to the 250 win. Both would use their wins at the opener to launch themselves out into point leads and respectively easy titles in their class. And when Rick Burgett won the 500cc title, it led to those famous Yamaha advertisements where all three of them sat together on their #1 bikes.
1983
The 1983 Hangtown Classic took place at its current location, Prairie City OHV Park in Rancho Cordova, just outside of Sacramento, and it hosted all three classes: 125, 250, and 500. Suzuki's three-time 125cc champ Mark Barnett won his class, and Hannah, new to Team Honda, won his division. The 500cc winner was a local boy, the incomparable Danny "Magoo" Chandler. The Honda factory rider was a NorCal favorite and a true showman. His win in 1983 was one of the most popular in Hangtown lore.
1995
With much bravado, Suzuki imported three-time world champion Greg Albertyn to the AMA circuit in 1995, and he was expected to be an immediate title favorite. Unfortunately, the South African got himself beaten up pretty good in SX, but he still came out blazing at Gatorback, only to narrowly lose the first moto to Kawasaki's Mike LaRocco, then defending 250 National Champion. Unfortunately, both had bike problems in the second moto, handing an easy win to Honda's Jeremy McGrath—his first-ever in the 250 Class. Jeremy built off that momentum and went on to win his one and only AMA Motocross title that summer. The winner of the 125 Class, by the way, was Kawasaki's Robbie Reynard.
2009
Back at Glen Helen, Ryan Villopoto had finally graduated from the 250 Class after three-straight titles. Suzuki-mounted Ryan Dungey got himself the 250 Class overall win by going 2-1 to beat Christophe Pourcel, which previewed a season-long battle between the two for the 250 championship. In the 450s, Villopoto made his 450 debut a good one by winning the overall. Unfortunately, RV injured his knee at the very next race (Hangtown) and dropped out of the series, leaving the door wide open to Suzuki's Mike Alessi. But then after winning two straight races #800 went out and shattered his kneecap while practicing at High Point, setting off a chain of events that would end with him sitting on the edge of the track at Thunder Valley just a couple weeks later, his knee shattered again after a first-lap tangle with Josh Grant. The champion that year, after all was said and done, was Rockstar Suzuki's Chad Reed.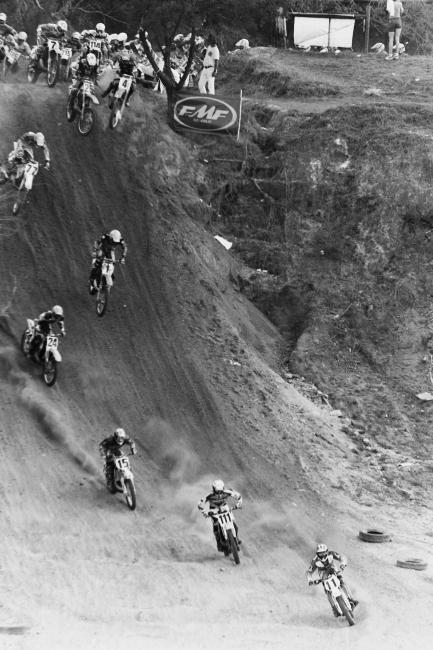 1999
Also at Glen Helen, Team Honda's Sebastien Tortelli, the 1998 250 Grand Prix Champion, was making his US motocross debut after a so-so season in supercross. He was much better outdoors, except that he couldn't get starts on Glen Helen's concrete launch pad, which was unfamiliar to him. Once he got going he unleashed fury on the pack, coming from around twentieth in both motos to win with 1-1 scores. Only Jeremy McGrath, who wasn't even racing outdoors full-time at this point, was able to give him any trouble up front. While still pretty fast at the next few races, Tortelli couldn't repeat this Glen Helen magic through the rest of the summer, and then he crashed out of the series at Unadilla with a broken wrist. Greg Albertyn, who was down on the ground in Glen Helen's first turn in both motos, went on to win the title
2004
Ricky Carmichael's return to racing in 2004 began at Hangtown. He had been forced to abdicate his AMA Supercross crown with a knee injury, and he wanted his vengeance outdoors—especially after switching to a 450 and not having to eat as much roost from Kevin Windham's 450 as he did the previous summer on a two-stroke 250. Still, RC was such a question mark that Honda would not meet his terms, so he signed with Suzuki before he even started riding again—and with twenty-four motos to go with Honda. Ricky returned to racing and won every moto, leading to our famous cover design where we teamed up with Renthal to have mirror images of "The Return of the King" on front and back.
Also, James Stewart swept the 125 Class that day, beating out an inspired Stephane Roncada, though many will remember that day's 125cc race for the inspired charge of the #386 Honda CRF250R of pure rookie Josh Grant, who led the first few laps before stalling the Factory Connection-backed thumper and then not being able to get it restarted.