Over the weekend, Team Honda HRC's Cole Seely (450SX) and Yamalube/Star Racing Yamaha's Aaron Plessinger (250SX) were named 2015 Supercross Rookies of the Year. Seely finished the season third in points with one win and five podiums to claim the honor over Blake Baggett, Jason Anderson, and Dean Wilson.
Plessinger, who joined Cooper Webb (2014) as the second straight Star Racing rider to earn the award, finished 2015 with one podium and four top-fives to edge GEICO Honda rookie RJ Hampshire by 3 points. (Note: AMA Rookie of the Year honors are awarded to the eligible rookie rider with the most points accumulated in each class.)
A reader named Jimmy sent me an email following the announcement and brought up a great point, writing: "Actually if you look back Cole has the best rookie season in many years in SX with the exception of Roczen last year, and he is even very close to Roczen's performance last year."
It got me to thinking: Where does each rider's respective performance rank amongst other recent rookie seasons? (Also, DC ranked some of the best 250SX/Lites/125SX seasons ever earlier this week, which is worth checking out.)
Being the good "reporters" we are, we decided to dig a little deeper.
450SX
Let's first examine the 450 class. Ryan Dungey's 2010 rookie season is head and shoulders above anything we've seen in recent memory. It's not even close. In 2010, Dungey won six times, had sixteen top-fives and didn't finish outside the top ten all season (seventeen rounds). He also won the championship! And most of his wins came against eventual four-time 450SX champion Ryan Villopoto. (RV missed the final three rounds with a leg injury.) It's a testament to Dungey's career: consistency over flash that doesn't garner the recognition it deserves. Seriously, it may be 10–15 years before we see another season like the one he enjoyed in 2010.
It's unjust to compare Seely's season to Dungey. You really can't compare any season to it sans Jeremy McGrath's epic 1993 season. But, where does Seely rank, as Jimmy mentioned, against Ken Roczen, or Justin Barcia, or even Ryan Villopoto?
In 2014, against a very deep field, Roczen won twice and had eight podiums. He scored 285 total points. Seely was just behind with 277 this year. Seely matches up pretty close, but it's worth mentioning that Roczen would go on to win the 450MX title just a few months later.
What about Barcia—the guy Seely essentially replaced at HRC Honda? With all his troubles this year, it's easy to forget that Barcia won twice in his rookie season (2013) and garnered five podiums—a nearly identical season to Seely's. In fact, they scored the exact same amount of points: 277.
| Rider | Rookie Year | Finish in points | Wins | Podiums | Top-Fives | Top-Tens |
| --- | --- | --- | --- | --- | --- | --- |
| Cole Seely | 2015 | 3rd | 1 | 5 | 11 | 14 |
| Blake Baggett | 2015 | 5th | 0 | 1 | 4 | 13 |
| Jason Anderson | 2015 | 7th | 0 | 2 | 3 | 13 |
| Ken Roczen | 2014 | 3rd | 2 | 8 | 11 | 15 |
| Justin Barcia | 2013 | 4th | 2 | 5 | 13 | 15 |
| Trey Canard | 2011 (Missed 3 rounds) | 5th | 3 | 5 | 11 | 13 |
| Ryan Dungey | 2010 | 1st | 6 | 11 | 16 | 17 |
| Ryan Villopoto | 2009 (Missed 4 rounds) | 6th | 2 | 5 | 9 | 13 |
250SX
To quantify Plessinger's season, we took the top four finishers in the respective 2015 East and West Regions, looked at how they did as rookies, and compared their rookie seasons to his. Something to note: Of the top four this year, including 2015 rookies, no one won a main event in their rookie season. In fact, Adam Cianciarulo was the last rookie to win a main in his first season, capturing three wins before leaving with injury in 2014.
If you compare side-by-side, Plessinger's rookie season stacks up nicely against Cooper Webb's and Justin Bogle's. And, remember, Webb had a full season of Lucas Oil Pro Motocross under his belt entering his rookie year. Consider this, as well: Bogle raced the last few rounds of the Nationals in 2011 before turning pro. Plessinger, meanwhile, injured his ankle at Loretta's, and missed the final rounds, making his first-ever pro race Anaheim 1. Talk about being thrown to the wolves.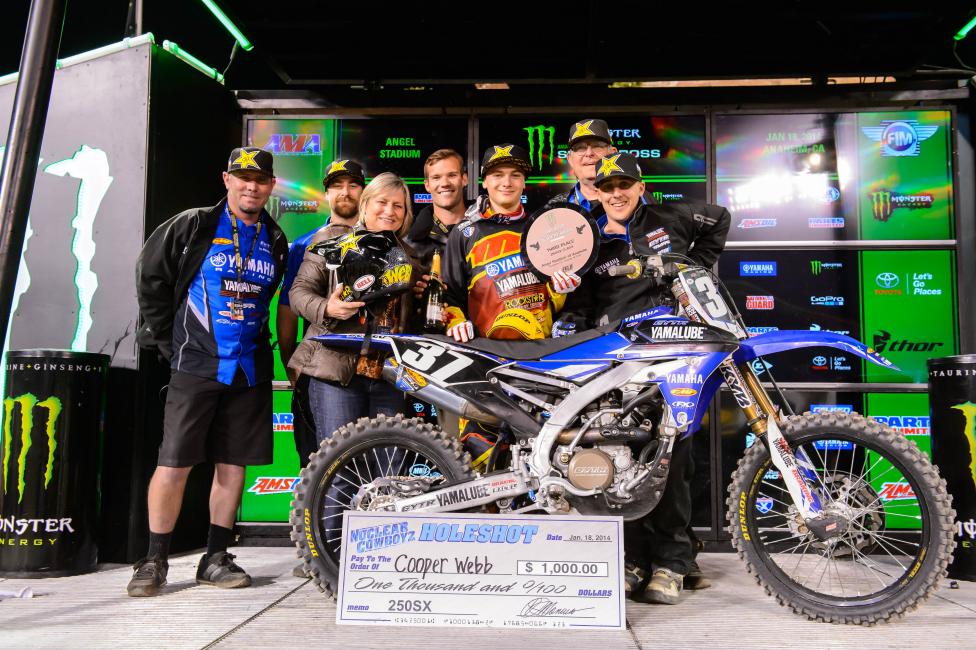 Plessinger had one podium in 2015 and four top-fives. Webb got the edge in podiums with three and matched AP with four top-fives. In his first year with GEICO, Bogle had two podiums and three top-fives. And remember this: Webb and Bogle each raced nine rounds compared to just eight for Plessinger. (Note: We did not factor in East/West Shootout results.)
Of the riders we compared, Musquin was far and away the most polished rookie, garnering four podiums and seven top-fives, but remember, he was already a two-time MX2 World Champion before coming to the US.
| Rider | Rookie Year | Finish in points | Wins | Podiums | Top-Fives | Top-Tens |
| --- | --- | --- | --- | --- | --- | --- |
| Aaron Plessinger | 2015 | 5th (8 rounds) | 0 | 1 | 4 | 6 |
| RJ Hampshire | 2015 (Missed 1 round) | 5th (8 rounds) | 0 | 1 | 3 | 6 |
| Luke Renzland | 2015 (Missed 1 round) | 11th (8 rounds) | 0 | 0 | 0 | 3 |
| Colt Nichols | 2015 (Missed 1 round) | 14th (8 rounds) | 0 | 0 | 0 | 2 |
| Jordon Smith | 2015 (Missed 3 rounds) | 20th (8 rounds) | 0 | 0 | 1 | 1 |
| Cooper Webb | 2014 | 5th (9 rounds) | 0 | 3 | 4 | 8 |
| Shane McElrath | 2014 | 9th (9 rounds) | 0 | 0 | 1 | 7 |
| Jeremy Martin | 2013 (Missed 3 rounds) | 11th (9 rounds) | 0 | 1 | 4 | 4 |
| Joey Savatgy | 2013 | 9th (9 rounds) | 0 | 0 | 0 | 6 |
| Justin Hill | 2013 (Missed 3 rounds) | 12th (9 rounds) | 0 | 0 | 2 | 4 |
| Justin Bogle | 2012 | 7th (9 rounds) | 0 | 2 | 3 | 6 |
| Marvin Musquin | 2012 | 3rd (9 rounds) | 0 | 4 | 7 | 7 |
| Zach Osborne | 2007 | 17th (7 rounds) | 0 | 0 | 0 | 2 |