Las Vegas, NV
Las Vegas
Monster Energy AMA Supercross Championship
Red Bull KTM's Marvin Musquin and Yamalube/Star Racing Yamaha's Cooper Webb are both coming off fantastic 250 regional championships, each winning six of eight races on their way to the East and West Region titles, respectively. Since it's been thirty years since the introduction of this class to AMA Supercross (though it was 125cc, and later Lites, before it became 250SX), we decided to rank them in best-ever seasons for this class.
15.) Denny Stephenson 1990: Riding for Team Suzuki, Denny Stephenson won eight races in 1990 on his way to the East Region championship. He lost in a total of three races, two of them East-West Shootouts (both of which saw Yamaha's Jeff Emig win), and the other a single stand-alone East race at Tampa, where Tallon Vohland got the win.
14.) Ivan Tedesco 2004: Riding a Pro Circuit Kawasaki in the West Region, Ivan Tedesco won the first five rounds before Honda's Nathan Ramsey broke his winning streak in San Francisco. Then the West went on hiatus for almost two months! Tedesco came back out as fast as he was in January, winning Dallas and Salt Lake City to clinch the championship. "Hot Sauce" finished fourth in the East-West Shootout.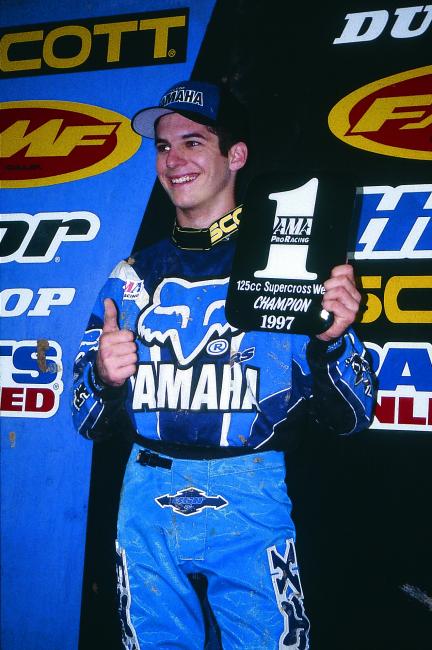 13.) Marvin Musquin 2015: In the eight rounds of East Region racing, Red Bull KTM's imported Frenchman won, and like Huffman twenty years earlier, he finished second in the two races he lost. But he did get a seventh win with his success last weekend in he East-West Shootout in Las Vegas—a race in which his fellow 2015 champion Cooper Webb didn't start after a practice crash, which subsequently knocked him off this list. But Cooper gets another shot in 2016.
11 & 12.) Jeff Matiasevich and Damon Bradshaw 1989: We had to call this one a tie between old antagonists Chicken and the Beast from the East. Each won six races and each won his region (Matiasevich in the West, Bradshaw in the East). The Kawasaki-mounted Matiasevich had an easier go of his region, topping a young Mike LaRocco by 30-some points, while Bradshaw just barely edged fellow rookie Mike Kiedrowski for the win in the East by 1 point. No one might have guessed then that it was the last title either of these rising stars would win in supercross.
10.) Kevin Windham 1997: There were only seven rounds in the 1997 West Region, and Kevin Windham won five of them, losing only to Brian Deegan (LA Coliseum) and David Vuillemin (Seattle). What made it even more special was his win in the first-ever East-West Shootout, battling back a fiery young rookie challenger in Ricky Carmichael.
9.) Ryan Villopoto 2007: After a slow start in SX as a rookie in 2006, Ryan Villopoto came on like gangbusters in 2007. His only defeat on the West Region was a narrow loss to the visiting GP rider (and future SX champ) Christophe Pourcel at Phoenix. Incredibly, both he and East Region champ (and Monster Energy/Pro Circuit Kawasaki teammate) Ben Townley crashed out of the Las Vegas East-West Shootout.
8.) Ernesto Fonseca 1999: Riding the #100 Yamaha of Troy YZ125, "Lobito" put on a supercross clinic in the East Region, racking up wins in the first four races he entered as a pure rookie—a record that stands to this day. The Costa Rican won six of seven races, losing only to Brock Sellards at the Pontiac Silverdome.
7.) Doug Henry 1993: After a relatively slow start (but still three straight podiums) Team Honda's Doug Henry went on a tear in 1993, winning seven straight rounds to clinch his first championship as a professional. He also won an East-West race in Dallas on his #16 Honda CR125 and would later add that year's outdoor title.
6.) Damon Huffman 1995: Riding a Suzuki RM125, Damon Huffman won six of eight events in the West Region, and finished second in the only two races he lost at San Jose (David Pingree) and Las Vegas (Ryan Hughes). There was no East-West Shootout at the end of the season, but there were three races along the way that both regions could enter. All three times—Minneapolis, Houston, Dallas—Huffman took the win.
5.) James Stewart 2003: Riding in the West Region, Stewart won seven of eight rounds, losing only the opener to Factory Connection Honda rider and defending West Region champion Travis Preston. Stewart then seemed well on his way to the 125 East-West Shootout win until he suffered the first major crash of his career, knocking him out of the race and the upcoming start to the 125 Nationals with a broken collarbone.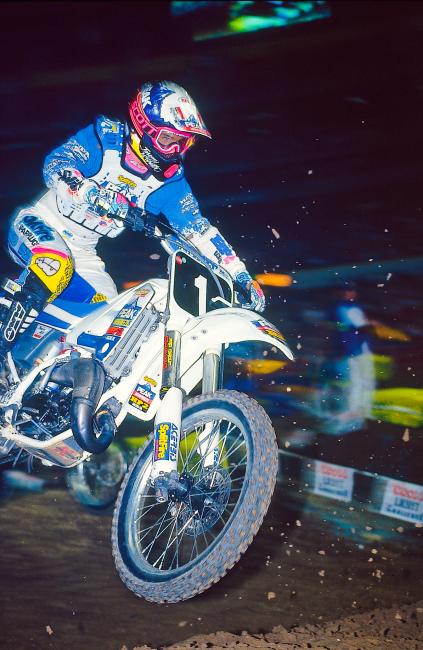 4.) Jeremy McGrath 1992: Almost perfect before anyone thought of him as the coming King of Supercross, Jeremy McGrath won seven of eight starts in 1992, his last year in the 125 class, aboard a Peak/Pro Circuit Honda CR125. His only loss that year came to his former teammate Brian Swink, then on a Suzuki and leading the East Region.
3.) Chad Reed 2002: Aboard a Yamaha YZ250F, the SX rookie won every round of the East Region except the last one at the Pontiac Silverdome, where he came within a lap of coming from a first-lap crash to catching Suzuki's Branden Jesseman at the finish line. Reed was also riding a YZ250 out west in the early rounds, showing flashes of the winning speed to come.
2.) James Stewart 2004: Aboard a Chevy Trucks Kawasaki KX125, Stewart never lost a race he entered in the East Region, but there was one race he didn't participate in. Stewart crashed hard in practice at the RCA Dome in Indianapolis and didn't race that night due to a concussion, leaving the door open for someone else to ruin his perfect season (Yamaha of Troy's Josh Hansen). Stewart did ride the East-West Shootout, and after some early back-and-forth with Stephane Roncada, he cleared out for the win to cap his season (and 125 SX career) with a seventh win.
1.) Ricky Carmichael 1998: Riding a Splitfire/Pro Circuit Kawasaki, Carmichael dominated the 125 East Region one year after somehow losing the title to Suzuki's Tim Ferry as a rookie due to his extensive crashing. Having learned the ropes, Carmichael swept all eight East Region rounds then added the East-West Shootout for good measure in Las Vegas. His sophomore season in 1998 remains the only perfect one in SX history for this class.