By the time Mike Brown won the 2001 AMA 125 National Motocross Championship, he'd already logged a career's worth of memories. He'd quit, come back, shuffled between privateer and factory status, and even did multiple stints in the GPs in Europe. It's hard to believe that nearly fifteen years after that, he's still going, still motivated, and still reinventing himself. (Check out this Racer X Podcast with Mike for more on his incredible career.)
These days, the likable Tennessee man rides for Rockstar Energy Racing Husqvarna in the GEICO EnduroCross series. He just turned 43, but he's still competitive, taking the win at round two of the championship a few weeks back, and battling for the lead on Saturday in Las Vegas before crashing in the firewood section. Despite the advanced age and rumors that he'll hang up the boots soon, Brown tells us he loves racing as much as ever—and he might not ever stop! We found him in the EnduroCross pits to get an update, and to ask about an appearance at the Muddy Creek National—which he still hasn't managed to pull off!
Racer X: Well, let's give an update for your old motocross fans out there, Mike. Last year wasn't what you wanted, but you nearly won the title in 2013. Now you're back in the hunt in EnduroCross.
Mike Brown: Yeah, this year is good. Last race I won, and that put me up there. Daytona, I didn't have the main event I wanted, but now I'm back in there with these guys.
The backgrounds of the riders in this series are so varied. Most of the riders you're battling have a background in trials, but here you are, a motocross guy. From what I hear, the tracks end up making a huge difference in who succeeds.
For sure. If there's a little bit of speed and more jumps, I'm better. If it's really technical, they do well. But it all evens out. All of these tracks are technical in their own way. The rocks are probably the biggest difference; it's on me as far as how I get through them.
And you've told me before that you've tried going full-on EnduroCross and do nothing but practice that, but you've found you seem to do better if you mix up your training.
Yeah, two years ago I didn't even have a track at home, so I didn't have much to practice on. We'd just go find a rock pile or something somewhere. Now I've got a track built right out back of my house, and last year that's all I did was just do laps on it. I think it actually hurt my results last year. Now I hit it sometimes just to stay sharp, but I think the speed and the intensity, for me, that comes from the motocross track. And I still like doing that. So, between races I'm really focused on the motocross and then I'll mix in some EnduroCross. We'll see how it goes.
I've heard people saying, "Oh this is Mike's last year." Is that something you've actually said, or are people just putting math together and thinking you're old and you won't want to do this anymore? Have you thought about this?
[Laughs] Yeah. Husky wants me to maybe do something different with them, but I don't know. I think if I'm still doing good, I'd like to keep racing. I still love it, you know? As long as I can compete and be up there like I am, I'd like to do it forever! But, if I'm not competitive, then it's time to move on.
But you're not burned out mentally or tired physically at all?
Physically, no, I feel good. I'm in as good of shape as I've ever been, you know—not where I was when I was winning motocross, but still really good. This is laid back, and there's not as much pressure as there was in the motocross days.
What I love about your story is that at one point you quit racing and started working at a bike shop, right?
Yep.
So, is that why you can keep going like this? You've already learned what it's like to stop racing?
Yeah, it was! I stopped in 1993. I probably only raced ten races all year, I did some car races, and I worked at the shop. Then I got a mountain bike and started doing that. For me, the big thing was that I didn't know how to train. I started learning how to train, and when I did do a motorcycle race, it helped with that. So I came back in 1994 rejuvenated again. So, like I said, it's been a long road, but I've enjoyed every bit of it.
And I know you—now you'd do the training thing even if you weren't doing it for a living. You love it.
Yeah, man, that's my life. I'll always do that, for sure. That's what's kept me going this long, I think, and I'll keep doing it long after I'm gone.
How's the family deal with all of this? Are they like, "Come on, Mike, come off the road"?
No, switching to this series has helped a lot; it's only ten races. Other than that, I don't have to do too much. They understand. They're into basketball sports and stuff like that, and I get to as many of those as I can. I'll be at all of them someday. Tomorrow I get home, and I'll be at the basketball games tomorrow and Sunday. I enjoy it. I enjoy watching my kids play sports.
Did I hear you have some projects going on the side? Maybe developing a track and some training camps?
Yeah, I do. I have eight hundred acres right beside Jim's Motorcycle Sales, and I'm going to start a camp there, maybe. It kind of depends on this Husky deal and what they want me to do. I'd like to keep racing, so we'll see how it goes.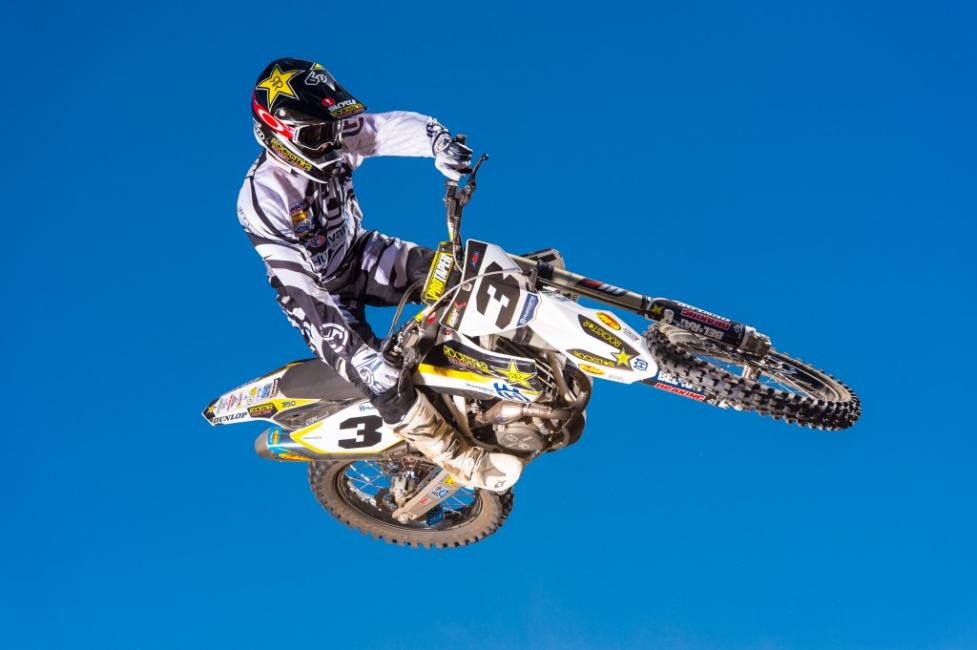 Well, you've already won a race this year, so if you're in the hunt this year or even win the title, you'd just as soon come back and do it all again?
For sure. Maybe next year could be my last year, and then I can come back and do selected races and stuff like that, just one more year out. But, like I said, I still love racing and I'd just as soon never quit!
Okay, let's talk Muddy Creek National right now.
[Mike shakes head]
Oh, no, it's still not happening?
Still! I've got X Games on the same day. I race X Games on Friday, so I could make it back on Saturday, but that's not going to happen.
Yeah, I'd imagine you'd be pretty tired—and I don't know how you get from Austin on Friday night to the track in time for practice. Well, then, you can't retire! You have to race this national!
[Laughs] And that was the plan! If I got to race Muddy Creek National this year, that would have been my last motocross race. And this week I was just talking to Sam Gammon [who operates Muddy Creek], and he felt the same way; he was upset that I couldn't do it. But, I don't know, there'd be so much pressure; I probably wouldn't even like doing it. I'd probably get more arm pump than I've ever had.
Yeah, everyone will be all over you expecting you to kill it, and you're going to be like 45 years old before you even get to try it.
Yeah, it's going to be like John Dowd at Southwick. Except I don't think I can get those kinds of results!
Last few years you've been one of the top guys in EnduroCross. First few years when you tried it, did you expect to adapt this well?
When I got on it and did the first few, I was like, "No way." I was on a 450 and I didn't know guys were doing it on a smaller bike. It was the hardest thing I've ever done. Now I've gotten the technique of riding onto a log or a rock. Like I said, the trails guys, they make it look so easy technically, but the rest of it I've got it down. For me, coming from the racing background, I think I'm too aggressive in the technical sections sometimes. So I need to just get through them as best as I can and then do good on the rest of the track.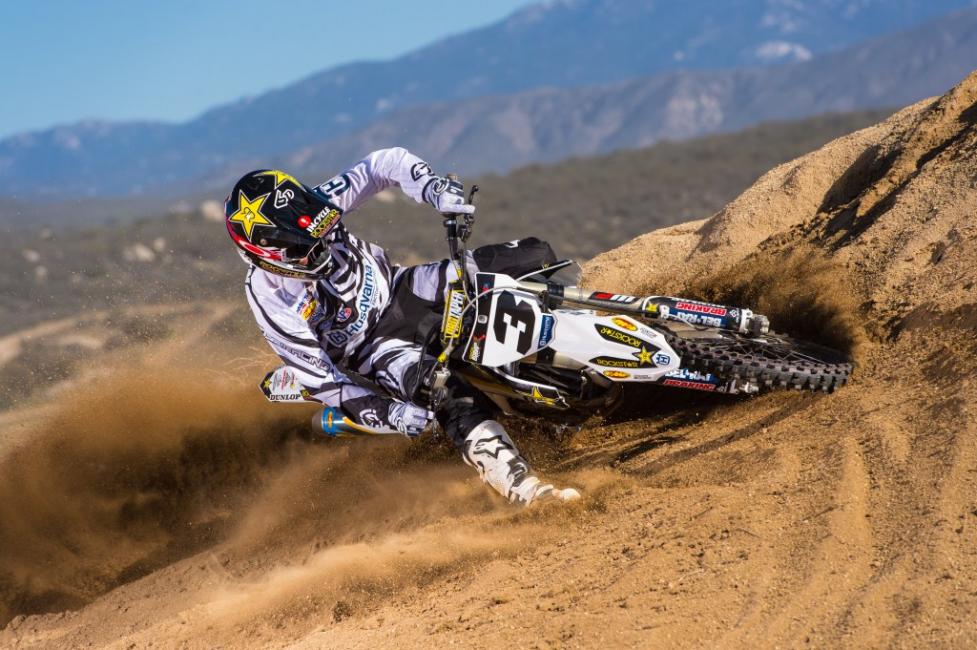 You switched to Husqvarna last year. Not a massive change from KTM, but still a change.
Yeah, I was happy to do it. Last year it was a big challenge getting things up and running, but there's been a big change from this year to last year. We've got a good team and everything is in order. My team manager Timmy Weigand does a good job—good team manager and good teammates. We're kind of under the radar, and it's good. I hope to be here many more years.
I see you raced in Australia some last year and some in Canada, too.
Yeah, last year I raced some motocross in Canada. And Australia, they had a championship like this [EnduroCross], and there were four rounds—I won it [the championship]. I had to fly back and forth from here to Australia every time; we always had testing or photo shoots to do between the races. This year I'll do all of these EnduroCross races. I'm also going down to Argentina and doing a big rally race, 150-mile enduro. I'm doing Six-Days [ISDE] this year—I always enjoy that.
What about Canadian moto?
I'd like to. I had fun with that last year, but we were doing it because of the Husky rule; the bikes weren't homologated to race down here in motocross, so I had to race up there. But probably, if I did any kind of motocross, I'd try to do a national down here. And I've also got some extreme enduros planned, the Last Dog Standing at Glen Helen, and the TKO race in Chattanooga, Tennessee. I've almost got something going every weekend, and I like it that way—I like racing and I like staying busy with it.