Las Vegas, NV
Las Vegas
Monster Energy AMA Supercross Championship
BTO Sports is your number one source for all of your motocross parts, gear, accessories and apparel. BTOSports.com is a motocross company who is truly dedicated to the sport and to the customer. Proud sponsor of your Racer X Podcasts and the BTO Sports race team.
A bow was put on to end the 2015 Monster Energy AMA Supercross, an FIM World Championship, as soon as privateer Dusty Pipes crossed the finish line this past weekend in Las Vegas. And, by the way, who had Dusty Pipes being the last rider to cross the checkers at the end of seventeen rounds this year?
(Waiting)
Exactly. And we all love Dusty Pipes. Pipes crossing the finish line meant that he made the 450SX main event. Pipes had raced a lot of supercrosses and hadn't made a main event until this year when he racked up five mains, including the last four in a row. In fact, I was "stamping" Dusty Pipes into my fantasy SX line-up and struggling to find twenty-two riders to fill out the rest of my lineup. Years from now, when someone asks me how the 2015 supercross series was, I'll think about Ryan Dungey dominating and Dusty Pipes solidly making the mains week after week. Hey, it happens, man.
In 1998, the season started with eleven factory riders and ended in Vegas with only four of them still racing. It's no one's fault, and there isn't any one reason why riders get hurt—it just happens. This year, all three champions basically walked to their titles with little fanfare. Ryan Dungey, Cooper Webb, and Marvin Musquin were just better than anyone else, and all deserved their titles 100 percent. Dungey scored sixteen podiums in seventeen races and won eight races. The next closest rider was Eli Tomac, with eleven podiums and three wins. Webb and Musquin were dominant on their respective coasts. We're not going to call this series a classic by any means, but Dungey, Webb, and Musquin's bonus checks are all cashed so I'm sure these guys don't care.
The last few years we've had the 250SX East and West mains added to the traditional 250SX East-West shootout, and with the addition of the main events, the shootout—long a really cool, intense race where the best riders from both coasts laid it all on the line—had lost its luster. The riders, fresh off a physical and mentally demanding fifteen-lap main event, really just kind of rode around in the shootout, and those that weren't in the running for the win or podium really just made sure they made it out okay.
Including the shootout also made the night drag on, and trust me, the drag was noticed. Plus, I'm sure it was tough to fit into the TV window, so this year the two main events were scrapped and the format went back to a shootout only, which was cool to me. Whatever they wanted to do was fine because, in my opinion, they couldn't leave it the same as it was. To me, it wasn't working, so change was needed.
We knew going into the shootout that Tyler Bowers and Jessy Nelson, two of the best riders from the West Region, weren't racing due to injuries. Then, Justin Bogle, the only rider who could keep Musquin in sight most weekends in the East, bowed out. Jeremy Martin, winner of one 250SX East Region race, crashed on his mountain bike and decided to sit out. That's okay—we still had the two champions in Webb and Musquin, and that would be one hell of a battle.
Whoops! No, there would be no such battle, as Webb had a seemingly innocent crash in practice and twisted an ankle. That was it for him.
With no Bowers, Nelson, Jeremy Martin, Bogle, or Webb, the top three in 250SX West Region (before injuries) were out, as were the second- and third-place 250SX East riders. If you want to say that Joey Savatgy had a better supercross year than Jeremy Martin, then I'm okay with that. But, guess what? Savatgy crashed in practice and also sat out. With six top riders out of the race, Musquin was the heavy favorite. And Marvin didn't disappoint, holding the lead the race start to finish.
Having six of the top 250SX racers sit out of the shootout just really capped off the 2015 supercross season. Again, like I explained up top, this was no one's fault—it happens. But it did make for a shootout that ended up a lot like last year's. Even without the points races at the top of the night to use up everyone's energy, the shootout still wasn't that riveting.
I liked the idea of change, and adding both mains was something to try, but in the end, I understood some of the teams' concerns with this. But this year, when you went around the pits, there was definitely some "eehhh" about the shootout. Just a few years ago, all the riders and the champions raced it; now it seems like a chore your mom is telling you is mandatory, along with cleaning your room.
I'd like to see two rounds become East-West Shootouts and count for full points like they did back in the day. You want to throw a wrench into the championship chase? Mix it up, baby! Then I think the powers that be need to put a truck up for the winner of the shootout like they used to do. Or, double the purse (and, by the way, did you know the 250 purse is actually increased from its usual amount just for Vegas. Even a $5000 bonus to win. Didn't know that? Yeah, me neither!) It's unfortunate that the pride of these guys to win the race (no points, but a larger purse, and there are full $50,000 team 250SX win bonuses paid out to these guys to, you know, try and stuff) isn't there and we have to look at changing it up, but this is the world we live in.
The Las Vegas SX always features a unique track, as they put the start outside the stadium to help free up some track space inside. There's also a Monster Alley section that allows the riders to get busy grabbing gears. There's a long-ass straightaway with a single jump coming back off the alley and into the stadium. The track originally was about five seconds longer, but in order to fit into the live TV window, the crew wiped out a whole turn section after the first practice. The first practice doesn't count for qualifying time, so I'm fine with this. I probably would've lost my mind had they done this between the second and third practices.
Again, though, the lack of dirt is noticeable out there. The section they got rid of was too basic to matter, anyway, and the ski jump is another huge dirt-saver. In fact, at many of the races, the lack of dirt prevents the track guys from doing some things to make the tracks better. This was the year everyone got hurt and there was no dirt!
Look, Ryan Dungey and Marvin Musquin won again, and we all watched the race, right? Okay, let's keep this column short and sweet (Noelle, our proof reader, is like, "3,400 words is short, Matthes??") and just get this thing over with.
Onto the outdoors!
Let's take a look at the results, shall we?
250 Results
1. 1E Marvin Musquin; Corona, CA; KTM 250 SX-F – Marvin's so good. Like, seriously, he's a great rider. Getting deep, aren't I?
2. 34 Malcolm Stewart; Haines City, FL; Honda CRF250R – Nice ride by Mookie, and he'll be back on this team next year racing 250SX again. He's not ready to race the motocross season due to lingering health issues from him getting dehydrated last summer.
3. 38 Matthew Bisceglia; Weatherford, TX; Honda CRF250R – The Bisch went his usual route of going to the LCQ to make the main, then got a great jump off the start and took his second career podium. You know where he got his first career SX podium? Last year in Vegas. "Mike" likes Sin City!
4. 157 Aaron Plessinger; Hamilton, OH; Yamaha YZ250F – There may or may not have been one of Aaron's teammates up in the press box with the name of "Schmooper Schwebb," who told us that Plessinger was going to get third. And this was when he was way back. He wasn't right, but he wasn't far off, as the rookie rode his way to the front and almost got a podium.
5. 31 Alex Martin; Millville, MN; Yamaha YZ250F – Martin had nice ride here, He's been hanging out with his brother Jeremy and Johnny O'Mara lately and soaking everything up.
6. 16 Zach Osborne; Chesterfield, SC; Husqvarna FC250 – Quiet night for Wacko Zacho, who I know is licking his chops at the thought of the great outdoors starting up.
7. 80 RJ Hampshire; Hudson, FL; Honda CRF250R – RJ was third and looking great when teammate Bisceglia and Plessinger ate him up. Then he made a mistake, and his race fell apart from there.
8. 71 Cole Martinez; Rimrock, AZ; Yamaha YZ250F – Nice ride by the privateer, and it caps off a successful 250SX West Region as well. He's heading to Canada to race the MX2 class this summer for the Monster Energy Thor Kawasaki team.
9. 40 Shane McElrath; Canton, NC; KTM 250 SX-F – I thought Shane was a sleeper pick for a podium at this race, but he either got a bad start or crashed and was way back off the start.
10. 55 Kyle Peters; Greensboro, NC; Honda CRF250R
11. 52 Mitchell Oldenburg; Alvord, TX; Yamaha YZ250F – Freckle's team owner/manager Jimmy Albertson wasn't at the race—what a slacker.
12. 44 Zachary Bell; Cairo, GA; Husqvarna FC250 – Hey, look who's back! I heard that Bell still isn't 100 percent healthy from a crash a while back, so it seems weird that he would be brought back for a shootout that doesn't mean anything. Good for him.
13. 73 Gannon Audette; Tallahassee, FL; Kawasaki KX 250F – In this "best of" format, Audette had a nice ride to put it into the main. A dude like Gannon, who normally rides just the East Coast, has to find the Vegas dirt super weird to ride on, so this is good.
14. 343 Luke Renzland; Hewitt, NJ; Yamaha YZ250F – Renzland had a nice rookie year. He didn't set the world on fire like some sort of phenomenon, but he learned a lot, he showed some heart and speed, and he set himself up for a good season next year.
15. 64 AJ Catanzaro; Portland, CT; Suzuki RM-Z250 – I've always liked the name "AJ." It's a cool name, like something a fighter pilot would have, or a super-cool dude who pulls chicks. The guy from the Backstreet Boys sort of sets it back, but still, strong name.
16. 65 Scott Champion; Wildomar, CA; Yamaha YZ250F
17. 77 Justin Starling; Deland, FL; Honda CRF250R
18. 100 Joshua Hansen; Elbert, CO; Kawasaki KX 250F – Hanny was in fourth when he lost the front end, and it took a long time for him to start his bike. This kind of race was made for a dude like Josh, but he wasn't able to take advantage of the nice start.
19. 62 Anthony Rodriguez; Cairo, GA; Yamaha YZ250F – I went to go talk to Alex Martin in the CycleTrader.com/Rock River Yamaha rig after the main event, and Plessinger and Rodriguez were in there chilling. I suppose that isn't that weird knowing some of the people over at Star Racing.
20. 78 Preston Mull; Livingston, CA; Yamaha YZ250F
21. 337 Nick Desiderio; New Vernon, NJ; Yamaha YZ250F – There was a chance that Nick was going to carry on with CycleTrader.com/Rock River Yamaha, but I think both sides, or maybe just the team, decided to end their deal now.
22. 32 Justin Hill; Yoncalla, OR; KTM 250 SX-F – I have no idea what happened to Hill, but I'd like to congratulate him on taking the title of "Fantasy MX Killer" for 2015. Wear it proud, Justin!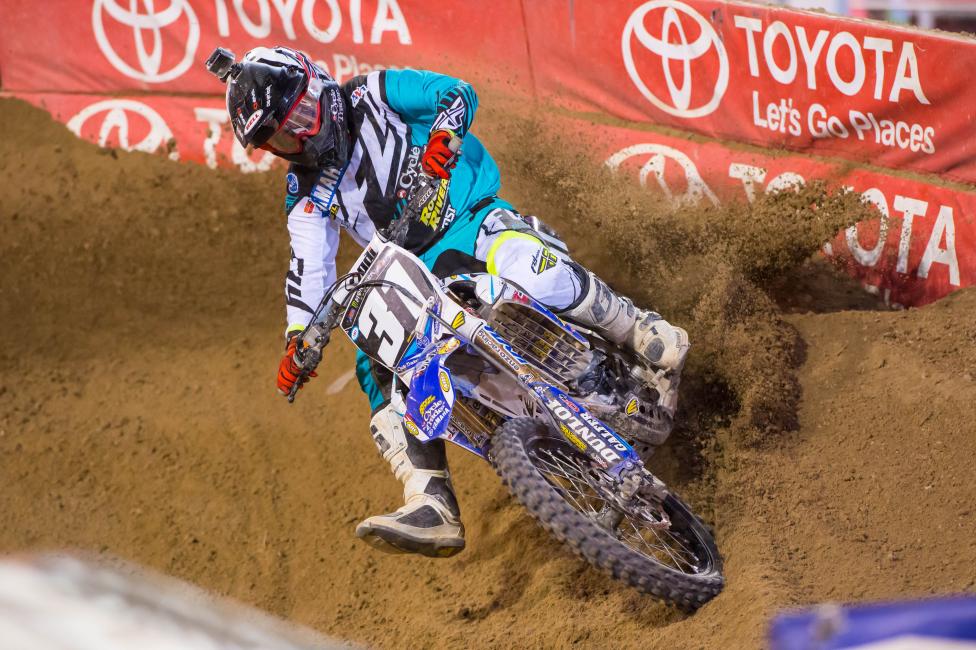 450 Results
1. 5 Ryan Dungey; Tallahassee, FL; KTM 450 SX-F – Dungey was great. He crushed everyone not named Eli Tomac in Vegas, and he beat third-place finisher Weston Peick by almost forty seconds. With eight wins, a title, and the odds on favorite to win the 450MX title, life's good if you're Ryan Dungey.
2. 3 Eli Tomac; Cortez, CO; Honda CRF450R – Tomac gets a lot of bad starts and makes a lot of unforced errors for such an elite rider. I was looking forward to a battle with Dungey for the win, but he dumped it early in the main event. He's got to cut down on these mistakes if he wants to win the 450MX title.
3. 23 Weston Peick; Menifee, CA; Yamaha YZ450F – Another 450SX race and another podium for Peick—yawn. It's funny to me to see Peick have these "people" around him that probably didn't know his name two years ago. When you've been going to the races since 1996, you notice these things. I don't know Weston that well, but I think he knows the deal with some of these guys. At least, I hope so.
4. 14 Cole Seely; Laguna Beach, CA; Honda CRF450R – I was surprised Seely didn't end up with the third spot on the box. This is his kind of track/dirt, and if Chad Reed hadn't developed motor issues, he probably wouldn't have gotten the #22 either. Afterwards, he, Dave Castillo, and I played some blackjack, and it didn't go very well for any of us. Good thing for Cole that his losses didn't affect him like mine did.
5. 33 Joshua Grant; Wildomar, CA; Kawasaki KX 450F
6. 4 Blake Baggett; Grand Terrace, CA; Suzuki RM-Z450 – Nice ride for Baggett. After this supercross season and a likely strong motocross season, maybe we need to inch him into the "can get a lot of podiums" group when we do our preview.
7. 22 Chad Reed; Dade City, FL; Kawasaki KX 450F – Reed was all over Peick for third, and I would bet his strategy was to wear down Weston late in the race, but his bike's motor started detonating pretty bad. It started around five laps in and just got progressively worse as the race went on. I bought him a drink or two later on in the night to help him ease his sorrows.
8. 51 Justin Barcia; Greenville, FL; Yamaha YZ450F – Barcia got a bad start and was pretty far back to start the main. He worked hard to get up to Baggett late in the race before, I assume, he fell at some point.
9. 10 Justin Brayton; Mint Hill, NC; KTM 450 SX-F – Team manager Forrest Butler had some family stuff going on, so Brayton's team manager was none other than our own Jason Thomas. Yeah, that's right. And Brayton had his best qualifying of the year as well! Unfortunately, he started fourth and slowly worked back to this spot, so maybe JT's specialty is qualifying only.
10. 20 Broc Tickle; Holly, MI; Suzuki RM-Z450 – Quiet night for Tickle in Vegas; he started twelfth and finished tenth Yeah, it is what it is. Tickle finished the year eighth in the points, which is pretty good considering some people thought he might not race again after his crash in Toronto last year.
11. 11 Kyle Chisholm; Valrico, FL; Kawasaki KX 450F – Chiz finished the season pretty strong. Yeah, there were a lot of guys out, but he was still riding better at the end of the series. Chiz is trying to see if factory Kawasaki is going to fill in Millsaps's spot (I doubt it), and if not, then trying to get some more bikes and parts from the green guys. I hope they come through for him.
12. 27 Nicholas Wey; Dewitt, MI; Kawasaki KX 450F – Who knows if this was Wey's last race or not. He's not claiming it is; his wife is though! Anyway, here's all you need to know about Nick Wey. He has over three hundred 450SX races to his name, yet he texts me in the press box to send him the two 450SX semi individual lap times (after he won his race) because the Wi-Fi in his truck went out and he needed to see where he stood against the other guys. Possible last race, nothing on the line, and he's raced a ton of races, yet he's still grinding away trying to look at lap times from the darned semi qualifier.
13. 42 Ben LaMay; Austin, TX; Husqvarna FC450 – LaMay had a good Vegas and beat out Kyle Partridge for twentieth spot in the final points standings. Nice job by Ben after missing a bunch of rounds after being dropped by CycleTrader.com/Rock River Yamaha early in the season. LaMay gets about $9,000 for twentieth and Partridge zero dollars for twenty-first. Ouch!
14. 70 Nicholas Schmidt; Riverside, CA; Suzuki RM-Z450 – Schmidt got some last-minute help from Suzuki this year. It turns out that the Teddy Parks Privateer Journey team that Schmidt rides for (I so prefer the name the Teddy Parks Experience though) got some more help from the guys in yellow, and we should see some more guys under that tent switch to Suzukis soon.
15. 206 Thomas Ramette; Guilherand, France – Kawasaki KX 450F- Ramette came out of nowhere (well, France, actually) and made the last two main events. Good for him. I hope he doesn't realize that it isn't going to be this easy next year.
16. 58 Killian Rusk; Temecula, CA; Yamaha YZ450F – Killy picked up a Rock River Yamaha ride for the summer. There were a number of options for the spot, and Killian's experience on a Yamaha (as well as results) tipped the scales for him.
17. 285 Tony Archer; Waldorf, MD; Kawasaki KX 450F
18. 199 Kyle Partridge; Lake Elsinore, CA; Honda CRF450R – Besides LaMay beating Partridge out for the twentieth spot in series pay-out, he also beat Partridge for the GoPro Privateer Fund where first place is $10,000. Double ouch, bro!
19. 918 Michael Akaydin; Louisville, KY; Honda CRF450R
20. 447 Deven Raper; Mesa, AZ; Kawasaki KX 450F
21. 181 Dustin Pipes; Madera, CA; Suzuki RM-Z450 – Pipes finished the year with four straight main events, and I had told him before the night show that I had him for seventeenth in fantasy moto. He said he would dial me in and try to get me that spot. And he was actually there! Unfortunately he fell and then got docked three spots for grooming in front of the gate.
22. 662 Travis Bannister; Calhan, CO; Honda CRF450R – I thought I recognized this name and went into the Racer X Vault to see what was Travis's deal. Well, not sure if it's right or not, but it says he's never made a 450SX main event before and hasn't logged any results since 2009.
Some News and Notes:
-We've been critical of Feld's "push" on Vicki Golden trying to become the first female to race AMA Supercross. I prefer to let her show up, give her no favors, see what she's got, and then promote the crap out of her based on her results. But, instead, they've done everything to promote her before she's had any success and given her lots of track time (angering some other riders), and she hasn't been able to get into the night show or "fast forty."
Well, she pulled it off. There weren't that many entries for the 250SX Class, and some guys crashed out before the night show (Chris Alldredge and Joey Savatgy), but Golden beat dudes to get into the show. She legitimately rode herself into the night show, she was faster than six other riders. To that I say congrats. Her times in practice were all over the map. Sometimes she would just miss by tenths of seconds, and sometimes she was 4–5 seconds off from making the fast forty. Well, she did it this week, and that was cool to see.
-As per a Vegas tradition, lots of gear companies went out with some new colors, and there were some fluorescents out there in Vegas that I'm sure NASA could have found. I don't know what Troy Lee Designs was thinking with Seely's stuff. Here's something I wrote a while ago that still stands true today: "TLD gear is like dating a stripper. Sometimes it's so off the rails that you want to just get away from it as fast as you can, and other times, like this weekend in Daytona, you don't know if you've ever seen something so beautiful."
This weekend, it was nothing but clear heels and glitter.
Thanks for reading. I appreciate it. You can email me at matthes@racerxonline.com. If I don't answer, it's because I'm watching Avengers.