450 Main Event
For the third time this season, and the first since Detroit, Eli Tomac is a winner in the 450 Class. Cole Seely was first out of the gate, grabbing the early lead after Mr. Holeshot Andrew Short gave away the early lead. Tomac has struggled with starts this year but it didn't hold him back in East Rutherford. He charged early, making his way into second quickly. He started to chop into Seely's four-second lead, lap by lap inching closer. He finally made a move stick, blitzing the whoops. Ryan Dungey also made his way around Seely, who finished third. Blake Baggett, Andrew Short, Broc Tickle, Josh Grant, Jason Anderson and Weston Peick rounded out the top ten.
250 Main Event
Marvin Musquin didn't need to win the 250SX main event to clinch his first career 250SX Championship. Musquin held a commanding lead coming into the race, but at the end of the day a racer is a racer. And Musquin proved on a sunny afternoon in East Rutherford why he deserves the championship. Musquin was masterful in a come from behind performance to sixth race of eight. He stalked Justin Bogle until lap 11 when he finally made his move. He never looked back, wrapping up his first championship in classic fashion. Joey Savatgy and Jeremy Martin duked it out for third. Savatgy took Martin high twice, never giving into his advances. With just two laps remaining, Martin flew through the whoops, looking to make a final attack, but went down. He would rebound for fourth. RJ Hampshire, Kyle Peters, Anthony Rodriguez, Mitchell Oldenburg, Kyle Cunningham and Luke Renzland would round out the top 10.
450 LCQ
Shane McElrath can now put 450SX main event on his resume. The TLD 250SX West Region rider, who is moonlighting on the 450 this weekend, grabbed the holeshot and never looked back, walking away with the win. To the pleasure of about 300 fans in attendance to watch him, New Jersery native Ronnie Stewart finished second to make the main. Kyle Partridge and Deven Raper took the final two transfer spots. Tony Archer had a big crash challenging for the final transfer, but did walk off under his own power.
450 Semi 2
See our previous Andrew Short comment and just apply it to the second Semi. This time, though, Short held strong and took the win over Blake Baggett. Kyle Partridge was running in a transfer position but had a big crash following the finish line and did not finish. Nick Schmidt would inherit third with Alex Ray and Tevin Tapia taking the final transfer positions. Shane McElrath went down in the first turn and is headed to the LCQ.
450 Semi 1
Weston Peick shook off his crash in the heat race to win the first Semi and advance to the main event. Josh Grant is battling an illness, but is also headed to the main following a second. Veteran Nick Wey finished third over Ben LaMay and Dustin Pipes, who made a late pass on Ronnie Stewart to take the final transfer position.
250 LCQ
And the worst luck of the weekend award goes to Ryan Zimmer. Zimmer was battling for the win with Kyle Cunningham on the final lap when, with two turns to go, the two collided and Zimmer went down. He could only regroup for sixth. Anthony Rodriguez was in danger of missing the main, sitting fifth with two turns to go, but qualified fourth when Zimmer went down. Cunningham, Mull, Karnow and Rodriguez advance.
450 Heat 2
Stop us if you've heard this before: Andrew Short got the holeshot. Yep, the ageless one grabbed his 435 consecutive holeshot to take the early lead. Short eventually crashed, though, and finished fifth. Cole Seely and Eli Tomac battled for the lead, with Seely hanging on for the win by less than a second. Weston Peick also had a big crash in the race. He was seen limping off the track and did not finish. Kyle Chisholm and Justin Barcia also advance. - Chase Stallo
450 Heat 1
Ben LaMay was the surprising leader early. The Husqvarna rider grabbed the holeshot in the first heat race. Ryan Dungey quickly took the lead and ran away with the win. Justin Brayton and Broc Tickle followed. Shane McElrath and Jason Anderson battled for the final transfer spot, with Anderson taking advantage of a few late McElrath mistakes to transfer. McElrath and LaMay are headed to the Semi. - Chase Stallo
250 Heat 2
A huge pileup in the first turn took down a ton of contenders, including Marvin Musquin. Privateer Jimmy Decotis got the holeshot, but is banged up after a crash in practice and fell back to eighth. Joey Savatgy took over the lead early and never looked back en route to the win. Kyle Peters and RJ Hampshire would round out the podium. Musquin came back to finish fourth. Owen, Alix, Catanzaro, Decotis, Audette advance. Anthony Rodriguez and Kyle Cunningham are headed to the LCQ. – Chase Stallo
250 Heat 1
GEICO Honda teammates Justin Bogle and Jordon Smith battled for the holeshot in the first heat race from East Rutherford. Bogle wrestled it away from Smith and took the early lead. Smith, who was battling a shoulder injury following a crash in practice, pulled out of the race after the first lap. Jeremy Martin overcame a rough start to finish second. Justin Starling would round out the podium. Renzalnd, Herrlein, Oldenburg, Desiderio, Vonlinger and Kilbarger advance. – Chase Stallo
450SX Second Practice
Eli Tomac was the fastest in second practice, the only rider to dip down to a 53 second lap time. His 53.934 was fastest over Ryan Dungey's 54.404. Cole Seely was third with a 54.740, with Jason Anderson (55.042) rounding out top five.
The entire Discount Tire team was missing from second practice, as both Josh Grant and Chad Reed did not record a lap. We will update with details once they are known. Justin Barcia had a big get-off but was able to continue riding. He finished eleventh with a 56.411. - Chase Stallo
250SX Second Practice
Another practice, another Marvin Musquin fast lap. Musquin dropped from a 56.061 to a 55.080 in the second session to nip Jeremy Martin for the fastest time. Joey Savatgy with third with a 55.804. Justin Bogle joined the top three as the only riders to dip into the 55 second range with a 55.966.
The surprises of practice were Ryan Zimmer and Dakota Alix. Zimmer was tenth fastest (57.830) out of B practice with Alix (57.900) eleventh. Check out the full times below. - Chase Stallo
Morning Report
Supercross has come back to New Jersey, and supercross has also come to the AM section of your clock. Today marks a big day for the sport, with a live network TV window on Fox (Fox network, not Fox Sports 1 on cable) at 3 p.m. Supercross has never aired live on a network before, and a NASCAR race will be on right after the race ends. There's a chance for a blockbuster rating here and a lot of new eyeballs on the sport, but no one is sure how the 3 p.m. start time will play.
We do know that track walk began today at 7:30 a.m., but we saw most riders speeing through the pits in rental cars at about 7:23 a.m. Then, in typical Northeast fashion, there was a giant traffic jam just to get into the stadium, with real police officers and police dogs, metal detectors and all just to get into the building for track walk.
It's also cold here. Unseasonably cold. I was here in New Jersey last week visiting family and it was 70 degrees. This morning it was 38. Could be pretty nice by 3 p.m., though.
In one other change due to the tight schedule, there will only be two practices today. No free practice, just two timed sessions. By this point of the season, the riders can handle that, no worries.
The track looks pretty basic, but the dirt came in wet, so it's already rutted after just a few minutes of practice, and some press day rides on Thursday and Friday. That will make it challenging. Also the whoops are big and steep. 250 riders are blitzing the top no problem, for now, but if they get cupped out, they will be tough.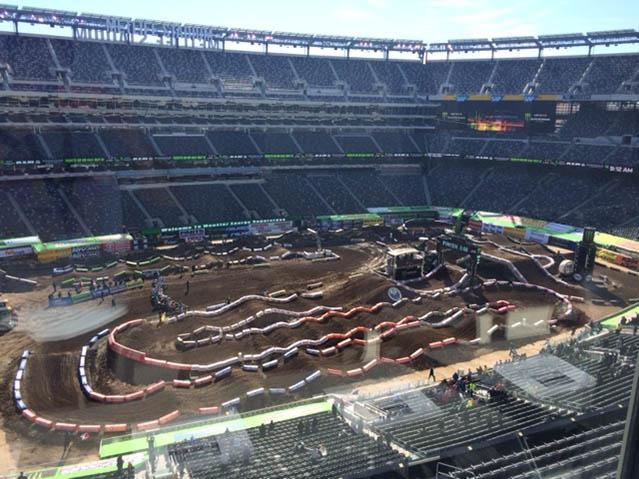 NJSX track.
There's one gnarly part of the track and it has already bit two 250 riders: Jimmy Decotis and Justin Bogle. There's a dragon back up to a on-off table. Jimmy landed hard and smashed his chest on the bars, then Bogle did nearly the same thing. Both got up really slowly and are now being checked by the Asterisk medical crew. Bogle needs to find a way to suit up tonight, because he's still in the math for this 250 East title--although he needs to win and hope Marvin Musquin is worse than 16th tonight to get it. This is the final round of 250 East, and Musquin's title seems nearly assured. He's also nearly two seconds faster than anyone else early in this first practice session.
That's it for now, look for updates all day long.