Pietramurata
Trentino

,

Italy
MXGP of Trentino
FIM Motocross World Championship
The 2015 FIM Motocross World Championship arrived at round four of eighteen for the first European event, and that meant the ignition of a busy support bill of European EMX Championship classes. Pietramurata, a typically tight, stony, and compact facility in the shadow of the dramatic and stunning Dolomite mountain range, heaved and creaked at the prospect of five categories and an at-capacity Euro crowd looking for their first fill of MXGP since August last year. While the rough and biting nature of the track drew grimaces in the paddock and the circuit itself ran out of satisfactory parking at some point on Friday, the action and events in MX2 and MXGP at least created yet another memorable episode of a 2015 slate that's living up to expectations.
Red Bull IceOne Husqvarna Racing's Max Nagl is blazing away through the premier class. The German now has three wins of four, and four motos of eight, and with displays of such dominance (twice in Qatar, once in Argentina, and again here in the second moto where a holeshot translated to another escape), he's looking like a formidable package on whatever type of terrain. Husqvarna unveiled their new factory FC250 on Saturday night, but a block has been placed on the presentation of the new 450, and perhaps wisely so, because the current combo with the former Motocross of Nations winner on-board is almost unbeatable.
"It was a very tough Grand Prix. The track was really bumpy and almost destroyed because of all the classes riding," Nagl said afterwards. "They were strange bumps and not like normal. It was tricky and there were many crashes. On Saturday we took the wrong direction with the set-up, so we went the other way today and it was much better. On tracks like these sometimes you only need to make small adjustments on the bike and it can make a big difference. The team were working so well again and it just turned out perfect."
Nagl was part of a quartet that involved Red Bull KTM's Tony Cairoli, Rockstar Suzuki's Clement Desalle, and Monster Energy Kawasaki's Ryan Villopoto pushing for victory in the first moto. The group members were separated by only a couple of seconds the whole race. Nagl showed his front wheel to leader Cairoli repeatedly, and the constant tension and threat to the home hero's advantage had the crowd cheering furiously at times. Cairoli was riding with the weak repercussions of a strange head injury that required ten stitches.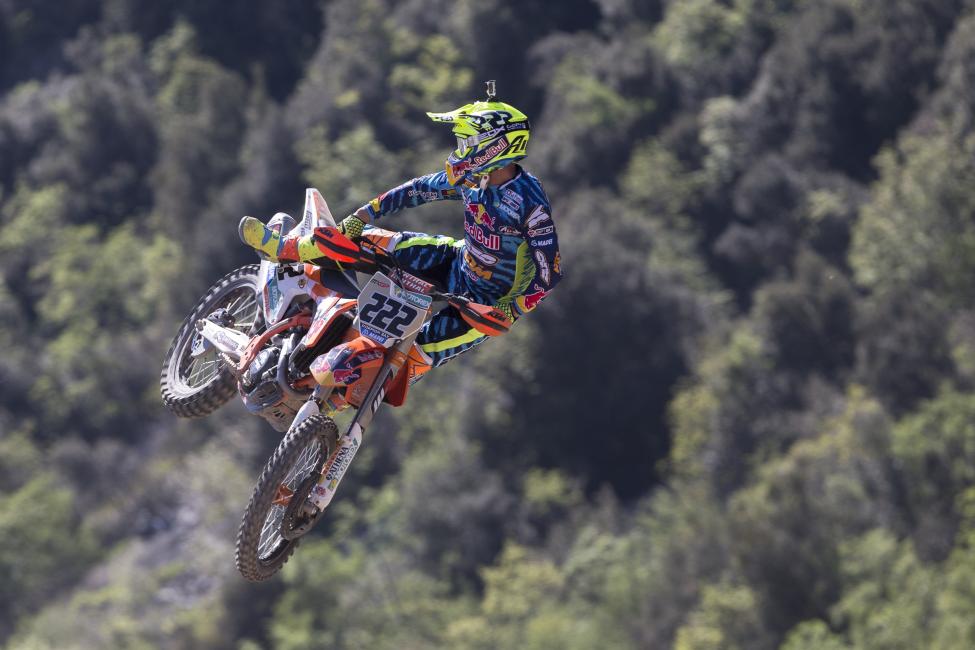 "It is kinda funny because we race motocross, but I got injured by falling in the shower!" Cairoli said. "It was a pretty big 'crash'…so it was difficult and I was frustrated this weekend. It is no secret that I don't really like this track."
Cairoli prevailed, however, and the masses had their satisfaction. A re-run looked likely for second place in the second moto after Nagl had disappeared (he had a six-second gap by the third lap), but a surprising sequence of events occurred when Villopoto had perhaps the weirdest crash of his decorated career. Under pressure from Desalle for third, and with Cairoli just ahead, RV gassed the works Kawasaki landing off the jump entering the pit-straight and looped off the back of the bike, the KX almost veering into Desalle. The former SX champ seemed to have some pain in his lower back and immediately hopped off the track. The last we heard was that Ryan was okay, but had left the circuit for an MRI to be sure; hardly ideal preparation for the sandy bumps of Valkenswaard that awaits him in six days. It was a low moment of the season for Monster Energy Kawasaki, as Tyla Rattray had been ruled out of the motos due to a blameless crash on Saturday (many feel it was caused by Desalle) that gave the South African a light concussion.
After the Villopoto fracas Desalle was free in third, and with superb rookie Yamaha Yamalube's Romain Febvre closing up, it was the Belgian's turn to make a mistake, as he lost the front end of the RM-Z in a tight left-hander. Febvre slotted into third and harried Cairoli, who was dragging a bout of arm-pump, to the flag. His third place represented a second top-three ranking for the Frenchman in four GPs and was good enough for fourth overall.
It had been a dramatic weekend for Desalle (and for another Belgian, Jeremy Van Horebeek, whose torrid 2015 continued with two crashes and an injury to his left foot that caused a second moto DNF), but he still made the podium, and holds onto the red plate by 1 point from Nagl and Cairoli.
"We are missing a GP [victory] this year, and for sure everybody likes to win, but we are concentrating on the championship," said the Sicilian. "It will come and we still need to do some work. It is nice that there are many good riders in MXGP this year."
The MXGP standings don't make pretty reading for Villopoto, with a 47-point deficit to the leader, but there are still twenty-eight motos to run.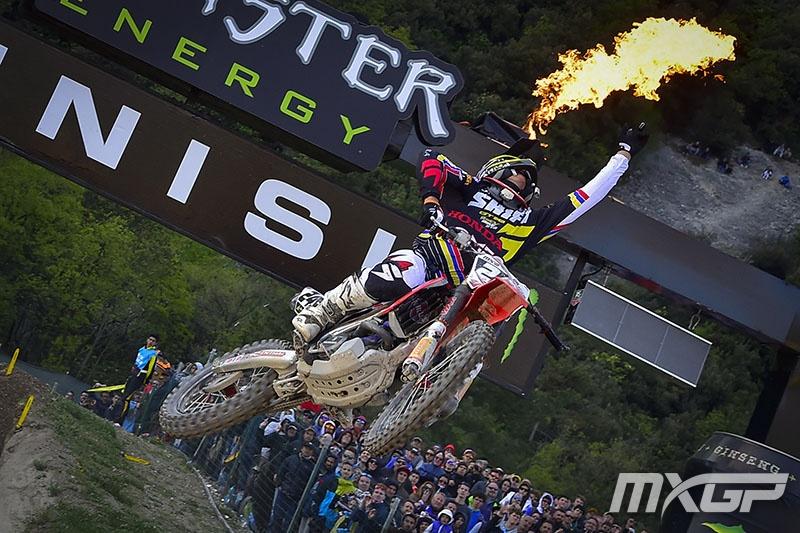 The crowd had thrills, shock, surprise, and disbelief in MXGP and a few of the same emotions in MX2. Red Bull KTM's Jeffrey Herlings re-enacted his master class in the first moto for yet another audience to marvel at his strength, confidence, and technique. Behind him HRC's Tim Gajser looked just as menacing once holeshotter and returning world champion Jordi Tixier had been dispatched to third on his Monster Energy Kawasaki.
For once it wasn't the orange #84 that rounded the first turn at the head of the pack in the second moto. While Tixier's holeshot was short-lived as Gajser pounced, Herlings was buried deep in the top ten. By the time the 20-year-old pushed up to second by mid-race, he faced a six-and-a-half-second margin to the Honda. That Herlings could reduce this to nothing entering the last lap was impressive stuff in itself, because Gajser was riding extremely well and was being cheered on by a large pocket of fans that had made the journey from Slovenia. Herlings' rear wheel broke away out of the hairpin, foiling the grandstand finale, and Gajser continued to barrel to the line for half a lap unaware his shadow was gone.
"I tried to manage the gap," he recounted on the tale of his very first GP win at the age of 18 and Honda's first in MX2 since 2009 with Marvin Musquin. "Three laps before the finish we hit some lapped riders and they blocked some good lines. Jeffrey got even closer. I didn't know he had crashed I was just riding and pushing hard. There were many fans and supporters, and it was great to ride and hear that around the track."
"It was quite one-lined and pretty choppy in some places," explained Herlings, who isn't used to the taste of defeat and had not been deposed without cause since 2012. "It was tough to pass, and I had to come from quite far back. I closed the gap and could see I was getting nearer, but then I went down. It was good for Tim to win the GP…it was the first time in three years that I have been beaten straight-up without a bike problem or an injury. It was a tough weekend, but you cannot always win."
Gajser's milestone brought smiles to the faces of the HRC contingent who had expected more of 450 riders Gautier Paulin and Evgeny Bobryshev after the latter had earned his very first MXGP pole position on Saturday, but both couldn't get the CRF out of the gate. Pietramurata only rewarded the fleet of throttle from the line due to the narrow layout. There was line choice, but rarely did the options lead into a bona fide passing shot.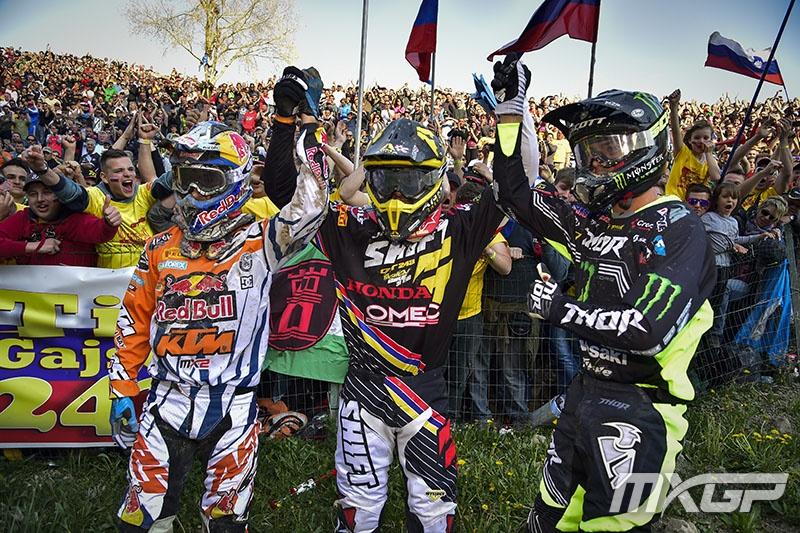 In other news, Red Bull KTM's Tommy Searle completed a conservative comeback in MXGP from a fractured vertebra with 14-13 finishes. Wilvo Forkrent KTM's Steven Frossard pulled out of both the same motos with a painful hand, a hangover from a British Championship injury four weeks ago. Thomas Covington simply couldn't get a handle on the Italian soil, and coupled with mediocre starts all weekend, was nothing like the top-five runner in MX2 that he had been in recent weeks. The Kawasaki man was nineteenth overall.
The Grand Prix of Europe next weekend takes MXGP into the sand for the first time this season with Herlings looking to extend his run of six years without peer (it was the site of his maiden success as a 15-year-old in 2010). Cairoli also has not been dislodged from victory in the same period of time for an authentic KTM lockout at the Eurocircuit in Valkenswaard.
FIM World Motocross Championship
Round 4 - Trentino - Pietramurata
MXGP Overall
1.
Max Nagl
22-25
Hus
2.
Antonio Cairoli
25-22
KTM
3.
Clement Desalle
20-18
Suz
4.
Romain Febvre
14-20
Yam
5.
Gautier Paulin
16-16
Hon
6.
Evgeny Bobryshev
13-15
Hon
7.
Ken de Dycker
12-14
KTM
8.
Davide Guarneri
10-12
TM
9.
David Philippaerts
8-13
Yam
10.
Shaun Simpson
9-11
KTM
11.
Ryan Villopoto
18-0
Kaw
12.
Todd Waters
6-10
Hus
13.
Tommy Searle
7-8
KTM
14.
Jeremy Van Hoorbeek
15-0
Yam
15.
Glenn Coldenhoff
11-3
Suz
16.
Rui Goncalves
1-9
Hus
17.
Filip Bengtsson
4-6
Hon
18.
Alessandro Lupino
0-7
Hon
19.
Dean Ferris
3-4
Hus
20.
Gregory Aranda
0-5
Kaw
MX2 Overall
1.
Tim Gajser
22-25
Hon
2.
Jeffrey Herlings
25-22
KTM
3.
Jordi Tixier
20-20
Kaw
4.
Dylan Ferrandis
16-18
Kaw
5.
Max Anstie
18-14
Kaw
6.
Jeremy Seewer
14-15
Suz
7.
Valentin Guillod
15-13
Yam
8.
Benoit Patural
9-16
Yam
9.
Brent Van doninck
10-11
Yam
10.
Julien Lieber
11-10
Yam
11.
Pauls Jonass
12-9
KTM
12.
Brian Bogers
3-12
KTM
13.
Ivo Monticelli
5-8
KTM
14.
Petar Petrov
7-6
KTM
15.
Aleksandr Tonkov
13-0
Hus
16.
Roberts Justs
6-4
KTM
17.
Henry Jacobi
2-7
KTM
18.
Vsevolod Brylyakov
8-0
Hon
19.
Thomas Covington
0-5
Kaw
20.
Ben Watson
4-0
KTM
MXGP Series Standings
1.
Clement Desalle
171pts
Suz
2.
Max Nagl
170pts
Hus
3.
Antonio Cairoli
170pts
KTM
4.
Romain Febvre
129pts
Yam
5.
Gautier Paulin
128pts
Hon
6.
Ryan Villopoto
124pts
Kaw
7.
Evgeny Bobryshev
100pts
Hon
8.
Todd Waters
78pts
Hus
9.
Jeremy Van Horebeek
75pts
Yam
10.
Davide Guarneri
70pts
TM
11.
Shaun Simpson
67pts
KTM
12.
Glenn Coldenhoff
61pts
Suz
13.
David Philippaerts
59pts
Yam
14.
Kevin Strijbos
55pts
Suz
15.
Ken de Dycker
53pts
KTM
16.
Tyla Rattray
40pts
Kaw
17.
Steven Frossard
32pts
KTM
18.
Jose Butron
29pts
KTM
19.
Dean Ferris
28pts
Hus
20.
Christophe Charlier
27pts
Hon
MX2 Series Standings
1.
Jeffrey Herlings
172pts
KTM
2.
Dylan Ferrandis
159pts
Kaw
3.
Pauls Jonass
133pts
KTM
4.
Tim Gajser
126pts
Hon
5.
Julien Lieber
101pts
Yam
6.
Valentin Guillod
101pts
Yam
7.
Jeremy Seewer
99pts
Suz
8.
Aleksandr Tonkov
95pts
Hus
9.
Thomas Covington
86pts
Kaw
10.
Jordi Tixier
75pts
Kaw
11.
Petar Petrov
70pts
KTM
12.
Max Anstie
67pts
Kaw
13.
Benoit Patural
60pts
Yam
14.
Brian Bogers
57pts
KTM
15.
Ivo Monticelli
45pts
KTM
16.
Roberts Justs
44pts
KTM
17.
Vsevolod Brylyakov
42pts
Hon
18.
Mel Pocock
36pts
Kaw
19.
Jens Getteman
36pts
Hon
20.
Brent Van doninck
33pts
Yam