Levi's Stadium
Santa Clara

,

CA
Santa Clara
Monster Energy AMA Supercross Championship
Autotrader.com/Toyota/JGR Yamaha's Weston Peick finally did it! Once a borderline main eventer, his long, continuing march toward the front of the field has finally reached the podium—a spot for which he's been contending for the last two months. After the race he spoke with our Aaron Hansel.
Racer X: First podium!
Weston Peick: I'm just super stoked. It's been a long season and a long road here. My trainer Buddy Antunez, my whole family, and I, we've been killing it. The team has been awesome—the crew has been putting together everything they can for me, and to finally get up here is awesome. It's been so crazy this season, and I'm just pumped to be up here. It's about damn time I got on the frickin' podium! I've been crashing and squiding out, but I'm stoked to finally be here. It's awesome.
That heat race, you and Ryan Dungey were going at it!
Yeah, I was feeling good. I've been training, riding, and working during the week, but it's just been bad luck at the races. Now I'm finally feeling good and have my head out of my ass and am putting everything together. I've been feeling really good on the bike, and it's time to step it up and put some pressure on people.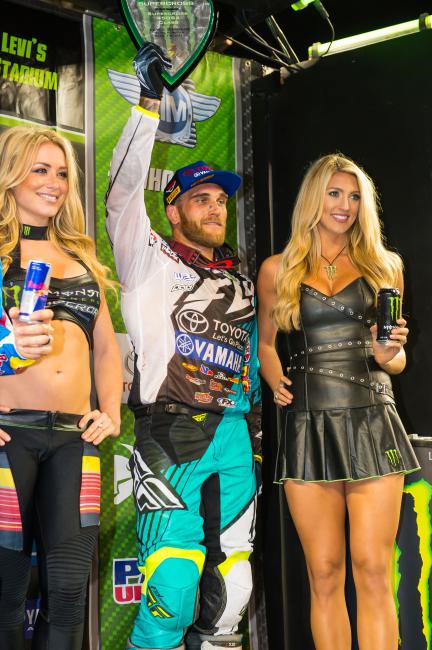 Two races left in the season. What's the plan?
Obviously get on the podium and finish out strong. I'm out of the championship points in supercross, so we'll just fight these last two races and get our heads on straight for the outdoors. I'd like to be on the podium every weekend.
Do you look back at that injury at the beginning of the year and wonder what could have been?
Definitely. That injury really screwed me because my speed and fitness were awesome. I was feeling better than I ever had, and it showed in Phoenix. To have that injury and be out for four or five weeks, it just ruined my whole game. It sucked, but we're on the podium now and that's what we want. It's building blocks.
You feel like you've shut some people up by getting on the box?
Yeah, exactly. I just stay positive and I don't care what people have to say. I just keep on doing me, and let them run their mouths on the Internet. I'm sitting here on the box doing something I love and they're at home sitting on their asses doing nothing. I'm laughing at them and collecting my paychecks. I'm having fun.
Was the thought of the podium creeping into your head toward the end of the race, or were you just focused on riding?
I was just trying to focus on ticking off laps. I had half the race left, had a pretty good gap, and it was just trying to ride like I would at home—riding my own race and staying comfortable. That's what I did. The last two laps I had a big enough gap to where I could play it safe, and I knew I had it. It was good.
The track didn't look good this morning. How'd it wear in for the night show?
For practice the track was terrible. It was baking in the sun and got hard-packed, but it started getting a lot better. The moisture started coming through, and there was some good traction at night. It was definitely one of the more challenging racetracks of the series.
What do you think about having an afternoon race next week?
I think it'll be a change of pace. I'll just think of it more like an outdoor race where you get up early and get it done and go home. I think it'll be fun, and racing in the daylight could be a game changer. It should be fun.