Santa Clara, CA
Santa Clara
Monster Energy AMA Supercross Championship
By Steve Matthes and Aaron Hansel
Eli Tomac, GEICO Honda, Second in 450SX
Racer X: Nice come-from-behind ride. Buried off the start and a second place. I guess you'll take it, right?
Eli Tomac: I'll take it. Story of my life is not getting the start, so considering where I was at…
I think I had you at twelfth at one point.
I was almost dead last going down the straightaway, and then made a good little dive through a hole there in the first corner. I actually made the best of it for what it was because it could have been really bad. I was actually pretty pumped on where I came out.
Fastest lap of the night, which is good. Caught Ryan Dungey a little bit.
I was catching him a little bit. Who knows what I was taking out, a tenth or two tenths, but I need to be taking a half a second to really have any chance. But it felt great. If I was up front I felt like I had a winning pace, but it didn't happen. I didn't get tight at all. Felt great for the twenty laps. – Steve Matthes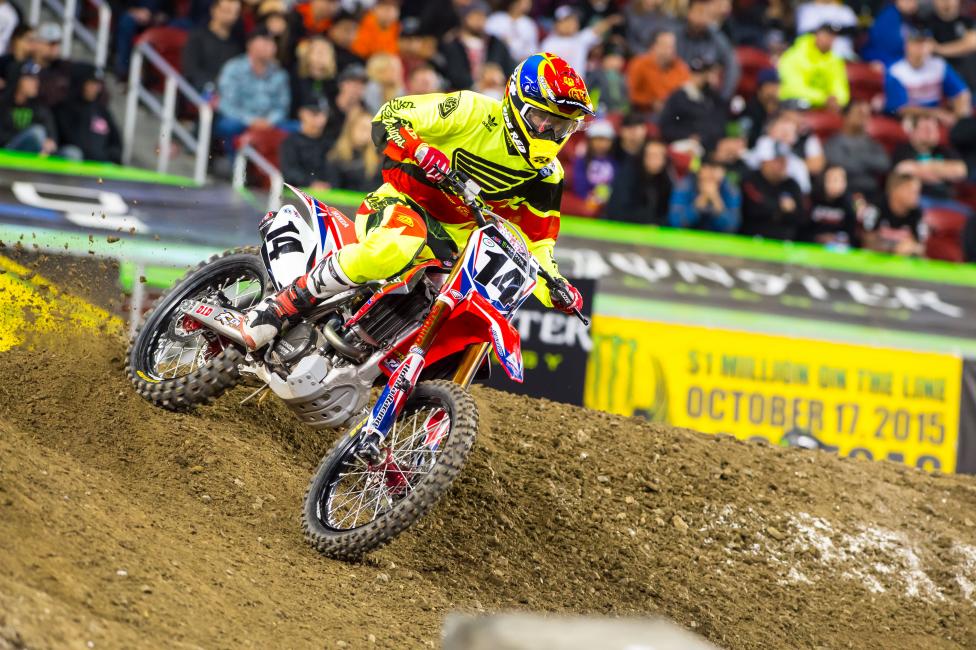 Cole Seely, Team Honda HRC, Fifth in 450SX
Racer X: You were heated after that heat.
Cole Seely: You mean those sweet five laps I did prior to getting sideswiped?
Is that what happened?
I just came around the turn and there were no red-cross flags or anything like that. There was basically just a guy standing there guarding the fallen rider and pointing either left or right. I couldn't see where the rider was; I could just see the head of the track guy. I picked left, went to double out of the section, and there was a bike in the way. It wasn't there; then all of a sudden it was there. Super unfortunate. I'm bummed about not getting the heat race win—every time I go out there I want to win. But more so about getting a bad gate pick because I had to go to the semi. I would have had the first or second gate pick in the main, which would have helped me get a good start and win the main. Instead I had ninth gate pick going into the main and it wasn't my fault. I was pretty furious.
We could see you down there talking to John Gallagher. What was said?
I was just voicing my opinion, and he told me that things happen. I was really heated. I'm a competitor and I want to win every time I'm on the bike, and when something like that happens… I don't want to say too much about how I feel about it, but I'm just bummed. Fifth is good, but I had to come from sixteenth because of the bad gate pick I got because of that incident.
Other than the incident, how was the night?
It was good. I felt like I was carrying that momentum from winning last week into the heat race. I was hitting some good lines, finding the flow, then that happens. I bounced back going into the semi though. I rode well and got the win, and I rode good in the main too. But at the same time I was bummed because I wasn't in a position to win. A start is 50 percent of the race to me, so that's tough. – Aaron Hansel
Nick Wey, Mafia Moto Crew/Pasion MX Kawasaki, Tenth in 450SX
Racer X: A nice night for you. You won a semi. All day long in practice you were good. Good starts tonight. Tenth place—season high. You've got to be happy.
Nick Wey: Yeah, I rode well in the heat race. Didn't get the best qualifying lap time because I got my lap time taken away, but that happens.
You did? What happened?
I guess I stopped on the track.
To celebrate?
Evidently my cornering technique in which I pause in the middle got exaggerated on one lap and I said, "I'm working on it," but they took a lap away. That's what I get. I need to work on carrying more momentum.
I think you were twelfth or thirteenth with that?
I was right around tenth and then I got a lap taken, actually two practices in a row. But it happens. Whatever. But the heat race went well. I got sixth. I was close to qualifying. We were close. And then the semi I won, which was cool. My son is going to think that I won everything. I'm running with it.
It feels nice to win even if it's a semi race, right?
Well, it's cool to get some recognition for your sponsors. The whole Team Mafia Moto crew, Passion MX, Kawasaki, MotoSport.com, Answer, EKS Brand, Gaerne, HJC Helmets, everybody's been behind me. – Matthes
Ben LaMay, Munn Racing Husqvarna, Seventeenth in 450SX
Racer X: Tough race for you today. You're a bit under the weather and you don't have your normal rig here, stuff like that. A little bit of a struggle for you.
Ben LaMay: Today's been a struggle for me, but I did what I could. I qualified through the semi. Really wanted to just conserve myself. I've been sick all week. Just my chest is killing me. I was running thirteenth or fourteenth for about half of the main, and then I just couldn't breathe, really. I started fading. Legs were bad, head was dizzy, chest was killing me, so I started fading. I ended up seventeenth. Not the best race for me. I kind of want to forget about it. I am happy to leave this track safe, though.
Nobody was really happy with it.
Yeah, the track was pretty poor, to say the least.
A couple guys said transitions were crappy for them.
The jumps and the layout of the track was nice, the combos of it, what they had. Just, the transitions were really bad, and then all the lips were uneven and everything, and the whoops were terrible. I just wasn't the best race for sure. – Matthes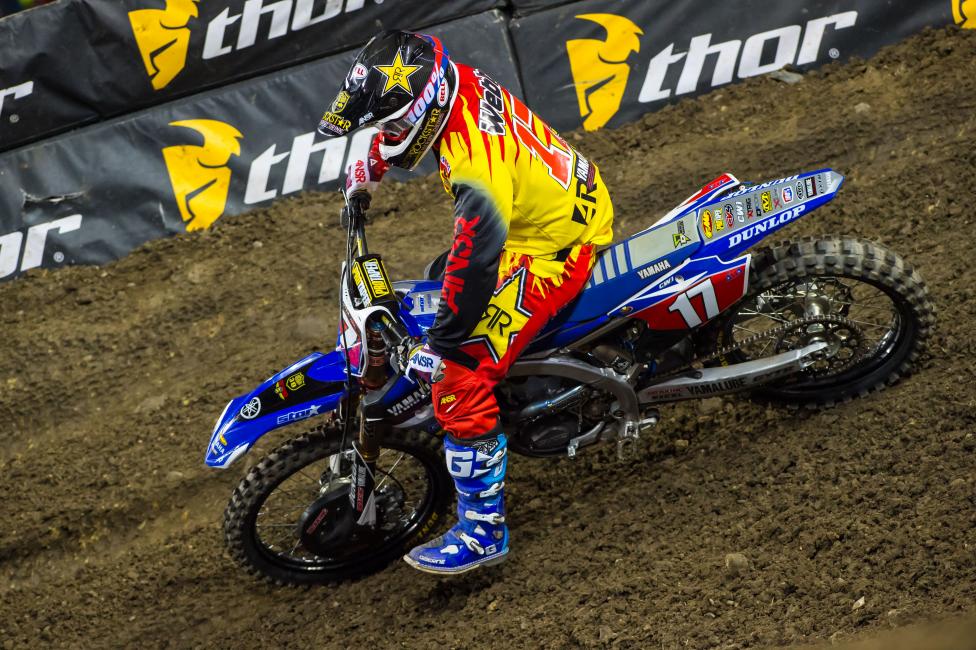 Cooper Webb, Yamalube/Star Racing Yamaha, First in 250SX
Racer X: You getting tired of doing win interviews at this point? You've been doing a lot of them this year.
Cooper Webb: Definitely not. It's been an unreal season so far, and I'm just pumped to keep clicking them off. It was a different way to win tonight, but we still got it done, so we're stoked!
Talk about that crazy first turn.
It was definitely crazy. I got caught up in Shane [McElrath] and Malcolm's [Stewart] bike and went down. My bike was still running and I had it wide open, clutching it and trying to wheelie it over the other bikes to try to get out. I muscled my way out and was able to pass [Justin] Hill and Malcolm, and that definitely saved me some time. A wild one, though. Plessinger was out front crushing it, and unfortunately he went down, but it was still a fun race for sure.
The title is all wrapped up, but you're still going for it.
Oh, for sure. That was our whole goal today, to come here and win. We qualified fastest, won the heat, and got another main event win. Everything is definitely clicking right now, so we'll go get ready for the outdoor championship and try to get ready for Las Vegas and show them the West is best!
What'd you think of racing in the new stadium?
It's cool to come to the stadium. I'm not a 49ers fan by any means, but it's cool to come to football stadiums. The venue is definitely nice and I really like this area. There's a lot of cool stuff to do and the stadium is very nice. I wasn't too impressed with the track, though, right off the bat, but they did a good job of fixing it for the night program for sure. For practice, to be honest, it sucked. They took a lot of time to prep it for the night show though.
Was it as rocky as it looked?
Yes, it was very rocky, and to me it wasn't quite built right. It was very abrupt and sketchy, actually. I had a big crash in the first practice in the whoops. I'm a fan of technical tracks, but in the same sense they need to be somewhat safe. But, like I said, they did a great job of fixing it for the night program. It turned out to be a good track.
You've been a champion for a week now. Has it sunk in?
I don't know what it's supposed to feel like. I think after tonight we can take some time to let it soak in. We'll do that, go into Vegas, and try to win. Then we'll go outdoors and try to beat my teammate [Jeremy Martin, 2014 Lucas Oil Pro Motocross Champion].
Have you done any celebrating yet? Did you buy anything cool after winning the title?
No, we haven't bought anything cool. Yamaha is going to hook me up with a SuperJet watercraft, so that'll be nice to go to the lake and rip it up with my mechanic all summer. – Hansel
Malcolm Stewart, GEICO Honda, Fourth in 250SX
Malcolm Stewart: That start was pretty gnarly. The next thing I knew, everyone was down. That's racing though, man. I don't know who started it. Some people say [Chris] Alldredge, some people say someone else, but it looked like everybody got up, so hopefully nobody got hurt. I just tried to ride my own race after that. I got up to fourth, Alex Martin was right there, but then a lapper got me. I couldn't redeem myself, but that's racing and I'm just glad I didn't get hurt. Everything else is going all right. Just going to look forward to Vegas and having some fun. –Hansel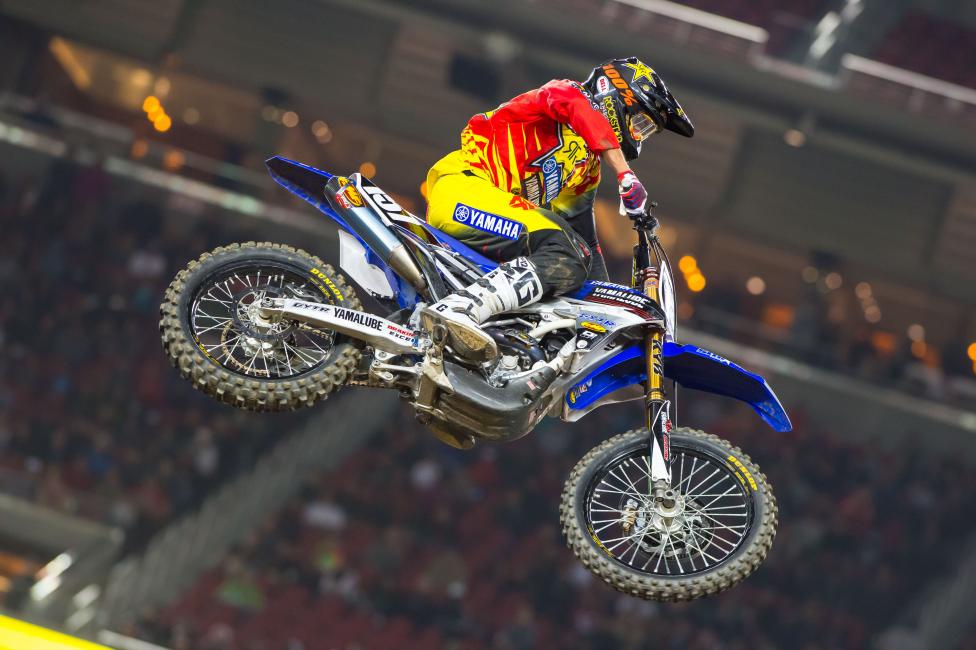 Aaron Plessinger, Yamalube/Star Racing Yamaha, Seventh in 250SX
Aaron Plessinger: I started the day off pretty well. I was fourth in the first practice and was in fourth in the second practice until I got passed by two guys on the last lap. Came out for the heat race, got a good start, finished behind Justin Hill, which is pretty good—I kept him honest pretty much the whole race. Went out for the main and was feeling good, got into the lead, lost my front end, and went down before the triple. I got back up in fourth, passed Alex Martin for third, landed on some Tuff Blocks and cartwheeled. I was able to get back up and finish seventh, so all in all it was a good night for what happened.
Up in the press box we were thinking you might pull off the win. Were you thinking about that at all?
Yeah, I definitely had that in mind. I was hoping it would come through, but stuff happens and there's always next time.
The point races are over for you now. What are your thoughts on your rookie season?
It was more than I expected. Going top five in the first two rounds was a big surprise for me, and I went off that and got third at A3. Got all top-tens except two, so all in all it was a great season for me—I got fifth in points and I'm stoked.
How heavy into outdoor testing are you right now?
The past few weeks during the break we were hard on it, doing motos and everything. We're coming into motocross pretty prepared and hopefully we'll do well out there.
What are your goals?
Just to do the best I can. I'd like top-fives, and I'm expecting to win a race. I'm going to do the best I can, and wherever I finish is where I finish. – Hansel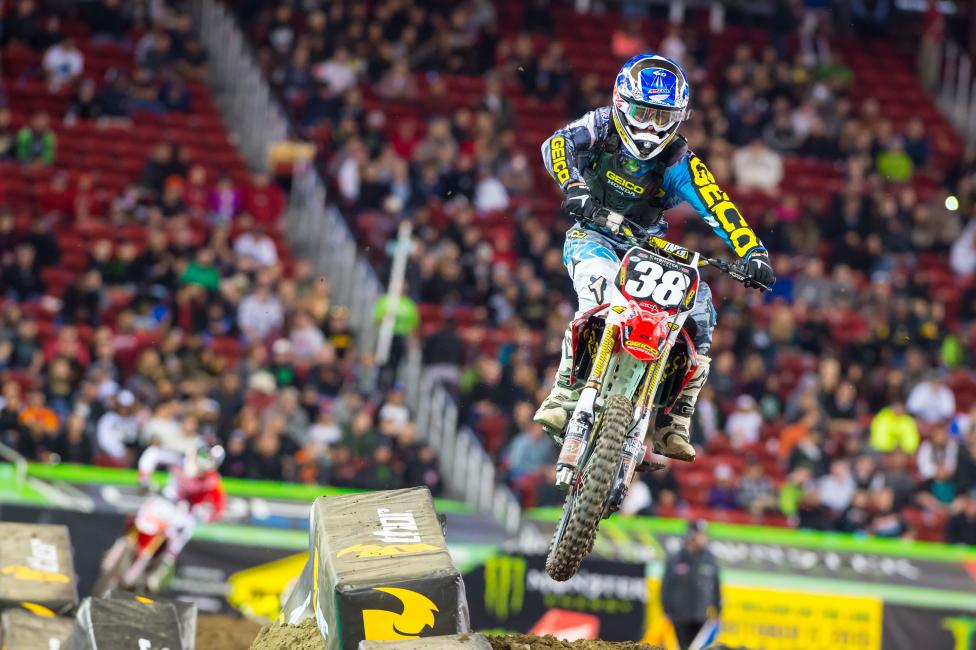 Matt Bisceglia, GEICO Honda, Eighth in 250SX
Matt Bisceglia: That was one of the gnarliest first-corner pileups I've ever seen, and definitely the gnarliest one I've ever been involved in. Somebody cut across the outside, and there was also a pileup on the inside. Once I shook it off and got up, I had to look around for my bike. It was crazy. I looked around and I was amazed at how many people were just lying on the ground everywhere. Inside, outside, off the track, everywhere. It was hectic, but I got up and for whatever reason, it took me like ten kicks to start my bike. I finally got going and got back up to eighth. I felt like I rode well; it just took me a while to get up. I wasn't hitting the crucial rhythm on the track, the one against the wall after the start. I wasn't comfortable with it all day, and it definitely cost me a few positions in the main. It's something I need to work on for sure. I'm just glad to be okay. I had a couple gnarly get-offs in practice, and that first-corner pileup was crazy. Happy to walk away and start plugging away on motocross testing this week. – Hansel