Levi's Stadium
Santa Clara

,

CA
Santa Clara
Monster Energy AMA Supercross Championship
This is without question Ryan Dungey's season, and he is going to take advantage of it. While he already has the 2015 Monster Energy AMA Supercross Championship wrapped up, he's in a perfect position to rack up more wins and boost his spot in the record books. After another one from the standard playbook—decent start, early lead, solid race—he won for the seventh time this season in Santa Clara, California. He spoke to the media after the race.
Racer X: [Question from journalist Steve Cox] At the beginning of the season they had "#whosnext," which kind of implies a new winner—or anyone who has ever won it in the past probably won't win it. Did you think of it that way?
Ryan Dungey: What? No, not at all. Ryan Villopoto did well for a long time—four years in a row is amazing. So, when he took off and went overseas, there was probably some excitement for someone else to win. So, yeah, someone else is going to win again, finally, so who is that going to be? I didn't read into it too much. Hopefully I'm next is what I thought!
How about that track?
This was definitely the most technical track all year, especially in practice. They watered it heavily, and it was still pretty soft in turns and between the rhythms. Everything was really edged, rutted, and choppy. The night show was better, and it was a little easier to get through the rhythm lanes—you didn't have to be so precise. I definitely caught myself holding my breath here and there though. There were some sections that didn't quite flow. You had to really work the bike to get through some sections cleanly. The whoops were tough all night too. It took us to the third practice to get comfortable. We were fumbling around, but we finally found it and I was really happy with that. Going into the night show, feeling comfortable is important. We got two good starts tonight, and that's half the battle, especially with this track. It was slick and tight, and you could easily find yourself in some carnage. The heat win was nice because it gave us first gate pick and made us fast out of the gate. If you're fifth pick and all the good gates are taken up, your chances of starting well start going down. We got to pick the best gate, and that really helps.
You and Weston Peick had a good battle in the heat.
Yeah, I was trying to guard my insides, but one time I heard him coming and I rolled that bowl really wide because I don't want to get in a scruff with him. But, when I passed him and dove to the inside, I knew it was my shot. If you were out there [on the track], you would see that going up that face right there, it was so slippery I couldn't turn any tighter, and I kept on drifting wide. I almost got his front, but he saved it.
So, you've got seven wins now.
That was my next goal. The championship was first. Six wins in 2010, that was the most I'd ever gotten in a season, and I was wanting to beat that by the end of this season. Definitely want to keep building, and we've got two more races to keep raising that bar. Winning is tough, and seven is definitely awesome.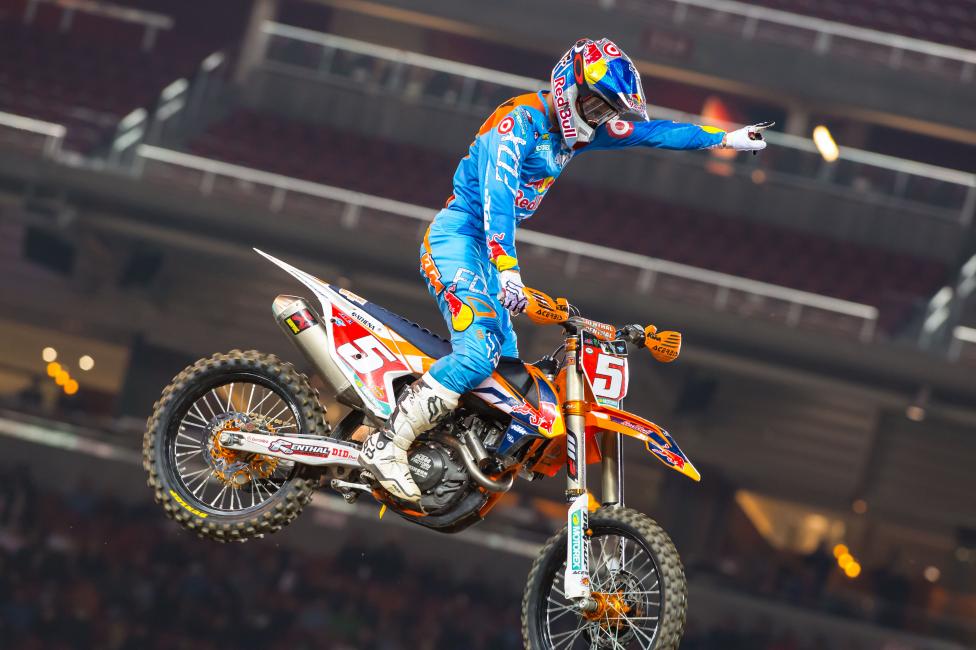 The way the season started out, you had your former teammate Ken Roczen going fast and there were a lot of guys going fast. Were you paying attention to that?
The fourth place at the first round wasn't bad, but I felt sluggish. No excuses, but I had been sick and I didn't do anything for the whole week and was only on the bike for two days before Anaheim. I felt sluggish. But we were starting to get things in line with Aldon Baker, and the bike was hands down much better. There were a few things we had to work on after the first round, but once we felt like we got that handled it was nice. And, with getting dialed in with Aldon, things were coming together week by week. But it wasn't ever like we felt way off. We didn't panic, and with Aldon helping we were able to pinpoint some things with me. We had direction, and for a rider that's important—it instills confidence. I felt like we were gaining the entire time, physically and mentally.
If Aldon's top rider finishes the championship, he wins every single time. Did that enter your mind?
No. Aldon is a solid guy—not many people are like him. I'd wanted to work with him a long time ago, and I'm happy that things worked out that we finally got the opportunity. It's not just the training, although he obviously has that dialed in. Being solid on and off the track, if you can have a good balance with everything, your mind will be that much fresher. He's the best at what he does, and with the bike being better, Aldon coming in, getting married, and going on a nice honeymoon, there was a lot of fun stuff going on. I would not have enjoyed it as much without Aldon. Before him I was constantly thinking about what I had to do next. With Aldon, I just do what he gives me and don't worry about anything else. I trust him and do everything he says 100 percent, and that's it. Before, I'd be worrying about what to do next and my mind was constantly running. That's not good for a racer. The peace of mind helps bring back the joy and excitement. It makes you want to go to work. I still have a lot more to accomplish.