On December 5, 2014, at the Palexpo Center in Geneva, Switzerland, Adam Cianciarulo's 2015 supercross season went up in smoke. He hit the ground during the SX2 main event and duly dislocated his shoulder. While an injury is a terrible fate for any rider to face, this one was especially egregious for Cianciarulo as he was in the final phase of a comeback run that was precipitated by a shoulder injury suffered back at Toronto in 2014. Since turning professional in the spring of 2013, the teenager from Port Orange, Florida, has experienced a prism of emotions ranging from ecstatic (supercross race wins) to melancholy (mixed results, crashes, and sickness).
With a two-year career now only fourteen races in length (eight nationals and six supercross mains), Cianciarulo is fully cognizant of the fact that this approaching summer will be a very important one as he looks to contend the Lucas Oil Pro Motocross Championship for Mitch Payton's struggling Monster Energy/Pro Circuit Kawasaki franchise. Working and training hard back in Florida as he prepares for the season-opening Hangtown Motocross Classic on May 16, AC used a rainy day to take a quick break and let us in on just what he's been up to.
Racer X: Adam, what's going on, buddy?
Adam Cianciarulo: Just hanging out right now, man, and trying to recover. Training is pretty hard right now. I'm trying to get four days of riding in every week. I rode Tuesday and Wednesday, and I'll take today off and ride tomorrow and Saturday. Today I had a road bike ride, but it was raining. I did it in the rain so that was pretty gnarly. I've been pretty heavy on the gym stuff lately so I can get my shoulder stronger. That's been difficult to say the least, but it's worth it.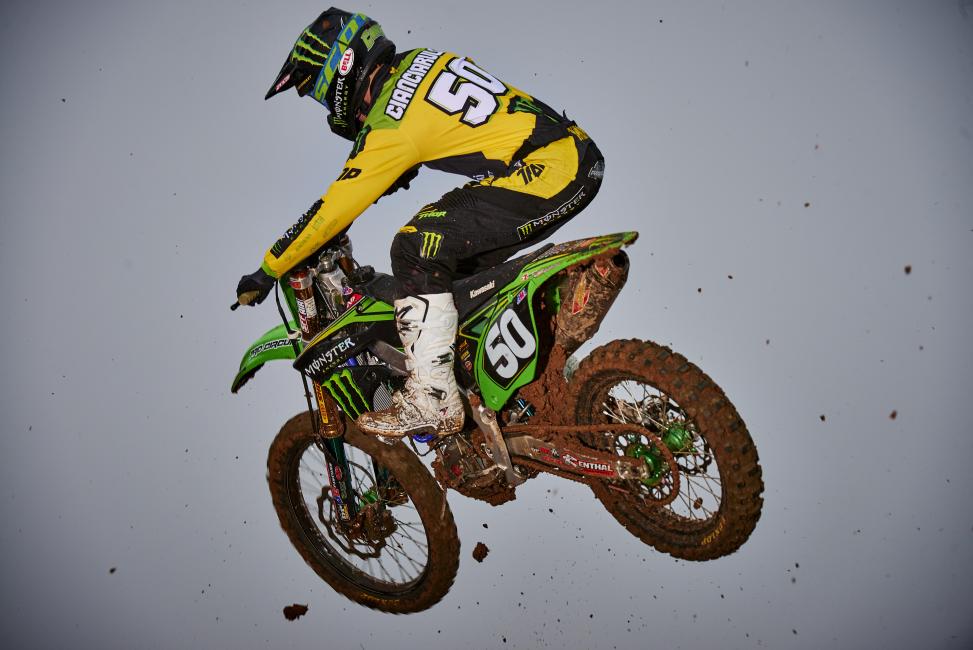 How much riding have you been doing?
With Aldon [Baker], really, it's not the amount of riding; it's the quality of riding. That's what he always says: quality over quantity when it comes to that kind of stuff. We'd rather go out there and do sprints on a good track rather than try and push it late it the day. That's normally when mistakes happen. It's not as much riding as people think, but when we're out there it's like a race.
Well, the guy certainly seems to have the Midas touch, huh?
Yeah, absolutely. For sure.
Guys like Ryan Dungey and Marvin Musquin, do you see them around while you are riding and training?
We're all friends. We see each other every morning for our road bike rides and at the track and the gym. We're kind of always around each other. There wouldn't be any point of not being friends. You're with each other all the time and all of them are super-cool dudes. You know, Jason [Anderson], Ryan, Marvin—all of those guys—are super-cool. It's a professional environment, but at the same time, we all take our digs at each other. I think with how good everybody is in our group, everybody learns something from someone and we just try to take advantage of that the best we can.
Have you seen Ken Roczen around at all?
Well, actually right now Kenny is in California because I know he's doing some rehab on his ankle, but before he had all those little problems, of course he's been around. We all live within a two-mile radius of one another so somebody is always hanging out at somebody's house.
The shoulder: how is it?
It's good. I guess I'll basically go back to the beginning here. Basically, when I did my shoulder in Geneva this time it wasn't a matter of the same injury happening again. According to my doctors—and multiple doctors—if I would have landed with the same amount of pressure that I had on my other shoulder, the same thing would have happened. It's not like it's a case of chronic dislocation; it's not just coming out because it's weak. In Geneva I basically jumped off the track and right onto the concrete and right on my shoulder. It was just an unfortunate coincidence that it was the shoulder that I had done before. After Geneva I got this surgery called the latarjet repair [Ed. Note: anterior stabilization of the shoulder]. Basically, they take a piece of bone and they extend my socket to the point of where it's weak and comes out all the time. In theory, once the bone hardens there the socket basically can't come out anymore. It has a very, very high success rate. With that being said everything strength-wise and rehab-wise and range of motion and all that is on track. I got back on the bike at the beginning of last week. It feels really good. We're still taking it slow. We don't want to do anything crazy at this point. We just want to be cautious. We just want to strengthen it now and we're ready to go.
So you've just got back on the bike. What kind of riding are you doing?
Right now they just want me to start on more of a turn track. I've been riding at the Baker's Factory. The section they use to get ready for the Daytona Supercross, I kind of turned that into a little bit of a turn track, which kind of puts me at a lap time a little over a minute. I'm just getting back into the flow. It's good because if you can ride that type of dirt—that kind of slick sand—it makes everything else feel a lot easier when you get on it. I've been enjoying that and enjoying being back on the bike and progressing.
So I'm going to guess that you're getting prepared for the nationals?
Yes. Absolutely.
Do you have enough time to be ready, or might it be one of those "I'll ride myself into shape" types of deals?
I mean right now for me, my biggest thing is that I'm 18 years old and the way I look at it is that I went pro at 16. Obviously that is real young. Most people don't even go pro until they're 18, and a lot of the guys around me are a year or a couple years older than me. For me, there's no reason to do anything stupid. With that being said I do believe I'll be 100 percent and that I will be ready for outdoors. I'll be strong enough and my shoulder will be strong enough; it's just whether the speed will be there 100 percent or not. I'm not sure where I'll be with that, as it's kind of an everyday thing on how I feel and all that stuff. But my shoulder will be strong enough. It might be that kind of racing you were talking about at first—kind of racing myself into shape—but it won't be a case of me going out there and nursing a shoulder or anything like that. My career in the long-run is my number one priority so the shoulder will be 100 percent by Hangtown.
If I have it right, the last national you raced was Lake Elsinore back in the August of 2013.
Yeah. It will basically be a year and a half since I raced anything in America.
You know something I wanted to ask you about is that you grew a lot in the past year. Did that affect your riding and racing at all?
It definitely was an issue. When you're growing, you're growing upwards and your body isn't going to let you go out, meaning it's going to be really hard to gain muscle. When I turned pro in 2013 I believe I was 122 or 124 pounds, around there. By supercross last year I was at 140 and right now I'm at 161. It's hard to keep up with, to be honest with you. I'm glad I kind of stalled out over the course of this last injury. Maybe it was a blessing in disguise and I can finally put some muscle on.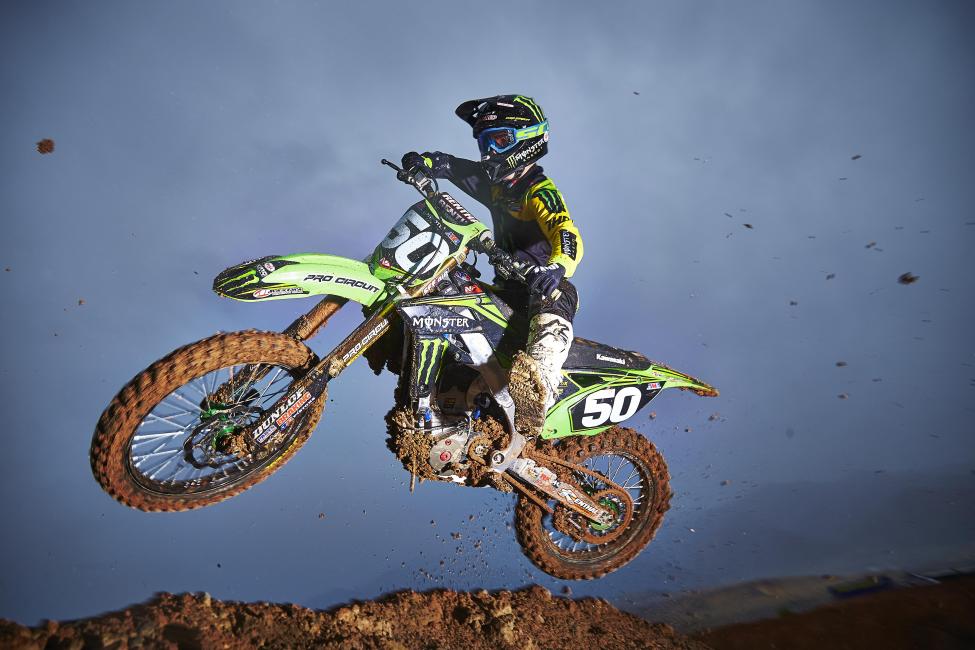 And I'm assuming you've been watching the supercross races on TV and whatnot?
Yeah, it's very difficult for me to watch, but I'm a fan of the sport, too, besides being a rider, so I have to turn it on. Just seeing other people win, me, as a competitor, I just feel like they're taking that win away from me. Like, it's personal, you know? And that's not something I take anywhere but the track, but when I watch the races I do feel like, in a sense, those are my wins. I'm not there, so I don't deserve them because I'm not there, but it motivates me so much to do whatever it takes to get back up there and to feel that feeling again.
The Monster Energy/Pro Circuit Kawasaki team has had a rough go of it thus far in 2015 and could really use your help, huh?
It has been rough and Mitch will be the first one to tell you that everybody on the team wants to win and we're not going to stop until we win. I believe I can be that guy that helps turn our year around.
And the pool of talent in the Lucas Oil Pro Motocross Championship will be a deep one. [Jeremy] Martin, [Cooper] Webb, [Marvin] Musquin, [Justin] Bogle. It's another highly competitive outdoor season approaching, isn't it?
Absolutely. I mean you just named them. So many talented people and of course it's going to be another year of if you get a bad start it's going to be very hard to come through the pack. For me, I don't really know where I stand at all. I raced outdoors basically two years ago where I was completely different body-wise and fitness-wise. Mentally, I'm in a much better place now. I don't know where I stand, but I'm confident in my ability and I know 100 percent that I have the ability and the resources to win races. It's just where I'm at speed-wise. I believe that I can put it together, but with that being said, I have been pretty much on the couch for a year and a half now and I'm not going to go in and do anything stupid. I'm just want to get a solid season under my belt, and whatever we start out with at Hangtown, I just want to build on that and carry the momentum into my career to come.