St. Louis, MO
St. Louis
Monster Energy AMA Supercross Championship
Rockstar Energy Racing Husqvarna's Jason Anderson started the year with a super-impressive second-place finish at the Anaheim 1 opener of Monster Energy Supercross. Then came a run of consistent finishes within the top ten—although no second podium—before a rough go of crashes the last two weeks. It looked like the wheels were coming off the train in his rookie season, but he came back for a solid third in St. Louis, and got things back on the rails. We talked to him after the race.
Racer X: It would seem like you really needed this bounce back.
Jason Anderson: Yeah, the season was going pretty good. Then we had a bad one at Indy, then had another bad one last week, and I've had kind of some tough goes at some of the races. It's good to be back. I wouldn't say I'm back; I feel like I've been riding good. It's just I've been in the back of the pack riding good and you don't want to be doing that. I feel like after two hard weekends, it feels good to be back up here.
Did you sign any paperwork to do some drug testing after the main? Are you one of the guys tonight or no?
Yeah, definitely. I think I'm getting tested so hopefully I'm good. Go do a pee test and just get it done.
Did the last two affect your confidence or physically at all? Or were you fine coming into this?
I'm definitely sore from last weekend, but as far as riding I felt good.
You were able to do your normal deal during the week?
Yeah.
I've heard a lot of the other rookies that have raced every week now, and they've had to back it down a little bit. Have you gotten to the point where you got a little tired or burnt, and had to change it up?
Me and Aldon [Baker, trainer] have our deal and we kind of do the same routine. We switch it up depending on some other things. Like, I had a crash last weekend so there's some stuff we missed out on at the gym. But overall we do the bike rides, we do everything, we do it every week. I think it's just getting used to that workload. I think you're going to be tired some weekends. I think everyone has their weekends. It's just all about getting back in my groove and doing it.
Do you feel like if you put in that effort this year, even if it means you're tired at times, you're just going to keep that building that base?
Yeah, I just need to get used to the workload and keep going.
Podium at Anaheim 1, no podium since, and then two bad races lately. So confidence or anything wasn't rattled?
No. If I'd got a good start at a lot of these other ones… Atlanta 2 I was up to fourth and then I crashed. Last weekend I was in sixth and I was gaining on [Chad] Reed and [Davi] Millsaps, so that'd have been a fourth. It's just little things that happen. It's rookie mistakes, getting impatient. There's a lot of stuff going on. Just glad to be learning and putting my bike up on the podium because I think it's a competitive bike. Just pumped to bring back the Husqvarna brand. It's cool for me and cool for them.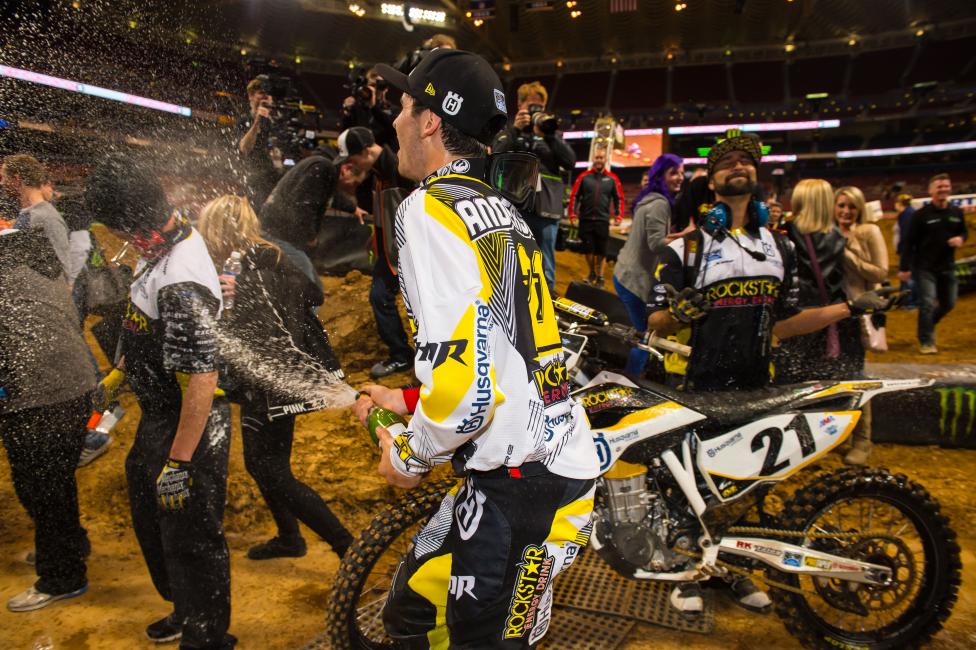 Take me through some of the battles. You had to get around [Weston] Peick and then you had to battle with [Eli] Tomac a little bit. Do you remember where you even got Peick?
I got Peick at the end of this rhythm section, into that corner, and got him. I was riding good but Tomac has a little bit more intensity throughout the end of the race and that's something that I need to work on. I think it's just being comfortable riding up front in the 450 class, but all in all it was good for me to ride up there. I feel like I'm on their level—just need to get used to it.
You and Tomac, you guys have battled for like your whole life, haven't you?
We grew up like three hours away. He's in Colorado, I'm in New Mexico. We've raced each other since we were seven. It's cool. You have a whole group of kids growing up, and now me and Eli are at the top of the sport and we're on factory rides and living the dream. I've seen him grow up and we've grown up together. It's cool to be up here and do it.