Atlanta, GA
Atlanta 2
Monster Energy AMA Supercross Championship
Red Bull KTM's Ryan Dungey is starting to extinguish some of this #whosenext hype by rolling strong in Monster Energy AMA Supercross, an FIM World Championship. His win on Saturday night didn't come easy, but he turned it up in the second half of the race and got away for his third win this year. He's also over one whole race up on everyone in the standings—it's a good time to be the Diesel.
Racer X: That was good.
Ryan Dungey: It was an awesome night. Practice felt pretty good. We had the fastest heat race, so that also felt good. The main event I got off to a decent start. I was able to sneak in there. I spun a little bit, about twenty feet out of the gate and Chad [Reed] had the upper hand on me. Him and [Weston] Peick, the whole first lap, they were going crazy and then Chad had a little mess-up. Capitalized on that and then Peick, I had to get around him, which we were able to. Then just really take it from there. The track was slippery, and the more the night went on, the moisture came out and got worse. I tried to just roll everything real nice and make the bike stick.
It looked like there was something about that first turn. There was a lot of bar banging and trying to get a position on each other.
It was a long left-hander so it kept wrapping around, and when you come in with all that speed and it's slippery, guys are tucking fronts… It gets a little hairy. But being up front is definitely the safer part of a holeshot.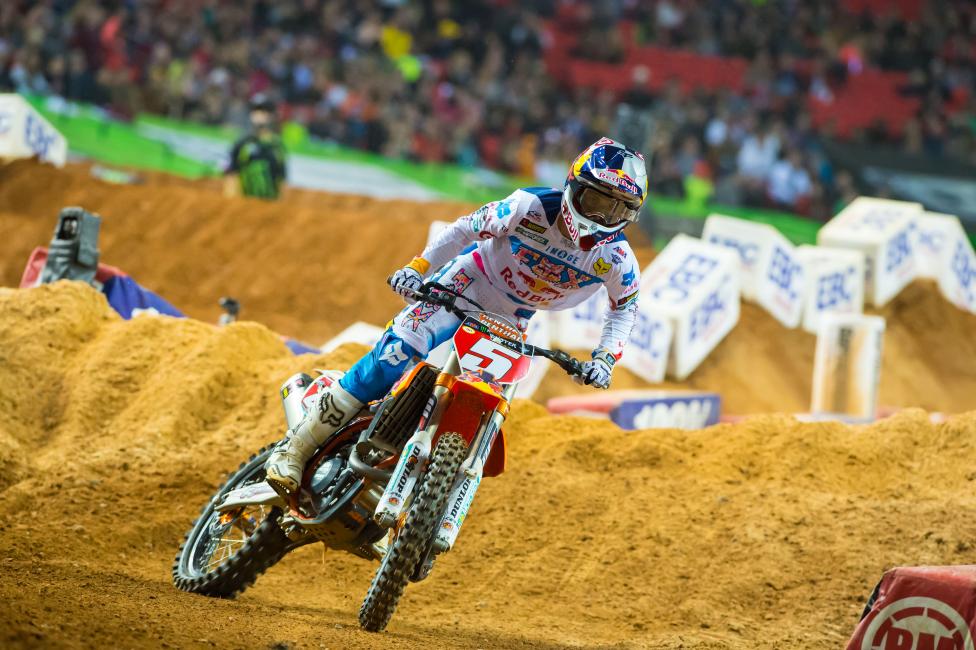 Have you ever battled Peick like that? Most of the time it's similar guys every week; this was his first time leading. Did you know exactly what to expect?
No. Peick's a guy I don't think you want to mess with. I tried to keep it clean and just kind of show him a wheel. He made a mistake and I was able to kind of run it on the inside of him right after the triple and take the spot. Sometimes it isn't all that easy. This track wasn't easy to pass on, so him making that mistake kind of helped me get speed over the triple and stay lower and have the upper hand on him.
And you had the two Honda guys right behind you at that point when you were battling him. Did you feel them back there? Did you know they were there?
Oh yeah, I knew they were there. First I thought it was [Eli] Tomac; then I saw it was Trey [Canard] on the leaderboard. Him and Tomac, I could see them as I was coming around the 180s. I tried to just hit my laps. A couple laps they were faster; then it seemed like they made a mistake or something and I gained a lot of ground. That's when the race kind of settled in and I started just opening a little, little by little, and then from there the last couple laps just hit my lines right to bring it in for the win.
It's been a couple years since you've had three wins on the season and you have a nice point lead. You've got to be feeling good right now.
Yeah, but never too good. I'm going to be the first one to say that, but at the same time we work hard to be in this position and we've got to keep building on it. It's way too early to settle or start thinking about it. It's easy to get ahead of yourself so I need to really focus on the here and the now and the moment.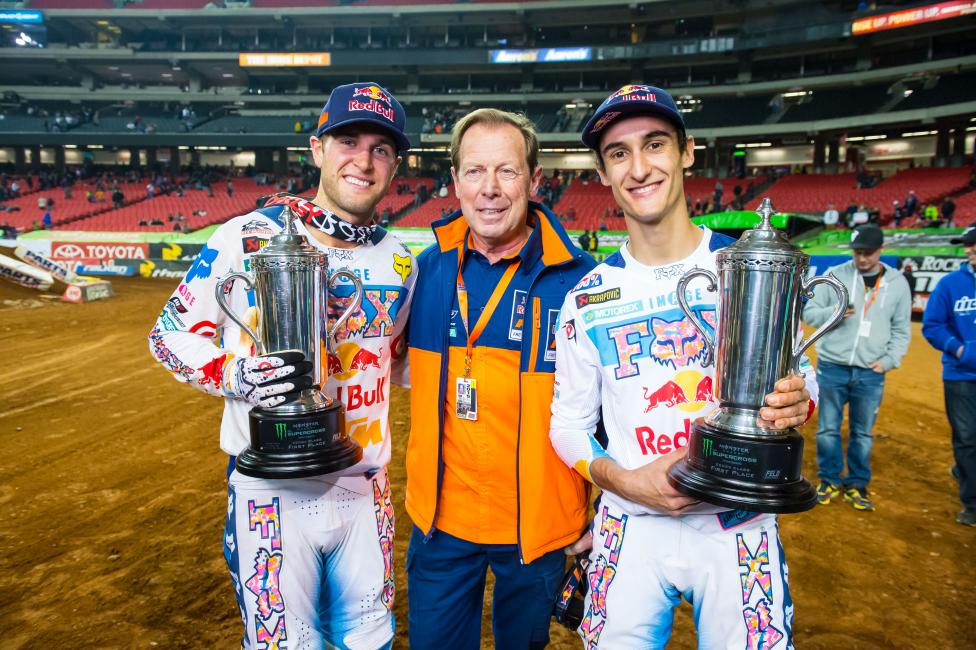 Do you feel you're riding better than you ever have? Does it get better every year?
Yes, but it's a couple things. This year with KTM and the brand new 450, that was a big step. I wasn't kidding when I said that. Every bike has its flaws, but I really feel like things are dialed and the team's been doing a great job. They continue to work and try to find improvements. I'm happy with that but also I feel like I'm in a good spot. Working with Aldon's [Baker] been a lot of fun. A lot of good things in my life right now and I've got a lot to be thankful for. Remembering that and doing my job and what I do for a living to the fullest.
One of the complaints I hear from the guys lately is, "Man, I can't get a start." You just seem to be reeling them off pretty consistently right now.
They're not always the greatest but I've been working on that a lot more this year and they're maybe a little bit more consistent. If it's not the greatest it's still in the top five. Perfect picture: it's a holeshot—we want that—but just being up front is always good.