Atlanta, GA
Atlanta 2
Monster Energy AMA Supercross Championship
Another Red Bull KTM sweep, as Marvin Musquin teamed up with Ryan Dungey for a team 1-2 punch, just like they did two weeks ago in Dallas. This win was especially big for Musquin, who took a straight-up loss to title rival Jeremy Martin last week, and needed a victory to reestablish himself. That's exactly what he did.
Racer X: That was a good race. Your start was good and that helped, but overall did you feel better than last week?
Marvin Musquin: When you do the heat race and then you don't feel comfortable and then you went down like I did last weekend, and when I did it again this weekend, I was like, no, I don't want to repeat Atlanta 1. Even though I got second there, it was still pretty good. I for sure could have won last weekend, with less mistakes. But whatever, we move on and then we're here at Atlanta 2 and I went down again in the heat race. Still got fourth so it wasn't too bad, but for the start you needed to get a good gate pick. I went actually inside and I was more inside than [Justin] Bogle and those guys. I knew I was capable of getting a good start. It actually wasn't my best start, but I pushed really hard into the first turn and got the holeshot. I couldn't believe it. I was trying to be really smooth and consistent. I was actually not pushing like crazy. It's hard to believe, I know, but even though I was leading I wasn't really pushing but I was really smooth. But I couldn't push like at practice. For example, on the big sweeper right here by the start, you had to be smooth. Especially when you're leading you don't want to crash and blow it up.
And you had mistakes last week so I'm sure you were thinking, let's not have mistakes.
Yeah, and then two laps to go I actually landed really close to the tough blocks and missed the big triple. I was like, are you serious? What are you doing and what are you thinking? I was not focused at that time. But I was controlling the race. Jeremy [Martin] was behind and I had a pretty good gap. I felt like I could push a little more and be faster. It was a great feeling. Those whoops were tough, but I've got a great bike and the best team out there and the best crew, so I made it happen. It's a cool weekend. My gear was awesome; that retro gear was really cool.
Are you old enough to identify this nineties stuff?
I was born in December 1989.
Does it look like stuff you remember seeing or is it too old almost for that?
No, it is too old. I would remember more around '98, 2000, like McGrath or Jeff Emig and then Ricky.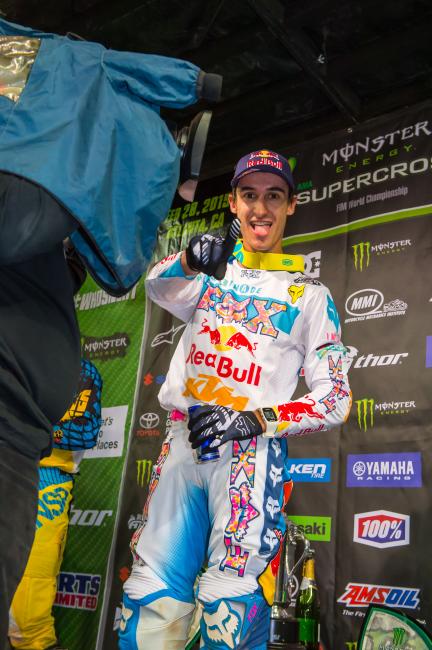 How much of those mistakes last week… You guys were in a crazy battle. Does that just happen more when you're battling?
I think it was more mentally that I went down in the heat race and got eighth. I was far outside on the start and I was like, dude, I got to make this happen, get a good start, and be out there. I think mentally I really wanted to do good and I was maybe scared of doing bad, but then I was third… But still I should have been smoother and should have done a better job controlling myself. I was still trying maybe a little bit too hard and doing some stupid mistakes. And Jeremy was pushing behind last weekend. I gave him that spot last weekend because I didn't jump that triple. That's how he passed me. Glad to get it done this weekend, for sure.
It was not as fun for the fans to watch, though.
Yeah, for sure last weekend was a great battle and that's fun to watch, like I've said, but I'd rather take the holeshot and be gone!