A good night of racing in Monster Energy Supercross' return to Atlanta, the racing wasn't quite as electric as last weekend, but there seemed to be a little extra excitement in the building anyway. Maybe it was all the good vibes from last weekend? The back to back weekends meant the Georgia Dome wasn't packed like usual, but both the crowds were decent, and everyone seemed to enjoy the double dip. Same times next year?

Speaking of double dip, the Big Red (Bull KTM) Machine did it again, with authority. Ryan Dungey is starting to turn into the boss man of 450SX, taking his third victory of the season and extending his points lead to a full 30 over Trey Canard, who gave him a run but finished third. Everything is coming together for Dungey now. His bike is better than ever, his starts are on point, he's even picked up the aggression and is making passes more efficiently. There are literally no holes in Dungey's game right now. "It was an awesome night," Dungey said. "The track was slippery and as the moisture came up it just got worse, so I really tried to roll it on everywhere and make the bike stick."
Dungey was set to have a worthy advisary in the main from last week's winner, Chad Reed. Reed and Dunge were pushing up against each other the entire way through the first turn vying for the holeshot, and that bumping and grinding opened the door for Autotrader.com/Toyota JGR Yamaha's Weston Peick, who got through clean for his first ever 450SX main event holeshot. Reed wanted the early lead like he had last week, and passed Peick immediately…then Peick passed him back! No one, no one (no one!) is more aggressive than Peick, who then even pulled out a small early lead, recording the first main event laps led of his career.

Discount Tire/TwoTwo Motorsports' Reed held Dungey at bay for second, but then he tipped over awkwardly—and uncharactieristically—in a corner. He explained that he'd just been fighting it a bit all day and simply lost the front end. It was early in the race and he got tangled with some tuff blocks, so he went way, way back in the pack. You could feel the air figuratively come out of the building after that.
Dungey took over second and got to Peick, but Honda HRC's Canard and GEICO Honda's Eli Tomac were trying to hang with Dungey. Dungey might have been a tick faster than them, but when he got to Peick, Tomac and Canard gobbled up his lead and all four riders began to battle. Dungey made a quick move on Peick to get the lead, and the Honda duo knew they had to get Peick as well before Dungey got away. But Peick, as you know, doesn't roll over, so thus began an all-out brawl for third, with Canard, Peick and Tomac running three-wide in a corner at one point! "We were just….going nuts," said Canard. "It took a lot out of me because you just have to take every line you can, you can't wait." Canard emerged with second and tried to run Dungey back down. Instead, Dungey pulled back away. "Obviously bummed I didn't capitalize on the position I was in, but I lost touch, started making a bunch of mistakes," said Canard.

Canard bobbled so much that Tomac caught back up to him, and then Trey went off the track and Tomac had second for good. "I should have been more aggressive at the beginning of the race," said Tomac.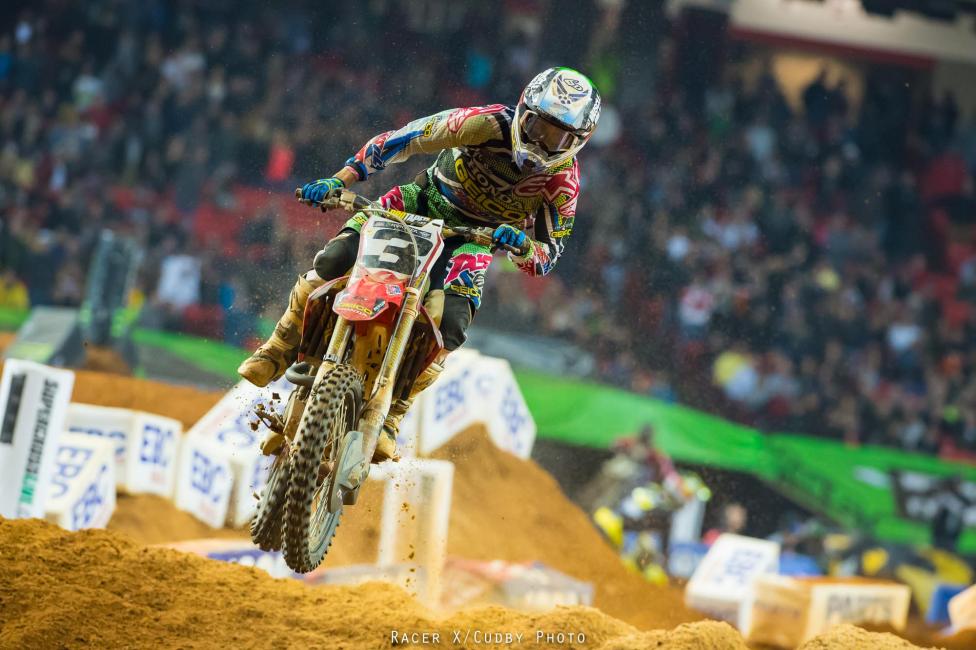 He wasn't on the podium, he wasn't making headlines by battling for the lead like Peick and Reed, but Broc Tickle was awesome. The Soaring Eagle Jimmy John's RCH Suzuki rider was fast all day, and came through strong in the main for fourth. Tickle has always risen through the ranks slowly, and he's now finding another gear as a 450SX rider. "This week it was just me and my mechanic back in Florida working on things, and we just worked on being clean, not clipping anything, little things like that," he said. "It paid off. I felt fast today the moment I stepped out on the track."

Tickle passed Peick to get to fourth. Peick missed five weeks of riding with a broken foot, then more time with a bad knee, and then more time since the JGR track in North Carolina was literally snowed in this week. "I got recovery time I didn't need," Peick said. He was definitely tired after a few laps, and he fell into a battle with Jason Anderson, who made a mistake, cut straight through a corner and cleaned Peick out. "I meant to spook him but I didn't mean to hit him straight like that," explained Anderson, who knocked Peick down, went off the track, and then crashed himself getting back on the track. Anderson could have gotten fifth had he just gotten Peick with a clean pass, but instead ended up ninth. "I feel like I had some fight in me tonight," said Anderson.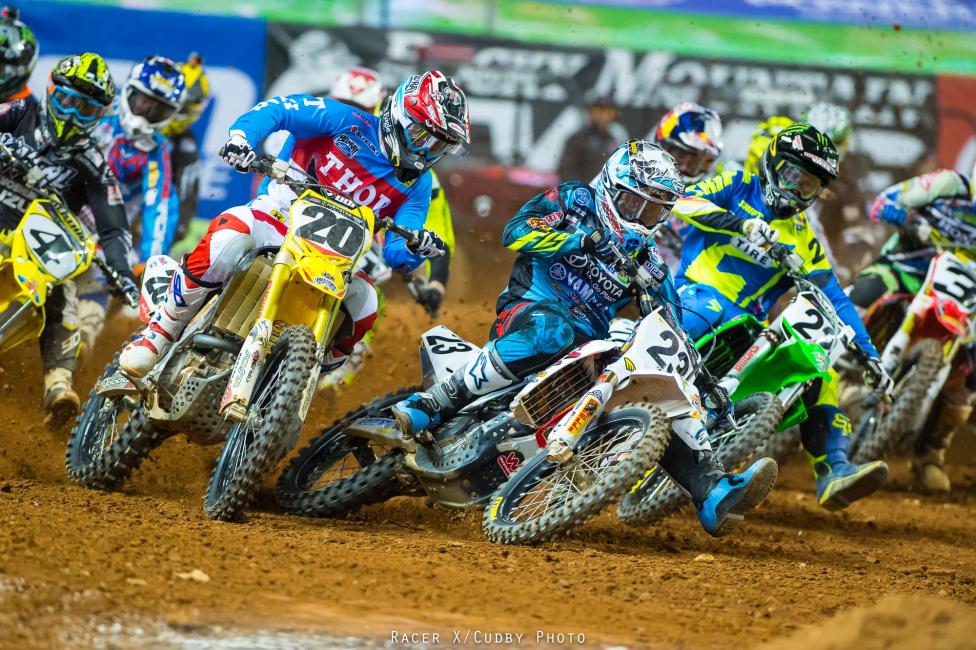 Ken Roczen got collected when Peick was down. Bad night for Roczen, who retweaked his sore ankle (from a crash last weekend here) in practice, then went down with Peick, then looked to really be in some pain in the latter laps. He salvaged eighth in front of Anderson and Peick, but overall this was just a survival race for him.

Okay, so, the 250s. Last week's race was superb, and Jeremy Martin beat Marvin Musquin straight up, getting some momentum back in the championship chase. Musquin turned it right back around tonight, pulling a holeshot, getting away, and continuing to build the gap even when Martin got to second. "Last week I just made too many mistakes," he said. "I know it sounds weird, but I just never really pushed tonight and tried to keep it smooth."
Martin battled his way to second. He and Justin Bogle wanted to go with Marvin badly and actually tangled with each other on the first lap, costing them each two spots. By the time they back around Arnaud Tonus and Jimmy Decotis, Marvin had a nice lead, and neither was fast enough to close it back down. Don't count Martin or Bogle out of this championship, though, they're clearly ready to get aggressive and fight for this all the way to the end.


How about everyone's favorite rider, Jimmy Deee? Decotis was strong on this night. He stayed on Tonus' fender all the way, and on the last lap pounced with an aggressive pass to steal an impressive fourth. Tonus was pushed back to seventh, with Martin Davalos sixth on his Rockstar Energy Husqvarna.