AT&T Stadium
Arlington

,

TX
Arlington (Dallas)
Monster Energy AMA Supercross Championship
In so many ways, this sport has become much more balanced from west to east. Back in the 1980s nearly every top factory rider hailed from California, and while supercross could absolutely pack Anaheim Stadium, it couldn't find decent markets eastward. That seems so long ago now, with the rise of talent from the Southeast and all those training facilities that house them. The Southeast even has its own Anaheim-style event in Atlanta, which now gets two dates. Today's Monster Energy AMA Supercross, an FIM World Championship, features just one Californian (Blake Baggett) in the top ten of the 450SX standings.
In one department, though, the balance has tipped the other way. A generation ago, the 125 East and West divisions seemed evenly balanced for sponsorship, attention, and depth. Kawasaki put Ricky Carmichael in the East. Suzuki put Travis Pastrana there. Most of the time, the support for each division was just a coin flip, as each 125 team would hire four riders, with east/west assignments seemingly at random.
Today, the weight has shifted west. The biggest component is the Lucas Oil/Troy Lee Designs team, once a neophyte effort but now a title contender, and still a West only squad. Lately, other teams have followed suit, including the bevy of Yamaha teams like Strikt Slaton, Barn Pros, 51FIFTY Energy Drink, and Rockwell Watches. These are just support teams, but they still carry a status beyond the rider-and-dad combo that defines privateer efforts. Rockstar Energy Racing Husqvarna has a three-rider 250 team, and they put two in the West and one in the East. The lines between privateer and factory are very blurry these days, but it looks like two riders in the West opener at Anaheim (Ryan Breece and Trevor Reis) were absolute, out-and-out privateers. In Saturday's East opener, we estimate it was about eleven.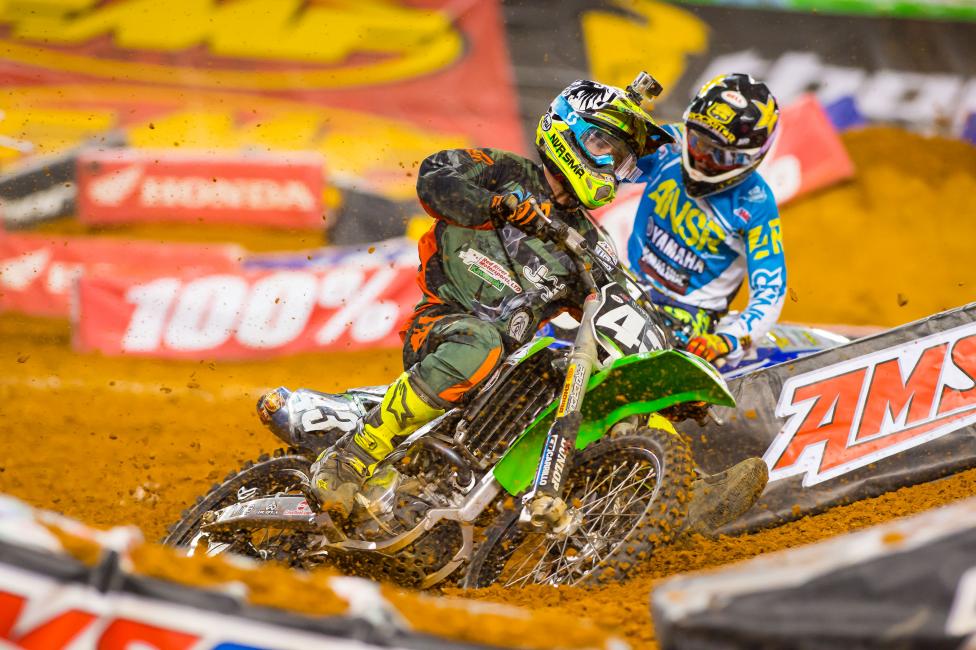 The East, then, is where privateers have their chance to shine, contend for podiums, and maybe earn that elusive factory spot. Matt Lemoine has been at the top of that dark horse list for a few years now, and he got there again in Arlington, battling tooth-and-nail with factory-backed Joey Savatgy, Jeremy Martin, and Anthony Rodriguez. Lemoine scored a podium last year on his JAB Motorsports Kawasaki, and appears ready to do it multiple times this year.
When a privateer mixes it up with the factories, the rallying cry is usually, "Give this dude a ride!" We even heard that yesterday. But Lemoine has a different outlook than most. He doesn't think of this as some sort of sporting injustice. He's not only happy where he is; he in many ways prefers it.
"You can't think that way; you have to be positive," he told us yesterday. "I know what a Pro Circuit bike has; I know it's a better bike than mine because they have unlimited resources. But I like the team I'm on, and my bike is competitive. It's like a family—my dad is the team manager! So to run up there and get a podium with them, it just makes it so much sweeter."
For the last few years, Lemoine has just missed that next rung on the ladder. He always begins the year fast and prepared, but can never quite deliver on his speed and promise consistently. Last year he finally collected a podium, and looked to have another on order until a late crash. "There were a lot of things going on behind the scenes last year that people wouldn't know about," he says. "It made it tough last year. This year I'm feeling good and I expect myself to get podiums. I'm putting pressure on myself to get good results, just because I know what I'm capable of. I'm not under pressure to get results, so I can get a better ride—I'm putting pressure on myself because I just want to do the best I can."
In fact, Lemoine is quite content. With his current setup, he gets to live in Texas and ride on his own track in the backyard. "My wife and family are here, and I guarantee you my facility is ten times better than the public tracks in California," he says.
Lemoine knows how the game is played, though. He spent a few years in California as a member of the Star Racing Yamaha squad. "Yeah, the California motocross dream," he says. "But I couldn't afford to live out there! California has two advantages. First, the industry sees you riding all the time. I'm out doing my thing in Texas, and besides an Instagram clip, no one sees me. There, the teams are at the tracks and they see these other guys doing lap after lap; they know those guys are doing the work. I think these days getting a ride is as much about having the right connections, or even luck, than it is just results. A guy out in California is in front of the industry every day, and that really matters. Also, when you live in California, you always have fast guys to ride with. Even if you're not doing motos with them, just being at the track with them, watching them, marking your speed, it helps."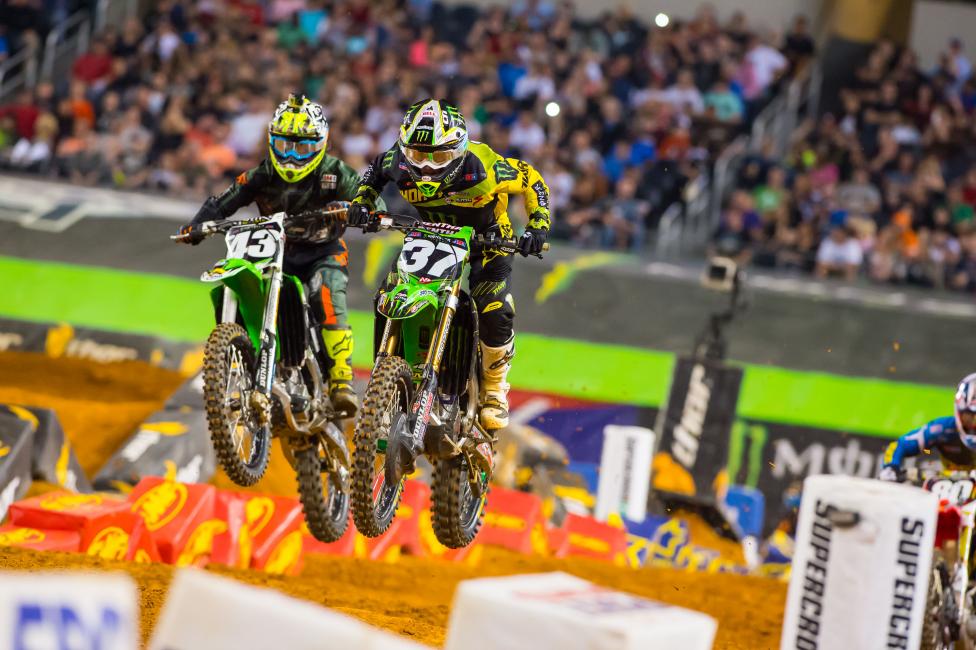 Lemoine has been there and done that, though. He prefers to stay in Texas, where he keeps his own home and track. "The way I look at it, being a dirt bike rider of any kind is better than working a regular 9–5 job," he says. "I'm not doing this to be rich and famous; I'm doing this because I love riding dirt bikes. And really, when you're out there battling, you're just thinking of how to get past a guy. You're not thinking, 'Oh, if I pass him I'll get on the podium and maybe get a ride, or if I pass two more guys I can get into the lead!' You're just trying to do the best you can on every lap. Actually, I don't even think about the main event until we're there. I just take each lap of practice as it comes, then the heat race. If you start getting ahead of yourself and thinking of the wrong things, that's when you get into trouble."
Lemoine had plenty of reasons to think about practice in Arlington, after casing the big triple so hard that he blew his feet off the pegs and his hand off the bars. He knew he'd done damage to his ankles, so he left his boots on from that practice all the way through the end of the main event!
"I knew as soon as I took the boots off my ankles would swell right up, so I just stayed in the same gear for hours," he said. "Then when it's time to go racing you just focus on what you have to do."
A lot of riders in Lemoine's position get angry about their lot in life. He's fast enough to battle the factories, but the factory phone call doesn't come. But Matt's not looking for sympathy, headlines, or attention. He's just keeping his head down and race as hard as he can.
"I love what I do and I love the people I'm doing it for," he says. "There's no reason to be mad about anything."