Barcia Out for Dallas, Peick May Return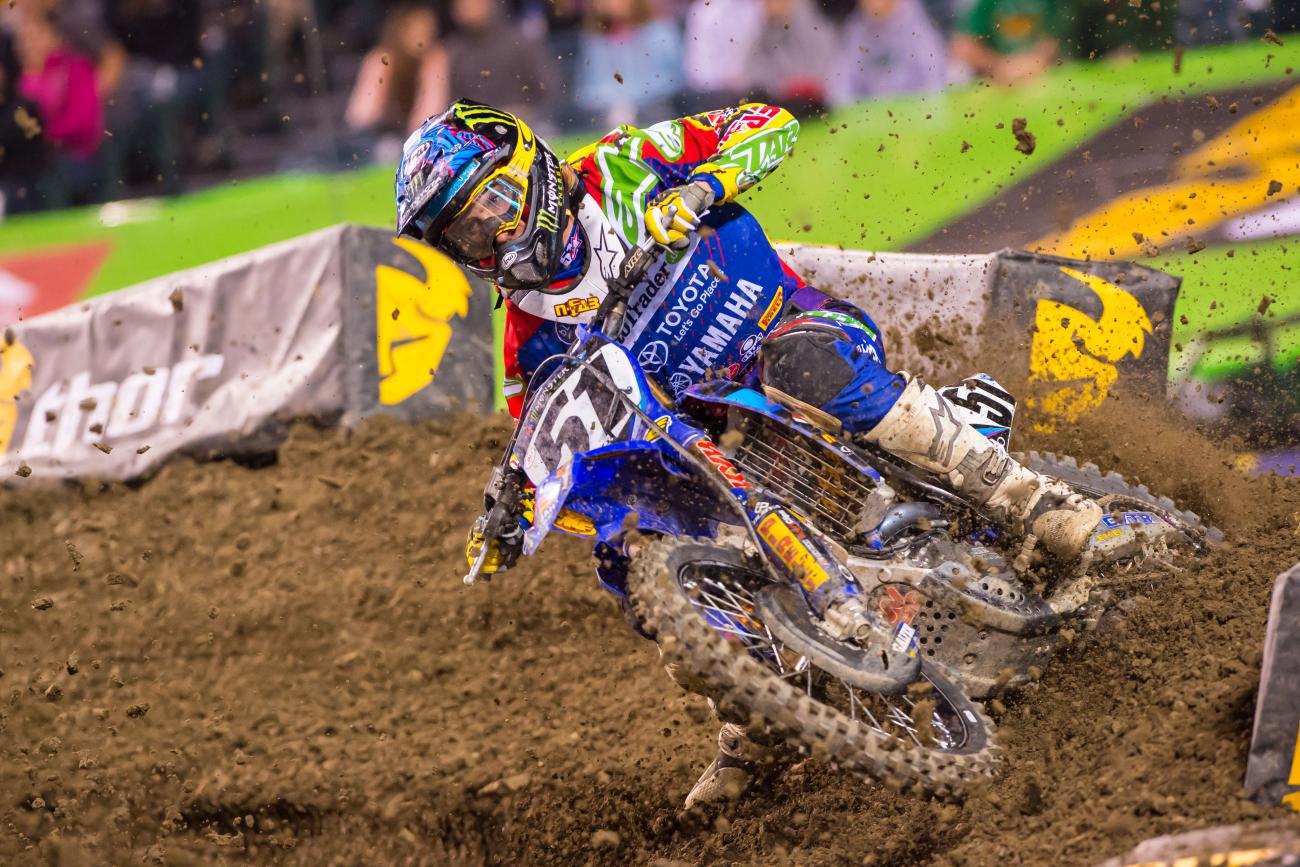 After a big crash last Thursday took him out of the San Diego Supercross, it looks like Justin Barcia's week-to-week status just got extended at least two more weeks. Additional tests have indicated he has a small crack in his pelvic bone. We talked to AutoTrader.com/Toyota/JGR Yamaha team manager Jeremy Albrecht today and he said the injury doesn't require surgery or a doctor's clearance, so Barcia's return will simply come down to when he can ride without major pain. This a painful injury, though, so an exact timetable is hard to predict.
On the good news front, Weston Peick rode yesterday and his foot didn't hurt that badly, but now he has to see where his speed and fitness are after a few weeks off. We should know later in the week if he's racing in Dallas. JGR's official press release is below:
HUNTERSVILLE, N.C. – Last Thursday AutoTrader.com/Toyota/Yamaha Team rider Justin Barcia was injured while practicing in California. He flew home to Georgia to seek the counsel of a specialist regarding a suspected injury to his hip. It was determined that there is a crack in his pelvic bone. The injury does not require surgery but Barcia will not be able to ride for at least two weeks, possibly longer. His status will be updated as his recovery progresses.
Weston Peick, who was injured at the Phoenix round of the series is attempting to return to racing this Saturday, February 14 at AT&T Stadium in Dallas, Texas. Peick started riding yesterday for the first time since his injury and if he feels strong enough he will race. If he does not make the Dallas race he will be on the gate for the Atlanta round on February 21. Phillip Nicoletti will substitute for the injured Barcia.