Jessy Nelson, Lucas Oil/Troy Lee Designs KTM, Second in 250SX
Racer X: Obviously the last couple rounds you weren't where you would like to be. Unfortunate crash in A2; you could have taken the win there. Today you had a misfortunate spot in the first gate drop. Can you walk me what happened?
Jessy Nelson: I had a good start, but [Matt] Biceglia was a little ahead of me and we kind of bottle necked into the first two turns, then the third and the fourth. The first lap pretty much was just carnage. The best place to be is ahead of all that, so wasn't so good at first and then started making my way up through the pack and all of the sudden I saw a red flag. First thing I was thinking was, "Oh man, who got hurt." Checked around, nobody was hurt, so I was like, "Man, I wonder what happened; must have been a gate malfunction." I went over there and somebody's gate broke. I was very fortunate to have the red flag because I think I was buried somewhere around tenth, and then on the restart I managed to grab the holeshot and rode my own race up front. Had some pressure from Cooper [Webb] and I kind of just folded a little bit. I was riding good—I was riding well actually—and just got a little tight made some mistakes. He got around me and I rode behind him for a while; then I kind of just settled in from there. I kind of figured no sense in pushing any more—he's riding good. Just take a second and hopefully some good points.
You and Cooper were exchanging positions back and forth in the sand section. Did you know he was right there; were you trying to play it safe?
I guess I was trying to play it a little safe. Cooper is not known for being the cleanest guy, but he's not super dirty. He'll definitely put it in somewhere where he needs to. I felt like that was the time. I mean, I felt like it was a great race, we both kept it clean. We played a little cat and mouse for a couple turns. I had fun, I really did. There were some sketchy parts of the race, but I felt like I rode pretty well. Conservative. I got more in the tank, and I think you'll see more of it for sure.
Now you're second in the points. You think you can get that red plate back?
We're pretty far back, but I think just definitely chip away at the points. Need to win. Need to beat Cooper. Anything can happen. I mean, look at me when I was winning and leading in points. I felt like I had it pretty much locked up. It was only the six or seventh lap but I was feeling really good. You're feeling so confident on the bike; then something can just take you down so quick you don't even realize what happened. Anything can happen. [Tyler] Bowers had a bad weekend this weekend; I had a bad one last weekend. We got three more races—we'll see what happens.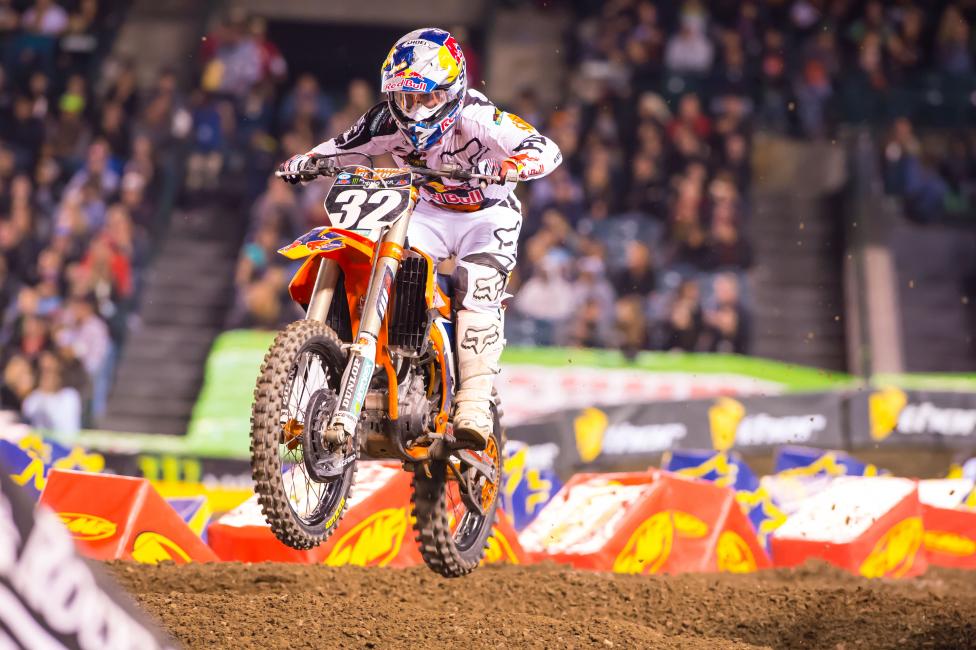 Justin Hill, Red Bull KTM, Eighth in 250SX
Racer X: Last time I saw you, you were sick. Are you back to 100 percent?
Justin Hill: I'm finally now, at this point, am starting to feel better. It was a viral thing that went on for a long time, and then I finally got antibiotics when it developed into bronchitis. I feel pretty much normal, other than obviously antibiotics sometimes have effects on you. I feel a bit weak from it, but that's about it. Definitely better than before; I just feel a little weak—that's really it. Just a little bit of a side effect. That's about it from that.
I feel you get stuck in situations where you're in the wrong place at the wrong time.
To be honest, I feel like for some reason I get thrown into bad situations. I don't know what it is about me. I'm just prone to it. I see people out there—perfect example is Webb and Bowers. They're slamming each other every round and putting themselves in that position. I'm just trying to ride my regular races and I still get thrown in that stuff. Tonight honestly was just some bad luck. When we came together… I say bad luck because I didn't do it. That's bad luck to me. If I didn't cause it, to me that's what that is. When you come over and the start's always hectic, but normally you have a common little bit of courtesy in the first two corners not to jump into people. That's just some people's style; they get erratic in the first two corners and try to make things happen. That's what happened with me and Malcolm [Stewart] tonight. Malcolm just jumped right into me. And that's racing, I understand. I've personally never put myself in the position to jump into anybody else like that, but I'm just very cautious when it comes to that. I don't want to put myself in that position either. But as far as luck goes, that's what I call that. It's a little bit of bad luck just because I didn't do it.
If you take everyone else away, you had a great ride. Hopefully next weekend you won't get stuck in any silly…
Yeah, hopefully nothing silly. Silly is just the word and a half for that. I feel like now I'm in a better position than I was just because I'm starting to get healthy now. Obviously now if I can start training for real—I know I said it before. I was like, "I'm starting to feel better, now I can train." It didn't really work because I got sick again and made it worse. But now I really feel like we found the problem and I can start training. That will help me immensely. That'll give me a lot more confidence on the weekend. Hopefully I can do that. The bike was working so good today. I felt really good. The pieces of the puzzle just didn't come together.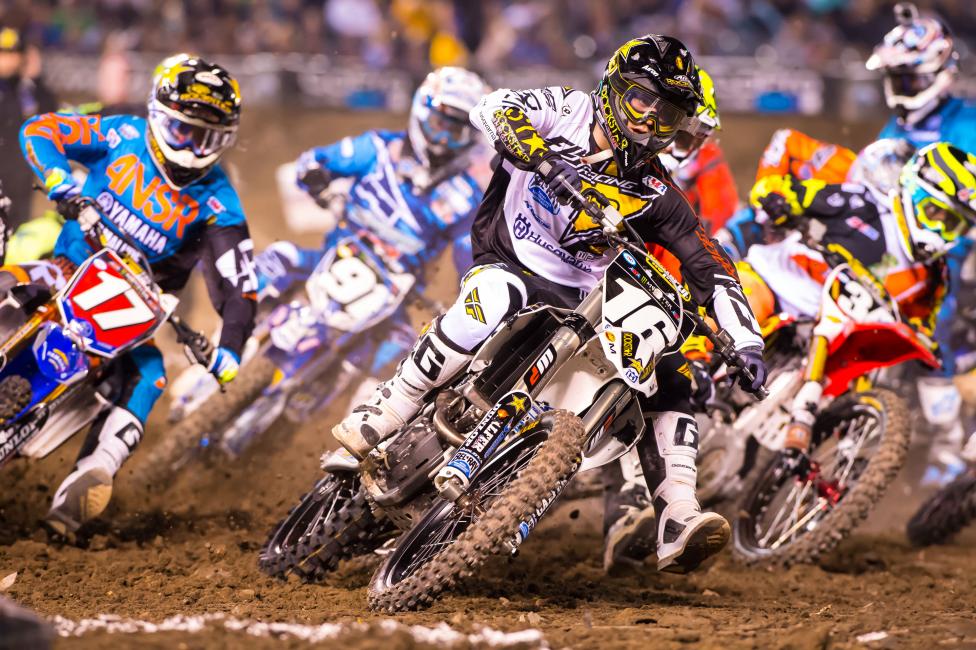 Zach Osborne, Rockstar Energy Racing Husqvarna, Fourth in 250SX
Racer X: Obviously we all know what happened. Your gate malfunctioned. Can you take us through that?
Zach Osborne: Yeah, I don't know what happened. It just never flinched. It just stayed up the whole time. I went a few laps kind of in awe that they weren't stopping it, and I was like, "Man, they're not going to stop it, so I better pin it now." Then I worked up to like fifteenth and then they finally did red flag it. I got a second chance, so on the second start I made a really good start, got up to I think third and rode there for a little while, and then ended up fourth.
I noticed you got lost in that sand section a little bit.
Yeah, I've been riding like fifteen minutes a week. Just go on a Thursday and do a couple laps to feel the bike and then that's it. With my thumb it's been tough. It's hard to keep my fitness up. I'm training as much as I can, but it's still nothing like racing and riding during the week. It's tough but I think I'm third in the points now, a couple out of second. We'll just keep plugging away.
What was going through your mind as you were riding those first five laps? Were you concerned they weren't going to notice it?
Actually, after we crossed the finish line on the first lap I was just in disbelief that they hadn't done anything about it. I was really frustrated obviously, because it was out of my control and really not fair to me. I was bummed that they weren't going to do it and then finally they did.
That second start was awesome for you.
Yeah, I felt like I was given a second chance and I needed to make it happen, so I did.