Angel Stadium
Anaheim

,

CA
Anaheim 3 (A3)
Monster Energy AMA Supercross Championship
In 2012, Tommy Hahn was at the pinnacle of the sport. He had a fill-in ride with American Honda, and was coming off a moto podium at Southwick. A few months later, injuries, mostly a broken back soon after Southwick, forced Hahn into early retirement. He raced a few nationals the following year, but nothing serious. He was done with racing, or so he thought. It all changed last year when his younger brother Wil had a big crash in St. Louis. Tommy wasn't there, and he knew he should have been. It's what brought him back to racing. Soon after Wil's crash in March, Tommy began training for a full-time return in 2015. He signed a deal with MotoSport.com/GPI Honda (formerly Crossland Racing) to return to the 250SX Class in Monster Energy AMA Supercross, an FIM World Championship. It's been a long road back for Hahn, but one he's glad he made.
Racer X: Before we get into this year, why did you decided to step away when you did, and what ultimately brought you back?
Tommy Hahn: All of 2012 was tough. In August of 2011, I hurt my shoulder. And then at Unadilla that year, I over-jumped and pulled it right out. I had to get that fixed and didn't finish the year. I did my own thing the next year for Anaheim and Phoenix and ended up breaking my leg in Phoenix. Up until this past January, that was the last time I raced supercross. That was the same year [Trey] Canard had his crash at L.A. I filled in for Canard [at American Honda] that summer and was riding really good, and then just dumb things started happening. I was leading Thunder Valley and got passed, and the guy in front of me kicked up a rock and it broke my hand. I was down six weeks from that. I came back, got on the podium at Southwick, and before Unadilla I made a mistake practicing and face planted and ended up breaking my back. I broke my T-3 and T-5 [vertebrae], a compression fracture, and a couple pieces broken on the vertebrae. On top of that, I popped my shoulder out that I recently got fixed. At that time, I was already battling issues of my own off the bike, and things weren't good. I was burnt out and felt like I needed a break. I didn't ride from August of 2012 until March of 2013. I felt really frail and weak from my back and I didn't have any motivation to ride. I remember watching Anaheim 1 and not caring that I wasn't there. I did two outdoors—Southwick and RedBud—the following year. After RedBud, I didn't ride a bike until October. I was training kids at the time to keep income coming in and just had fun. I wanted to see life from the other side.
In the summer of 2013, I needed a goal. Either I was going to go back to school or come back to racing. I really wanted to ride EnduroCross. I tried to put something together for that, but didn't have any luck. I started riding in March of 2014, trying to get the feel back and have a direction. So I started to get serious and then my brother gets hurt in St. Louis. I was watching on TV, and the camera was on him when he crashed. I saw the whole thing. When he came off the lip, I knew he was going to crash; I just didn't know it would be that bad. I felt so hopeless and guilty for not being there. I started beating myself up, like, "What am I doing? Why am I not there?" He had my mom and dad there, but I didn't know what was going on. They went straight to commercial and I couldn't get ahold of anyone… and it sucked. That killed me, so I said I was going to start racing again. That was March of 2014, and I started going full steam. I raced few outdoors in 2014, and then started training for this year. Getting used to the 250 was tough. I'm still trying to get rid of bad habits the 450 creates, but it's going well and starting to come around.
How hard was it to know you had to step away, not because you weren't fast enough, but because injuries and other factors had forced you to?
That crash just took it out of me. I didn't have any fight left. I had been fighting to get back to where I needed to be, or close to it, and something would happen. It just happened so often through those years that I didn't want to do it anymore. I thought in my head—if it comes back [motivation to ride] before I'm too old, then yeah, let's give it another shot. I still plan on going back to school once I'm done with this part of racing. I'll go right into it though. I learned that once you take the downtime, it's hard to pick yourself back up. Training kids was easy. Going to the track, running the stopwatch till one or two in the afternoon, it was easy. Going straight into something and planning for it is going to be the key—now I get to do it all over. I have a great opportunity to ride the 250 class again. It's basically like being a rookie. So, why not?
How much easier was your decision to come back knowing that you had a good deal and team waiting for you?
It was really easy. Without Marque and Jon Peer right now, I'd be lost. It would be a lot harder to be doing what I'm doing. I met them when I was doing my own deal at Anaheim in 2012. They had helped out a little. They are from Kansas. I'm from Kansas, so the connection was there. I got to know them real well during this time off. I basically just asked: "What would you think if I said I wanted to go racing full-time again?" There was no hesitation. They were like, "Yeah, whatever you need." Without those guys I'd be a pretty lost dog right now, or I'd be in school.
And how did that come around to the MotoSport.com/GPI team? How did that connect?
My brother and I put on a race every September in Kansas, and Andy Judkins, who is part of the Crossland side of the team, he came up to us saying that he would like to put something together for this year. Basically he wanted to merge the two and make it one big team. Honda came aboard and everything, so the deal was there.
Go back to earlier and how Wil's injury last year brought you back to racing. Unfortunately, Wil was injured again in Anaheim. How tough was it to see that and go line up and race that night?
That's one of the other things: Yeah, it all happened again and I'm there, where I wanted to be if something like that happened. The kid worked so hard from the moment he got clearance from his crash in St. Louis last year all the way up until the midst of not having a deal and trying to get a deal done at the same time. I think a week before his crash GEICO had told him they wouldn't be able to bring him back for this year [2015]. So he was left looking for something in the midst of one of the worst injuries he's ever had. I can't believe the strength and determination he has mentally to come back and go through something like that. And he does a lot of the stuff himself. He worked so hard to get back and got the ride of a lifetime, and then something like that happened. It took it out of me. I'm sitting there going, "I don't want to race right now. My day is done." And it was. I didn't have any fire that night. I fell twice in the main and got fourteenth or something like that. My head just wasn't in it. All I could think about was getting it over and getting to the hospital. That's all I thought about.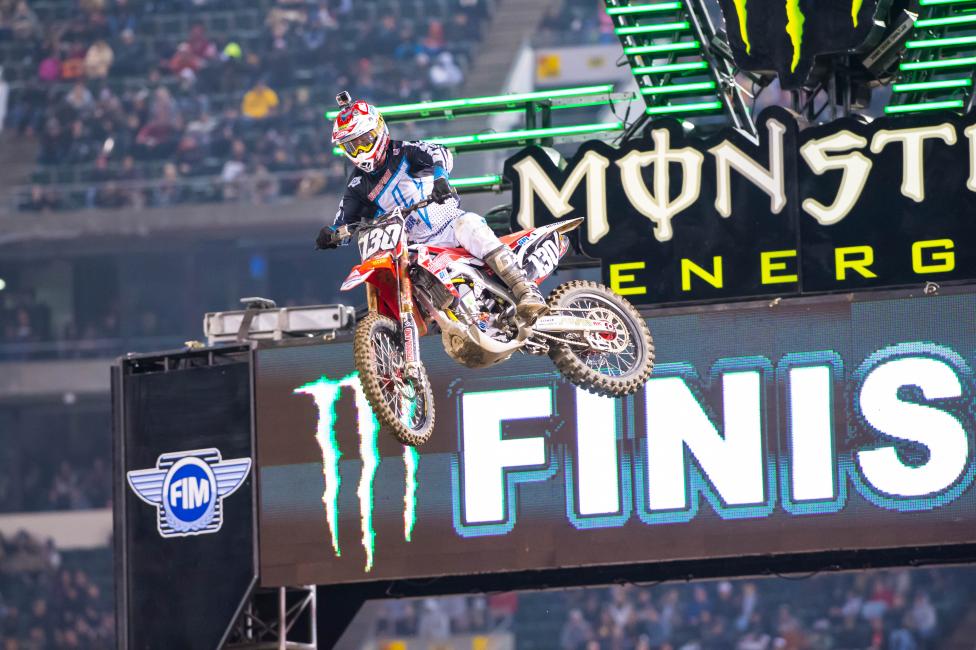 I think that's something we're all guilty of: forgetting that riders do have other things going on in their lives. You're not robots. How do you mentally get ready just to do practice, and then eventually race?
You're basically relying on your off-season training at that point. You basically have to block it out. Wil would have wanted me to go out there and kick some people's asses. If I was in the hospital or something like that, I would want him to win. When I was younger, it would have been a lot easier to block it out. Now that I'm older I see that stuff. I know what it takes to be at that level as well. If it would've happened to someone else, it wouldn't have affected me as much as it did, but I still would have been gutted for the guy. Like when Trey Canard has his string of injuries, I was gutted for him. And I knew where he [Wil] crashed. The practice before he crashed, I flirted with that line. After he crashed on it, I never went outside again. I went inside every time. It was in my head. I know how good of a rider he is. He made a mistake. It's crazy how things like that affect me more now that I'm older. But I couldn't have just stopped, because Wil would have been pissed off at me for that.
This is your first year since 2008 in the 250 class. How has the racing part of it changed?
The speed is definitely faster. The bikes are way faster. I think every one is a little more ruthless. I don't remember it being that cutthroat. The first two laps of any race—heat race, main event—is utter chaos. There are dudes going everywhere—going for your throat. I was fortunate. My rookie year, Ramsey, Tedesco, Hepler, those guys all rode with a lot of respect. They were clean riders for the most part. I know some of them had differences with each other from time to time like anyone does, but it's just ruthless out there right now.
As we've seen with Andrew Short, sometimes that veteran experience can be very beneficial. Do you think you being around as long as you have you're now able to do certain things that a younger rider maybe doesn't think about or see?
Yeah, if I ever pull my head out of my ass and ride like I do during the week. I think that I can accomplish a lot more than I have. I haven't been in a situation yet that has really required me to use my knowledge. I've just been trying to build and get faster and faster. As far as racing those kids, I've made a few good passes, but I don't think that's experience; I think it was just me setting them up and making a good pass. But I definitely don't have that edge that a lot of them have, and that's something that I need if I want to win races or get on the podium. That might be a little where my experience is hurting me—I'm maybe using my head a little too much and I kind of need to let it go and ride like I do during the week.
Now that we're four races in, what are you doing differently?
First and foremost is my intensity. That seemed to come up five notches after the first race. Just being around all the rest of the guys and how they ride the 250 and taking from that. I can watch all the video I want, but you're not there, you're not in the mix, and you don't see how they are riding the bike. So that has improved. My starts really haven't been there, either. So if I can get that, and ride the first five or six laps clean, then there is no reason I shouldn't be top five.
This year, with MotoSport.com being onboard, you have the unique opportunity of having a video series documenting your season. Watching those, it seems like you and Freddie Noren and Colt Nichols and Guy Cooper are having a great time. Has that lightened it up a little as far as getting back into it and enjoying racing again?
Yeah, and that was the goal when I started—to just enjoy racing and make a valiant effort to do your work and whatever happens, happens and not stress out on it. Before, I always felt like I had to be where I needed to be, and if that didn't happen I would freak out. I'm not doing that anymore. I refuse to do it. I'm having fun racing my dirt bike, and I'm not going to be able to do it for much longer. The video series is great. It really gets away from the race day aspect and shows people how we are everyday, which I think is great because a lot of riders have great personalities and no one ever sees it because everything is so strict and serious at the races. Also, social media gives you a little bit of that. I'm an idiot. I'm a complete dumbass. That's just the way I am. I try to be funny and most times I'm not. The video series definitely allows us to be ourselves and I think a lot of teams should do it. That's what people seem to want nowadays.
Thanks, Tommy. Who would you like to thank for helping you out?
I want to thank MotoSport/GPI/Honda, my mom, dad and brother, and Marque and Jon Peer from Peer Brothers Racing, they saved my life and pulled me out of a really big rut I was stuck in for a while. Also, JT Racing, Bell Helmets, X-Brand Goggles, Gaerne Boots, Dubya, Dunlop, ODI Grips, Twin Air, Sunstar, Excel. There are a lot of people that have been great in this whole process.