O.co Coliseum
Oakland

,

CA
Oakland
Monster Energy AMA Supercross Championship
"Payback's a bitch, Bowers." Okay, those weren't Cooper Webb's exact words in his TV interview after the 250SX main in Oakland—he literally said "B-word" instead of bitch—but if he was allowed to cuss he would have. He was of course referring to the big hit from Tyler Bowers that left him on the ground and feeling "pissed off."
It was the second time in as many races that the two had exchanged blows, and with Bowers getting the short end of the block pass last week at A2, the quick and easy conclusion is that he was evening the score in Oakland. But Bowers maintains that the move was unintentional, and wasn't happy with Webb's post-race comments. "I get to see him this week, so we'll see if he makes it to the race next weekend," joked (we think) Bowers afterward, hinting that he may have a little payback of his own to dish out. He also admitted afterward that it was "embarrassing" to get caught and passed by Webb after he'd crashed.
Clearly, these racers, who are coincidentally first and second in the points, have some on-track issues to work out, which could be a complicated process given their off-track relationship. Not only are they friends (or at least they were before Oakland), they train together and even have the same trainer, Gareth Swanepoel, who confirmed that embers are still glowing between the two.
"It's obviously not very good right now; it's a little heated between the both of them," Swanepoel said on Monday. "They normally have two days that they train together. We haven't had to cross that bridge quite yet, but it's inevitable. It's going to happen sometime this week. We're just going to have to calm them down and keep working like they've been working. They're both one and two in the championship right now, so they just need to keep focusing on what their goals are.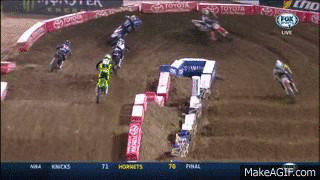 "I think that it wasn't something that was totally intentional from Bowers," continued Swanpoel, a former pro who won a 250 national moto at Southwick a few years back. "I don't think he meant to do it quite the way it happened. Obviously Cooper didn't love it, and when he came off the bike he didn't realize what had happened—all he knew was that he'd been taken down. Things were heated after the race, obviously. But it's happened, and they both just need to keep focusing on what they both need to do."
With real sparks flying between them as they doggedly pursue the same prize, focusing only on racing could prove difficult, especially in a race situation when heart rates are high and adrenaline is pumping by the bucket load. Webb showed that it was possible, though, when he opted to pass Bowers cleanly in the closing stages of the main last Saturday night.
"I'm hoping that it's done, but I have a feeling that it could continue. I'm really hoping that it doesn't," Swanepoel says. "We'll see. They're not the only two guys on the track, and I hope that they're able to race to their full potential. At the end of the day they both work really hard, and they both want to win, which is clear. They were buddies before all this and I'm hoping they'll be buddies again in the near future. But if not, that's just something that they'll have to deal with. We're just going to have to figure it all out."
Friendship or no, Bowers and Webb should hope that the situation doesn't continue to escalate. As entertaining as it would be to see the two of them go at it for the next several weeks, knocking each other down and allowing Jessy Nelson to get back in the points race is the last thing they need. Will they get into each other again at A3 or will cooler heads prevail? As soon as Anaheim 3 begins, they'll be watching each other, and we'll be watching them.