Oakland, CA
Oakland
Monster Energy AMA Supercross Championship
By Holly Wingler and Aaron Hansel
Cooper Webb, Yamalube/Star Racing Yamaha, Second in 250SX
You were hauling the mail in that main. You came up from double digits after you and [Tyler] Bowers played again in that berm before the whoops. How do you feel about that?
It was a good race. I got off to a decent start and then was making my way. I think I was trying to pass into third and Bowers just came and completely cleaned me out. I thought it was a pretty dang dirty move. I wasn't too pumped on that. I was pretty pissed off. Just got up and tried to do the best I could. Just charged through the pack and ended up passing him with a couple laps to go and then passed Alex Martin for second. Wasn't too far from the win, but I felt like I definitely had the speed tonight, just got cleaned out, which wasn't too cool.
So how do you feel about your ride? You're an aggressive rider—we all know that—but this whole season you're on fire, like a different level of aggressive. Everyone's talking about it.
I think I'm just focused and really hungry to win this year. I think that's kind of showing in my riding. I'm just trying to do my thing. I think I've developed as a rider and as a person. I think that's really what's helped me out, and like I said, just staying focused and really making this my priority. It's cool that the hard work is paying off for sure. – Holly Wingler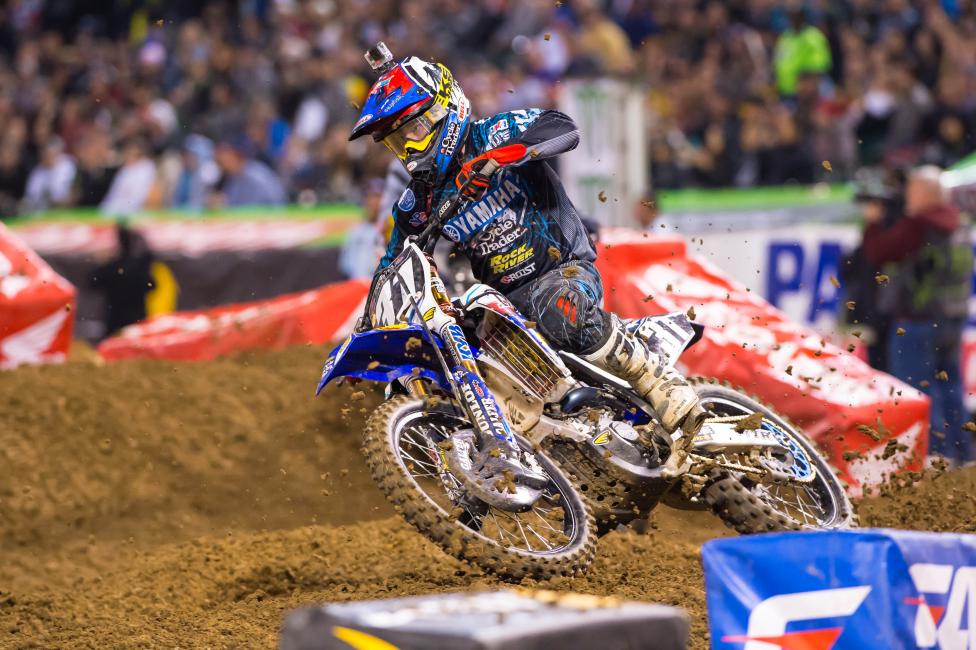 Alex Martin, CycleTrader.com/Rock River Yamaha, Third in 250SX
Your first career podium ever. How does it feel?
It feels amazing. I've been working hard for many, many years, grinding away and sometimes kind of questioning why I do this whole thing. To get up on the podium on the West Coast supercross series, it's an awesome feeling. It felt like a dream. When I crossed the finish line I had to look. Like, what place am I in? I was so focused during the race I didn't look at what lap I was on, what position I was in… I knew what position I was in, but I just tried to not get lazy at all in the middle of the race, especially because I knew it'd come to bite me with Cooper [Webb] and [Tyler] Bowers trying to chase me down.
So you felt it was a good ride? Even though you didn't know what place you were in, you knew you were riding well.
For sure. I was just so focused on trying to put good laps in and hit my marks in every section. So glad it paid off.
You rode pretty consistently the whole race. You looked like you belonged out front. Are we going to see you out front more?
Absolutely. That's the plan. Every race I go into I expect to be out front. Obviously it doesn't always go to plan, but that's the attitude I come into every race with. Now to actually do it, just confidence is going to be huge for the rest of the year. It's awesome to get a podium this early in the year for sure. – Wingler
Tyler Bowers, Monster Energy/Pro Circuit Kawasaki, Fourth in 250SX
I felt lost on the track, man. There were no lines or anything that were mine. Every lap I felt like I was trying something new and different. I had nothing that I was consistent on; it was a bit of a struggle tonight. I got off to a rough start, but I was right there with the guys that I'm battling in the points with, so it was no big deal. Me and Cooper [Webb] went down—well, Cooper went down and I tried to recover from there and I just wasn't riding good. I was all over the track and didn't know where my lines were. This was a bad night for me. I was hoping to finish at least on the podium, but a fourth is all right. I still lost valuable points to Coop. I'm looking to go into next week and make those up.
You and Cooper like to play a little bit.
Not really. It's not like I meant to kill the kid. He was coming for a pass in the turn and I was inside of him. He came to a stop and I couldn't stop. I saw his interview though, so he's going to be lucky if he makes it to the next race—put it that way. I didn't mean to hit him.
Do you think it was clean, unintentional?
It was definitely unintentional. I didn't mean to come out an idiot, but he's going to talk sh— on the podium, so we'll go from there.
He was saying it was pretty dirty.
Clearly it seemed dirty, but he was setting the guy up and he stopped and I couldn't stop, so that's how it went down.
Did you know he was coming at the end of the race?
Definitely. I could see him coming, it was on my pit board, and I was spotting him. Like I said, he was riding good tonight and I was not. It was kind of embarrassing for him to go down and then catch me and pass me like that, but we'll take it, do some homework, go into next week recharged, and start pulling off some wins.
Everyone knows you as an aggressive rider. In arenacross you have to be aggressive. You have to get out front or else you're done. Did the black flag incident last week kind of alter your riding style, or are you still going to charge fully ahead?
I don't think the AMA knows what they're doing. You just can't concentrate on that. For what they black-flagged [Chad] Reed for, technically I should have been black-flagged for at the beginning of the series, so it's like, what are they going to do? You can't really count on them to do anything that they say they're going to do. You can't change anything; you've just got to hope it doesn't happen to you. You just ride like you know how to ride and go from there.
So we'll see you coming out hot again next week?
Yeah, definitely. Going this weekend, I definitely got a little bit more motivation now. I got a little bit tired in the main. I've been telling my trainer I've been tired during the week. He said there was no way I was tired and in the main event that's what happened. I was riding good and just got downright tired. Podium should have been mine but I gave it away. So we're going to go back, rest up a little bit this week, and go into next week harder. – Holly Wingler and Aaron Hansel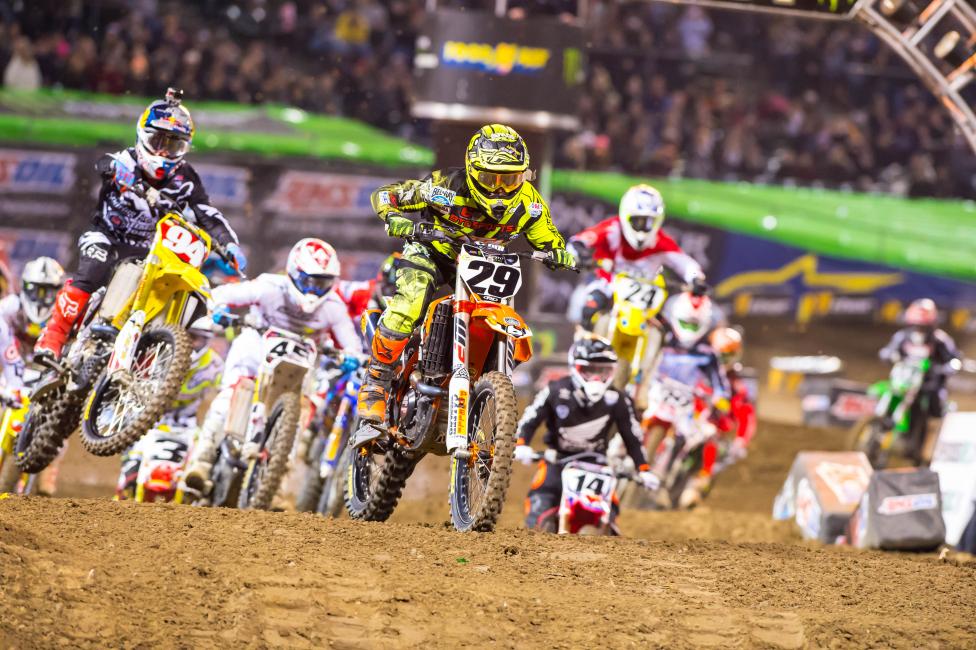 Andrew Short, BTOSports.com KTM, Eighth in 450SX
Great start!
Yeah, good start. All my starts have been pretty good this year. I finally got across the white line first, too. Last week [Jimmy] Albertson nipped me at the line, and at Anaheim 1 someone else did. It was really cool to get that. I had a rough week last weekend, hitting the ground, so I was happy to get a good start. I finished ninth. [Ed. Note: Blake Baggett's penalty improved Short's finish to eighth.] It was a terrible ride. My first few laps were really good, but I tightened up and got arm pump. Mentally I was kind of not in the right spot, but I got through it. It's something to build on, and I feel like if I screw my head on right I'll have some fun and get in the mix up front.
Some carnage happening in that race. Any of that enter your mind?
Nah, it wasn't that. When you have arm pump—anyone that's ridden knows that feeling—it can get sketchy, especially on a supercross track that's gnarly. But that's part of the fun too. I have a big challenge in front of me. I had a good start, and I had a lot of good things happen to me. I got really lucky that I was able to race this weekend after hitting the ground so hard last weekend. I'm looking forward to a good week of practice and being a little more prepared for the next one. – Hansel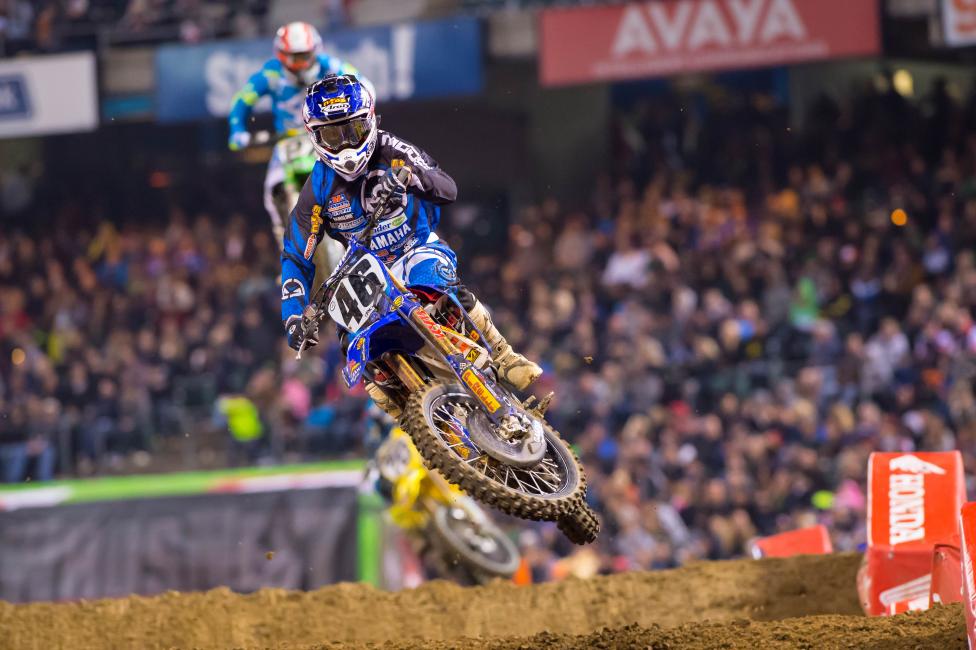 Phil Nicoletti, AutoTrader.com/Toyota/JGR Yamaha, Fourteenth in 450SX
Kind of a long day—it was my A1. Jumping in the shoes of Weston [Peick], it's tough trying to get into the flow. Practicing is nothing like racing. I need to get better qualifying times, which gets better heat race gate picks, and hopefully everything just snowballs into place from there. Going to the LCQ was a bit nerve-wracking—nobody likes to do that—but it could have been worse. I could have been watching from the stands! I got through that with a good start. Our bikes are awesome; they're capable of good starts. But in the main I was stuck way outside, which was kind of hard. Then I cross-jumped on the on-off after the start corner by one of the Rockstar guys. Kind of a bummer, but obviously it's mayhem in the first three corners anyway. I enjoyed being back in the atmosphere—seeing all the faces, being under the lights, and in front of the crowd. It's good.
Any first race jitters?
Yeah. The practice-track feel and the racetrack feel are different and you have to try to get them to gel together. We'll make some changes this week and get the ball rolling for the next few weeks and figure some stuff out. This is my A1. These guys have had three races to get settings, times, feel—they're in the flow. I wasn't, but next week I'll have a better idea, and I'll be getting used to travel again. Learned a lot of things that we'll use next weekend and I'll be better.
Goals coming in?
I would have liked to have been at least twelfth. I think I could have gotten twelfth if I didn't go down on the first lap. Fifteenth is okay. [Ed. Note: Vince Friese's penalty moved Nicoletti up to fourteenth.] It's hard around lap sixteen or seventeen, though, because then you're racing the blue flags. It's hard to ride your own race then. But next weekend will be a lot better. The flow will be a lot better and the mojo will be there. We'll do some testing this week and we should be dialed. – Hansel