O.co Coliseum
Oakland

,

CA
Oakland
Monster Energy AMA Supercross Championship
Let's learn more about the Oakland SX with some insight from a rider who has been inside the battles. Last night, we rang up sidelined BTOSports.com KTM rider Justin Brayton and asked him what he saw.
On the night: That was definitely a crazy one, and I think it all starts with the track. Obviously there were a lot of ruts and things were changing quickly; changing every lap. There are so many guys that are going the same speed, so it comes down to two things: It comes down to starts, and yeah everyone always says that but it makes a huge difference. The other thing is, it really comes down to just how bad you want it. I think that showed with [Trey] Canard and Chad [Reed], with last week being not what they wanted, they were really motivated, they had that extra 2 percent. I believe that's what carries the guys to the podium now, if you want it that extra 2 percent. If you don't have it, you're going to finish sixth or seventh.
On getting bikes sorted early in the season: Each year the tracks are fairly similar, but it is always a little different. But the most important part is the dirt. 95 percent of us test on hard packed west coast dirt. Typically on that kind of dirt, you get a lot of feedback to your hands, so it makes you want to go softer on your suspension. If it's too stiff, you really feel it. Then you get to the softer dirt that they just hauled into Anaheim, and yeah, everyone says Anaheim has hard packed dirt, but it's not near as hard as what we ride on every day. So that dirt is dragging your bike down, and it has a little bit of a cushion for your suspension. We ride on test tracks, some of them could be a year old, or some of them are freshly built, but even after a month, the jumps get worn down, the landings get worn down, it's not as steep as the race tracks. Typically after Anaheim, everyone wants to get stiffer. But most of the time everyone is within range with their bikes, especially if it's not your first rodeo, you hope you can prepare for that and you'll be a little bit stiffer. It does come down to being prepared, but like I said, it's going to come down to how bad you really want it.
On replicating race conditions during the week: I feel like whatever sport you're in, it's so hard to replicate that race day or game day feel. And that's what we're trying to do every week, during the week. Also, there's a danger factor for us. We're on the limit three or four days a week, and then on race day too. So for sure at some point that's going to catch up to you. So you definitely pick your battles, some days we do sprint days and some days we do longer motos. I think that's why you're seeing more guys starting to ride together now. It helps you get that race day feel. Even if it's not exactly that race day feel, at least you have a fast guy behind you trying to catch you. Even when you wake up on a race day, your body feels different because of that anxiety. Your body is in that fight or flight mode. Practice days? You just wake up, get breakfast and do your normal thing.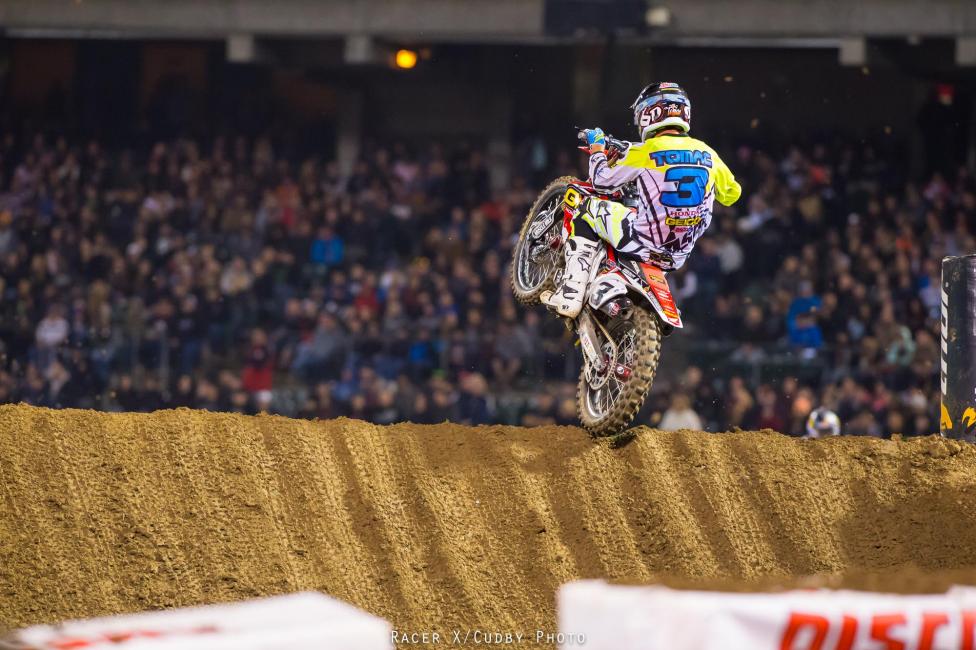 The Oakland track: This track, I think the soil and the ruts made it more difficult. The obstacles weren't anything special. The main line went away fast, even before the main event started. Trey had some really good inside lines, he started going inside real early for the second triple. Things like that, if you can pick up on it, the track starts to come to you and you really start to find your flow. Obviously Trey [Canard] was the best at it tonight, he picked up on some really good lines early. Even if you're struggling with one or two parts of the track, it effects you the whole way around.
450SX Top Five:
1. Trey Canard: I didn't know it had been that long [since 2011] since he had won a supercross. Obviously with him winning some this summer, and Trey always being pretty fast, it just seemed like it hadn't been that long. I'm pumped for Trey, it couldn't happen to a better guy. I went over to Nathan Ramsey's house tonight to watch the race and I picked Trey to win, just for the sheer fact of, lately he's gotten terrible starts. I figured he'd have to be practicing them and it would only be a matter of time. This time he still didn't get a great start, but he was just really good. I knew he had been riding that good, he just needed to put it all together, and I figured he would one of these nights. He willed his way to the front. Like I said, he had that extra two percent of wanting it more, and his lines were great.
2. Ryan Dungey: I thought he came out of the gate really good, but I'm not sure what happened, around lap five a bunch of guys got by him. I thought he was maybe in position to win the race, but he said in his interview that he made a mistake and a few guys got by him. That let Trey get up to Chad [Reed] and eventually pass Chad. But man, Dungey's awesome, he's going to be in it the whole way. I know we say that all the time, but Dungey is really, really good! He has the speed to win every single week, but he just lets it come to him. So here we go, he's the points leader, and it's going to be hard to get it back from him.
I think all of us that got onto this new KTM [like Dungey] were pretty pumped. Not like the old bike was bad, but this one was immediately better. The only drawback when it's such a new bike is you don't have as many baseline settings. If you're not completely comfortable at Anaheim 1, you might have to go back to the drawing board, where on the old bike, you can just go back to different settings and say, "Remember when we did this? That's what I want here." With the new bike, you might now have tried it in all directions. But this new bike is so good, you can see Dungey is already comfortable on it, and it hasn't been a problem.
3. Chad Reed: He was riding really good. Chad is interesting like that. Just when people are starting to count him out, or just when people are starting to say things, it's like he gets motivated. He throws it down! At one point, it looked like he was going to win the race, and I think he had second place on lock. He went off the track twice, I think they only caught it on TV one time. That probably cost him five seconds. But for him to be on the podium, I think he'd probably tell you he's pumped on that and it's a step in the right direction. You never know. He could win next weekend by a straight away. You can never count Chad out.
4. Eli Tomac: They didn't show him much on TV. He's obviously an awesome rider, especially in conditions like that. He didn't get out of the gate that great. It was a solid ride for fourth, and I think he's in it for the long haul. Maybe last year he would have tried to make something happen and tried to win the race. You take a fourth when it's this deep and move on to next week. I think a fourth is really good. Obviously these guys all saw what happened to [Ken] Roczen. For Eli to will his way to the front and pass the guys that were in front of him, it would have taken quite a risk, and maybe he wasn't quite feeling it tonight. There are some nights where he can do that—at Phoenix he got a great start, but I think he could have come through the pack that night and won. Tonight, I don't know if it was the track or what, but he just wasn't feeling it. On these nights, I think he's matured. It's a long series, it's not the 250 Class where you have to get it done every weekend.
5. Cole Seely: That was an awesome ride. He actually must have made a mistake somewhere, too, I believe he was second and I was thinking he could have a podium. I talked to his mechanic, my buddy Rich, last night, and he said Cole had a really good week at the track, and then he did press day in Oakland and was feeling good. So I thought it was going to be a good night for him. I'm not sure, I haven't talked to him, but at one point I think he was second and then he was back to sixth. But anytime you get a top five is good. I think Cole has the speed and the talent to get on the podium and win races. For his rookie year, it's hard to always put it all together, but when you look at the guys he keeps battling with, if he keeps doing that, he's going to put himself in a good position to get a win soon and be on the podium consistently.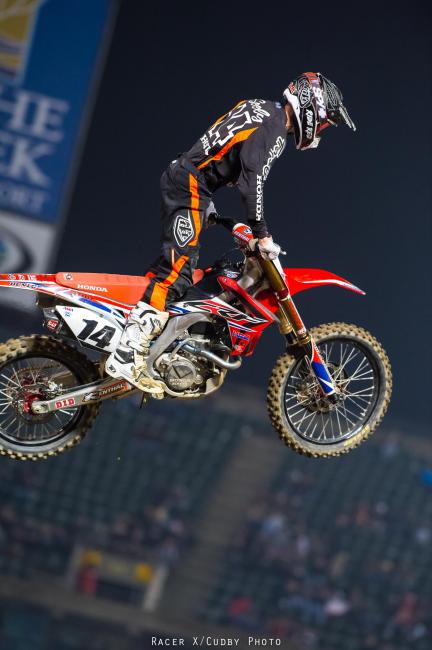 15. Ken Roczen: I don't know what happened—it's so hard to say. I don't know if he thought he was going to make it and then he spun? If he had another two feet he probably would have been okay, and these 450s are so fast, they'll usually just power us over. If you just lost traction for just a second, you can come up short. I think that's what happened. I hope he's okay. Obviously he still rode out the main but when you first saw it, it looked like an arm or a wrist. It was crazy watching it, I was just so bummed for the guy. He's been the guy to beat and he obviously worked really hard to get there. Me and Nate were shocked to see it happen. So I'd think that's what happened—he just spun right before the jump, but it's hard to be sure.
250SX:
The Bowers/Webb hit: I 100 percent don't think [Tyler] Bowers came in there to do what he did. But then again, he did what he did and he needs to take responsibility for it. If you look back, and it's so hard, as a fan I'm watching it and as a racer it's different point of view, but the bottom line is he did it. Even if Cooper [Webb] would have stuffed [Zach] Bell and went high, I don't know why Bowers would have went that far inside, anyway. There was no one behind him that would have come in and stuffed him, and if you're Bowers you want to stay high and carry as much speed as possible to get a good run for the whoops. I don't think he meant for that to happen, but I'm not sure why he went that far inside. For Cooper, I get why he's mad. I think when he looks back at it, and all his emotions calm down, he's going to be like "Okay, it was a little bit of a racing thing, and a little bit not." Bowers needs to take responsibility for going that far inside, even though he didn't mean to hit him like that. I guess they train together and they're going to have to see each other this week, I don't know how that's going to go. It actually looked like Bowers let him by later on. I don't think Bowers is a bad guy. I think he gets a little bit of a reputation from arenacross, he'll definitely run it in on you, but I don't think he meant to run it in there that hard. He hit him hard, man. He hit him really hard. I'm glad Cooper is okay.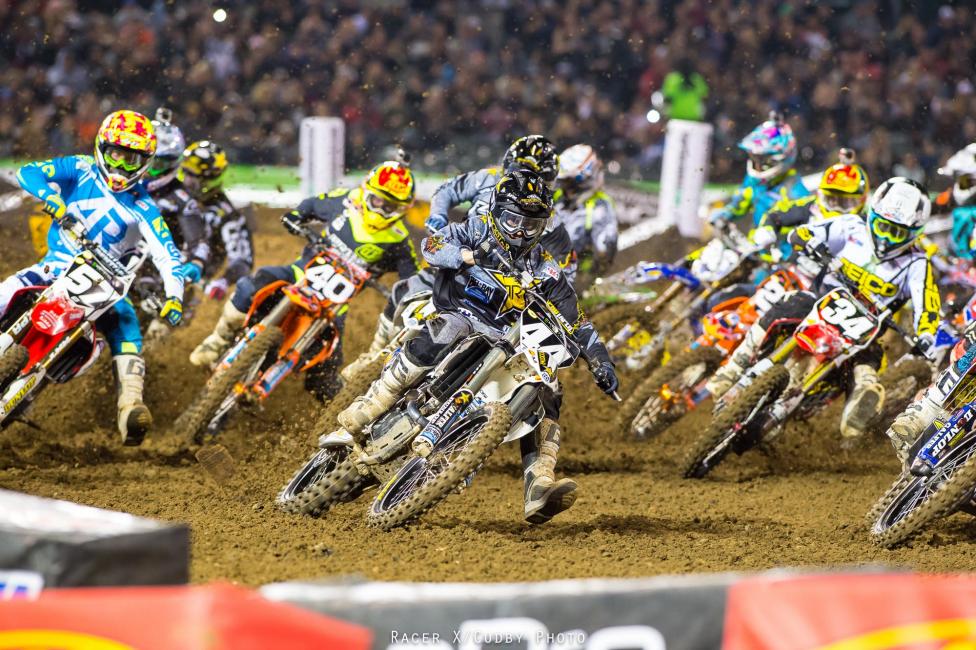 1. Malcolm Stewart: I thought this was really cool, and what he said on the podium was really cool, showing that he and his brother are close. Looking back at it, you hear when Malcolm was younger he didn't even want to ride, and now he's putting in the work and won a supercross. That's pretty cool. It's hard not to like Malcolm, he's a fun spirited guy. I always root for him and it's definitely cool to see him get the win.
2. Cooper Webb: So impressive. If you're not a Cooper Webb fan I don't know who you should be a fan of. His style, his speed, he's so calculated too, he makes it look easy. He keeps coming from a long way back and either winning, or tonight he almost won, and that shows so much heart and determination. I watched him grow up on minibikes down in North Carolina, and to see where he's at, it's so, so cool. I believe Cooper Webb is the next big thing, and I've said that for the last few years. I hope he can get this championship done because he's doing the right things. I like him and his family a lot.
What I like about Cooper is his maturity on the bike. The way he chooses lines and comes through the pack and makes passes, even the way he keeps his form going through the whoops. I don't know if mature is the right word, but he seems like a veteran, it looks like he's done it for so long. It's almost like a Kevin Windham where he doesn't look like he's going so fast and then the lap time is on the top of the board. That's how Cooper is, he doesn't look like he's going crazy fast, but he's the fastest guy. He never looks erratic or sketchy, and that's hard to come by. The way he approaches things and carries himself, like I said, I think he's the next big thing in this sport once he moves into the 450s.
3. Alex Martin: This is so cool. I ride with him all the time down at Club MX. He just works so, so hard! I loved seeing this. He got a good start and he was going fast! At one point he was challenging Malcolm for the lead. There's not much more that I can say but I'm just so pumped—I sent him a text right after the race telling him how pumped I was. Couldn't happen to a better guy, and I can only imagine how happy he feels. All that hard work he put in, it's all worth it when you're standing on that podium.