In case you missed it, two weeks ago we announced the triumphant return of Junk Bikes, the Racer X column which injects some laughs into the dredges of Craigslist's two-wheeled society. This week the online scrap heap is back, featuring ads submitted by you, the reader. And if you didn't catch the last Junk Bikes, you can see it here.
At first glance you're probably wondering why in the world we'd include this bizarre contraption in this column. After all, this is where rusty nuts, flat black paint, and lowered expectations are featured, but this ad doesn't appear to have any of those things. Well, we also like to throw in things that are completely useless, and this curious creation fits in that category nicely. Not that drifting this thing around the parking blocks at midnight at the nearest Liquor Barn wouldn't be fun—it'd be a blast—but if you think anyone's riding this thing without a beer firmly in hand, you're dead wrong. The only problem is that it looks like riding it is a two-handed affair, creating a catch-22 that renders this machine about as unnecessary as Bark Busters on Weston Peick's trail bike.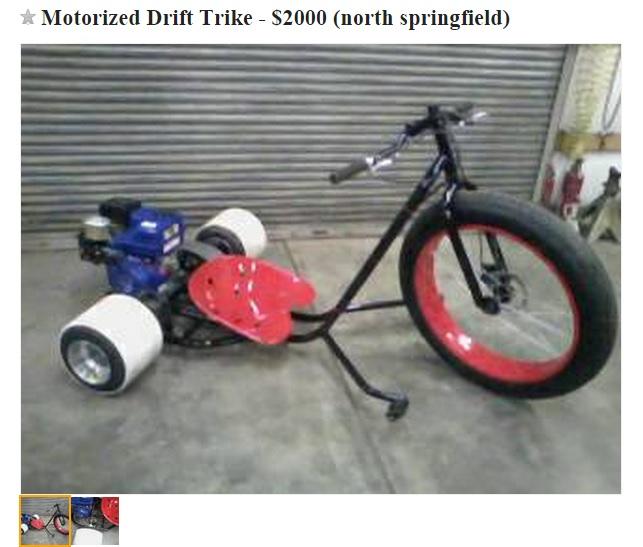 The Bright Side
Have you ever seen those concept drawings of beds that spin to counteract the spins you get when you hit the sack after a night of slamming Hamms by a gigantic pallet fire in the sand dunes? This is the vehicular version of that. This machine's drift action counteracts the reckless weaving unknowingly committed by its drunken operator on his way home from his backwoods moonshine factory.
Bonus Bright Side
We've all seen the videos of Travis Pastrana back-flipping a big wheel. That madness was performed on a big wheel with no engine. Imagine what Travis Pastrana could come up with if he got his hands on one of these! Somebody get (him) on this, please.
Every now and then we come across a homegrown ad that simply can't be improved upon, and this is one of them. The seller loses a few points for wording his initial statements suspiciously similar to a few other famous Craigslist ads (google "Hey there junior badass"), but other than that it's golden. So rather than messing with success, we're sharing the ad's text in its original, organic form: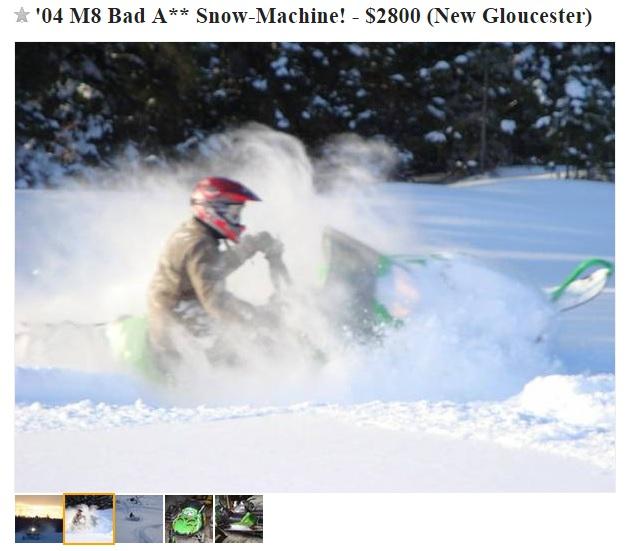 Hey there young feller with a "pre-bad a*s" status. Are you tired of feeling lame? Don't feel like life is worth living? Do you want to be that person who everyone envy's? Well that is about to happen. Prepare to become one of the most BA folks in New England.
You have the opportunity to own this Big, Green, un-stoppable, Climbing machine. Some might just think it is just another snowmobile, but the ones who own a sled like this know this is the G6 of all sleds. This sled could be used by search and rescue because it will go more places than any man can go without it. Lets just say that when you jump on it and give her the corn, you will feel that adrenalin rush and want to scream at the top of your lungs "I'm freeeee!", because you will realize you are now unstoppable.
This sled has wicked power, wicked floatation, wicked paddle, and wicked attraction factor. After she starts with a pull or two, It will haul you and your gear to the summit of the highest mountain up the steepest hill in the deepest snow over the biggest trees, all while making you, the rider, look about 10 times sexier than before you owned the sled. Basically, owning a sled of this caliber automatically gives you the title of being a BAMF (Bad a** mother f***er) (I can give you a certificate you request one upon purchase)
Sooo... now you're asking: "if this is such a sweet sled, why is he selling it?" Well there chummy, let me tell ya. I'm selling it because I upgraded and got a sled that costs much more to fix when it breaks down and has much more electronics to fail and leave me stranded, and because I can't drive two of the most "bad a** snowmobiles ever made" at once, you come out ahead.
So whats the deal with this "Guaranteed to make you get hit-on" snowmobile? Let me tell ya, if you buy this sled you get:
- A Snowmobile that is going to rock your world and take you places you never thought man can go (and possibly places he shouldn't...)
-wicked long 153 inch by wicked friggin big 2 inch paddle track which was replaced a few thousand miles ago.
-Brand New sliders, professionally installed by me last year
-Brand New chain-case bearings last year (dont worry, I had the dealer do this)
-Rebuilt shocks last year so she is ready for some wicked rough riding
-Chain Case oil just changed
-Its even got Reverse so you can back her up when you get to the top
-About 5,6xx Miles, all wicked easy
-Cargo Rack so you can haul your gas, chainsaw, ice traps, guns, tent, girl/boy friend or whatever else you would want to bring
-Cover so you can keep her nice and clean, and also so not so many people see it when you are driving (trust me, you will get too many thumbs up and people wanting to buy it if its not covered)
-She's always stored under cover
Come on down, up, over, younder, whatever and see it. We can shoot the sh**, talk about what ever BAMFs talk about and you can test her out. Just be prepared to get a feeling you've never felt before.
After you buy it, buy a camera because you'll see scenery none of your buddies riding a Ski-Doo, Polaris, or Yamaha will ever see. You will want to take pictures to show them when they are stuck at the bottom.
Ohh... I must add that if you are a single, active lady in her 20s who wants to hang out with a sweet, BA guy like me, go contact me. I will keep the sled and we can tear up the country-side on my bad a** sleds
Im open to trades for manly stuff. Tools, welder, plasma cutter, cars/trucks, airplanes, helicopters, learjets. Try me...
Don't bother replying to this if you don't own any guns, don't like country music, wear your hat backwards, don't have truck to haul it, don't eat meat, don't like Paul Le-page, or you're a tool.
The obvious place to start here is the title of the ad: "Barn Find." This term has become big in classic car circles. But in this case, where is this barn, and why aren't any of the other bikes in the background in it? The bike looks like it's been exposed to the elements—is the barn missing its roof? Perhaps English is a second language to the seller and he was trying to communicate that he is looking for a barn to house his collection. "Barn…find?" He mentions he's open to trade—perhaps he wants to trade the bike for a barn? Maybe he had to move the bikes out of the barn because rats were eating all the seat covers? Your guess here is as good as ours!
The seller admits that the bike doesn't run, but the good news is that the problem seems fairly easy to diagnose. Given the lack of a fuel tank and carburetor, we're going to go out on a limb and say this bike's combustion problems stem from some type of fuel delivery issue. Of course, with an unsealed engine there's a good chance the inside of this bike's power plant contains more rust than Suzuki's factory RM-Z250 race program and is in nastier condition than Chad Reed's and John Gallagher's relationship. Too soon?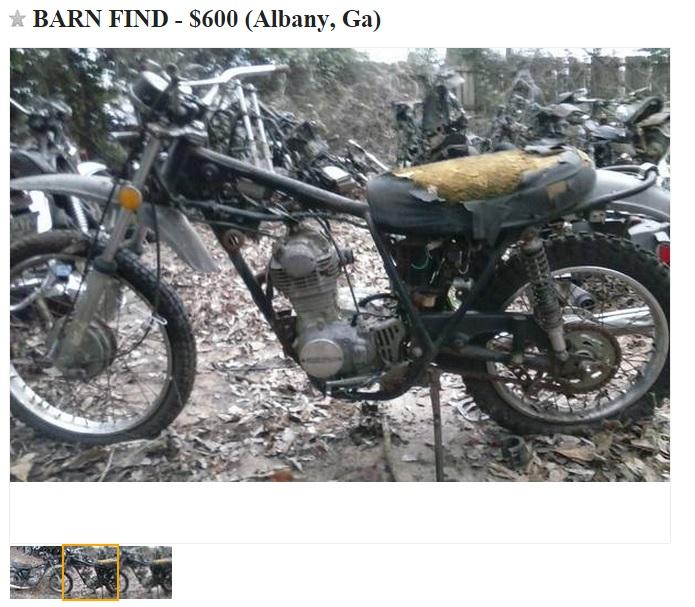 The Bright Side
Other than the oddly bright and seemingly flawless muffler, there isn't anything bright to talk about with this bike. About the only thing you could hope for would be an amusing conversation with the owner, who obviously has a sense of humor. How else do you explain this piece of landfill's $600 price tag?