Anaheim, CA
Anaheim 2 (A2)
Monster Energy AMA Supercross Championship
After the controversial incident Saturday night at Anaheim—Trey Canard crashed into the back of Chad Reed, sending both riders to the ground, then, after they remounted, Reed ran into Canard and sent him crashing into the tough blocks—we tracked down the key players for their side of the story. Here's Canard, Reed, the FIM's John Gallagher [who made the decision to black flag Reed and take him out of the race] and the AMA's Kevin Crowther.
Trey Canard
Frustrating night. I didn't get the start again. Was riding well, though, and I made some good passes on the start straight. I was going to the outside and kind of closing people off. I followed Chad [Reed] the lap before, he went outside, and I figured he was going to go outside again. He went inside. I carried too much momentum and my air brakes didn't work, and I landed right on the back of him and went down really hard. I got back up, and was adjusting my goggles…I hit the ground pretty good so my goggles were all sweat filled. So I was pulling a tear off and out of nowhere I got hit and crashed again. I don't know, my bike was pretty tweaked. I started to get it back together at the end, but it was too late to do any damage. Frustrating night, but I feel like I'm riding good and I'm healthy so I'm thankful for that.
Did you know what happened with that second crash?
No. I had no idea. It was a racing incident, so I was trying to go forward and minimize the damage. I got hit and I was….not anticipating it at all. I went straight into a hay bale, front flipped and somersaulted.
Did you speak to Chad at all?
I just went to him after the race and said, "Why would you do that?" He said I was an idiot for jumping on him, and I said, "Dude I didn't mean to do that." He was still ranting and raving so I told him he was a crybaby, the biggest crybaby in the sport, and I went away.
Chad Reed
In my mind, obviously I went over the jump there before the mechanics' area, I was on the inside, and obviously the next minute I'm cartwheeling down the track and Trey landed right on the back of me. So, yeah, at that point I'm pretty mad and confused about what went down. So we both pick it up and get going, and I throw an elbow, and I get going. I didn't look back to see if he went down or anything like that. Then I immediately see the black flag and I was just like, kind of just like at a loss for words. I've never been black flagged before, and especially in a situation like that [they threw it] in a half a lap [after the incident]. Yeah, I admit I threw an elbow, but it was kind of a "What the F#$&" kind of thing, you know?" That's really about it. I was just confused that I was black flagged for something that I didn't think was that bad.
Did you know what to do when you saw the flag at first?
I really didn't! I think I went an extra lap or two laps, and the whole lap I was kind of coming up short on jumps and just kind of like "Really? This is happening?" I never found myself in that position before. I pulled in and [FIM official John] Gallagher wouldn't even come over to talk to me, which I was kind of bummed on. I wasn't even that mad. Even still I'm more confused than I am mad, I waiting on them to pull footage, I guess they have multiple angles, so we'll see what they have.
So that elbow on him. You're saying you weren't intentionally saying, "I'm taking this dude out?"
No honestly it was…when I came back here we watched it on TV and we slo-moed it, I'm more confused after watching it on TV. He's adjusting his goggles or doing something with his helmet, he's got one hand off the bar, and suddenly, all he did was just go wide, I pushed him wide and he ran into a tough block and fell over. It wasn't like I T-boned him or something like that. I don't know…I just…watching the race back, I see Barcia got Seely pretty good, and it seems like the racing's been pretty much a contact sport lately, and suddenly they make a half lap decision to give me the black flag. Until I see them and their take on it I don't know where I stand.
You guys had a couple of words afterwards?
The first thing Trey said to me was "What were you thinking?" And he caught me a little off guard with that because I was like "What was I thinking? You jumped on me." So I just said "What were you thinking?" And then he continued with "Oh you're just a crybaby!" And [laughs] I just didn't even have a comeback for that one, that was too funny. I guess, you know, my question is, if I wait a turn or two, and throw an elbow, or T-bone him, or get into it like everyone else did [tonight] is that okay? Is it just because I did it right in front of the guy [Gallagher, FIM official]? I think he made an emotional decision. This is why sports like Formula 1 are professional. You watch them on TV and it says on the bottom of the screen something is under investigation and they'll make a decision after the race. How do you appeal something when they pull you out of a race? What are they going to do, go eeny meeny miney mo and throw me in 5th, 6th, 8th 10th place if I win the appeal? They're just going to throw me back in if I win the appeal? It's kind of stupid on their part.
How was the riding?
The riding was a little better. Obviously the last couple of weeks have been rough. I've been searching, for some reason things that I'm feeling at home I'm not feeling here, or I should say things I'm feeling here I'm not feeling at home. It's been a little bit of, I feel like I'm running the guys in circles a little bit, and I'm not too excited or pumped about that. I felt like in the main event we made a pretty aggressive change in the right direction. All in all we made good progress tonight and I felt like a top five guy.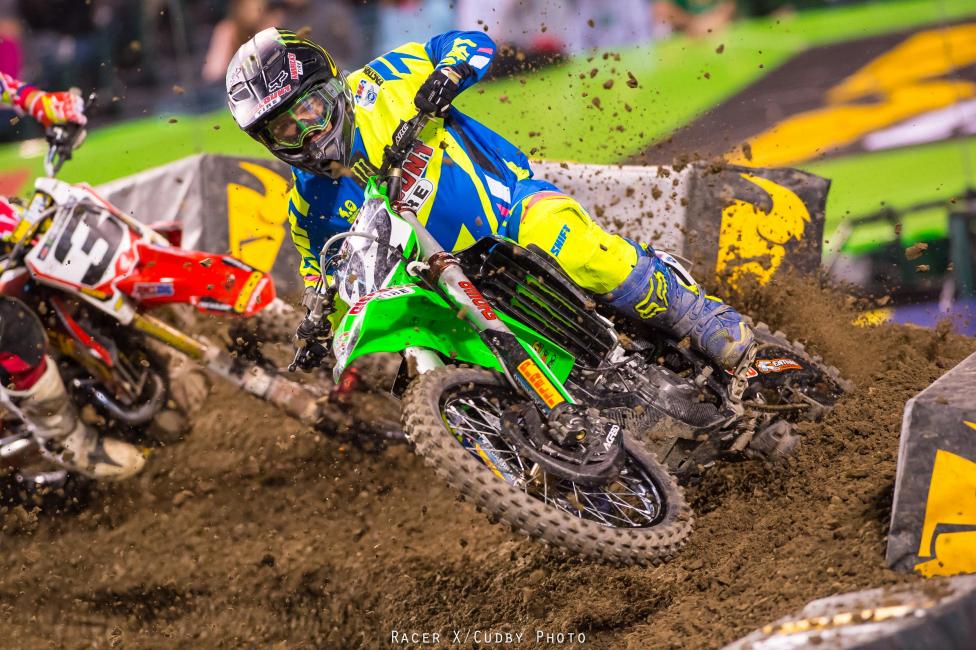 FIM Official John Gallagher
It looked like a racing incident that happened between Chad and Trey, and Trey made a blatant mistake. It looked like Trey was expecting something to happen differently than what happened when he overjumped the jump. In my opinion, Trey's choice was not a malicious choice. It was not the correct choice, he ended up crashing. When they got up, Reed's choice was a malicious choice. Trey was trying to straighten out his bars, whatever he was trying to do, way at the top of the turn, and Chad cleaned him out. He bumped him off the track, Trey ran into a tough block, and crashed.
Where are you when this decision is being made? How does this process of giving the black flag work?
We were lucky because we had so many different cameras on it that they instantly went to instant replay on the big screen. So besides seeing it blatantly right in front of me in the tower where I was standing, they showed it on the instant replay.
So you didn't need to ask to see a replay, it was right there.
Yes and usually that's the case.
[AMA official Kevin Crowther steps in]
Crowther, AMA: I think it's a case of you're saying, "Did that really happen?" And then you look for the replay and you say, "Yes it really did happen."
Gallagher, FIM: Our biggest concern is that, since he chose to instill a penalty on Trey himself, we wonder, Is that it? Or is it going to happen everytime he sees Trey? That's was instigated the black flag. We don't know where it's going to stop because he might have an anger that continues. He [Reed] told me he wasn't angry at all but to me he looked like he was darned angry.
I've heard Trey did, or nearly did, end up in another lane of the track. Was that a factor? That it was in a particularly bad spot?
Gallagher, FIM: It accentuated the problem, but the reality is we can't have riders taking the law into their own hands. No matter where Trey ended up, he would have no control over where Trey would bounce.
Crowther, AMA: I think this incident, seeing it live, seeing it replayed quickly, we all saw it, the obvious decision for John was disqualification. So at that point a disqualification is going to be a disqualification. So with the concern that there could be more retribution around the race track, ala Jason Lawrence and Ryan Dungey in qualifying a couple of years ago, that's when he decided to take out the black flag, which we support.
Is this a new precedent, black flags for malicious riding?
Gallagher, FIM: Oh not at all. We've had it in that incident with Lawrence, we had it when Chisholm [a lap down] tried to take Reed out [in 2009]. This isn't the first black flag that I called.
Crowther, AMA: It's the last thing you want to do, but sometimes it's warranted.