Phoenix, AZ
Phoenix
Monster Energy AMA Supercross Championship
BTO Sports is your number-one source for all of your motocross parts, gear, accessories, and apparel. BTOSports.com is a motocross company who is truly dedicated to the sport and to the customer. Proud sponsor of your Racer X Podcasts and the BTOSports race team.
Yeah, Phoenix! I heard the hash tag for this weekend was #gottabebetterthanAnaheim. But I can't be sure. Round two of the Monster Energy AMA Supercross, an FIM World Championship, was held in the capital of Arizona, and after so-so racing Anaheim 1, I'd say Phoenix met and exceeded expectations. We could be seeing who's next after the departures of Ryan Villopoto (going to the GPs) and James Stewart (suspended pending an appeal).
First up: the track. Anytime you walk into a stadium and see two triples on the track, you know it's not going to be awesome. Triples are about the easiest thing on the track. There's some sort of unwritten rule that there has to be a triple on a track (why, I don't really know—this isn't the 1980s where it's actually tough for riders to jump that far), but in my opinion, there should always be just one.
Anyway, the track turned out better than initial impressions, and I think that was because the Arizona area finally wasn't as dry as a popcorn fart. The dirt was pretty tacky; the guys watered it well and the roof to the stadium remained closed due to cold temperatures. Unlike most times when it usually ends up dry and slick by the night show, the dirt kept some moisture. The whoops were decent, which always makes it interesting. I've always gone on the record saying I love the short jump-tabletop-jump combo in and out of bowl turns because it ends up being close to the same time to go outside and go on/off or inside and doubling/rolling. We almost had that in Phoenix! Instead the obstacle was just a smaller triple in and out of a turn, which was a bit zzzzz.
Okay, on to #whosnext. Well, it's early, but through two main events, four heat races, and four timed qualifying practices, the dynamic duo of Eli Tomac and Ken Roczen has dominated everything. Last week in the first timed practice it was Roczen on top with Tomac second. The second one was Tomac first and Roczen second, with Tomac being the fastest overall. Roczen narrowly lost his heat race to Andrew Short while Tomac won his. In the main it was all Roczen, while Tomac blew up with a couple of crashes. Regardless of Tomac's finish at A1, it was hard to leave there and not think he was one of the fastest riders all day long.
This week it was Roczen first in the first timed practice with Tomac third. Tomac topped the next qualifying session while Roczen was second. Tomac won another heat in Phoenix while Roczen got bit by a Suzuki Tuff Block (oh, the irony) in his heat race and had to go to the semi, which he won. Are you sensing a pattern here? Can you see what's going on, or even smell what the Rock is cooking?
This week Roczen grabbed the lead early but was caught by Tomac. The two rivals had a great battle for a few laps until Tomac finally put the hammer down and motored away to a nice win. It was Eli's first-ever 450SX win, and marked his coronation into the sport's elite riders. We already kind of knew he was one of the best, but this win stamped it. It was a great race, and an exciting and respectful battle between two kids. Through only the two main events, their practices and heat races, I think the #whosnext campaign Feld has been using has already been answered. And, oh yeah, Tomac and Roczen have led all forty main event laps so far.
I'm sure when Tomac was lying on the ground at Daytona last year in practice (maybe the first, second, or perhaps third time he was eating dirt—I can't be sure), he was thinking about how this 450 stuff sucked. He had outdoors down, but he wasn't doing well indoors. Two years ago he started with a factory Honda CRF450 and, by the end of his four-race 450 deal, he was back to production settings. Last year he was injured before he had a chance to do anything. When he returned, he had speed to burn and showed both promising and disappointing results, landing on the podium a few times and crashing out more. Along the way he made about 8,643 different suspension changes to a bike he was battling.
He's never been super pumped on his motorcycle until—wait for it—he bolted on the Kayaba suspension this off-season and started kicking ass and taking names in Europe. Somewhere out there, Trey Canard completely understands. And I know it's really hard to forget about last week's symphony of destruction that Tomac created, but he's really been the fastest guy through two races. Now he's got his first win, and the battle between him and the #94 is on.
I think Roczen played it right at Phoenix. Roczen's so buttery-smooth (and his yellow gear reminded me of butter) that you can't tell if he's pushing or not. The guy's just always so calm and cool even when he's blitzing stuff.
At one point Tomac had a really bad lap while chasing Roczen down, but he was slowly catching Kenny lap after lap until he got right up on him. And then an awesome back and forth battle ensued for a couple of laps.
Once Tomac got by the German bullet, he put the hammer down. Here's the battle:
ROCZEN TOMAC
Lap 8: 56.740 Lap 8: 56.065
Lap 9: 57.660 Lap 9: 55.812
Tomac was seven-tenths of a second faster on the lap he passed Roczen, and just to crush Roczen's soul some more, he went 1.8 seconds faster that next lap! Clearly Tomac was pushing hard; lap ten was almost two seconds slower than lap nine, and he never got past the fifty-six second mark again. He was basically Ivan Stewart in that truck video game from years ago, and he used all of his nitros on lap nine. Come to think of it, I did see some white puffs of smoke coming from Eli's two tailpipes.
If you're Kenny you know that Eli scored 1 point last week. Tomac's margin of error is small, and as long as Roczen rides smooth and calculated, he's good. I can't see Roczen weeding himself twice and finishing twentieth like Tomac did last week. And yes, I know he did that at Indy last year, but that was so last year, bro.
Anyway, Roczen's probably not already thinking about the championship… Or is he? I don't know who's going to win this thing, but strap in, folks. This is going to be an incredible rivalry for the next five years.
I can't wait to see if Roczen and Tomac are close in points at the end of the year, to see if complete weirdness that envelops the two teams and entourages. Everything will be a slight, the media will suck, and there will be some issues at some point. How do I know? I've been on teams and around teams near the end of title fights. It's early, but just wait.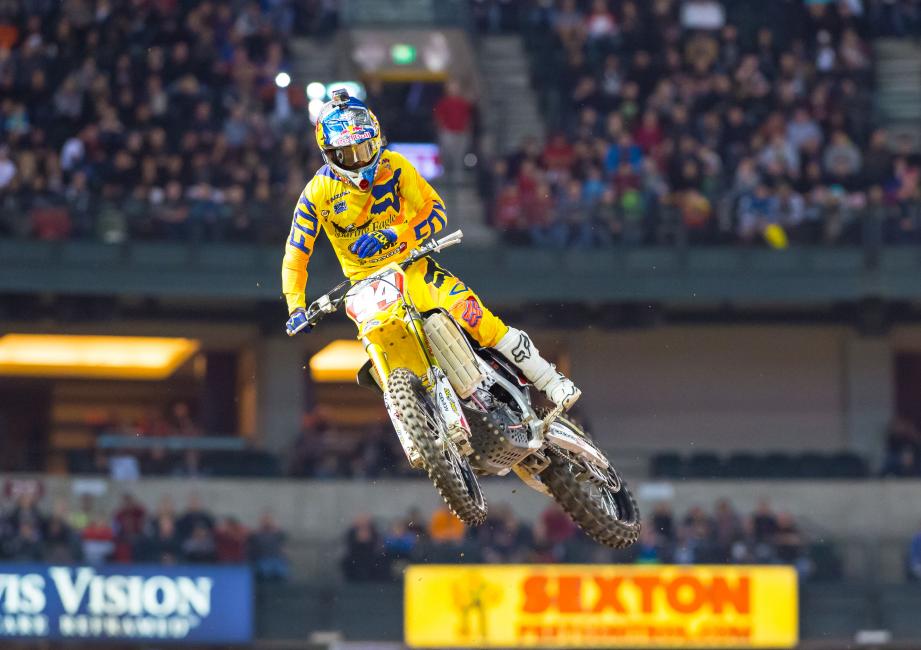 It's not a shock that Cooper Webb won his first-ever 250SX at Phoenix. We knew it was coming soon. Before we get too far we need to get someone, anyone (maybe Hansel?) to see if there have ever been three first-time-in-their-class supercross winners in the first four main events of the year (Jessy Nelson, Eli Tomac, and Webb) in supercross history. Anyway, Webb was great at Phoenix.
After passing Malcolm Stewart early on, Webb motored away for the win, and I'm sure he came away with a bucket full of confidence. I've always thought that Webb "looked" the part of a better supercross rider than outdoor guy, but at times his aggressive style has cost him on the tighter tracks. He's going to win more races and be right there for the title, so get used to it.
Weston Peick! Seriously, where does this story end? The (big) little privateer that could has now moved onto a full-time factory ride on the AutoTrader.com/Toyota/JGR Yamaha team, and it seems like he's just getting better. A while ago we were talking about Weston's supercross skills, and we sort of all agreed that he doesn't have the talent to truly be an elite guy indoors. He's got heart, he's in shape, and he's a great rider, but four years ago he was struggling to make mains. Please tell me the last supercross winner that ever struggled to make mains like Weston? I'll wait while you think about it.
Exactly—"no one" is the right answer. So, it's hard to see how Peick has reached the peak (get it, Peick's peak?) of the sport indoors, but maybe we were wrong. Peick ran third most of the main event until Ryan Dungey got by him with a couple laps to go. He ran third! He was beating Ryan Dungey! Say that a few times. He broke a bone in his foot late in the race and had to have a screw put in so his momentum could be stopped, but what an incredible story brewing here.
For 2015 the JGR guys were courting Justin Barcia and went full-press to get him. The second spot on JGR was up for grabs, and owner Coy Gibbs told me that he was open to a few different guys getting it. He got his guy and wasn't that worried about the "support" guy, as there were so many great guys available. At one point it was thought to be Wil Hahn's spot to lose. But from what I gather, Yamaha "requested" Peick, and Gibbs relented. Through two races he's been better than Barcia, which is amazing. Great job by Peick, the JGR team, and Yamaha for making this work.
Roger DeCoster is one of the best guys to talk to in the pits. Roger's a multi-time world champion; he's managed every great rider in the world; and he's a great machinist and mechanic. To sum it up: He's better than you and I. This week I asked him how he thought Anaheim went, and he said the "riding" went well but he'd like to see his riders actually "race." Yes, I'm serious. I also asked him about Andrew Short running the WP full-air front and rear suspension, and every other KTM rider going with coil spring stuff front and rear. Roger said that they're not going to put air on the other guys until it's perfected (although Short loves his stuff and his results show that so far), and I shouldn't look for it on anyone else's bike this year.
DeCoster was telling me that he sees and hears lots of other teams and riders struggling with the feel of the air fork and he doesn't want any issues with his guys. So Short's the test mule for now. He also mentioned that the air stuff is too soft and progressive for whoops, but when you stiffen it up for whoops it suffers for feel in turns. There doesn't seem to be a compromise right now. Jeremy McGrath was on the PulpMX Show two days ago and his thoughts on these forks were similar. DeCoster always gives an interesting and honest conversation, and us in the media are lucky to have him around.
Let's take a look at the results, shall we?
250SX Results
1. 17 Cooper Webb; Newport, NC; Yamaha YZ250F – #coolascrap
2. 34 Malcolm Stewart; Haines City, FL; Honda CRF250R – That's two LCQs in a row, and that's no bueno, folks. You can't keep dancing on that ledge for too long before it bites you. But no matter, the Mookster pulled a hell of a start from the far outside and finished second. Great ride.
3. 28 Jessy Nelson; Paso Robles, CA; KTM 250 SX-F – I thought Nelson was good in the entrance to the whoops (and therefore the whoops), but he told me afterwards he felt terrible in them—there you have it.
4. 911 Tyler Bowers; Corona, CA; Kawasaki KX 250F – Bowers came from tenth to get this spot, which is impressive. He's been better than I thought he would be so far. I mostly didn't think this was a great move because of his size, but he's lost weight and is making it happen out there.
5. 157 Aaron Plessinger; Hamilton, OH; Yamaha YZ250F – The surprise of the class so far. Plessinger is showing that this rookie title doesn't mean anything, as he never seems rattled and charges hard all race long. Two fifth-place finishes in your first two races is impressive, but the way he got the fifths is even better.
6. 32 Justin Hill; Yoncalla, OR; KTM 250 SX-F – Hill said he was sick coming into this race, but he still won his heat race for the second race in a row. This spot doesn't indicate how good he can do if he figures things out.
7. 16 Zach Osborne; Chesterfield, SC; Husqvarna FC250 – Poor Zach. His thumb is jacked and he's trying to tough this thing out, but in Phoenix he ran second early and then dropped to this spot, which was probably due to pain in his, you know, broken thumb. By the way, Zach's heat race was awesome.
8. 40 Shane McElrath; Canton, NC; KTM 250 SX-F – McElrath charged from the back to get this finish. He's been sneaky good so far this year. I don't think he will win this year, but with his learning curve, he could get a podium or two this year and then win some next year.
9. 44 Zachary Bell; Cairo, GA; Husqvarna FC250 – Bell charged from sixteenth to ninth, which is a lot like his last week's main event.
10. 130 Thomas Hahn; Decatur, TX; Honda CRF250R
11. 38 Matthew Bisceglia; Weatherford, TX; Honda CRF250R
12. 61 Michael Leib; Menifee, CA; Honda CRF250R – I never really noticed Leib out there, which isn't good and could mean I'm not paying close enough attention to the race. I would say something about his Klu-Klux Klan outfit being hard to miss but Weege will take the joke out. Hmmm, did he?
13. 100 Joshua Hansen; Elbert, CO; Kawasaki KX 250F – Hanny crashed early in the main, and through the first two races he hasn't gotten the results that I'm sure he thought he would. He does have that old Hanny style, though.
14. 71 Cole Martinez; Rimrock, AZ; Yamaha YZ250
15. 66 Chris Alldredge; Powell Butte, OR; Kawasaki KX 250F-Alldredge had a nice eighth in the bag until the last few laps, when he had a few rough laps and then fell on the last one. Bummer, bro.
16. 65 Scott Champion; Wildomar, CA; Yamaha YZ250 – Champion wears Strikt gear, which is a Canadian company; therefore, I endorse Scotty Champion.
17. 86 Zackery Freeberg; Riverview, FL; Yamaha YZ250 – I always spell his name "Freeburg" for some reason, and even though "Freeberg" is the more common spelling I always seem to think Zack spells it differently. Fascinating stuff, right? [Ed Note: Matthes always spells Zack wrong as well.]
18. 57 Jackson Richardson; Wildomar, CA; Honda CRF250R- He was up there early in the race, and I thought this was going to be a good night for the Aussie (he had been riding well all day long), but then next time I looked up at him he was at the back. Crashing sucks.
19. 85 Landen Powell; South Jordan, UT; KTM 250 SX-F – You know who had Powell in the main event in the Racer X MotoDynasty league? This guy—that's who!
20. 31 Alex Martin; Millville, MN; Yamaha YZ250F – A-Mart didn't have a great night in Phoenix, as he crashed his way to the back. And he got a terrible start just to start the main off right. I'm sure his buddy Filthy Phil didn't exactly help with his "motivational" texts during the night show.
21. 341 Nico Izzi; Murrieta, CA; Yamaha YZ250F
22. 981 Austin Politelli; Menifee, CA; Yamaha YZ250F – I have no clue what happened to Austin. I just thought he crashed, but then I got a PR from the team with an "Open Letter from Austin Politelli," and I know that open letters are never, ever good. In it he apologizes for…something that I'm not quite sure about. Anyway, sorry to confuse you even more, but I must have missed something he did. Even though I'm not sure what Austin's open letter is about, I accept his apology.
450SX Results
1. 3 Eli Tomac; Cortez, CO; Honda CRF450R – Weege and I are worried that Tomac doesn't have any friends at the races and he sort of confirmed that on Monday on the PulpMX Show. He said he's there to race and not to bro down with anyone. It's not that he's not a cool guy or too weird to have friends—it's just that he's very serious. He says he has a ton of friends back home that aren't moto guys. I think I'm going to try and be his friend at the races. I'll let you know how that goes in a few weeks, okay? #buddies
2. 94 Ken Roczen; Clermont, FL; Suzuki RM-Z450 – Is it me or is it weird that Kenny went with the same gear as last week?
3. 5 Ryan Dungey; Tallahassee, FL; KTM 450 SX-F – Angry Dunge was back this week! After following Peick around he said on the TV broadcast that people criticize him for being not so good at passing people, and he'd like to see those people get out there on the track and try to make passes. I'm sorry Ryan feels picked on for not being good at passing riders. You know who also thinks this? Oh, just about every other rider he races and his team manager. So, yes, some of the critics are people who are actually out there on the track and do make passes. But still, it's great to see "Angry Dunge" back!
4. 23 Weston Peick; Menifee, CA; Yamaha YZ450F – I love the fans that make the meme's and things on social media for Peick, pretty funny stuff.
5. 18 David Millsaps; Murrieta, CA; Kawasaki KX 450F – Millsaps rebounds with a solid ride. Although he's still a tick off the top guys to start the year, he'll get better. I found his remark on his bad starts to Racer X curious: "Not that good, but I kind of knew that was coming. We'll work on that one this week." He kind of knew that? Shouldn't you, you know, tell your team to help you with that? As a former mechanic, that was weird. And then there was this: "There's things behind the scenes that are what they are and they suck, but week by week it gets better." Huh?
6. 21 Jason Anderson; Edgewood, NM; Husqvarna FC450- Anderson came from fourteenth after the first lap to this spot, and he was very, very fast. Some people will look at this ride and just write last week's result off as lucky or something, but that's silly. I think Anderson and his untucked jersey rode better this week. Well, okay—maybe not better. But it was close.
7. 29 Andrew Short; Smithville, TX; KTM 450 SX-F – This is the year of the Short. No springs on his suspension equals no cares about sending it in the main each week. We've got to do something about his two colored neon boots, though. You know how sometimes you see old people who leave the house, and you're not sure if they're all "there" or not? That's what's happening to Andrew; he's getting up there in age, and his eyes probably don't work as well as they used to, so he has no idea his boots are two different colors of neon.
8. 41 Trey Canard; Edmond, OK; Honda CRF450R- Trey didn't have it this weekend. He was okay—just okay. If you can ride "okay" and get a top-ten, then you're pretty fast.
9. 12 Jacob Weimer; Wildomar, CA; Kawasaki KX 450F – It's early (part one), but I would say Weimer is the early season surprise. He's had two nice races as a privateer (although the line between factory and privateer here are about as blurry as an energy-drink rep at a supercross after party), and I'd say this is very good for The Snake. He was on the PulpMX Show on Monday, and said that I may have fired him up for the year with my "stupid" comments about him. Hey man, whatever it takes, I guess…
10. 22 Chad Reed; Dade City, FL; Kawasaki KX 450F – It's early (part two), but Reed again didn't have the main event he wanted. He was very good in his heat, and in practice with bigger whoops, he was also fast. Things are serious in Camp TwoTwo because this is two weeks in a row that he's refused to come on the PulpMX Show to talk.
11. 51 Justin Barcia; Greenville, FL; Yamaha YZ450F – It's early (part three), but people on my Twitter timeline are concerned about Justin after just two races. I admit it hasn't been great, but his heat race in Phoenix was solid, and he was dead last off the start in the main. What was he supposed to do? Yeah, ok smartass—not pulling a huge wheelie off the start would have helped I guess. Still, calm down, people.
12. 20 Broc Tickle; Holly, MI; Suzuki RM-Z450 – After the race Tickle felt like he should've rode the first half like he did the second half. There were some awesome battles going on between eighth and fifteenth out there in the main. Tickle's highlight of the night was a sweet last-turn pass on an unsuspecting Josh Hill to take the last spot into the main in the semi race.
13. 4 Blake Baggett; Grand Terrace, CA; Suzuki RM-Z450 – I have no issues with Blake's two rides to start his 450SX career. He's been solid with no drama, he's in shape, and he's figuring it out. What else would you want, bro?
14. 14 Cole Seely: Laguna Beach, CA: Honda CRF450R- Welcome to supercross in 2015, where you can cruise to a heat race win over some of the best riders in the world, but get a bad start and finish fourteenth in the main! Only the very best can avoid this stuff and rip through the pack to salvage a finish—Seely is good but not quite there yet.
15.10 Justin Brayton; Murrieta, CA; KTM 450 SX-F – This hasn't been a good start for Brayton so far. Remember how good he was at Phoenix last year? Maybe he needs the two different color neon boots?
16. 24 Brett Metcalfe; Lake Elsinore, CA; Suzuki RM-Z450 – All day long, from the first practice on, Metcalfe wasn't as sharp as he's been in the past. It was a bit weird. I'm not sure what was up.
17. 15 Dean Wilson; Wesley Chapel, FL; KTM 450 SX-F – Oh, wow. There are bad starts to the series, and then there's what Dean Wilson has done. About halfway through the main he looked winded and went backwards from seventh to seventeenth. Seriously, it wasn't good. Dean's a good dude, and he's probably working hard—but whether it's the arm pump again or something else, he's got to figure it out. Speed isn't the issue here, as he's qualified fifth and third in two races ("We can work with speed"à copyright Mitch Payton). I wonder why, although Wilson lives in Florida, near the Aldon Baker Factory where two of his Red Bull KTM teammates train, why he hasn't started training there. Something to ponder…
18. 800 Mike Alessi; Hilliard, FL; Suzuki RM-Z450 – Starts are huge for every rider out there, but they're maybe more important for Mike than anyone else. He can put in fast laps and learn when he gets the start, but when he doesn't, it's tough for him to move up.
19. 33 Joshua Grant; Wildomar, CA; Kawasaki KX 450F – Grant had a rough start to the season after falling in Phoenix. Look at this field and Grant's SX results from the last few years; if he falls, he's just not good enough to get into the top ten.
20. 53 Jimmy Albertson; Shawnee, OK; Yamaha YZ450F – The moto gods helped Top Jimmy out, because he was punted by Weimer on the last lap of the semi when he was in qualifying position. He came back to put in a nice ride in the LCQ and make the main. I called Jimmy "Weston Peick" the entire semi, and I'm starting to question whether or not I've been doing this so long that I'm turning into Erv Braun.
21. 199 Kyle Partridge; Canyon Lake, CA; Honda CRF450R – Good job for the new #199 on his two-for-two main event appearances to start the year.
22. 64 AJ Catanzaro; Portland, CT; Suzuki RM-Z450 – The Cat is actually racing the 250SX East Region, but he's warming up on the bigger bike. He won the LCQ, and although he had troubles in the main, I still think it's a great job by him to get into the stacked final.
Here are a few tidbits for you guys:
- The Monster Energy Kawasaki guys are some of the best guys in the pits. I can't tell you how many coffees I've grabbed from them over the years. They're always generous with the grinds. Although I have to take some ribbings here and there, the delicious coffee with their high-end and very expensive machine makes it worth it. That all came crashing down this week when I went in to grab a cup and…something happened. The machine's "guts" just came pouring out. I didn't do anything! Of course it died when I was using it. And, of course the Kawasaki guys now think it was I who broke it. Terrible, terrible day. I requested a moment of silence for this machine before the night show, but was turned down by the folks at Feld. Here's the official notification of the deceased machine. RIP little buddy…
- The Legends and Heroes display is pretty cool. The guys there do a good job with bringing out vintage bikes and gear each week. And they also honor some of the sport's past greats each week with a little ceremony. It used to be done around 6:30 when the stadium was filling up, but this year it's earlier—like so early there really isn't anyone there, as most of the fans have filed into the pits after practice. It sucks because this week the great Tim Ferry was honored as a legend and a hero. That's right, the rider I worked with for four years and won multiple semi and LCQs with was properly honored for his career. He got a watch and everything! And I'm sure you're thinking I was there with tears in my eyes documenting this moment and all that, right? Nope, I didn't know about the new time and was filling my face with chicken and pasta at Honda during this ceremony. #FML
- Honda's really gone and switched some things up in their team for 2015. Team manager Dan Betley (or someone) has decided enough is enough with this "No Honda domination" thing, and there are lots of staffing changes. Gone are longtime chassis guy Shane Drew and their motor guy from last year, and enter a lot more HRC Japanese engineers and technicians than ever before. Also "Gothic" Jay is a crew chief or "captain" or something there now. Honda's shaking things up, folks.
- Ben LaMay was very frisky in Phoenix, but usually with Big Ben he doesn't get very good starts and runs out of time to get into the main event. This week he got an awesome start in the heat—when he didn't need it. (I'm sorry if you think I'm a jerk, but LaMay doesn't have the speed in this field to qualify out of the heat. Go ahead and spray me with hate in the comments below.) And when he did need the start (semi, LCQ), he wasn't there. It sucked for him, but he really did ride well. Put him in the main next week.
Thanks for reading this Observations. Remember to spay and neuter your pets. We'll see you next week. Email me at matthes@racerxonline.com if you want to chat about this race, or whatever else is on your mind.