Chris Blose started his Amsoil Arenacross career off on the right foot with an overall win in Cincinnati, Ohio's, US Bank Arena last weekend. His Team Babbitt's/Monster Energy Kawasaki team reloaded this season with two new title hopefuls (Blose and Matt Goerke) to join an already stacked lineup (Jacob Hayes and Zach Ames) to fill the void left by four-time champion Tyler Bowers. We caught up with him midway through the week to get his view on the first round and the smaller stadium life.
Racer X: One round, one overall win in the books, how did the weekend go from your perspective?
Chris Blose: It was a good weekend at the end of the day, but it was kind of a rough weekend. In practice I had a pretty good get-off with another rider who was kind of cutting across the track. I was in the air when that happened and had nowhere to go. I high-sided myself into the berm, and my side and back were super swollen and sore. At that point it was kind of like, get through the night and try to be on the podium, but I ended up getting the overall. I'm pretty happy about that.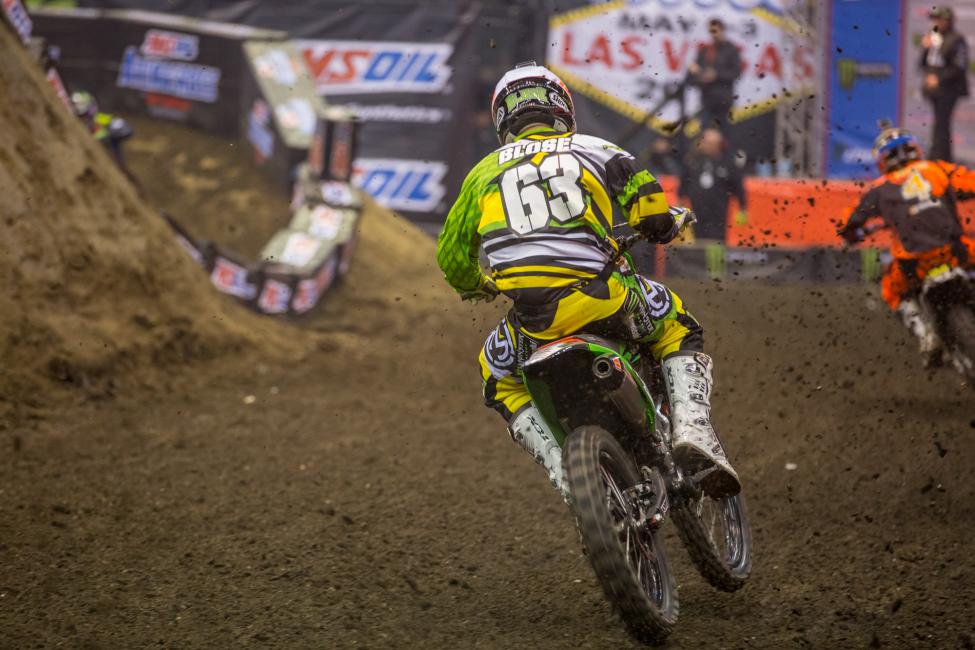 So how are your injuries doing now?
It still definitely hurts. My side is completely black and blue. I've been icing and doing hot and cold. I've been trying to do everything I can to get ready for this weekend.
How do you go from four degrees with wind chill, fly out to Arizona, and back to the cold East Coast again?
When I went to Cincinnati it was definitely a shock because it's so cold there. You get used to it after a couple rounds. I know there are a lot of East Coast races. I'll get used to it, probably after this weekend in Grand Rapids. I know it's really cold there and snowing. So, yeah, you just have to stay warm.
You're used to the big stadiums with supercross. Going from that to US Bank Arena, it's a pretty big change don't you think?
Yeah, it was definitely a big change going from supercross to arenacross. You know, I've been racing supercross since 2005 or 2006, so it's a big change. Before I raced supercross I did a couple rounds of arenacross and did X Games and stuff like that. I was a little familiar with the tight small tracks. I'm still getting used to the format, the track size, and bike setups. I'm just really looking forward to the next 14 races that we have and racing with a lot of fast guys. I am excited about that.
What different strategies do you take from racing supercross to arenacross? You can't really race them the same can you?
No, you can't really race them the same. Obviously it's a lot shorter races, only fifteen laps, 20–25 seconds a lap. You don't have much time, so its really about starts, getting the whoops down well, and staying out of trouble. You're lapping people halfway through and it definitely gets tough at times. That's where I bring my experience in, and that's where I play it smart sometimes when I have to. I go for the win when I can.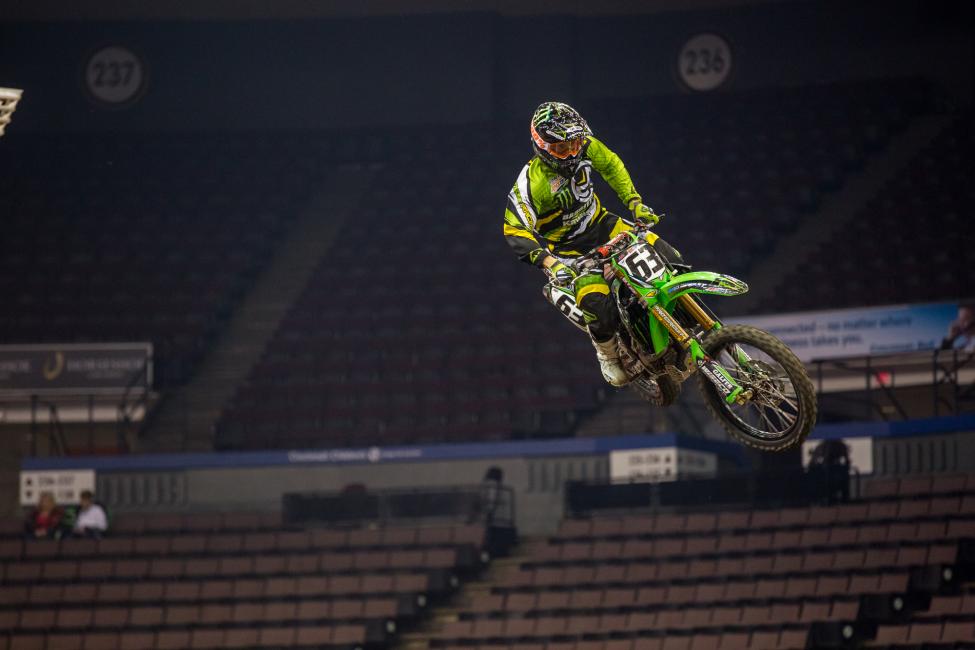 Getting involved with the lappers and, like you said, you got into another rider in practice—there is not much room for error.
Yeah, there is not much room for error. Like in the first main event, Kyle Regal got the holeshot. He ended up going down in the whoops, and I was right behind him. His bike almost clipped me, and if it would have, that would have been it. So it's kind of like you have to be in the right place at the right time. Hopefully you stay out of all the craziness that goes on with arenacross.
Your team walked away with the podium sweep.
Yeah, our team is Jacob Hayes, Zach Ames, Matt Goerke, and myself. We took the podium sweep with Team Babbitt's. It's awesome for the team, awesome for the guys who made the podium. Hopefully we can keep that going this year. We have a really strong team and a good group of guys backing us, as far as sponsors. It's going to be a good year for the team.
How hard is it going to be to be consistent every week? One mistake and that's a main event.
That's the tough part. One little mistake and one little crash and it's over pretty much. Especially with the briefcase invert thing they've got going on now. It makes it pretty tough for racing.
This weekend at Grand Rapids I am sure your expectations are to win. What can you take from the first round and put it towards this weekend's race?
I would say most importantly is to get good starts. My starts were pretty good last weekend. I think that's mainly it, is to get out front of all the trouble and the chaos. I think bringing my experience to the table helps me out a lot. So, like I said, just getting good starts all weekend and staying consistent is going to be the ticket.