Phoenix, AZ
Phoenix
Monster Energy AMA Supercross Championship
By Jason Weigandt and Aaron Hansel
Ken Roczen, RCH/Soaring Eagle/Jimmy John's Suzuki, Second in 450SX
I got off to another great start. It's really fun to finally have my starts dialed. I think the Suzuki suits me really good in that part and I can get all the power on the ground. I put in a good battle for the first ten laps. But I didn't feel the greatest coming out there. Struggled a little bit breathing, but I'm going to work on that. I'll take a podium anytime. The track was pretty technical. We got some good ruts. It was tricky. So it was good to not crash and just have a solid weekend. I'll take a second anytime, and we'll come back fighting.
Talk about your battle with Eli Tomac?
We had a good battle with Eli. We went back and forth a little bit. He beat me straight up tonight, but that's totally fine. I'm going to work on that, and for how I felt coming into the main, not really sure what it was, just didn't have the best feeling but made it work.
Talk about the places where you were faster and he was faster.
I don't really know. I thought I had the rhythm and the whoops; they were pretty tricky, dialed pretty good. I should have done the triple before the finish line. I would have saved a lot of energy and [the way I was doing it] was just slow. But those are things you learn from. Other than that it was good.
You had to go to the semi. Anything different having to do that or does it work out about the same?
No, it was all right. Gave me some extra time on the track. Got off to a decent start in the heat race, but I took the Tuff Block around and was pretty far back. Had the holeshot in the semi—that felt good—and another good start in the main. – Jason Weigandt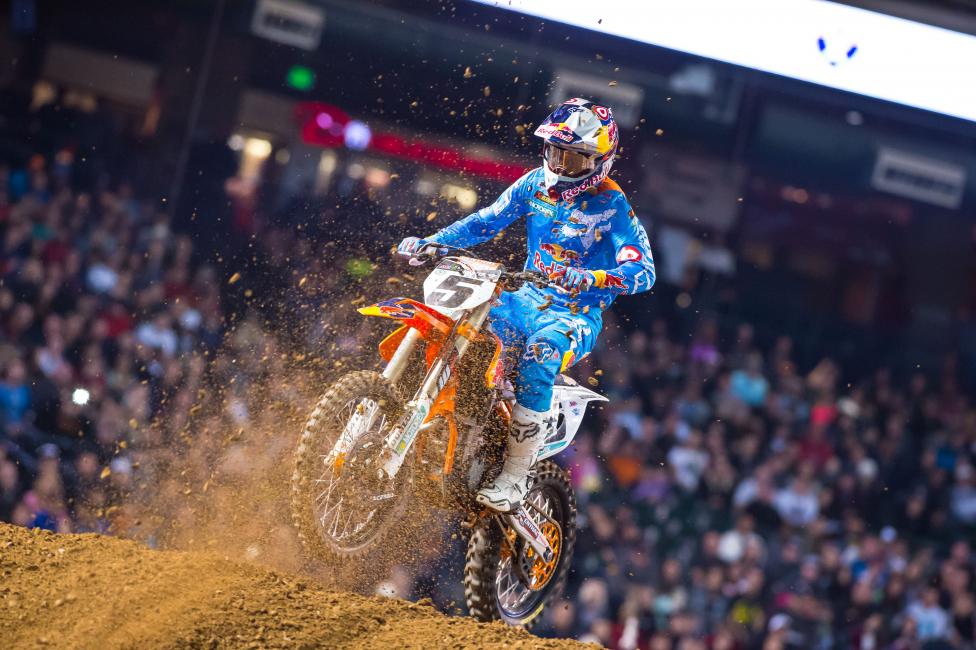 Ryan Dungey, Red Bull KTM, Third in 450SX
The night was pretty good. The heat race was great as well. We actually almost had the start, but [Cole] Seely worked his way around. The track wasn't too developed at the time; everything was pretty flat. So we ended up second in that, which wasn't bad. Got a good gate pick and came out second on the start of the main. Got shuffled around there in the third corner and lost a little ground there that first lap. I lost too much ground. I was unable to… By the end of the race they were pretty far gone. But [Weston] Peick, he was riding good and he was actually tough to get around. We had the speed for sure by the halfway mark. If I could have made the pass a little earlier, I could have got to Roczen a little bit closer by the end of the race. But I'll take it, third. We're sitting pretty good and we're in a good spot to keep building and start picking up a little bit.
Was Weston Peick blocking you?
The track was tough to pass. Everything kind of funneled into the same line. The track was pretty tore up and rough, so guys weren't going really high in the berms, and the ruts were really deep. Everything was pretty tight on the insides. It was really hard to pass in that sense, and a slippery track makes it even harder. But we all have to deal with it.
Do you feel it was better than last week?
Yeah, definitely a little bit better. There's still a little area I'd like to be a little bit better in, especially in the beginning of the race. It's one of those things. They say you can lose it in the beginning rounds, and you don't want to lose too much, but you don't want to let anybody slip away too much either. I think we've limited the damage on that, of what could have been worse. I think as these races start unfolding we're going to keep getting better. This new KTM 450 this year is awesome. They've done a great job, much better than the previous years. With the chassis, engine, motor, suspension, everything's better. Now it's up to me to get the job done. I feel like we're about 85 percent. I'd still like to find a little bit of the edge I think we're going to keep gaining on. – Jason Weigandt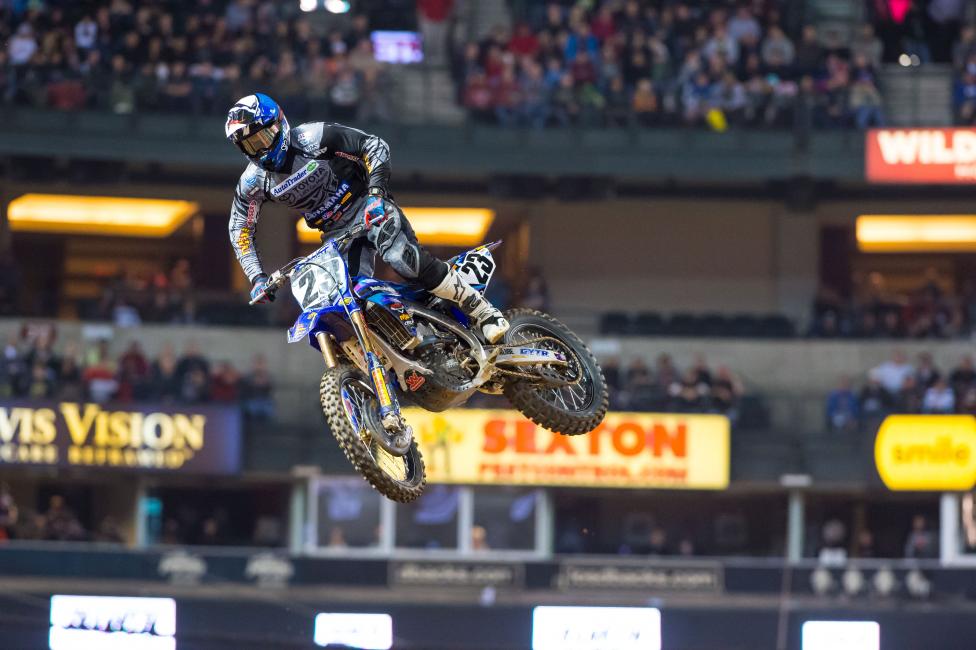 Weston Peick, Toyota/JGR Yamaha, Fourth in 450SX
I got off to an awesome start; my jump wasn't the best, but it was definitely top five. I just made some passes and got Dungey real quick and rode a steady pace all race, and then about two or three laps left I came up short on the triple in the back and flattened out my ankle; it's so messed up I can't even stand on it. Unfortunately Dungey got me back, but it was a good race.
How'd you deal with the pressure?
[Dungey] was on my tail and I've been practicing a lot during the off-season, and I just tried to stay under control and ride my own race, and I was able to hold him off until I rolled my ankle. – Jason Weigandt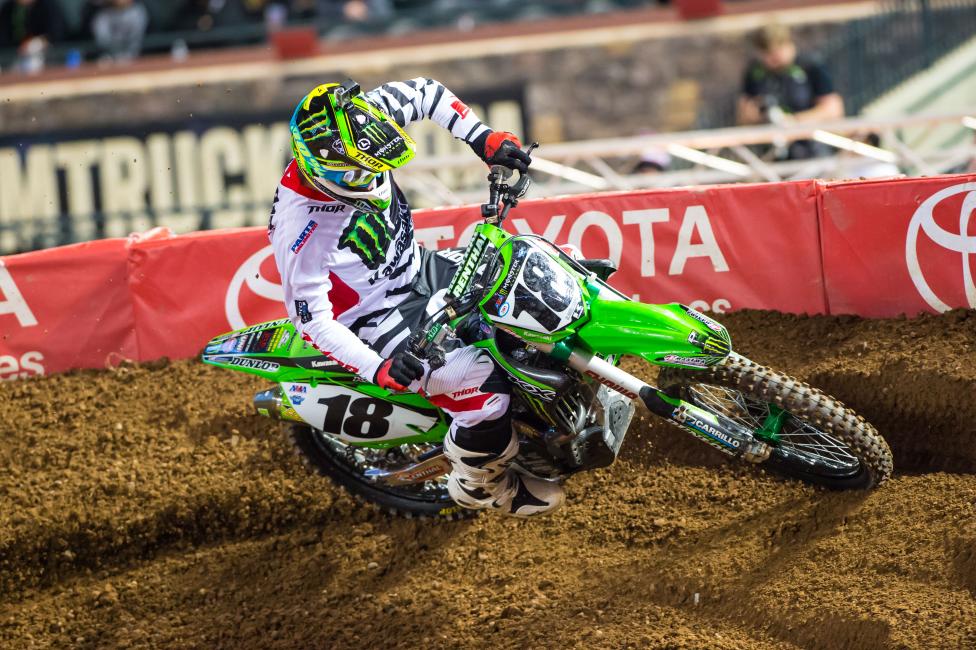 Davi Millsaps, Monster Energy Kawasaki, Fifth in 450SX
I really didn't ride that great. I had to regroup from lap two to lap six. I was making a lot of mistakes and I tightened up and kind of went backward. Regrouped and rode by myself for the remainder of the race. All in all it was way better than last weekend! Just trying to make baby steps to get back to where I want to be.
How was your start?
Not that good, but I kind of knew that was coming. We'll work on that one this week.
How are you adapting to the bike?
The bike is great. Obviously there's a lot of work to be done but I feel fine on the bike. There's things behind the scenes that are what they are and they suck, but week by week it gets better. We're just pushing forward and focusing on each weekend rather than worrying about the past. Nothing I can do about tonight and nothing I can do about last weekend, so hopefully week-by-week I'll get better and stronger. Things can turn around pretty quickly.
Talk about the track.
It was a tough one. I haven't ridden a Phoenix track like this in a long time! Everyone has to race it, though, and obviously they're a little more prepared than I am. It was rutted and I haven't ridden ruts in a long time. It was a hard twenty laps for me, but no excuses, everyone has to race it. I just gotta get going. Really the only place you could pass was the whoops, or be dirty. Luckily I made a couple quick passes in the beginning and just hung out in fifth the whole race. I was kind of by myself a little bit. All in all I really wasn't battling. I started pretty far back, made some quick passes right away, and that was it.
There wasn't a whole lot of battling going on anywhere—the guys all got kind of spread out.
I think a lot of guys hit walls—the track was tough! Everyone was trying to ride hard, and it was the kind of track that if you overrode you'd use up a lot of energy, more than what you had to. That's where I came in. I tried to override the track and force it, and you just have to let it go. It is what it is. – Aaron Hansel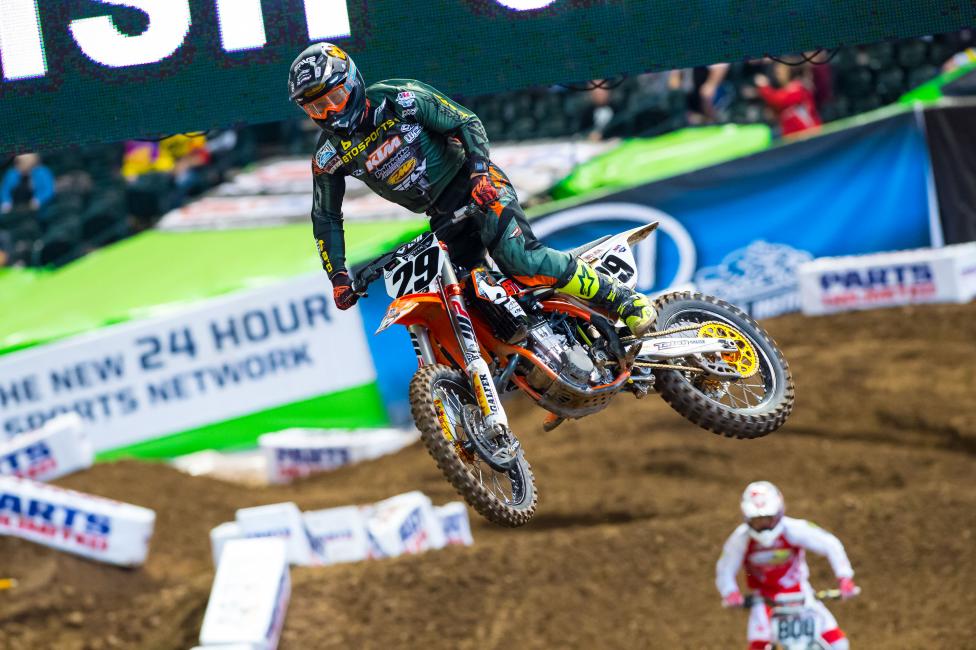 Andrew Short, BTOSports.com KTM, Seventh in 450SX
It was a big struggle for me in Phoenix, just me personally riding all day. I couldn't put it together. I don't know if I didn't have enough coffee today or what! I didn't get the best of starts in my heat race, but in my semi and the main I got great starts and started to feel it, and in the main I just fought the whole time, ended up seventh. That was a pretty respectable ride for me, and I feel like it kind of came around at the end when it counted.
Your starts have been really on point here.
Dude, my last one was sweet in the main because I jumped out there and there was nobody around me. It was the trippiest feeling because you're going into the first turn and there's fans and the whole atmosphere and you're by yourself. It's surreal. It's really cool. I was pumped on that. I just couldn't get it turned in time, but it was still a great start for me. That was the difference probably between me finishing seventh or fifteenth. It was cool.
Does it trip you out though? Some dudes get a start like that and they freak out.
No way. At this point in my career I don't care. I'm just having fun riding. I really enjoy the new bike. It made a big difference for me. –Jason Weigandt