Chase Field
Phoenix

,

AZ
Phoenix
Monster Energy AMA Supercross Championship
Racerhead is coming to you from that long ribbon on concrete that cuts across the southwest desert known as Interstate 10. We are road-tripping it to the Phoenix Supercross, driving across the desert in the Cudby family truckster. We've seen the windmills in Palm Springs, the Pee-Wee's Big Adventure dinosaurs at Cabazon, General Patton's tanks at Chiaraco, and the off-the-grid campers at Quarzite's Knife City. We are following a caravan of privateers to Chase Field, where round two of Monster Energy AMA Supercross blasts off tomorrow night. The action kicks off with Andy Bowyer and Jim Holley hosting qualifying live from Chase Field beginning at 2:50 p.m. ET on Supercrossonline.com. FOX Sports 1 will carry live coverage of round two beginning at 9:00 p.m. ET. Also, don't miss your opportunity to meet your favorite riders at the Monster Energy Pit Party. Doors open at 12:00 p.m. (local). For more, check out How to Watch.
Obviously, everyone has spent this past week analyzing the results and data and details of the Anaheim opener. A few things went according to plan—SmartTop/MotoConcept Racing's Mike Alessi grabbed the holeshot, and RCH/Soaring Eagle/Jimmy Johns's Suzuki's Ken Roczen passed him and rode away with the win—but a lot of other things did not. Monster Energy Kawasaki's new riders Davi Millsaps and Wil Hahn got off to terrible starts (especially our current cover man Wil, who broke his arm, among other injuries, and is now out for the rest of the supercross season). I asked someone who would know if there are any plans to replace Hahn, be it bumping up Jake Weimer from Monster Energy/Team Tedder Kawasaki, or maybe even bringing in the guy we're always scratching our heads about, Christophe Pourcel. The answer was no.
Honda's Eli Tomac had a night just as bad as Millsaps, and both will be looking for immediate improvements tomorrow night. American Honda's Trey Canard and Red Bull KTM's Ryan Dungey finished right about where I thought they would, and both are probably happy with a quiet, safe start. Justin Barcia and Chad Reed? Not so much.
Others were surprisingly impressive to me, including BTOSports.com KTM's Andrew Short, who got some of the biggest cheers for his thrilling heat race win over Roczen followed by a solid fifth in the main, and the entire Rockstar Energy Racing Husqvarna team. And I really didn't have Lucas Oil/Troy Lee Designs KTM's Jessy Nelson as one of my favorites, but I do now! He was fantastic in winning a 250SX main event for the first time. I was also highly impressed by SX debutante Aaron Plessinger, who came from last to almost snatch fourth at the finish of the 250 SX main event.
There were just too many things to note all of the highlights and lowlights here. I can say that you will likely see some much-improved performances this week as the folks who had problems in the opener try to bounce back quickly. And there are way, way too many laps and races to go to say anything is settled. Yes, we're missing two big names out there, but there's a whole bunch of fast company out there trying to take their spots!
And out of all the little numbers and statistics and likes and views that came out of Angel Stadium last Saturday night (many of which you will find below) one number stood out to me above all: In the first 450 SX main event of the year, twenty of the twenty-two riders out there finished on the leader's lap. Is that a record? Probably. But we don't have all of the lap sheets going back to the early seventies, and the formats have changed often, as has the size of the field. But having over 90 percent of the racers stay on the same lap is a remarkable testament to the pace out there right now. Yes, the track was fairly simple, and it was hard for anyone to do anything unique to break away, but that's usually the case early in the season. How it all looks after, say, San Diego will be interesting to behold.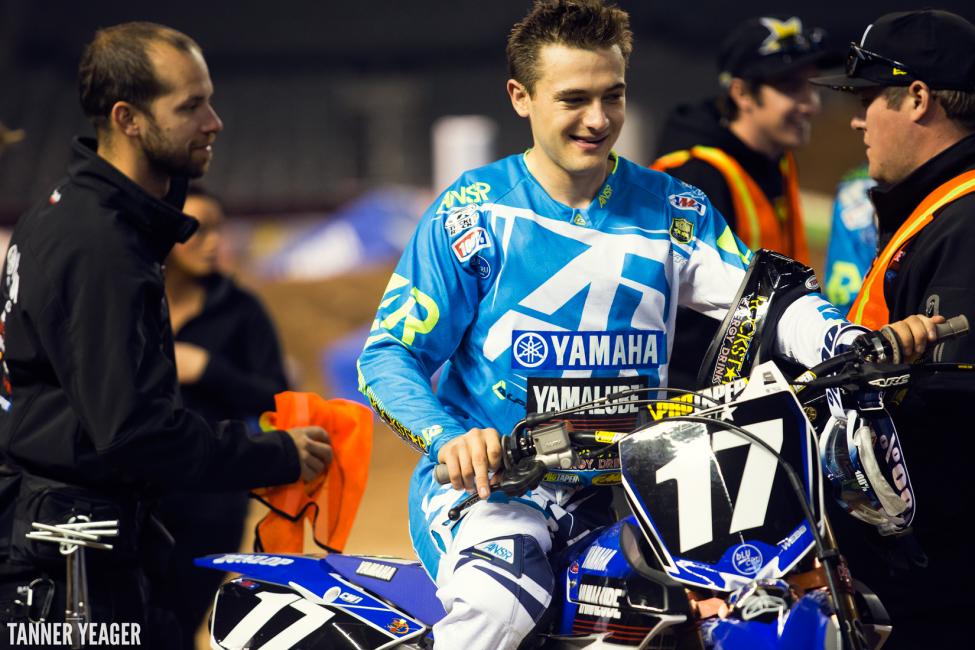 THE NUMBER: 2 (Andras Hegyi)
Our correspondent in Hungary came up with some really cool digits this week, including this: Ken Roczen is the third rider to win both on Japanese and non-Japanese bikes. Jimmy Ellis won with Canadian Can-Am and Japanese Honda in the seventies; Ryan Dungey won more recently with Japanese Suzuki and then Austrian KTM. Roczen of course won last year on his KTM, and now Suzuki.
Also, Roczen is the sixth current 450 AMA Motocross Champion (and back-in-the-day 250 Class Champion) who was able to win a season opener in Monster Energy AMA Supercross: Tony DiStefano (1976), Kent Howerton (1981), Jeff Stanton (1991), Jeremy McGrath (1996), Ryan Villopoto (2012), and Ken Roczen (2015).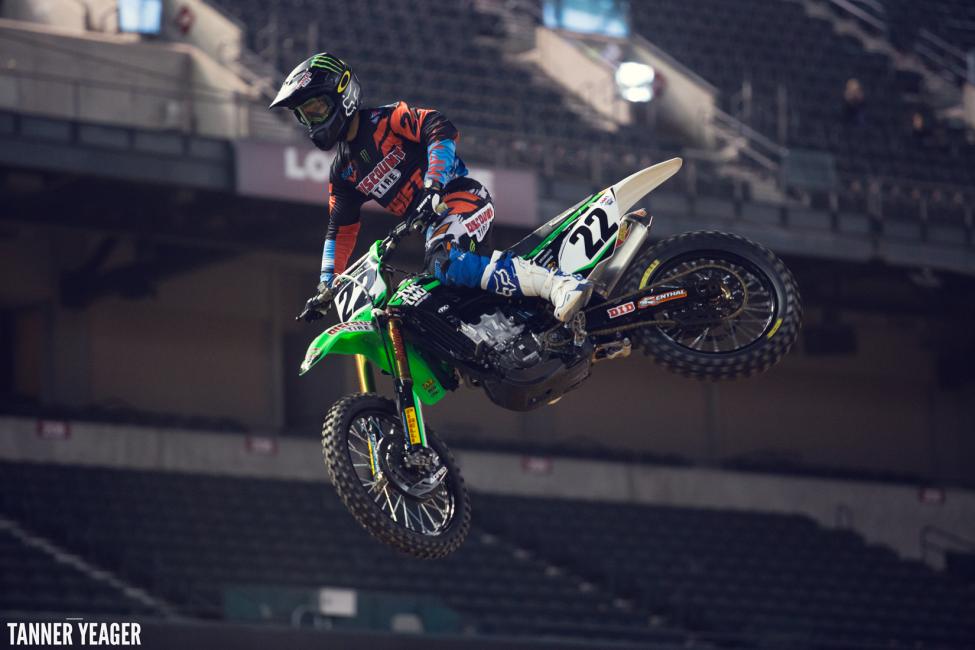 NEW ERA (DC)
Just before the start of the opening ceremonies, Nick McCabe and I ducked in to the Rockstar Energy Racing Husqvarna tents (yes, plural) to visit with team owner Bobby Hewitt, as well as the great Eric Geboers, who was visiting from Belgium. Hewitt explained his new spot for fans in between the race-team semi and the sponsor semi, which gives the team a chance to show off some of their sponsors' products, like FMF and Rockstar Energy, and of course Husqvarna. As the time to go into the stadium drew closer, Nick asked Bobby what a good night would like for his team in its Husky debut.
"I think that everyone in the top ten would be a pretty good start," he answered, speaking of 450SX debutante Jason Anderson and 250SX riders Zach Osborne and Zach Bell. "And I think a great start would be to have a couple of top-fives, and a top-ten. Anything beyond that, like a podium? Wow, that would just be incredible."
I didn't see Bobby Hewitt after the races, but I saw his Rockstar Husqvarna riders on the podium in both class—the first time that Husqvarna has made the podium in each class in an AMA SX/MX race since 1972, when Gunnar Lindstrom (250) and Gary Semics (500) both made the box in the Road Atlanta National (thanks to Brandon Balwdin and Scott Wallenberg for figuring that one out)—and Zach Bell just outside the top ten. It's safe to say that although they didn't win, he had an incredibly great night.
Now, after banging with Tyler Bowers in their heat race, Osborne has a broken thumb, but there's no way he's going to miss Phoenix or any other race—he's a Husky man, and that's how those Swedes always rolled!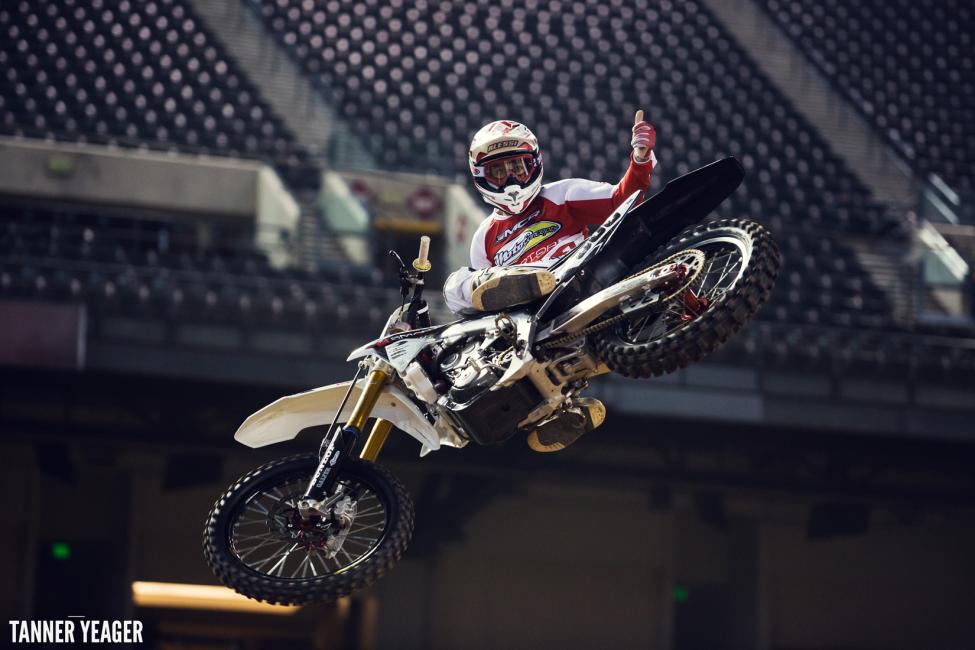 PRO PERSPECTIVE (Jason Thomas)
Anaheim 1 is now just a memory. This whole week has been spent reviewing what went right and what went wrong last Saturday. So much work, thought, and preparation went into being ready to kick this series off. I always tried to really replay the day and night and understand why some things worked out and some weren't as ideal. Learning from mistakes is a crucial aspect of this sport that I feel is often overlooked. Everything, from strategy in timed qualifying, to gate-pick choice, to mental clarity during the race, can be reviewed and improved upon. The race day is a whirlwind and it's hard to make adjustments mid-stream. All of the downtime and daydreaming this past week is a perfect chance to decide how to change it up and bring a better version this Saturday. I like to look at the results from Anaheim and then compare with round two and see who was able to diagnose issues and address them.
This happens every year, both indoors and out, if you look closely. Case in point, Ryan Dungey's outdoor season in 2010. Go back and watch him struggle mightily at Hangtown's opener and his subsequent return at Freestone the following round. He was a completely different rider out there and that's not by accident. So, as we roll into Phoenix, let's see who can turn this ship around and come out swinging. The riders have had a whole week to think and now will get the chance to react. Phoenix is here!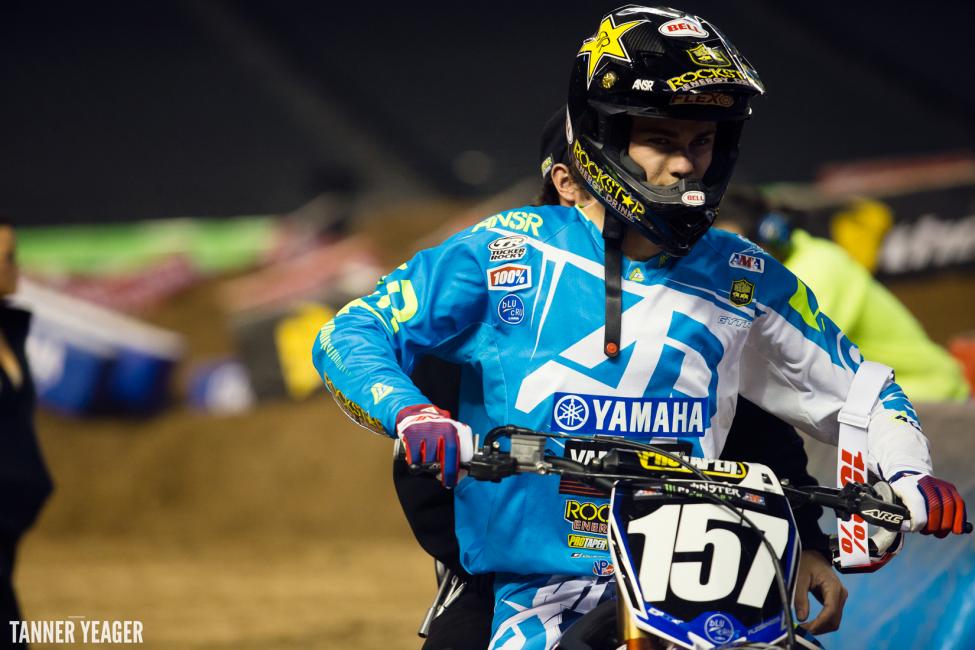 THE NUMBER: 8 (Andras Hegyi)
Ken Roczen is the eighth rider able to win two consecutive season openers. But K-Roc is the first in history to win two consecutive season openers with two different brands. In 2014, the German star won with KTM, and now his Suzuki. The previous repeat winner all rode the same brand in their back-to-back opener wins.
Johnny O'Mara (1984-85) with Honda
Jeff Ward (1987-88) with Kawasaki
Mike LaRocco (1992-93) with Kawasaki
Jeremy McGrath (1994-96) with Honda, and (2000-01) with Yamaha
Chad Reed (2003-04) with Yamaha
James Stewart (2006-07) with Kawasaki
Ryan Villopoto (2011-12) with Kawasaki
Ken Roczen (2014) with KTM; (2015) with Suzuki
And how about this: Like Greg Albertyn, Roczen is the second non-American rider to win a season opener with Suzuki. The South African Albee won the season opener in 1997.
And Like Millsaps, Roczen is the second rider to win on his first Suzuki race. Millsaps won his first Suzuki race in the 2013 season opener (and yes, both Millsaps and Roczen rode Suzukis before in their careers, but not AMA Supercross).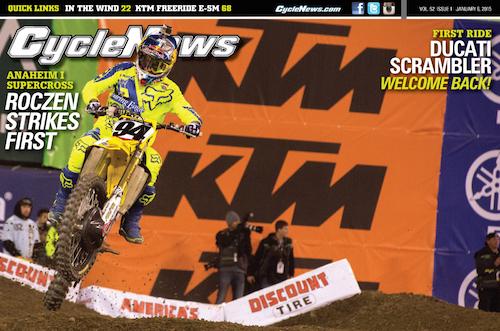 A LEGEND WEIGHS IN (DC)
A tip of the visor to Rick Johnson for giving his honest take on the James Stewart situation, and Jason Weigandt for asking the question on this Racer X Online interview:
Racer X: I've heard you weigh in on the James Stewart situation.
Rick Johnson: Yes, and here's where I stand on that: he made a mistake, yes. But was it completely belligerent like Jon Jones in UFC who was caught with cocaine? No. He's using this substance to focus because all of these guys—riders, drivers, even military special forces guys—we all have ADD. I got tested and I was off the charts. Off the charts! I went to an ADD specialist and they just said, "Whoa," when they saw my test results. We're all like that, and that's why we function so well in chaotic scenarios. Look at the handwriting—we can have nice signatures but we have terrible handwriting. Our brain doesn't work that way. It's like an artist or a musician; their mind is so far beyond the normal level in being able to do what they do—you just can't fathom it. For James, it probably helps him function in daily life. Yes, he made the mistake or not reporting it, and that is a real mistake. But my biggest stand is, the punishment outweighs the crime massively. To take a guy in prime years of his career and tell him to take a year off, it ruins his career. James, you screwed up, but FIM, you're taking it too far. He slapped you in the face and you shot him with a bazooka.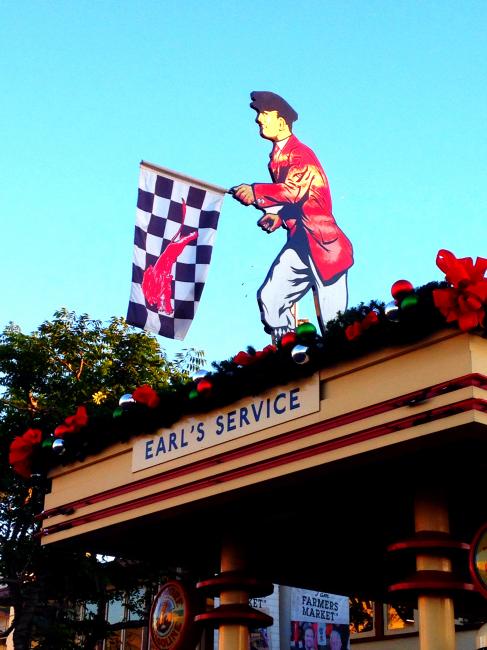 NOT QUITE THERE (Matthes)
Going into Anaheim 1 there were some prognosticating done by prognosticators like Jason Thomas, Jason Weigandt, and myself, and we came up with twenty solid, no-doubt-about-it main event riders for the 450SX Class. This left a lot of really fast guys vying for the last two spots, and we saw a couple of riders beat some bigger names to fight their way in.
Jimmy Albertson, Nick Wey, and Matt Moss were among three guys that watched the main event from the stands (it's also highly doubtful these three guys actually did watch the main event from the stands, but it does have a nice ring to it), while Kyle Partridge and Tevin Tapia took the last two spots in the LCQ—good for them. I know I didn't have either guy slotted into the main in my MotoDynasty Fantasy Supercross picks (CROSS-PROMOTION ALERT). If a track has tough whoops I'll usually watch Partridge in practice, because he does get through those things really good.
If you're Wey or Albertson, it sucks for you to not qualify for the opener because all the media is there and both riders have their own teams built around them. But between them they have a ton of main events under their belt and I'm sure they'll be into the big show this Saturday night. And, oh yeah, add in Kyle Chisholm this weekend as he wasn't able to make Anaheim. Looking at the top twenty guys, I can't see any of those guys dropping out, so I predict another battle for the last two spots between some great riders.
Oftentimes the battle for the last transfer spot in the semis and LCQs are great racing, and I find myself watching those with great interest.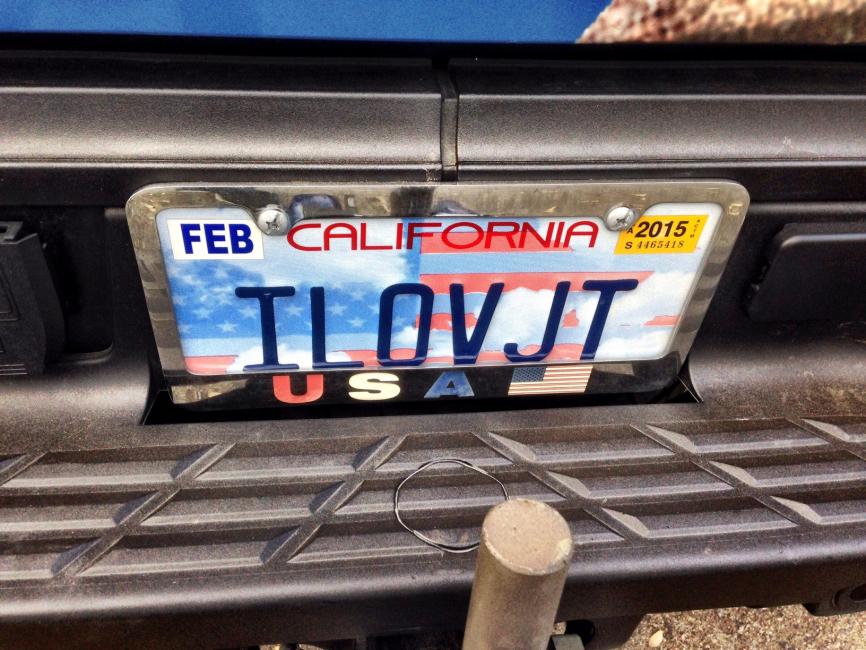 ARENACROSS NOW! (DC)
There's another series starting out without its four-times-running champion on the gate. The 2015 AMSOIL Arenacross Championship kicks off in Cincinnati without the Lord of the Arenas, Tyler Bowers, there to be everyone's favorite. But veterans like Chris Blose, Matt Goerke, and Mike McDade, plus kids like Team Babbitt's Kawasaki's Zach Ames and Jacob Hayes, and GEICO Honda's Jordon Smith will be there, and the action should be exceptional as always! Keep an eye out tomorrow for the AX opener's news and notes right here. Also, check out this preview by Chase Stallo.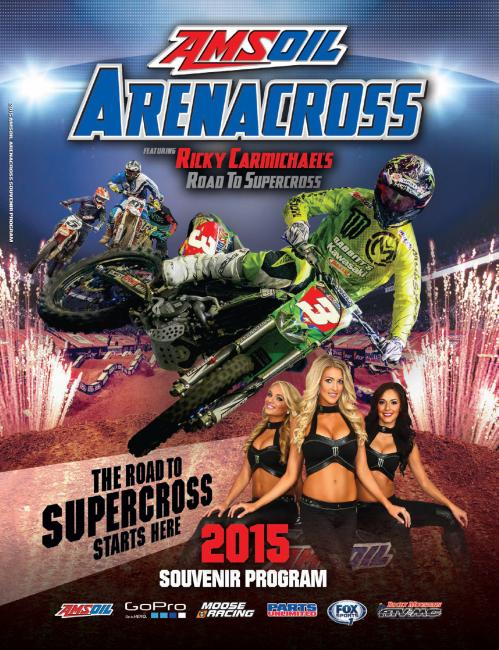 PIT PARTY (Matthes)
One thing about Anaheim 1 that I see more and more every year is a commitment by the teams to step up the B to B (Kenny Watson bringing this phrase into motocross years ago is also a form of B to B), which means "Business to Business," and indicates that in return for a sponsor helping out a team, the team tries to incorporate the product line into their team presentation. More than ever the teams are having displays, contests, giveaways—whatever it is—to try and promote the brands that help them go racing. JGR debuted a bouncy-house, and more and more teams are going to the plastic floors for their pits as well.
It's more impressive each year, and half the fun is walking around and seeing what the teams are doing to try and get fans into their teams. There are also some impressive pit carts, wheel holders, pit vehicles, and the like. Teams put as much effort into having cool stuff that makes their lifves easier as they do testing. RCH had a cool little drop-down wheel thing for the techs to put their laptops on when collecting data. Things like that are pretty cool.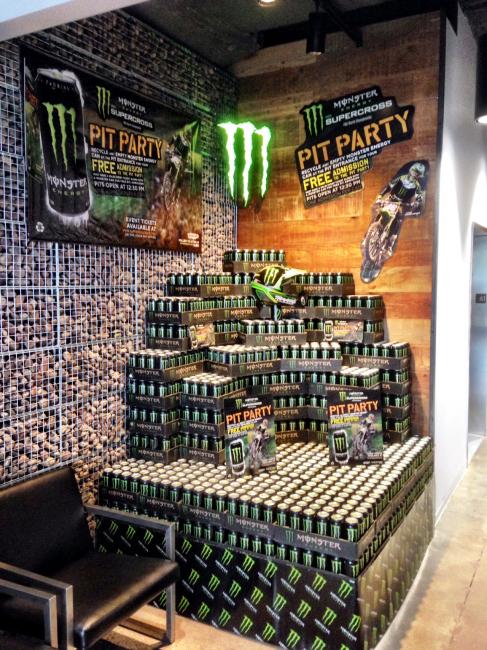 PULPMX LINKS (Matthes)
David Vuillemin takes a look at Anaheim and gives us his thoughts on it HERE.
Jason Thomas, DV and I discuss Phoenix in the Fly Racing Moto:60 Show HERE
Cub reporter Moser profiles a Burger and a Wey in his Just Short column HERE.
MISSING MEN (DC)
Ryan Villopoto and James Stewart were both at Anaheim, neither racing of course. Villopoto was introduced and interviewed during opening ceremonies but that was about it; his presence could be felt more in the panic that seemed to grip Monster Energy Kawasaki after the day started out horribly with Hahn's injury and ended with Millsaps' main-event struggles. Losing RV to his European adventure means that the team has lost their captain of the last five years, and it may take some time before they find a true replacement.
As for Stewart, he came out to sign autographs, talk to sponsors and fans, and be a part of Suzuki's global team reunion. Yoshimura Suzuki had Blake Baggett out there, but like RV with Kawasaki, he's not quite the same as having a multi-time champion out there. But I did notice one very interesting statistic during both the 250 and 450SX main events: there wasn't a single Suzuki in the 250 main, but there were six Suzukis in the 450 main, which was more than anyone. They also had the winner in Ken Roczen.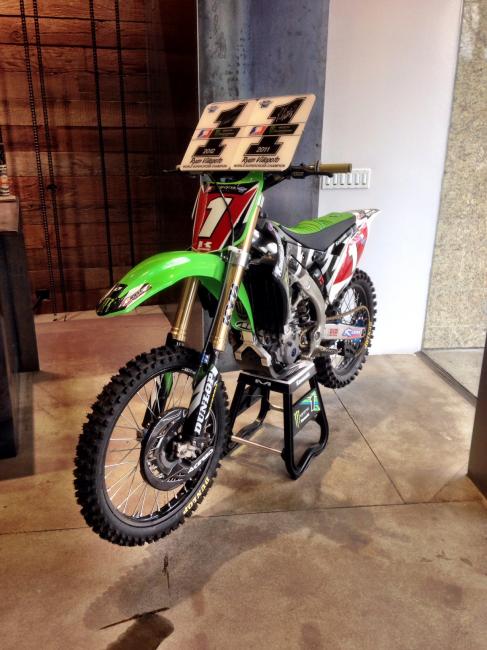 RACER X FANTASY (Chase Stallo)
Launched just days after the new year, Racer X MotoDynasty Fantasy Supercross, which offers private league play, dynasty play, weekly and yearly prizes, and much more, has gotten off to an incredible start. It's been a hot topic around the industry and one that we've enjoyed covering. Most of you are new to the league, so each week Steve Matthes and Jason Thomas will be doing a podcast to help with your picks and I'll be dropping a weekly column as well.
Make sure to sign-up today and make you picks for Phoenix.
THE NUMBER: 14 (Andras Hegyi)
Ken Roczen is the fourteenth Suzuki-mounted winner in the premier class of AMA Supercross, and he also earned the sixty-seventh Suzuki win in the premier class.
Mark Barnett (16 wins)
Ricky Carmichael (15)
Ryan Dungey (7)
James Stewart (6)
Kent Howerton (5)
Chad Reed (3)
Darrell Shultz (3)
Larry Ward (3)
Tony DiStefano (2)
Jeremy McGrath (2)
Davi Millsaps (2)
Greg Albertyn (1)
Mike LaRocco (1)
Ken Roczen (1)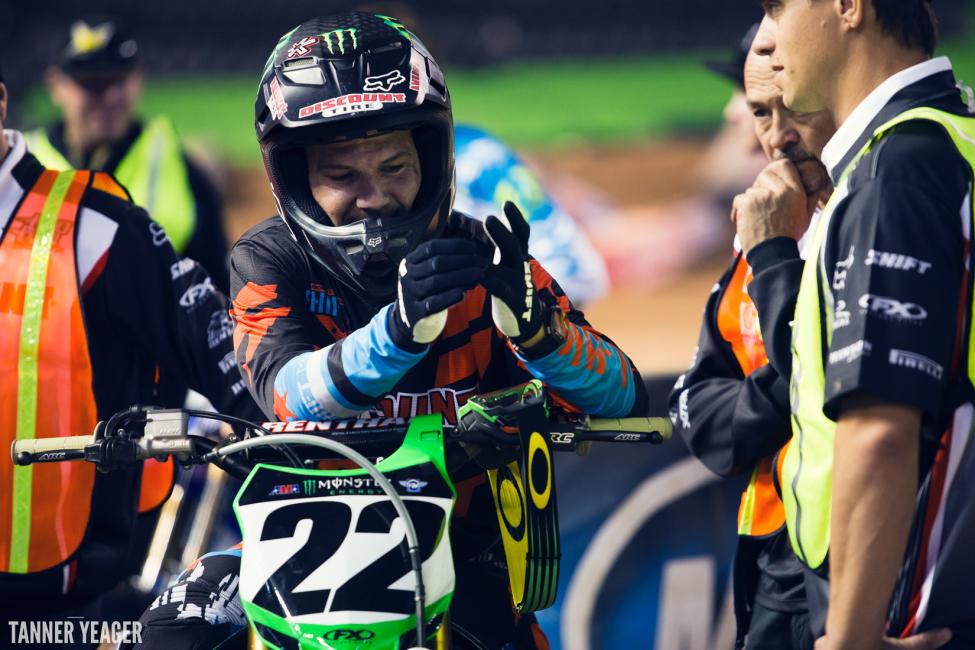 HEY, WATCH IT!
Did you check out the Racer X Show hosted by Greg White, featuring the weekly roundup of highlights from all over the world? If not, give it a look as you get your Phoenix on!
Motorcycle Superstore and Ami Houde take you through the pits at Anaheim.
RANDOM NOTES
Monster Energy Supercross isn't the only form of exciting racing happening right now. The 2015 Dakar Rally is currently under way in Argentina and it's producing a fair amount of cool stories and videos. You can follow the action right here.
For the latest from Canada, check out DMX Frid'Eh Update #1.
The printer just started mailing out the March '15 issue today, so keep an eye for the mailman in the next couple of weeks. Don't want to wait for the print copy? Visit www.racerxdigital.com to see what the latest issue of Racer X Illustrated has in store.
Heading to Phoenix for the second round of Monster Energy Supercross this weekend? Stop by our booth in the Party in the Pits to pick up a free copy of Racer X Illustrated. You can also sign up or renew for just $20 (60 percent off the cover price) to get a year subscription, a free pair of Racer X socks, and an extra issue!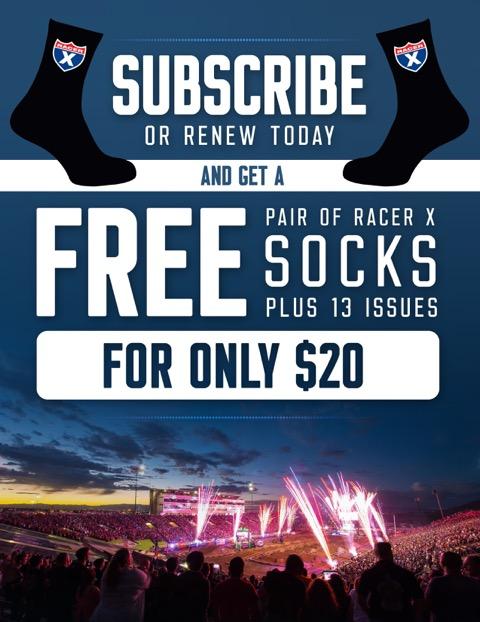 Finally, and dreadfully, we tip our pens and pencils and iPhones and everything else to the men and women of Charlie Hebdo, who were slaughtered by militant terrorists who took exception to their particularly satirical and funny form of liberty and freedom of speech. Yes, it happened in France, but terrorism knows no borders, as we Americans found out on 9/11/2001. It's a tragedy that three pissed-off loners with submachine guns can paralyze a nation like they did this week in France, but that's the world we live in now, where extremism mashes up against basic freedom and everyone loses. Hopefully those horrific and senseless murders won't change our country's first-ever ally's deep sense of wit and humor. Je suis Charlie!