Chase Field
Phoenix

,

AZ
Phoenix
Monster Energy AMA Supercross Championship
Red Bull delivers yet another unique motorsports event this afternoon with Frozen Rush, where 900 horsepower four-wheel drive short-course off-road trucks do battle on a ski slope—in the snow. You can watch it all on a live, free webcast starting at 12:30 EST Friday at www.redbull.com/frozenrush. Last year's champion is none other than seven-time AMA National Supercross and Motocross Champion Rick Johnson. RJ is very determined to win again but also very opinionated on the sport he used to dominate. We chatted him up in the Frozen Rush pits.

Racer X: What the heck are you doing here?
Rick Johnson: I'm racing in the snow! Red Bull Frozen Rush year two—but actually year three for me. We did a pilot program with just me driving at Mount Snow in Maine two years ago, then last year we had a full on event with some great drivers. So now we're freezing our asses off—it's record cold temperatures! It's 20 degrees below! The trucks don't like it so much, but the drivers, I like to say we're in the warmest spot. We had a great day today, qualified on the pole. We're ready for tomorrow.
You were the first to try it—was it your idea?
I was like the monkey they sent up into space. I was crazy enough, when they said, "Do you want to go try this?" I said "Yup!" It's like in the movie Step Brothers, "Do you want to do karate in the garage?" "Yup!" Pete Brinkerhoff had the idea; he's done some contract work for Red Bull. He thought it would be new and exciting, so we tried it at Sierra Tahoe. I had a blast, so I said let's try it on the East Coast. I got to design the track, but knowing how these trucks are 4000 pounds, they don't want to stop and turn on snow when you're going down a ski slope. We have spikes in the tires but you have to use the power to make the truck turn and come around. It's a little bit spooky, and that first year it was like "Rick, make it look fun and fast but don't screw up and crash or we'll never do anything like this again." The first year worked well, so last year we had eight trucks competing on lap times. This year we're doing head-to-head racing for the first time.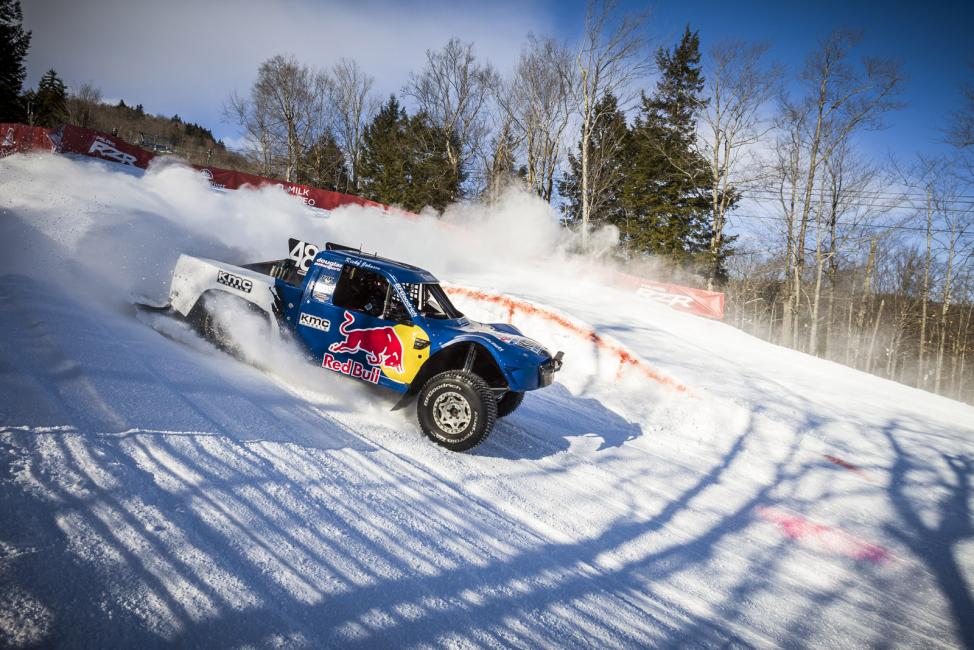 Has it changed a lot, or is snow fairly close to dirt?
It's close, but the snow looks consistent but it's not. It's harder to read the terrain. We have white snow, white ice, white powder but it all looks the same. The biggest thing is racing downhill; it takes a longer way to stop—4000 pounds, 900 horsepower, and gravity.

I see you're running number 48. Is that because of your buddy [six-time NASCAR Cup Champion] Jimmie Johnson?
It is. He ran my numbers back in the day so now I'm running his. I'm a big fan of what he's done….gotta support the Johnsons out there.
Did you watch Anaheim?
Yes, I did. And I did pick Roczen to win, but I know a lot of people wanted to talk about [Ryan] Villopoto not being there and [James] Stewart not being there. But the flock of talent right now, what I love about this generation is that they're all starving hungry alpha-male athletes. Jason Anderson, Eli Tomac, [Trey] Canard, [Ryan] Dungey, [Ken] Roczen, all of these guys. I'm watching them on Instagram and seeing what they do with their trainers, be it at Rockwell Gym, or with Ryno [Ryan Hughes], or Aldon Baker's flock, I see how serious they are. There was a trend where there weren't a lot of guys who were strong the last five laps. I think it was there in the late '80s, but then Jeremy [McGrath] "The King," not taking anything away from him, but there weren't a lot of guys that were hammering during that era. Then Ricky Carmichael set the trend and now you have all these guys like Ken Roczen…they better not let him get any momentum because he's phenomenal.
I want to talk to you about Jason Anderson, because he was your guy way back in the day.
Yes, when he was age 12. I wish I could say I discovered him, but he was already with Suzuki, and I had a deal where I was helping develop some of their young riders. I was working with Sebastien Tortelli as a pro, but also Brady Kiesel and Austin Politelli as amateurs. Politelli is on the scene now and he's hauling ass for a big kid on a 250F! When I met Anderson, I'll never forget it, halfway through the day we're doing drills and riding, and I see blood seeping through his glove. I ask if he's okay and he says yeah. He pulls the glove off, and he's pulled all the skin off from his ring finger to his pinky finger. I tell him maybe he should stop and he says "No I'm good let's keep going!" Every time I worked with him, and I told him little things, he'd do them. When you're teaching a kid who is already that good, you're just filling in small spots. He was one of the fastest kids in the world at his age. I would calm him down and use terms like "condition over position" when picking start gates. Do I think I in anyway shape or form made him who he is? No. I didn't do that for Jimmie [Johnson] or Bryce [Menzies, in truck racing] either. But to be a cog in their wheel and watch them grow…and it kind of bummed me out because Jason got second at Anaheim, and it's Husky's first podium since the '70s, and they hardly talked about him. You watch; he's going to be a force to be reckoned with.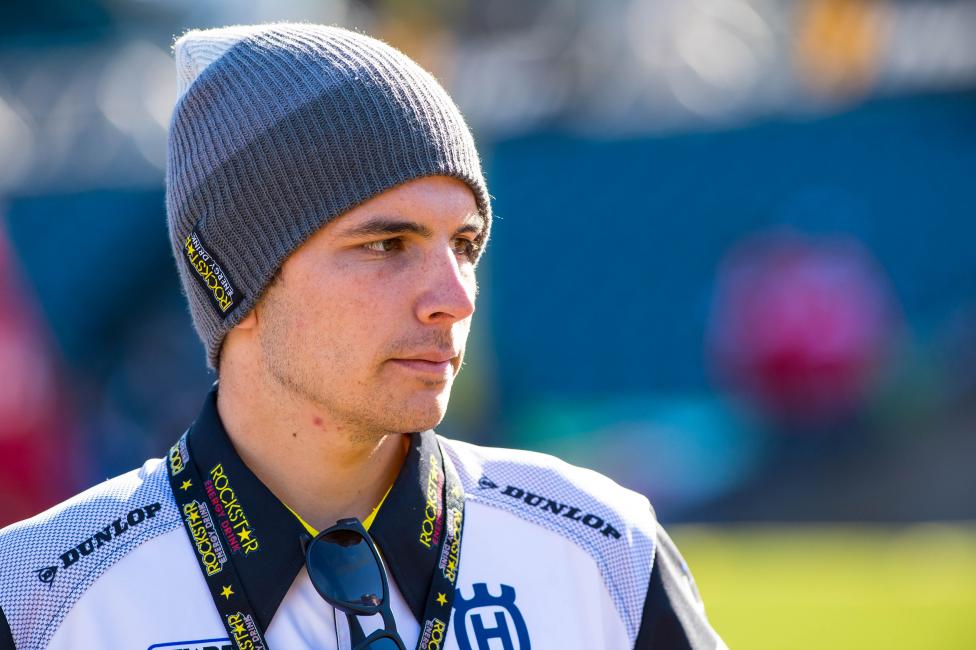 I've heard you weigh in on the James Stewart situation.
Yes, and here's where I stand on that: he made a mistake, yes. But was it completely belligerent like Jon Jones in UFC who was caught with cocaine? No. He's using this substance to focus because all of these guys—riders, drivers, even military special forces guys—we all have ADD. I got tested and I was off the charts. Off the charts! I went to an ADD specialist and they just said "Whoa" when they saw my test results. We're all like that, and that's why we function so well in chaotic scenarios. Look at the handwriting—we can have nice signatures but we have terrible handwriting. Our brain doesn't work that way. It's like an artist or a musician; their mind is so far beyond the normal level in being able to do what they do, you just can't fathom it. For James, it probably helps him function in daily life. Yes, he made the mistake or not reporting it, and that is a real mistake. But my biggest stand is, the punishment outweighs the crime massively. To take a guy in prime years of his career and tell him to take a year off, it ruins his career. James, you screwed up, but FIM, you're talking it too far. He slapped you in the face and you shot him with a bazooka.
Was PED stuff or steroids talked about in your day?
No…I had genetically big legs.
Yeah, we saw the Fox ad.
Yeah, with my naked ass hanging out. So someone's brother said, "Look at him he must be juicing." We heard about some guys that dabbled in it or tried it, but it was never top guys, because everyone was so afraid of arm pump. No one wanted to try anything because of fear it would pump them up. So you see the hard core animal trainers, Jeff Ward, Broc Glover, David Bailey, Johnny O'Mara, these guys would run triathlons and marathons and 100-mile bike races and finish top ten against some of the best cyclists on the West Coast. These guys trained their asses off, but if you looked at them, none of them had a chest, they were ultra lean. We didn't suspect any of those guys of doing it.
Hey, if you come from a weaker gene pool and you don't have the strength or fitness of an Eli Tomac, can you use steroids to make up for that? No! Tough shit! You're a fifth-placed guy, then. And did we really see James perform at a higher level? No, he's never been as good as his last year on a Kawasaki.

Last thing: can you win this race tomorrow?
What I'd love to see happen is for it to come down to me and my old teammate, and fellow Red Bull athlete, Bryce Menzies. We went 1-2 yesterday and 2-1 today, and I got him today so he's got to tell me all about how he messed up here and he'll get faster there [laughs]. We'll know tomorrow. But this whole pit is full of champions—Rob MacChachren, Chad Hoard, Brian Deegan, Carl Renezeder, Scott Douglas, RJ Anderson, Todd LeDuc. Anyone can win; these guys could kick my ass. But the goal obviously is to win, and if I don't win, I'll go cry somewhere by myself for a little bit, and then I'll come out and say [teeth gritting] "Congratulations. Good job you #)(@!#*(."