The best years of supercross should be the ones with the deepest field of potential winners, but sometimes a championship battle between two men makes for a better story. Rivalries rule sports, and there's no doubt whatsoever that James Stewart versus Chad Reed is the best rivalry this sport has ever seen. In 2009's Monster Energy Supercross Championship, the bad blood boiled over, and the drama reached heights that would be hard for any season to match.
The story had been writing itself for quite awhile. All the way back to the Unadilla 125 Motocross National in 2002, when Stewart pulled over and let Reed pass him, only to pass him back—the heat was on between these two. At times, they had Ricky Carmichael around as a buffer, but by 2009 RC had retired, and no other talent had risen to their level. They were the best in the business after collecting the 2007 and 2008 championships between them. Then came another log on the fire—the team switch. Larry Brooks managed the San Manuel L&M Yamaha team to the 2008 championship with Reed, but while he and Reed's agent where negotiating for a 2009 contract, Brooks found that Stewart's old employer, Monster Energy Kawasaki, was not going to bring their star rider back. Stewart was a free agent, and Brooks signed him. Reed's old team now employed his greatest rival.
At that point, Reed, the defending supercross champion, was unemployed, and it wasn't a good time for that. The sagging economy had really started to impact the sport. We can still see the effects simply from researching this story—Cycle News, which we've used for reference throughout, gets notably thinner during these years. There's a notable dearth of win ads now as brands try to save every dime they can, and teams became much more reliant on outside sponsorship money. Even supercross itself needed a energy drink bailout, as the old cell phone and video game sponsors were gone, and Monster Energy rushed in late to take title sponsorship reigns. In Reed's case, Rockstar Energy Drink stepped up and helped Suzuki find the funds to sign him. However, Reed's debut on a yellow bike at the 2008 Motocross of Nations was terrible. Later, he and Stewart met for the first time on their new mounts at the 2008 US Open. They battled, but Stewart won. Things would come out much differently at Anaheim.
There, Reed hung his #1 atop the qualifying charts—something that almost never happened when Stewart was around—and showed impressive speed in the main event when he sliced inside inside of his old rival to take the lead. A few laps later, Stewart launched an attack and passed him back. Then Stewart bobbled coming out of a turn before the whoops, Reed ran into the back of him, and they both hit the ground hard. Here's the race footage; go to 1:34 to watch the crash.
Reed quickly remounted and finished third. A dazed Stewart tried to push his bike off the track, but pushed it right into Kevin Windham and went down again. His bike was too mangled to continue.
Through this carnage, JGR Toyota Yamaha's Josh Grant inherited the lead. For added drama, he picked up a Tuff block cover in his rear wheel and smoke started pouring out of his rear brake. He held it wide open regardless and sailed through with his first-ever 450 SX win, in just his second-ever start in the class. It was also the first win ever for the JGR team.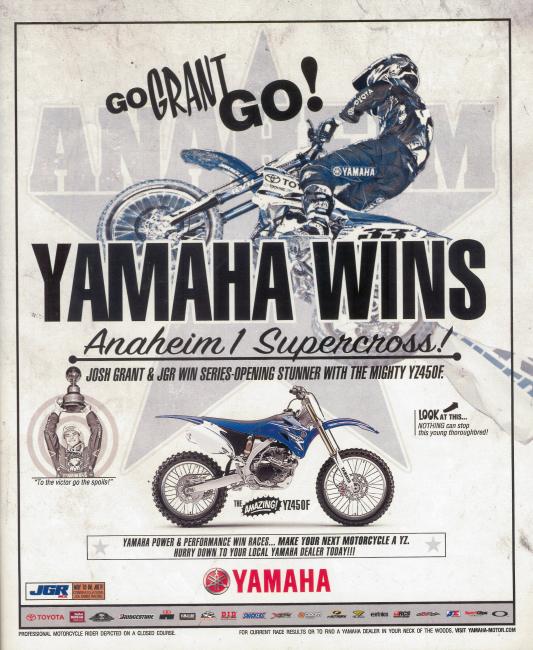 Things were good for the JGR Yamaha unit, but it was clear Stewart was out of sorts with his new L&M Yamaha. It was enough, though, for him to win Phoenix after Reed got a terrible start. Reed caught him late, but ran out of time. Here's the coverage, and by the way, note who they lap with two laps to go at the 37:00 mark: 450 class rookie Ryan Villopoto, Stewart's replacement at Kawasaki.
The handling still looked off on Stewart's bike at Anaheim 2, but Reed still couldn't get starts on his Suzuki. The story was the same—Reed got close on the last lap but ran out of time.
The old James Stewart returned in Houston. Sporting a revised setup and new forks, James looked much better from the first laps of practice and won the main event with ease. "Just more time on the bike, starting to feel more comfortable," said Stewart. Reed was second again, this time admitting he was less than comfortable and had nothing for Stewart. Villopoto landed on the 450 podium for the first time.
Now the countdown was on—if Stewart could run his streak to seven in a row, he'd be right there in the points. After wins at San Francisco, Anaheim 3, and Atlanta, he'd done just that.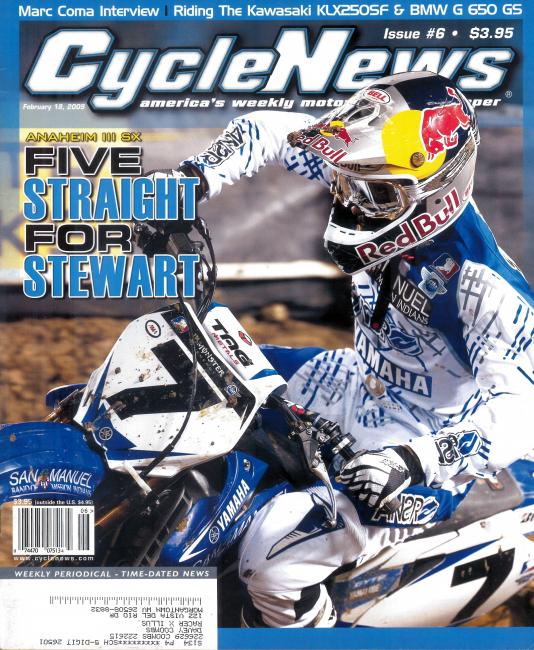 It took eight races for Stewart to erase his round-one DNF in the points. It also took eight races for Reed to get a holeshot. The Indianapolis race was spectacular, with Reed and his Suzuki teammate Mike Alessi getting out ahead of James. Stewart made quick work of Alessi and closed on Reed before washing out and going down. He picked himself up and made another run, catching and passing Reed in traffic, but then Reed kept the pressure on and forced Stewart into another crash. This was too much to overcome, and Reed had his first win of the season. Interestingly, it was the first victory in supercross by a #1 motorcycle since Jeremy McGrath's Anaheim 2 triumph in 2001.
Momentum took another huge turn for Reed at Daytona. Stewart crashed hard going into the first turn and banged up his body and bike. Here's the Daytona race; go to minute 19:00 to see the huge crash. By the way, Stewart at first tries to hop up Josh Hill's #75 Yamaha before realizing it's the wrong bike!
The highlight of the Daytona race was the infamous Jason Lawrence stealing a start (by going inside the hay bales in the first turn) and leading most of the way, before Reed tracked him down late. J-Law would finish second, the last best race of his mercurial, controversial career. Stewart salvaged seventh, giving Reed an 11-point lead.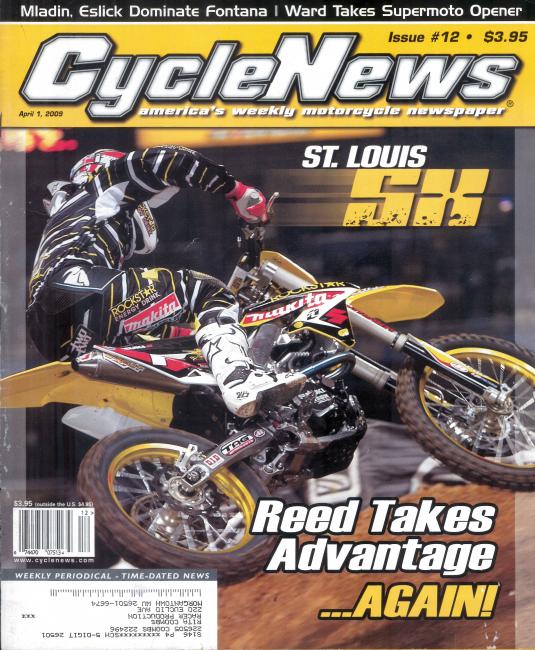 Stewart needed to get moving again, and he won in New Orleans to do it. Reed was second, of course. Yamaha's Broc Hepler logged a career-best third.
The St. Louis race had an interesting hook: Travis Pastrana was back! He helped design the course and even came out of supercross retirement to race. Four years past his last year as a full-time supercross campaigner, he rode fast but failed to make the main event. In that main, Stewart led but crashed, and Reed stole the victory and re-upped his points lead to 11.
Stewart won in Toronto to get the points lead to 8. Next came Jacksonville, when things get physical between Stewart and Reed. Here's the race. The real battle begins at about 33:00, when Ricky Carmichael, helping out with the announcing, begins unleashing a series of "Ohhhs!" as the action reaches a fever pitch. The rivals scrapped so hard that Reed ended up with a fork guard ripped off of his bike, and then Stewart pulled away in the final laps. Afterwards, they shared words and stares on the podium, leading to some of the most classic Reed/Stewart images. A few days later, Stewart's team manager Larry Brooks went on a motocross message board to explain that Reed showed unsportsmanlike conduct by grabbing the back of Stewart's jersey and neck after they crossed the finish line to get his attention. Fingers were being pointed and tempers were flaring.
Also building steam was an incredible stat on Stewart: During his five-year career in the supercross premier class, he had won every single race he had not crashed in. That streak finally came to an end in Seattle, but not at the hands of Reed. Instead, a rejuvenated Villopoto returned to the series after missing a few rounds with illness. During his break, he jettisoned his old trainer Randy Lawrence and switched to Jeff Spencer. He also had a new mechanic for the night in Mike Williamson, as his regular mechanic John Mitcheff was away attending his father's funeral. Eventually, Villopoto and Williamson would create the tandem that produced four straight titles. Through all the changes, and in front of his home-state Washington fans, Villopoto appeared a different rider. Fittingly, he battled past his old amateur buddy Mike Alessi to take the lead, and eventually, his first career 450 win. Stewart finished second after getting a bad start, but he did not crash, ending his career win or crash streak. Reed went down in the first turn and took a lowly seventh. Finally, Stewart was into the points lead. Here's the Seattle race.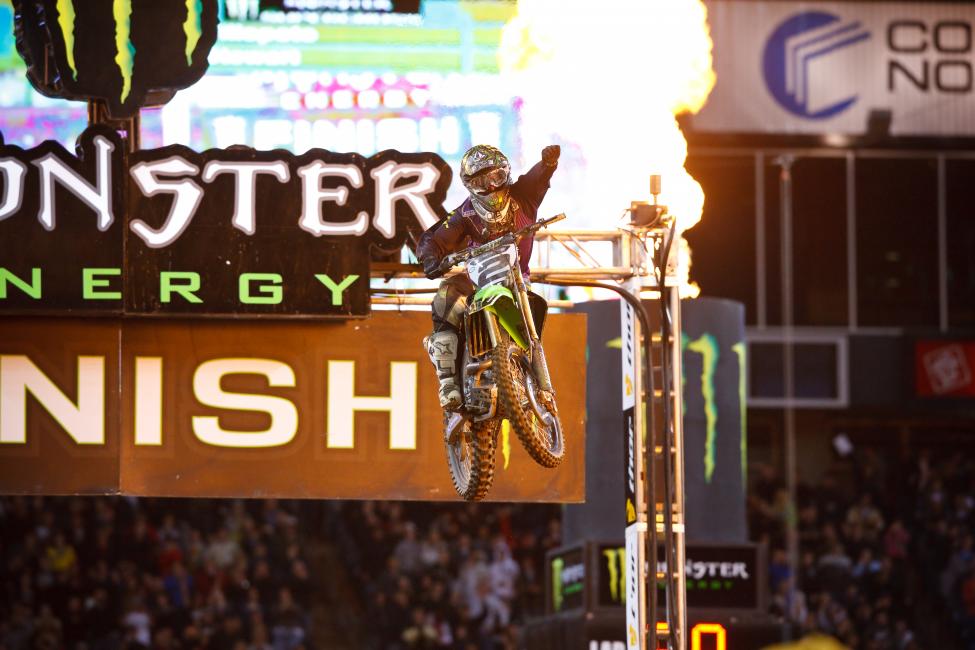 Reed was down 3 points and would need to best Stewart at the final two rounds to get the crown. They got into another big battle at Salt Lake City. Much like Jacksonville, it got aggressive, and they made contact. With six laps left, Stewart bobbled while leading and Reed got close. Then they approached Stewart's teammate Kyle Chisholm, who was about to be lapped. Suddenly, Chisholm grabbed a handful of throttle and kept pace with Reed in a rhythm lane, and then took him high in the next corner. Chisholm crashed and Reed survived, but Reed lost time to Stewart, and the damage was done. It comes around the 34:00 mark of this clip. Also, if you watch Stewart's post-race interview, it's clear he had nothing to do with the Chisholm incident and didn't even realize it had happened.
As for Reed, he fired off in his usual manner. "Chisholm? Whose that guy?" said Reed. "I've got one of the best teammates out there [Mike Alessi] who is a great starter. If that's how they want to play the game let's bring it on."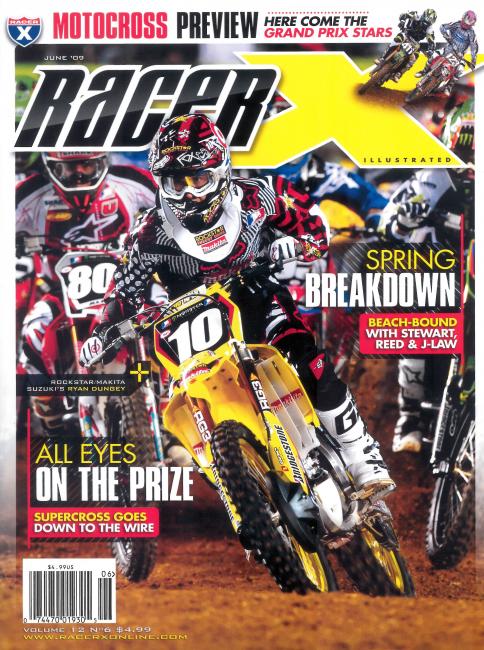 In Las Vegas, the supercross promoters always put together a big pre-race press conference, but Stewart, now embroiled in the Chisholm controversy, didn't show up. This let Reed tee off on him:
"There's a paper trail a mile long that things like his [Chisholm's] boss has done," said Reed, referring to Brooks.
As for nearly coming to blows with Stewart in Jacksonville, Reed said "In order to come to blows, you've got to have somebody that's willing to throw down, too. So I don't think we were that close to getting ready to throw down. I grew up as a normal kid. I went to primary school and a regular school… I got on a bus, wore a uniform and everything like that, so I grew up in a playground, not like most of these motocross kids that are home-schooled… I don't know, I had fun with it, and I was heated, but for good reasons, I believe."
To round it out, Reed commented on the importance of this title to him: "It's been a lot of fun, and I've learned a lot, but this title has a hell of a lot more riding on it than just that red background and number one. There's a lot of pride involved, and there's a lot of, I would call it, hatred over what happened last year, and the situation that it's left in still to this day. There's nothing more that I want to do than to stand on the podium and be the champion, so I will do everything in my power to try and make that happen."
After the race, Stewart finally commented on the Chisholm situation, and skipping the presser. "Well, Friday, honestly I got up and I got a phone call from Larry [Brooks, L&M team manager/co-owner] that said we weren't going to the press conference," said Stewart to us in a post-race interview. "Obviously, I didn't want to sit there and answer the same questions over and over about something I had nothing to do with [referring to Chisholm-gate from Salt Lake City], so in a way it was good. I didn't want to do it, and I don't mind sitting here and taking the heat. It was a big weekend, and the last thing we wanted to have was all of that controversy going into it, or to have me and Chad [Reed] get into an argument up there about a bunch of nothing. It was worth it. It paid off in the end."
Stewart held the upper hand with the 6-point lead, and deservedly so since he had won eleven races to Reed's two. With both focused on each other, Villopoto was free to log another pressure-free ride and take the victory, his second in three races. Reed got a bad start and eventually got to a cautious Stewart, and gave him a shot in the back of the track. Stewart stayed up and held on to finish third. He won the title by 4 points, controversy and drama crammed into every part of the small points gap between them.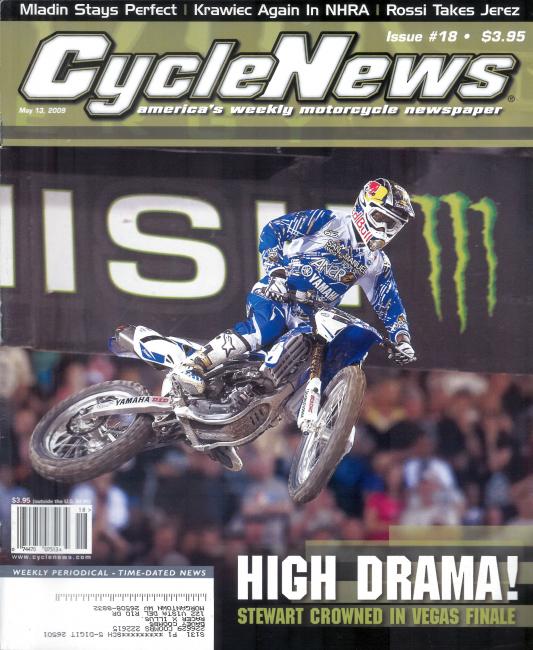 "It's so emotional," said Stewart to us in a post-race interview. "There is so much hard work that went into it, and honestly I'm exhausted right now because it's been the toughest year for me. Every race this year, I've had to win, and that's hard mentally to have to do. I don't think anybody's ever been in a situation where they had to win every race. Even when Ricky [Carmichael] came back [from a first-round DNF] in 2002, [David] Vuillemin [Carmichael's championship rival in 2002] got hurt and missed Daytona and Ricky got his points back. Chad has been on the podium sixteen out of seventeen races this year, so I had to win after Anaheim I, and then after Daytona. It's been mentally hard with everything that's been going on from A1 to Salt Lake. It's just hard. It pays off to have a great team, a great trainer, and a great supporting cast. I'm so happy."
In Lites West, Rockstar Makita Suzuki's Ryan Dungey avenged his title loss to Jason Lawrence from the previous year, staying steady through a season-long challenge from Monster Energy/Pro Circuit Kawasaki's Jake Weimer to ice the 1W. Dungey had finally proven he could handle championship pressure, and he carried that momentum into the Lucas Oil Pro Motocross 250 National Championship that summer and led Team USA to victory at the Motocross of Nations. He and Villopoto were quickly becoming the next big threats to the Reed/Stewart tandem.
The next time you doubt if a rider can come back to his old speed after a long layoff, reference Christophe Pourcel in 2009. The 2006 MX2 World Champion crashed hard at a GP late in 2007 and was temporarily paralyzed, and left with major internal damage. Many thought he'd never race again, and he missed the entire 2008 season. Mitch Payton honored Pourcel's deal with his Monster Energy/Pro Circuit Kawasaki team, and when Pourcel returned to racing after an eighteen-month absence, he returned a winner, taking the East Region opener in Houston. He outdueled his young teammate Austin Stroupe to win the championship in his first full season racing supercross.
2009 AMA Supercross Championship Standings
James Stewart 377 Yamaha
Chad Reed 373 Suzuki
Andrew Short 270 Honda
Josh Grant 237 Yamaha
Kevin Windham 236 Honda
Ryan Villopoto 233 Kawasaki
Ivan Tedesco 226 Honda
Davi Millsaps 219 Honda
Mike Alessi 218 Suzuki
Josh Hill 146 Yamaha
SX Lites East Region
Christophe Pourcel 181 Kawasaki
Austin Stroupe 148 Kawasaki
Nico Izzi 119 Suzuki
Blake Wharton 118 Honda
Wil Hahn 105 KTM
SX Lites West Region
Ryan Dungey 178 Suzuki
Jake Weimer 173 Kawasaki
Ryan Morais 166 Kawasaki
Justin Brayton 119 KTM
Chris Blose 110 Honda