The 2014 season didn't provide Kyle Cunningham with the best of opportunities. The Texas native was dealing with a nagging foot injury, and his team, SmarTop/MotoConcepts, headed north for the summer to contest the Canadian Nationals. But it's a new year for Cunningham, and he's ready to get back at it with his new team, AG Motorsports/Gurrnaid Energy Racing.
Racer X: Two-thousand fifteen, go.
Kyle Cunningham: I'm with AG Motorsports and Gurrnaid Energy Racing, and I'm getting back into the swing of things after surgery during the off-season. I'm really excited to be working with Al Albiker and all those guys over there at AG. It's a great group, they're easy going, and they're all hard workers.
Talk about the surgery.
It stems from when I broke my foot at Elsinore in 2013. In September I went in and found out some of the screws were backing out and some metatarsals were displaced. Under my third toe on the ball of my foot, there was a knot. It felt like a rock in my boot, but I didn't really think much of it and just dealt with it. Then I had an X-Ray done and was explaining to my doctor what it felt like and found out the third metatarsal didn't heal right, and my knuckle right there was sitting backward underneath my foot, which is what I was feeling. I had some bone spurs that were growing too, so I had to have all that fixed. It took a little bit longer to heal than I expected, and I only started riding about four and a half weeks ago, but this is the best my foot has felt, and that's a good thing. Yesterday was my first day back on the supercross track and we're getting everything going now.
What region will you be riding?
I'll be riding the East Coast, so we still have some time. We're just looking forward to getting the ball rolling, working hard, and getting ready for the first round [Arlington], which will be a hometown round for me. Originally I was going to ride 250SX out West and a 450 in the East, then decide whether it'd be a 250 or a 450 outdoors, and that really excited me—I'd like to get back on the 450. But with my foot and the surgery it took us a little longer to get ready. Right now the main focus is to make sure that the 250 is ready to go for the first round on the East Coast. But if we can get the testing done, there's a possibility that we might race San Diego or A3 on the 450 just to try to get some gate time.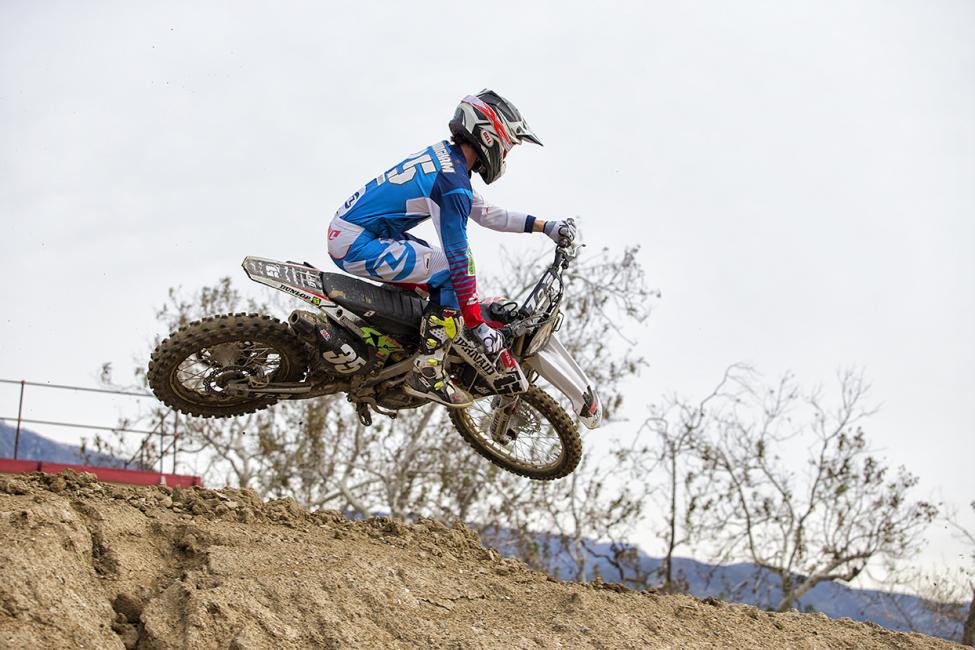 I was wondering which coast you would end up on, actually. I know you don't like to be known as a guy who excels on crappy dirt, but you are good on the West Coast dirt.
I love the West Coast races. Obviously a lot of guys like being there to line up at the first round, and that was the plan to be there at A1, but with the injury it just couldn't happen. The most important thing is to make sure we have the time to test and be ready. I'm looking forward to Dallas and having the time to make sure everything is good to go.
Talk about the AG Motorsports team. It doesn't get a lot of press, but there's been some growth over there.
It's not a huge team. As of right now I think it's just me and Cade Clason, but they've got a lot going and we're looking to turn it into something big. They have great people behind them, and it's a family environment. They're really putting a lot of time in, and we all just want to get results. And after riding the bike for the last four and a half weeks, I believe we have the equipment to do that. The team is doing a great job making things easy on me so I can focus on what I need to do. In past years I could have been a lot stronger in getting off the gate, so we're definitely going to do a lot of starts and make sure we focus on that. We need to start out front. I've been on the podium before, I know what it takes to be up there, and that's our main focus, along with staying in the hunt. I'm going to have to do between 250 and 500 starts every week. I'm going to burn some clutches up for sure.
Who's backing you?
One Industries, Bell Helmets really stepped up for me, Sidi Boots, EKS Brand Goggles, and of course AG Motorsports and Gurrnaid. It's just a great group. I'm really glad I ended up with One Industries too. I love wearing their stuff—it's so light and the colors are awesome. And Sidi, that's honestly the best boot I've ever put on.
Yeah, you need a good boot.
I know, especially for that foot. I'm just excited to have all these good people and companies behind me.
You sound happy. It should be a good year for you.
I'm thinking so. It's a really positive environment. I had a really great year in 2008 when it was just my dad and I riding out of the back of a pickup. It was just us going to the races laughing the whole time and driving twenty hours. I was just having fun riding a motorcycle, and I think that's the biggest thing you could ask for. And now, ever since getting back on the bike after surgery, it's been nothing but fun. Whether I'm doing my motos or just going out to ride one day, I'm still hungry and want to better my results and it's fun. I love doing this.
How's it going in SoCal right now? Things tense for you guys at the tracks yet?
I don't know if it's really started yet, although Milestone was pretty crazy the other day. After that rain we got, I think it was one of the only places open, and I think at one point there was like forty of us out there. It was pretty gnarly.
Does it get sketchy sometimes when you're trying to put in your motos and there's regular Joes like me not paying attention and trying to go fast?
It's not that bad.
Yes it is, come on.
It can get a little crazy sometimes. But that's the good thing about California. Normally, wherever you go, there's guys out there you're racing against on the weekend. It's always the stopwatch battle. I just make sure I go two seconds a lap slower until I show up at the first round. I like to fly under the radar. Seriously though, we're just going to put our heads down, work hard, and see where we end up.