We told all about the drama that consumed the sport in 1987, including David Bailey's career-ending injury, Kyle Lewis' father having a fatal heart attack as he won a race, and the general nastiness surrounding the legal war between Mike Goodwin's Stadium Motorsports Corp (now in bankruptcy) and Mickey Thompson's Entertainment Group. Well, it would get worse in 1988 between Goodwin and Thompson.
After Goodwin declared bankruptcy and won the right to keep the gate receipts from his previous races to pay back the banks and sold his right to hold his races to a man named Charles Clayton rather than let MTEG get hold of them, Thompson's lawyers started smothering Goodwin's ability to do business. It was determined in the fall of 1987 that Thompson got exclusive rights to produce stadium motorsports events at what was then called Anaheim Stadium in California, as well as the Los Angeles Coliseum, where Goodwin basically invented SX as we know it in 1972. But due to a previous agreement between Goodwin's newly minted Supercross, Inc. (SXI) and the AMA and InSport, which Goodwin refused to release to Thompson, any races held in Anaheim or the Coliseum could not be called "AMA Supercross" nor could they be part of the AMA series.
So after Anaheim was announced on the initial schedules as the opening round of the 1988 AMA Coors Supercross Series Championship and the Los Angeles Coliseum as the closer, it was determined that it would instead become part of the Mickey Thompson Entertainment Group's Super Crown of Stadium Motocross Series—because they could not be points-paying AMA Supercross events. Tickets sold before the change would not be honored at the gates, and fans would need to return their advance purchases to Ticketron for a refund and then purchase the tickets again. The bridge burning between the two was complete, though the worst was yet to come. And when it was determined that San Diego would also end up in Thompson's new series, he decided to call those three crown-jewel races the Triple Crown of Stadium Motocross. (The Atlanta and Pasadena races were also casualties in 1988 of the infighting.)
It was so confusing that in the very same week as that interview, Kawasaki announced that their "full team" for 1988 would consist of Jeff Ward and Ron Lechien, who would compete in AMA Supercross and the outdoor nationals, and that Jeff Matiasevich would be a "support" rider and ride the Mickey Thompson Ultracross events, the 125 nationals and West Region SX races. The other teams didn't announce anything other than wait-and-see approaches before committing to anything. Thompson, meanwhile, continued to hold his off-road grand prix truck races in stadiums, as well, with dirt bike races (called Ultracross) still also a part of those shows.
The confusion damaged the brand of supercross badly. According to then-AMA President Ed Youngblood, "[There] is perpetual uncertainty among sponsors, teams, individual participants, and fans."
"No major sponsor wants to be involved with a racing group or series that is involved in litigation," admitted Thompson himself to Cycle News in their January 13, 1988 issue. As a result, the legal battle was hampering the work of other promoters like Allen Becker and CE Altman of PACE Motorsports, SRO's Tony Vaccaro, Supersports' Bill West, and Delta's Paul Schlegel.
"Something I'd like to set straight [is] nobody is trying to crush anybody else," added Thompson in Cycle News, which was on point throughout this terrible chapter and providing great insight, as always. "It wasn't MTEG's intentions a few years back to be putting on supercross events. We were very satisfied to have motorcycles run on an equal basis in our off-road [stadium truck] events. But now that we are in the supercross promotion business, supercross will stand on its own. It's our intention to start bringing the attendance back up at places like the Los Angeles Coliseum without all the fights in the grandstands and the beer drinking."
And then this question from Cycle News: "Goodwin also claims that Mickey Thompson 'is committed to destroying me.' How do you respond that allegation?"
"Not true at all," answered Thompson. "It doesn't warrant any further explanation… The proof is going to be in the pudding. We're all saddened at MTEG by the fact that we know there will be more false statements made that will hurt the sport. Hopefully this will be the last interview where I'll ever be subject to discussing the bad part of supercross racing."
Tragically, it was.
The following week Goodwin's SXI lost in its attempt for an injunction in US Bankruptcy Court in Santa Ana, California to block the Anaheim "Stadium Motocross" from happening on January 30. Then the MTEG announced that they had commitments from Team Honda's Rick Johnson and Kawasaki's Jeff Ward, the last two AMA Supercross Champions, to race at Anaheim. Goodwin sued the AMA for "anticipatory breach of contract" just to make sure they didn't try to sanction the Anaheim race. Why?
"It's part of the AMA conspiracy to put us out of business," said Goodwin. One week later, the AMA refused Goodwin's attempt to sanction a race at San Diego, with then-VP Bill Amick telling Cycle News, "At this point the event is not AMA-sanctioned. SXI had applied for a sanction, but they haven't met all of the conditions." One week later, Goodwin's race was canceled, and it was announced that MTEG would hold a round of their new Super Crown of Stadium Motocross on the very same night.
Finally, on January 30, 1988, a starting gate would drop at Anaheim—but it was not part of the AMA Supercross Series. Ricky Johnson would win his first-ever Anaheim SX—only it wasn't actually an SX, but rather something else. But he did beat a full field of factory talent in front of the claimed attendance of 55,538 fans, though the Los Angeles Times said it was more like 38,000. New Yamaha rider Mickey Dymond placed second, Jeff Ward third, Broc Glover fourth, and Erik Kehoe fifth.
As for the 125 class, it was called Ultracross rather than Supercross or Stadium Motocross, which meant it featured one of those funky inverted starts that was a trademark of such races. The winner was a relatively unknown kid from Canyon Country named Mike Kiedrowski, a Team Green support rider who beat the aforementioned "factory support" Kawasaki rider Jeff Matiasevich.
One week later, the 1988 AMA/Coors Supercross Championship kicked off for real at the Houston Astrodome (thankfully run by PACE/SRO), and Jeff Ward started this title defense much better than he had two years earlier. Wardy won the opener, his fourth win at the Astrodome in four years, giving him 25 points more than he earned at Anaheim in 1986. Johnson finished second. Then came Dymond, Lechien and Suzuki's Erik Kehoe. Here's some footage from Houston.
The Seattle Kingdome was the next weekend, where Johnson and Lechien would split the wins. Ward finished on the podium both nights, as did RJ. That left the points tied at 67 after three rounds. Watch Part 1 and Part 2 highlights.
The next race on the calendar was the on-again, off-again, on-again-but-not-AMA San Diego race. An announced attendance of 38,893 turned out for the second round of the MTEG Coors Super Crown of Stadium Motocross to watch Johnson beat Kawasaki's Ward and Lechien, followed by Yamaha's Dymond and Glover. The race had taken place one week after Jack Murphy Stadium hosted an MTEG Off-Road Grand Prix event (with the trucks). That event included an Ultracross race, with an announced attendance of 34,000. The winner was Brian Manley, followed by Jeff Mabery, Tommy Watts, and Eddie Hicks.
Daytona was next on the AMA SX schedule, and Rick Johnson won over Wardy, giving him a 3-point lead in the series standings. Rounding out the top three was Australian import Jeff Leisk, RJ's teammate. The winner of the 125 class was Suzuki's Todd DeHoop. Check out the 250 class footage here.
The series then shut down for more than a month before picking back up in the Pontiac Silverdome for its annual twin bill in the old home of the Detroit Lions. In between would be the Hangtown National, which used to overlap supercross, just like the Gatorback opener in Florida. Everyone seemed to forget about all of the litigation and legal proceedings that were still going on in Southern California.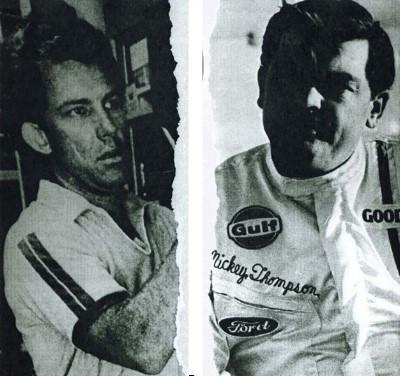 Then it exploded. Early on Monday morning, March 16, 1988, Mickey Thompson, 59 years old, and his wife Trudy, 42, were gunned down in the driveway of their Los Angeles area home inside the upscale Bradbury community. The house was locked and the police determined that its contents were not disturbed. According to the report in the March 30 Cycle News, "Neighbors reported said they saw two black men fleeing the scene on bicycles shortly after the shootings and deputies said a white man, who was seen riding a bicycle near the Thompson home the morning of the ambush, abandoned the bicycle at a bus stop in the nearby city of Irwindale about 7:00 a.m. and 'desperately tried to flag down passing motorists.'"
Although there was little evidence at the time, many signs pointed immediately to Goodwin, who just two weeks before the murders was ordered to pay Thompson $750,000 in damages from the partnership suits initiated when the partnership between MTEG and Goodwin when the California Supreme Court refused to hear Goodwin's appeal.
Yet authorities stated at that early point that they had "no connection between the lawsuits and the murders." And deputies said Goodwin himself had gone into hiding shortly after the murders after telling them he and his wife had received death threats. The mystery of who killed Mickey and Trudy Thompson had just begun, and it would last for years to come.
Needless to say, the murders of the Thompsons would cloud the skies above and around supercross for years to come. The mystery would also deepen, as the shooters seemed to disappear without a trace. We'll get more into the aftermath and the mysteries later, but the show—and the sport—had to go on.
When the riders got back together again under the same roof, it was the inflated roof of the Pontiac Silverdome. They were told that the series would be extended from May 14 to June 18, because it was decided that the Los Angeles Coliseum race that MTEG had scheduled would not only mark the end of the Triple Crown, but also the 1988 AMA/Coors Supercross Series—the race would be sanctioned after all and run by MTEG.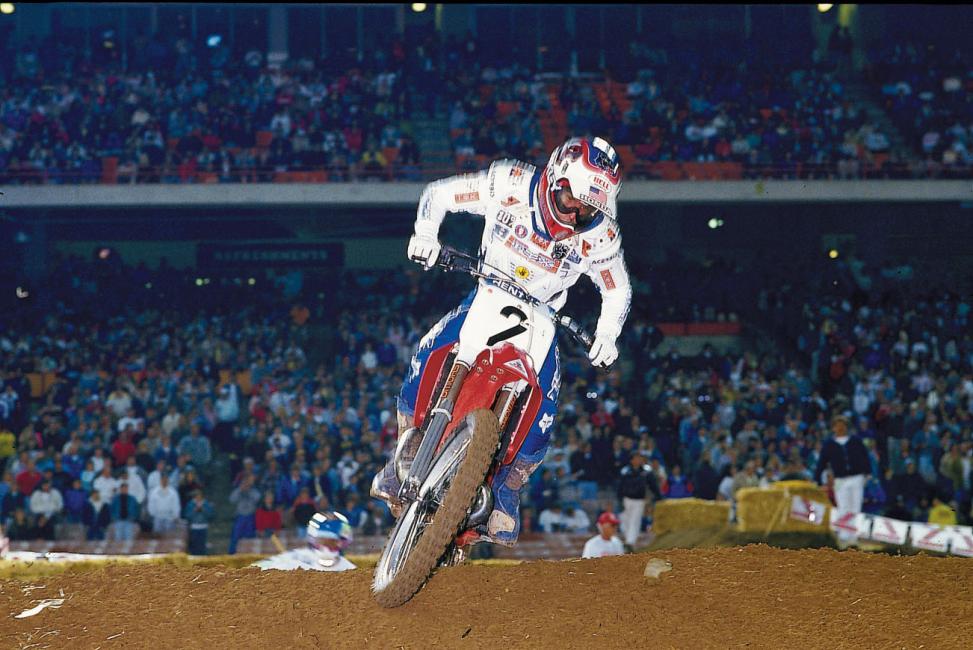 Johnson swept both nights in Michigan, giving him an 11-point lead over Ward, who finished second both nights, with his teammate Lechien third each time. The 125 class was taken by a young local hero each night—first Michigan's own Todd DeHoop (Suzuki) and then Indiana neighbor Mike LaRocco (Yamaha).
The next race was Dallas, and this time it went down to the very last lap, but the results remained the same: Johnson, Ward, Lechien. Future AMA Motorcycle Hall of Famer Ty Davis would win the 125 race on a Suzuki ahead of Larry Ward and Mike LaRocco.
Team Honda's Johnson would make it five straight at the next round of the series in Tampa, Florida, with a frustrated Jeff Ward once again second, then Lechien and Jeff Matiasevich, who jumped up to a 250 for this round. An estimated 37,000 spectators showed up to watch, but just fifty-five racers were there—thirty in the 250 class and just twenty-five in the 125 class. You can watch the race here in its entirety.
Make sure you check out the Wheelie King, Doug Domokos, doing his high-wire act on a three-wheeler, which had recently been banned by the Consumer Product Safety Commission, at the 28:45 mark. You might also cringe at the 42:40 mark when the announcer Larry Huffman says of second-place Ward, "The only way he's going to stop Johnson at this point is with a gun."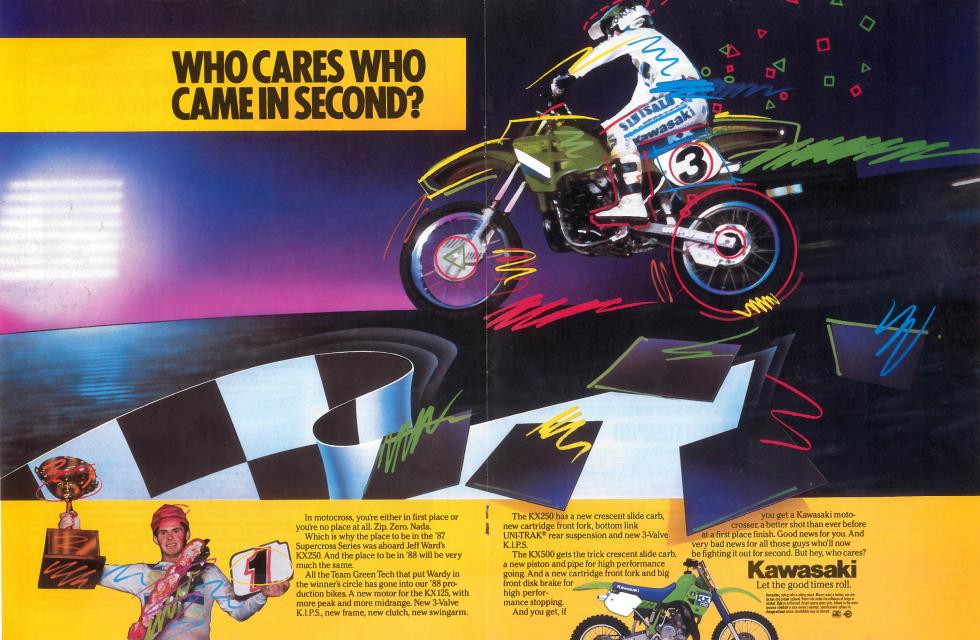 Johnson made it six in a row at East Rutherford, the best streak of his supercross career. Ward cased a jump and hurt his ankle in his heat race, knocking him out for the night. Johnson then clinched his second AMA/Coors Supercross Championship, adding the 1988 crown to the one he won in 1986.
The 1988 SX season ended on a somber note. The Los Angeles Coliseum race became something of a memorial for Mickey and Trudy Thompson. Their killers were still on the loose, and the reward offered by Collene Campbell (Mickey's sister) and others was more than a quarter million dollars. The event was dubbed the AMA/Coors Supercross Championship/MTEG Super Crown of Stadium MX Series: Final Rounds. Johnson's streak would finally end here with a first-turn crash. He would only make it up to fifth before time ran out.
One would have expected Jeff Ward to step in and claim the win, but he was out by this point with torn ligaments and cartilage to his ankle. Instead, the winner turned out to be the veteran Broc Glover, four full years past his last AMA Supercross main-event win. Riding the #44 white YZ250, Glover won at the Coliseum for the fourth time, then told Cycle News' Kit Palmer, "This is the happiest I can remember being in my whole life."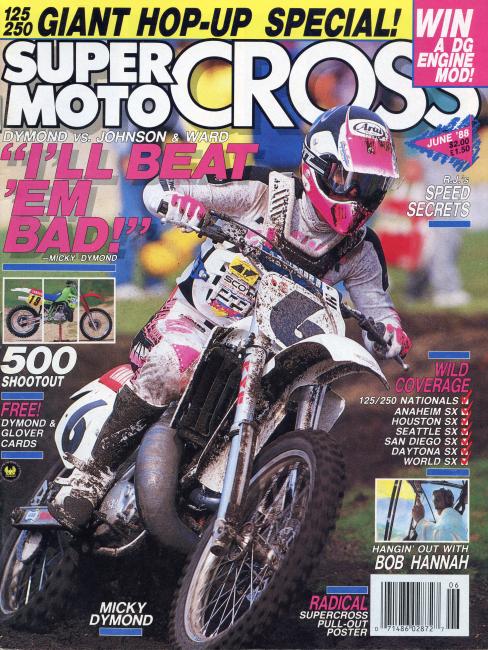 Coincidentally, the 1988 LA Coliseum race was the last SX race of Broc Glover's long and successful career—he went out a winner. With Yamaha investing in younger riders, the veteran would find himself in Europe the following season in what turned out to be his final one as a professional racer. The 1988 race at the very place where supercross was basically born in 1972 would now mark the end of its most difficult period of all.
1988 Coors/AMA Supercross Standings
Rick Johnson Honda 223
Ron Lechien Kawasaki 190
Jeff Ward Kawasaki 177
Broc Glover Yamaha 149
George Holland Honda 143
Jeff Leisk Honda 133
Erik Kehoe Suzuki 123
Johnny O'Mara Suzuki 100
Doug Dubach Yamaha 89
Jeff Stanton Yamaha 79
125 East Region Final Standings
Todd DeHoop Suzuki 131
Mike Jones Yamaha 125
Mike LaRocco Yamaha 100
Robert Hayes Suzuki 95
Denny Stephenson Kawasaki 85
125 West Region Final Standings
Jeff Matiasevich Kawasaki 82
Mike Kiedrowski Kawasaki 75
Larry Ward Yamaha 71
Ty Davis Suzuki 66
Mike Craig Yamaha 51