Roger DeCoster's Midas touch has done wonders for KTM. In four seasons as team manager for the brand, KTM went from an also-ran in the premier class of US motocross and supercross to a championship winner. Obviously, signing talented riders helps, but Roger, a five-time World Champion, is much more talented on the bike development side than many realize. Last week KTM debuted the all-new 2015 Factory Edition 450SX-F and 250SX-F. Our David Pingree talked to The Man about developing these new bikes, and also about the rider who won't be racing one: Ken Roczen.
Racer X: You guys, especially developing this new bike, I'm sure have put in a crazy amount of hours and you've seen this from the rider's perspective as well as the manager's perspective now. Tell us about those long days at the test track that pay dividends once you actually hit the series and start racing.
Roger DeCoster: It's always a sign that you try to prepare as good as you can for a test, but then most of the time there's something that throws it off. Your plan was to focus maybe on the shock, and then the riders start thinking about the fork. Then all of a sudden you start jumping and working on the fork and the next thing two hours have gone by. It's hard to go and follow a plan when you test. There's so much overlap on everything—the front affects the rear and the rear affects the front, the engine affects both. The hardest thing is to keep your direction. I think that's pretty much true with most riders. I feel that where we made progress is our guys in Austria did a really good job doing their homework with a lot of data—calculated data and dyno tested data—not only for the engine and the shocks but for frame rigidity and flex and all that—the stress points in the bike. Having all that data makes it easier to understand why the riders make a certain comment so you can become more efficient with time and attending to the problem or make the complaint more focused. You're searching less. You know a little bit better what you're doing. Motocross and supercross is difficult because the rider can make such a big difference, especially in supercross. Many times when it's bad for a lower-level rider [it] can become a good thing for a top guy. But I feel that now this new generation, I think is a big step forward. We have accumulated a lot of data, and our factory people are really getting a grip on what affects the rider feeling, besides just the shock setting and the forks setting. There's a lot of other things that the riders feel that you may think is suspension but it's actually coming from the frame stiffness or the flex.
I recall days, particularly when I was racing, where you either have great days and make a ton of progress and you leave the track just ecstatic about the way your bike is and what you accomplished, and I've had other days where you've changed parts all day long and you don't leave any better than you did when you got there.
You go backwards sometimes. One thing, on the rider's side it's difficult because we have so many options, and when the rider has come off the track, there's five people standing around them immediately and his heart rate is still at 180 or something and we're all waiting to get answers. And he doesn't want to look like a fool, so he'll give you some answer and the rider cannot always say if it's better or worse, or maybe he doesn't even feel a difference. But many times I feel that the rider is pressured to give you some answer. And then not to look stupid they will tell you something so that we will not think that the guy doesn't know what he's talking about. I think the best thing a rider can do is just be plain honest. If it feels terrible, it feels terrible. If he cannot tell, he cannot tell, and if it's way better then it's way better. But they're trying too much to tell us what we should be doing. That's a very common mistake from the riders. I think on the team's side the top teams are so eager to make the rider happy and to make improvements. Many times I feel we have too many things on the menu, and then the rider can only absorb so much in one day.
You hit a point in the day where you're not making progress anymore and you're better off leaving. This is also something else that's always been typical to motocross or supercross racing. As you get there in the morning the track's a little muddy. It kind of comes in and it's nice and tacky, and then within a couple hours it's hard and baked and blue groove. It isn't like road racing where your temperature may go up and down a little bit, but it's really a very static testing environment, where motocross is constantly changing. That makes it difficult as well.
Especially for the engineers, the guys that have the most schooling probably have the hardest time with that, because it's changing all the time and they go by numbers; they go by data. So for them it's really hard and confusing. Especially guys that have worked with road racing and all that. They go, "This motocross thing doesn't make any sense!"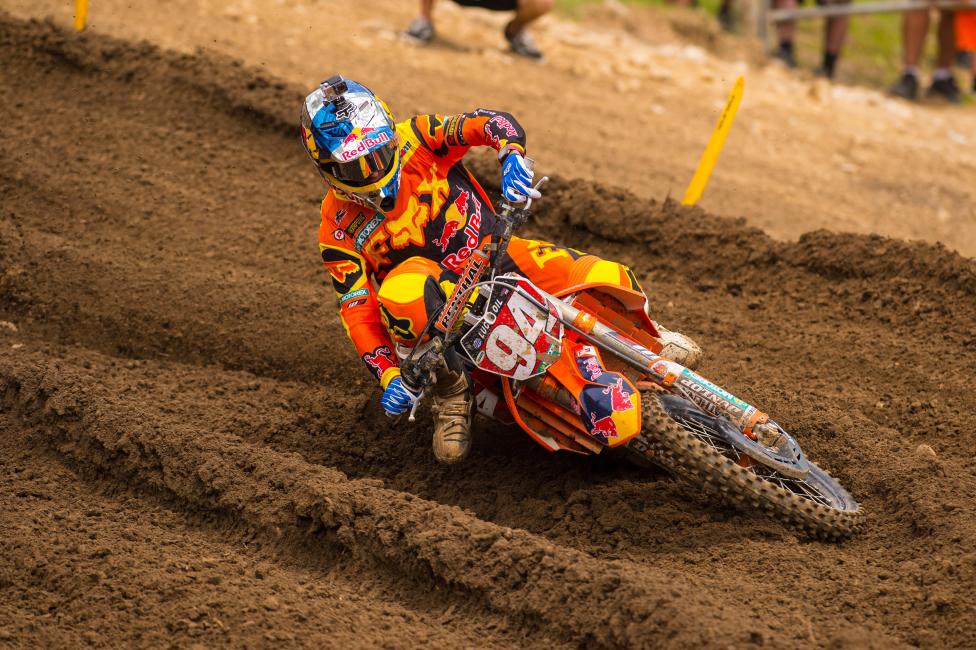 Tell me your thoughts on Ken Roczen. I think it surprised everyone when he made the move he did. He obviously won a championship here. It seemed like a great fit.
He won last year, he won Lites in supercross, and this year he won the outdoors in 450. It's a bummer. I'm really sad that we lost him. I like Ken. He's an awesome rider. He's one of the most talented guys ever. I think as a team and myself we always gave him 100 percent effort, even before he came to the US. The year he won his championship in Europe on Suzuki we were doing the engines for him here and sending the engines over for him. That's when he really started winning races in Europe and won the championship. My relationship with Ken, I feel was really good. He felt like a change. The people that advised him probably pushed him that direction. Hopefully we can beat him. It won't be easy. He's going to be fast on anything. Ken is that good.
So he didn't really give you a reason? People suspected maybe him and Dungey were two alpha males.
Not really. I don't feel that it was something against Dungey. I never was able to pinpoint exactly what it was. I've never seen any reason printed that made a lot of sense to me.
He never spoke badly of anyone here or said anything negative. It seemed like a weird move.
If I really knew I would have addressed it. Like I said, I like the guy. He has a sense of humor. He's a fantastic rider. It didn't make sense to me either what he did. We'll see. Maybe some day we'll work again together.